LouFest Music Festival Organizers and Logic Systems Lock Horns
The ninth annual LouFest Music Festival was set for Sept. 8-9, 2018, with a lineup of performers included Robert Plant, Modest Mouse, Kacey Musgraves and Gary Clark Jr., along with regional and local acts. But on Aug. 30, one of the largest live event vendors pulled out, citing missed deadlines for payment along with unpaid bills for prior events. The organizers, Listen Live Entertainment, first announced the shows would go on, but then announced on Sept. 5 that LouFest 2018 was canceled.
The annual music festival was founded by documentary filmmaker Brian Cohen in 2010. In 2016, Cohen sold his stake to Listen Live. Logic Systems Lighting and Sound had supported the annual festival for several years. For 2018, Logic Systems were supplying audio and video for all four main stages, and lighting for all but one. But when Listen Live failed to meet Logic Sound's payment deadlines, owner Chip Self announced that the company would be releasing gear to other rental customers.
On Nov. 7, Logic Systems sued Listen Live for breach of contract, in an attempt to recoup $17,000 in unpaid debts from previous events plus more than $55,000 for out-of-pocket expenses directly related to LouFest 2018. On Feb. 15, 2019, Listen Live countersued Logic Systems and its owner, Chip Self, for a total $8 million.
‡‡  The Breaking Point
Relations between Logic Systems and Listen Live reached a breaking point on Aug. 30, 2018. That was the day after Listen Live had agreed to pay 100 percent of the close to $125,000 Logic Systems was charging to provide sound and lighting for LouFest 2018's four stages. The 50 percent payments were due on Aug. 24 and Aug. 29. The Nov. 7 lawsuit alleges that Listen Live did not make either payment.
On Aug. 30 and 31, Chip Self made the unusual decision to speak of his withdrawal publicly, announcing to St. Louis Public Radio that his company would not be part of the event set for Sept. 8-9. He said he was going public because of his concern for all involved, including artists booked for the festival.
After filing the a breach-of-contract suit Nov. 7 for a total of more than $72,000 in unpaid debts and out-of-pocket expenses, Self again spoke St. Louis Public Radio, acknowledging that he considered it a "long shot" that the suit would yield a payday. He sued, he said, in part to stand up for other vendors who haven't been paid for their services.
As part of its $8 million lawsuit against Chip Self and Logic Systems, Listen Live alleges that Logic Systems purposely sabotaged the event. The suit alleges that Self made "negative, misleading comments about Plaintiffs [Listen Live], exaggerated statements regarding LouFest funding issues, and suggested LouFest would be canceled, all in a strategic effort to cause artists to withdraw from LouFest 2018 and/or alter the terms of their contracts to accelerate payments in full in advance of their respective performances." Self disputes Listen Live's assertions and says he has the documentation to back up his breach-of-contract allegations.
In a response to a request for an interview with Listen Live managing partner Mike Van Hee, Van Hee emailed this statement: "This litigation is just one step toward remedying the cancellation of last year's festival and working to rebuild it for years to come. A variety of circumstances made LouFest 2018 impossible to carry out, and we'll continue to shed public light on that larger story, as appropriate. We apologize for disappointing the city of St. Louis and its music fans, as well as the LouFest sponsors, partners, musicians, and vendors who were financially impacted by the event's cancellation. Our work hasn't stopped since September, and we're dedicated to restoring lost trust as part of our path forward." Questions were emailed to Van Hee about the specifics of the allegations, about which he declined comment, deferring to his lawyers. They also declined comment.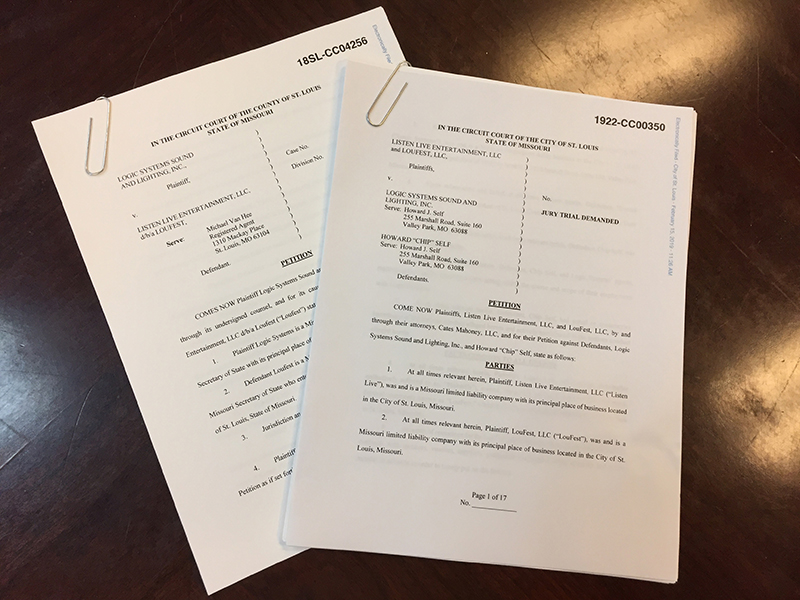 ‡‡  A Festival Coup?
Logic Systems was founded by Self in 1986 and is a major live event supplier of the region. Self denies any "sabotage." In regard to the contact with the artists, he says, "those artists' representatives contacted us as a standard part of their advance calls. We were honest with them about our situation, as anyone would expect us to be. At no time did we initiate contact with these people. They contacted us as a part of their standard procedures."
The countersuit also alleges that Self tried to take over LouFest. "On or about September 5, 2018, Defendant, Logic Systems, by and through its agents and/or employees, including Chip Self, contacted the Office of Special Events for the City of St. Louis and inquired whether Defendants could get Plaintiffs' permit for a music festival in Forest Park for the same dates in 2019," the lawsuit reads.
Ann Chance, St. Louis' Special Events Program Executive, has a different take. "No," she says. "Chip Self nor anyone with his company has ever contacted my office about permits or staging an event. Absolutely not." She added that she has gotten to know Logic Systems through the years because they are often a vendor at festivals, fairs, and political events. "They are a big company who do big stuff, and I have no idea why anyone would say they wanted to run [LouFest]. Do they want to do a good job if involved? Of course. But I never got the impression that they wanted to be in charge."
To download a PDF of the court documents, go to www.plsn.me/LouFestSuit and www.plsn.me/LouFestCounterSuit.
Leave a Comment: