Camp EDC
Backbone International Keeps the Campers Happy at Massive Las Vegas EDM Event
Electric Daisy Carnival (EDC) returned to the Las Vegas Motor Speedway, where it has been staged since 2011, from May 17-19, 2019, and Insomniac, owners of the music festival, once again provided an amazing experience for the huge crowds of visitors. EDC is a globally renowned dance music festival and the largest brand in Insomniac's scope of events and productions.
EDC began in 1997 as a warehouse party in Los Angeles, produced by CEO and Founder, Pasquale Rotella. Since then it has grown into an internationally acclaimed live music experience, attracting nearly one million fans annually, on four different continents around the world. EDC Las Vegas is the biggest electric music festival in the world, with low six-figure crowds attending each night and a reported 465,000 "turnstile clicks" for the three-night event.
Part of the EDC experience is "Camp EDC," a four-night camping experience first presented during the 2018 EDC festival. Attendees of this festival can call Camp EDC their home away from home. Over 4,500 tents and RV's can be rented to allow the guests to avoid the inconvenience and delays of fighting traffic to and from their offsite hotel rooms.
Along with a place to sleep, Camp EDC offers an experience on its own with free massages, haircuts, makeup artists, yoga classes, standup comedy, various carnival rides and multiple swimming pools. There is also a pre-festival opening party for 22,000 people, four after parties, 24/7 entertainment, as well as food and drinks for five days straight.
"The Backbone of EDC"
This year, Insomniac chose Backbone International to handle the full design and production of a largely enhanced Camp EDC and tasked them with additional operations during the entire festival. Backbone handled just the exterior operations last year and were asked back this year to take care of all aspects of Camp EDC from the moment someone enters the grounds. This included everything from entertainment and attractions to lodging, food, parking, fencing and restroom facilities. They provided a turnkey camping experience unlike anything seen before in a festival environment.
Included as part of Camp EDC this year was "The Mesa", featuring three enormous shade structures for various workshops, a Spa Salon and four swimming pools. Also included were a farmer's market, general store and many food and beverage options in order to give the attendees, or "Headliners," as they are referred to at EDC, a lot to choose from. To top it all off, a splash ride and Ferris wheel were also installed to add to the visitor experience.
Rutger Jansen, a partner and managing director for Backbone International, led the monumental task of designing, engineering, planning and installing Camp EDC. Originally from the Netherlands, Rutger is now based in the U.S., handling all day-to-day operations for the North American branch of Backbone. Rutger began the installation phase for Camp EDC on April 16, one month before the grounds were opened to the partygoers.
PLSN visited Rutger and his team onsite during setup, and he spoke about their expanded role in 2019. "This year we have been tasked with designing, building and managing Camp EDC as well as all exterior operations, which include the parking lots, fencing and anything else outside of the stadium," he said. "I specifically chose the vendors I wanted to handle Camp EDC. I needed to make sure they were not the same vendors working the actual festival, as I did not want them spread too thin. While I needed to make sure my needs were top priority, even over the festival, I am here to represent Insomniac and make sure I take care of their needs over anything else."
We also asked Rutger about any unique challenges with this immense project. "Building the 4,800 tents for the campers, which included air conditioning, two 20A circuits in each tent for power, as well as bedding, has certainly been challenging. The parking lot is made up of multiple types of asphalt, which required a variety of different hardware to properly anchor these tents. Also, the cabling itself needed to wire all the tents up with ac and power was crazy as I am sure you can imagine.
"Additionally, we were looking to make the campsite comfortable and an experience in itself, so we added a large amount of artificial turf," Rutger added. "As a matter of fact, we placed the largest order ever in the United States for artificial turf, totaling 2.7 million square feet, to cover the entire Camp EDC grounds." There was literally nowhere a patron could step onto the hot asphalt, even in the Mesa grounds.
As for his relationship with Insomniac and their choice to have Backbone International lead the Camp EDC build this year, Rutger noted how Backbone is "essentially a production company, however we took it quite a bit further with this one. Working closely with Insomniac's management and creative team, Backbone did the layout design, marketing aspects, and engineering of everything related to Camp EDC. This included figuring out how much food, restrooms, activities and lodging should be brought in to make this event the best it can be, while making sure all decisions were made in order to provide the Headliners with the absolute best experience possible."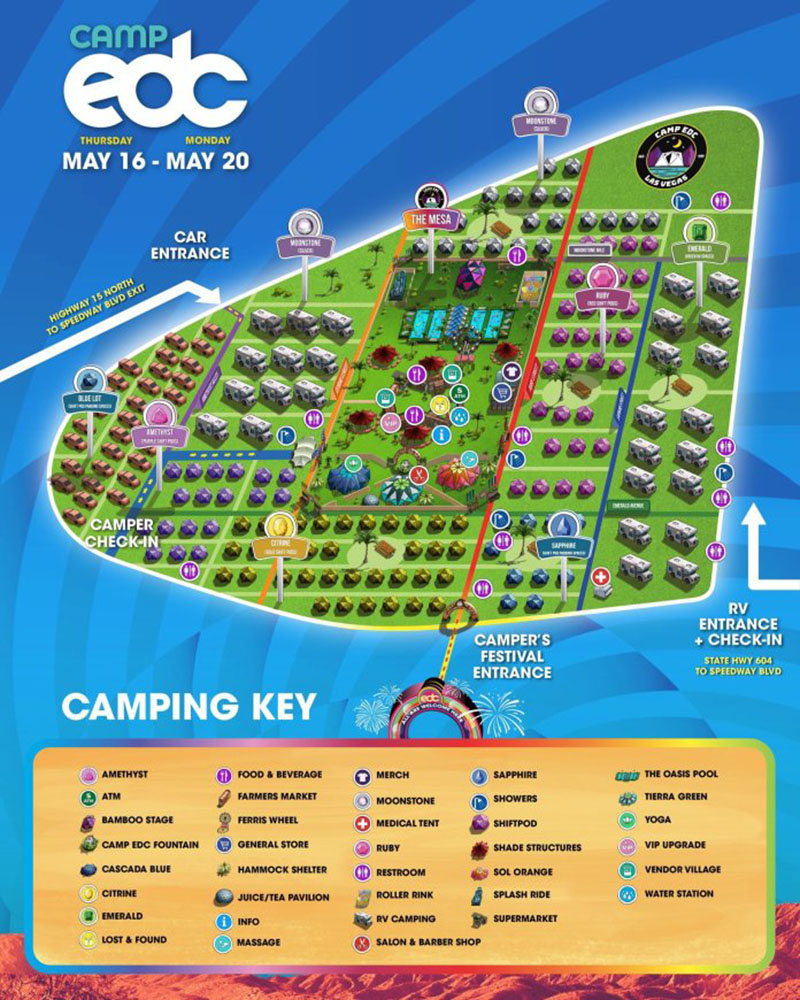 The Layout
Located at the bottom of the MESA were three Tents. They were quite massive, and the builder, Bamboo DNA, referred to them as Mountains. The blue and orange tents included audio and held full activities throughout the day such as regular yoga (as well as goat yoga and yoga with DJs). Comedy shows, EDC talks (think TED Talks, but geared toward EDC and EDM topics), slack line demos and many other activities that were geared towards being active and having fun before heading inside to join the show.
The center green tent was a full-on free spa. Hair blowouts and beard trims were offered, plus there were tables set up to do your own touch ups as well. A separate production assistant was assigned to deal with power as well as various beauty shop and hairdresser needs.
Located just outside of the Mountains was a custom fountain. The jets were programmed, and the lights were triggered on a cue server, timed to come on at sunset and off at sunrise. The fountain contained jets that were programmed to conserve water, so that refills were limited. This was all part of the care to keep any vehicles in the compound to a minimum.
Located closer to the center of the area were four 3,000 square foot pools. Backbone installed lights and P.A., not only in the "Oasis" structure in the center, but lighting towers surrounding the pool as well. The pool had to be lit for safety as well creating a vibe for the evenings.
At the top of the grounds was a purple and blue structure. It was simply called the Bamboo Tent. (The Bamboo team awarded nicknames to all of the areas, and they stuck.) That is where all of the Mesa's DJ's performed. They would start with the after parties at 5 a.m. and go until 10 a.m., through the weekend.
Other activities within the Backbone scope included setting up a roller rink, assisting (prodding) the carnival ride personnel to stay on schedule, a log ride, a Ferris wheel, power to all food vendors and all site lighting, power and coordination. Moving about became a bit of a challenge as the Mesa turned out to be quite the place to hang during the day — even though the area took up some 300,000 square feet of space.
While sitting down with Rutger, you can understand why Insomniac chose him and his team at Backbone International to assist in the upgrade of Camp EDC. His knowledge of the industry, attention to detail, commanding presence and likeability is undeniable. The team he has built, and the reputation his company holds, all but guarantees a successful event.
Insomniac is expected to ask Backbone International to return again next year to lead the build on an even bigger and more exciting Camp EDC. When asked about next year Rutger commented, "We are booked again for 2020 and looking at the popularity this year, the demand will surely be bigger, so we will definitely go larger."
Q&A with Russell Felton
Along with Backbone International partner and MD Rutger Jansen, PLSN caught up with Backbone production manager Russell Felton for a quick Q&A about his role for the Mesa portion of Camp EDC. Here's a Q&A.
What was it like to working with Rutger and Backbone on this project?
Working for Backbone is one of the best choices I have made in a long time. When you have a boss that wants things done right, it makes the gig so much easier to do. It was all about the experience and vibe for the attendees, or "Headliners," as they are referred to.
Were there any unique challenges you personally faced on the Camp EDC gig?
With a project this size, there are always some challenges. The distance between the Bamboo Tent and the Mountains for instance. If there were issues, it took some time to get there. Since our operating hours were different from the main show, scheduling crew was challenging, as our calls started as most of the crowd was exiting.
Trying to move inside the Campgrounds was the biggest challenge. We had bicycles, which was my first mode of transportation. I had a cart as well, but we really tried to limit driving them as much as possible. Camp EDC was meant for the Headliners to relax and not be worried about cart traffic where we could avoid it.
The Main stage and pool structures were engineered and built out of bamboo, so I had to work with the builders and make sure that there was the ability to hang fixtures on the structures and determine the weight of fixtures we could hang. It all worked out great and I enjoyed the change up from the usual concrete and aluminum designs.
What did you enjoy most about working Camp EDC?
One of the more fun ones was helping the arts/entertainment team. Moving mermaids from the three pools to a break area was interesting. Luckily my flatbed cart came in to play, even though I looked like I was straight off the set of Austin Powers.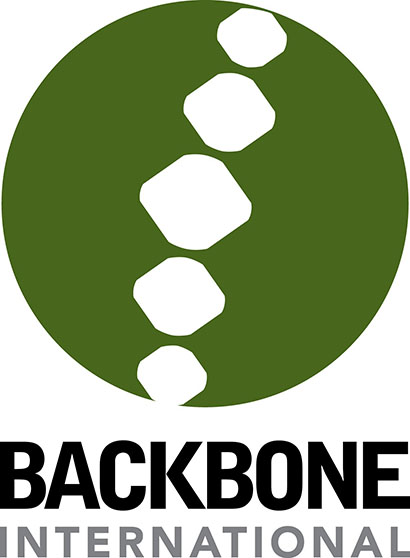 Company Snapshot:
Backbone International
Backbone International was founded in 2010. After decades of working in the entertainment industry alongside each other, the partners of Backbone discovered a mutual ambition; building a global production agency with the focus on fulfilling complex and prestigious projects. Throughout the years, Backbone International has been producing and managing a wide spectrum of events, ranging from corporate brand-experiences to large-scale live events, touring shows, and sport events.
For more information, visit backbone-international.com
Crew List Sidebar:
Camp EDC Production Companies and Crew
Backbone International Crew:
Camping Director: Rutger Jansen
Production Manager: Russell Felton
Operations Manager: Kiri Cragg
Overlay / Site Manager: Marcos Rico
Deco Producer: Ryan Delbridge
"The Mesa" Activities Manager: Andrea Brown
Back-office Manager/BOH: Jenny Bartlett
Back-office Manager/FOH: Misty Morales
Finance/Legal: Jenny Che
Other Companies Involved:
Creative Design: Leisure Expert Group
Décor Production: Brok Decor
Audio and Show Lighting: Clearwing Productions
Ambient / Site Lighting: Design Oasis
Power (Infrastructure): CAT Power
Leave a Comment: