Levitate Music and Arts Festival
ECLPS Helps Homegrown Event Reach Higher Ground
Since its inception in 2013, the Levitate Music and Arts Festival in Marshfield, MA, has grown from a small neighborhood BBQ to become one of New England's premier grassroots festivals. Originally a local community celebration, the foundation of this event originated from Levitate, a community oriented surf/skate shop and apparel line. Levitate threw the first LMF six years ago as a 10-year anniversary party, bringing together the community to celebrate music and the arts. Dan Hassett, owner/founder of Levitate, has said that his goal all along the way was to share "what we have here with the rest of the world." He has achieved that goal with a festival that delivers world class music drawing an audience from across the U.S.
‡‡         Aiming High
With that growth, the need for larger and better production values led Dave Wentling, production manager at The Berklee College of Music, to introduce Hassett to East Coast Lighting and Production Services (ECLPS). The company has been a going concern and institution in the Boston area for 47 years, and winner of numerous awards. PLSN awarded them three Parnelli Awards including Hometown Hero Lighting Company of the Year for the Northeast region two years running, as well as earning the award for the entire U.S.
Nathan Almeida, production manager at ECLPS explains that he and Wentling have worked together over the years at Berklee, where Wentling is one of the production managers. ECLPS has been a long-standing preferred vendor of theirs.
"I've been doing this for 44 years now," explains Wentling, "and have done lots of high end stuff." The last nine years he has been at his retirement gig at Berklee College of Music. "ECLPS does our big commencement concert at Agganis Arena in Boston, and many of the 3,000 events we produce each year. Nate breaks out all the bells and whistles for this show and nails it every year. Naturally, I wanted to get him and Dan together when the opportunity arose."
Another part of the mythos surrounding the coming together of Levitate is how Wentling and Hassett first met. "Some time back I was selling a really cool 1975 Ford pickup truck," he says. "Dan answered the Craigslist ad and came over to buy the truck. After the deal was done, Dan asked to use my bathroom. My bathroom was covered with 8-by-10 autographed pictures. Dan came out and asked, 'What are those all about?' I told him I am in the entertainment business and do concert production. I think it was four months later he called and said he wanted to do a concert."
"We do a wide variety of shows and straight dry hire rentals throughout the year with the college," says Almeida. "A little over three years ago, Dave brought Dan Hassett, the founder of Levitate Festival, down to one of the larger shows we do for Berklee, to talk about the Levitate festival. We spent about 45 minutes showing and telling him what we were capable of doing. It was not only a hardware and gear discussion; I emphasized we do design work as well."
"Working with professionals is a big part of the success of Levitate as well," Wentling points out. "We could cheap out and get the cheaper sound and light companies involved, but I told Dan in the beginning: If you want to establish Levitate, you need to go first class. Nate brings this to the table, and adaptability is key in festival production. There are lots of curveballs, and this company is always ready for whatever comes up. Quality lighting is a must, and ECLPS brings it."
‡‡         Lighting and Video
This is exactly what ECLPS proceeded to do from the outset working with the festival. The first two years, Almeida designed a lighting system with a 16×9 LED screen back wall that could hang safely on the SL320 stage, provided by staging company Event Pro. Almeida expands on this. "We do the main stage providing lighting and video along with providing operators and programmers," he says, adding that this year, Pro Event delivered a motorized truss with roof in order to support a substantially larger lighting rig for the headliner, Tedeschi Trucks Band (TTB). "As yet, the festival owners haven't gotten into architectural lighting, though there is a lot of carnival strand lights around the grounds," Almeida adds.
TTB originally wanted to load their full rig in Wednesday night before the festival opened. After a bit of discussion, it was agreed that ECLPS would duplicate the TTB air rig. This was amiably agreed upon, as the band would be doing a show the day after the festival in Boston proper, giving the crew a well-deserved break.
"I contacted their lighting designer, Brian Pirrone, who sent me his plot and, as promised, duplicated their flown rig, then fleshed the system out so we were covered for all the other acts that played," says Almeida. The system consisted of all Robe and Martin fixtures.
"ECLPS are great, and it's easy to have a lasting relationship with them," says Pirrone. "Nathan and Joe care about their work and always take care of us. They provided a rig for the festival that was comparable to our tour rig, and we had a great show. The festival brings out great people and a great audience."
Wentling agrees, and explains further. "Levitate has been a community project in a way. The entire town is 'all in' on the success. The town of Marshfield has been a partner in lots of ways. Also, the people who work their a**es off to make this happen are like family. We all respect one another, and that creates an amazing work environment. This sort of thing requires a lot of dedicated people."
"Those guys treated us really well," adds Chris "Thumper" Hathaway, LD for Blackberry Smoke, who are touring with TTB, "and the ECLPS guys made everything smooth going. We play festivals all the time, and this is actually one I would make an effort to go to as a fan."
ECLPS also does the video walls and met the festival's request this year for a larger LED screen. "We went bigger, and in collaboration with the staging company we built an impressive stage," adds Wentling. "The video walls were bright all day long — these things really cut. ECLPS have the best walls around New England and were stunning at Levitate."
Plans are to continue to "grow with the flow" in the foreseeable future. The fairgrounds have been in the community long enough to have quite a bit of history and flavor to them. More architectural and grounds lighting are being looked at as the site has several "cool old buildings" on it.
Almeida, of course is happy to comply when the need arrives. "The thing that keeps ECLPS going strong is that we are still small enough to deliver that one-on-one," he says, in closing. "If a customer calls me after hours, I'm going to pick up. And that is what we hear back often from people… 'When I call ECLPS, I get a human who can give me feedback and reason out whatever it is I need.'"
Levitate Music and Arts Festival; July 12-14, Marshfield MA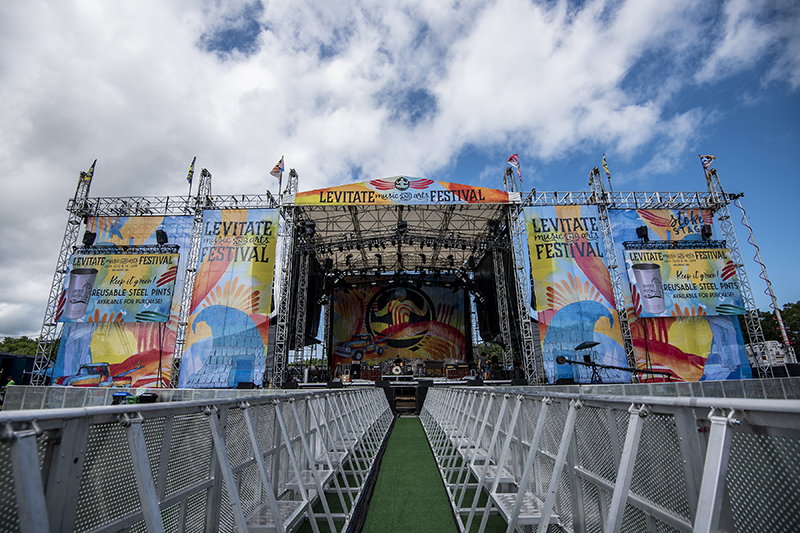 Crew
Festival Production Manager: Dave Wentling
Tedeschi Trucks Band Lighting Designer (Festival Rig Design): Brian Pirrone
Lighting Programmer/Lighting Director: Nathan Almeida
Head Lighting Technician: Joseph Nieuwendyk
Lighting Technicians: Kyle Mello, Lee Figueroa
Head Video Technician: Brandon Hassell
Video Technician: Nathan Almeida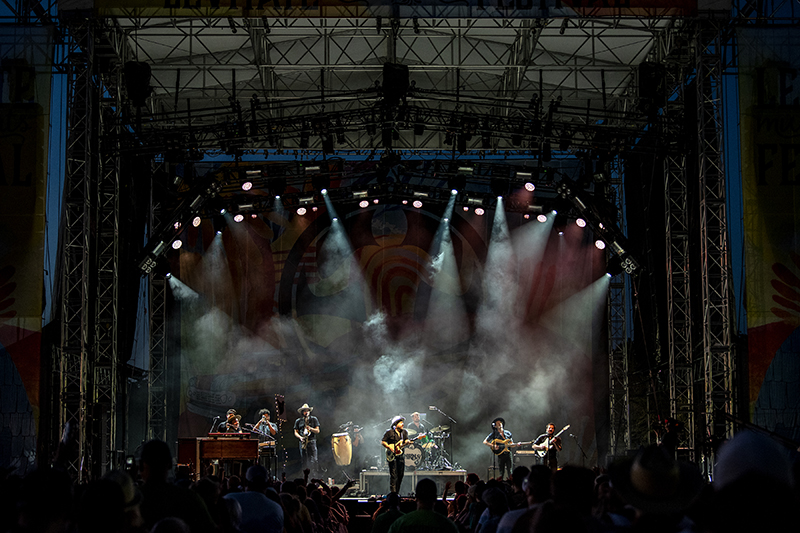 Gear
1       grandMA3 Full console
1       grandMA2 Full console
14     Martin MAC Viper Profiles
16     Robe Robin LEDWash 600's
18     Martin Atomic 3000 strobes
21     Elation Arena Zoom Q7IP LED Pars
8       James Thomas 4-lite blinders
1       Doug Fleenor 4way A/B DMX Switcher
1       Lex 48-way Presidential 110/208V power distro
1       Applied 36ch x 2.4K dimmer rack
2       Reel FX DF50 hazers
120  Elation EPT6IP LED video panels
2       NovaStar NovaPro HD video processor
12     Tyler 10' GT Box Truss
4       SGPS black triangle truss sections (10' x 14" x 14")
16     CM Lodestar 1-ton chain hoists
6       CM Lodestar ½-ton chain hoists
1       Skjonberg 16-way motor controller
1       Motion Labs 8-way motor controller
For more information on ECLPS, visit www.eclps.com.
Leave a Comment: