The Scenic Wizardry Behind Jeremy Roth's Designs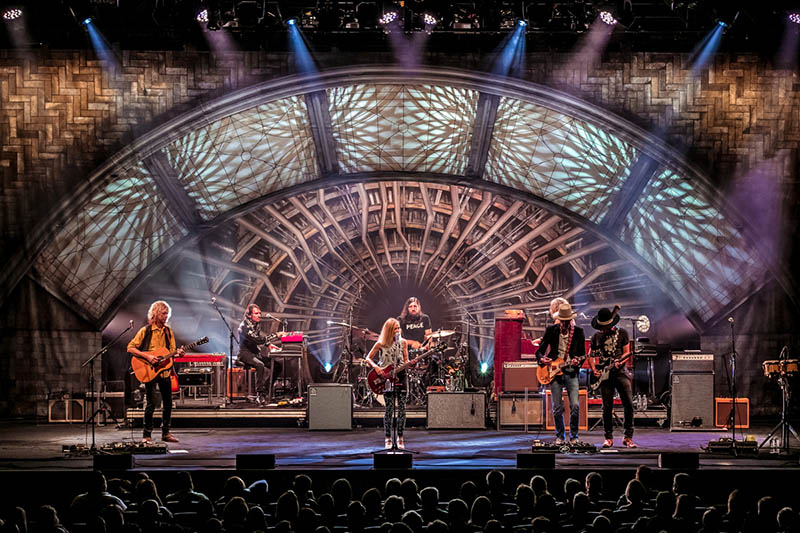 We sat down to chat with Jeremy Roth as one of his acts, Wilco, just flew in to town to perform three sold out shows at the local theater, finishing up a run that lasted over a year. Along the way, Roth picked up a couple more clients, Ray LaMontagne and Sheryl Crow, whom he designed touring set and light designs for.
Originally from a town outside of Detroit, he now resides around Eugene, Oregon with his wife Rachel and ten year old son, Dakota. Starting off at an early age, he realized he was interested in theater arts, to the point of being placed on the payroll of his local high school. "I was raised in Farmington Hills, Michigan and we had a great tech department at our school. Besides the theater department, we had a TV studio there as well. By the time I was 16, I actually had the keys to the school." Roth tells us. "Sometimes we had productions that warranted us renting a few light fixtures to augment our existing gear." This led the teenage LD to become friends with a fellow alumnus from the same school, Steve Harper, who had graduated four years earlier and started up a regional lighting company.
Harper introduced Roth to Mac 500's and High End Cyberlights in 1997 along with a Wholehog 2 controller to run them. Working alongside Harper, he quickly expanded his understanding of theatrical lighting into the automated lighting world, focusing much of his attention and interest on programming. "I was doing fancy parties and lots of auto industry type stuff, as we were in the Detroit area. I actually spent the first ten years of my professional lighting career buried in hotel ballrooms."
But Roth loved music and wanted to light it, he just didn't have any connections. At 20 years of age the youngster relocated to Portland, Oregon to pursue his career. He did some local work out there and then in a stroke of fate, his former employer relocated to Portland as well. Harper started up Indigo Design and, once again, Roth was employed by his friend.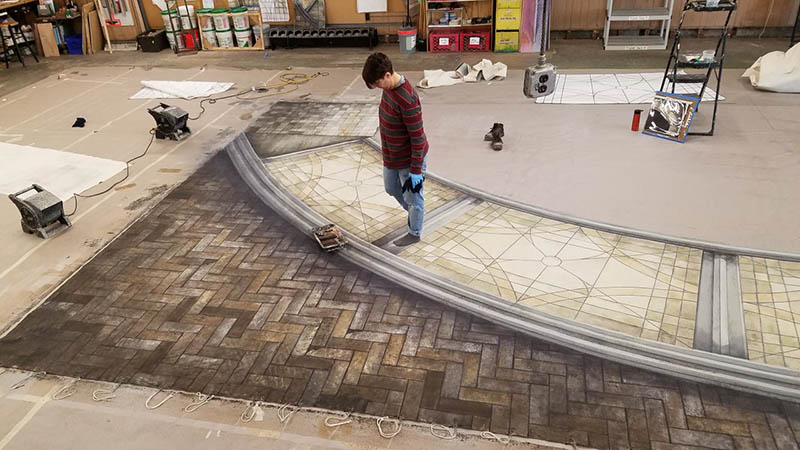 ‡‡ The Break Into the Music Side
Around 2009, Roth was introduced by Harper to Simon Clark who owns Stageworks, a Parnelli Hometown Hero-nominated company from Seattle. "Simon and I really hit it off, and he ended up bringing me onto his Stageworks crew for the Sasquatch Music Festival in Washington."
Roth worked as the FOH babysitter and programmer for the festival for the next seven years. "It was a great time for me, as I got to meet all these other designers who came through and see all the different styles they used to program. The next year I was the co-designer with Simon for the festival, something I was happy to do for the following seven years."
"That is how I got intertwined with so many touring designers. One of them was a talented fellow named Michael Brown, who was the LD for Wilco when they came though in 2011. I liked his style and how he lit his acts. His shows feel very natural and in tune with the music without overstepping it. The next year he came through with Bon Iver and we hit it off again. After that, Roth was contacted to see if he could finish off the last three months of a Wilco tour, as Brown was going to be booked with another act.
"So off I went on tour and finished it up." Roth adds. "After the tour, they asked me to stay on. I ended up designing their next tour. Six years later and three designs cycles I'm still here."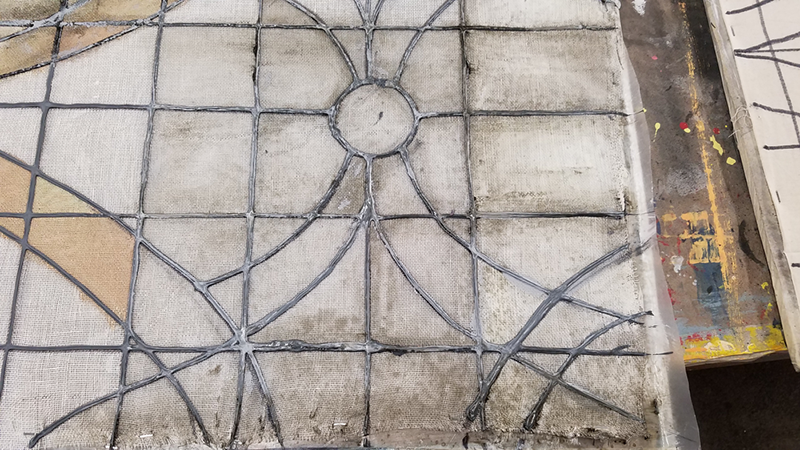 ‡‡ The Designs
One thing that has been noticeable in all of Roth's designs is his penchant for scenery, especially drops of all kinds. "In 2015, Wilco released their Star Wars album, though it had nothing to do with the movie of the same name. "I got a hold of some netting material from Rose Brand. Myself and three people at Stageworks spent a week weaving LEDs into the netting, zip tying them into the mesh." They ended up with two border layers of soft led pixel drops in front of a full soft led backdrop, all running lo-res video through them.
For the recent Wilco Schmilco Tour, Roth worked closely with Jeff Tweedy, the band leader, on a concept. "Jeff was visiting a Scottish Rite Masonic temple in Santa Fe, NM and started texting me photos of their intricate scenic flats depicting a forest scene using multiple layers of painted cutout portals and backdrops. That led to a discussion about how we could turn that concept into a touring rock show." Roth had two portal drops of trees made (cloth drops with center cutouts, made to mimic a proscenium opening on stage), along with a backdrop depicting a clearing with an open sky.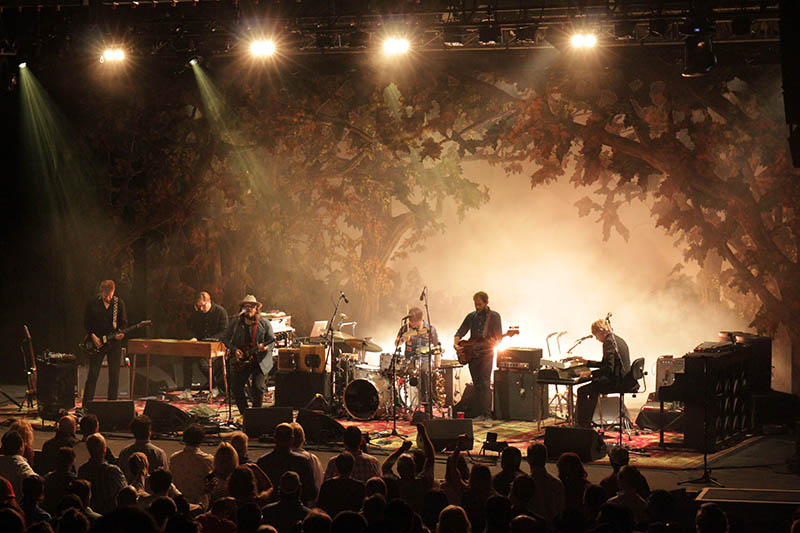 The paintings were done on a muslin canvas. The branches of the trees were outlined in UV paint as well for a more ominous look used in a few darker songs. Roth adds, "The team at Infinite Scenic in East Orange, N.J. painstakingly cut out every space in the painting that did not contain branches and leaves. Once the cutout was done, they mounted it to traditional opera netting creating the downstage and mid-stage portals." Upstage was a backdrop providing an open sky as a canvas that Roth used to rear project cloudscapes, stars, sunsets and other lighting effects.
Roth explains his relationship with Valerie Light, the scenic artist responsible for bringing his ideas to life. "Valerie is a New York-based scenic artist and a phenomenal painter. She co-founded Infinite Scenic and was the lead artist on most of the work you see on their website. I was introduced to her through Matt Biringer, my account rep at Rose Brand. In all these designs I acted as the art director/production designer and Valerie's role was as scenic artist/painter."
Ray LaMontagne wanted to do a solo tour with just himself and a bass player. "Ray approached me about designing something that had a cardboard cutout look to it," Roth explains. "We set out to achieve a look that is like a diorama of a theater within the theater." Roth used a portal drop emulating a 3d proscenium opening in front of a painted scrim and backdrop depicting stormy clouds over the ocean caught in the calm before a storm.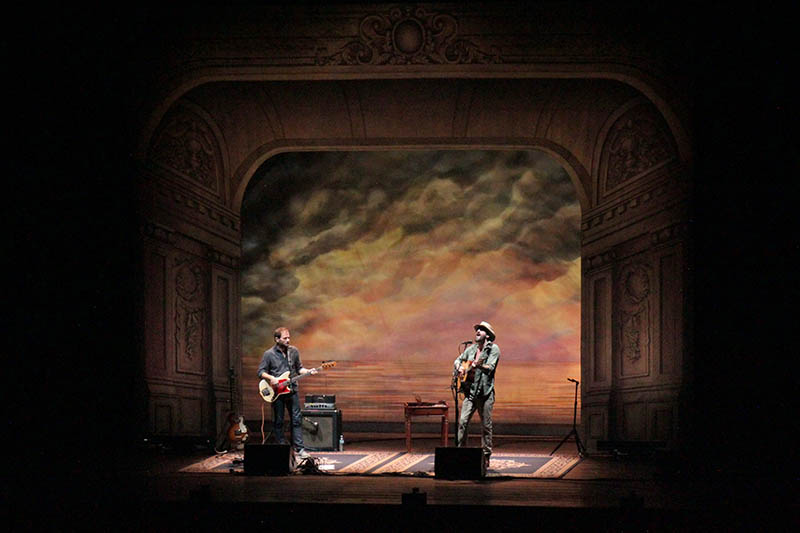 Simple changes in scenery lighting augment each song. One minute the artist may look like he's on a sepia colored dusty old stage at daybreak, the next he's playing in a spectacular evening sunset reflected on the ocean.
"Sheryl's show is a backdrop and mid-stage portal arch," Roth says. "The portal windows are done as gauze with a gel coat and paint to give them a distressed/leaded glass look. BMFL Spots were used to rear project additional textures on them." Again, Valerie Light and Infinite Scenic were involved.
Each of these three acts Roth designed for last year play theaters and intimate settings. They often play a lot of one off special engagements in between a touring run of dates. "With the way some of these acts schedule their runs, we need an easy way to transport our whole set. Whether it be in a trailer with all the guitars or in some bags on a plane, we have all the basic needs for any show, with just a bit of additional lighting."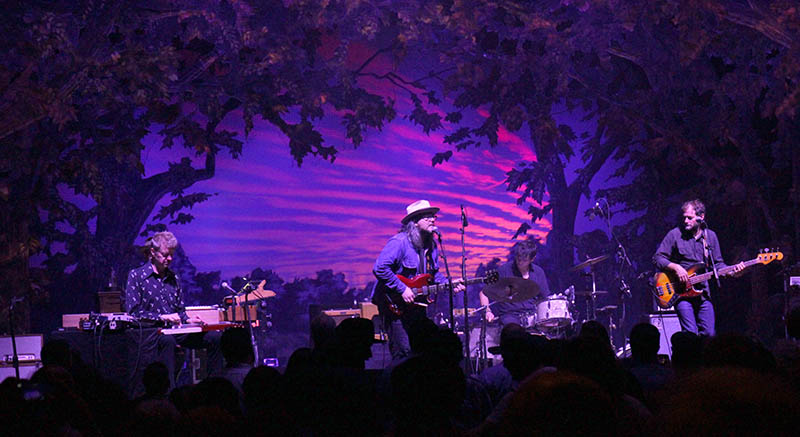 ‡‡ Lighting the Scenery
"I'm pretty picky about what lights are used for lighting the scenery. I depend heavily on texturing and color shifts to get lots of varied looks from the same scenery. For Wilco I chose to use a couple of VL4000 spots with custom cloud animation wheels and custom gobos. These fixtures were perfect because of the wide zoom I can get when placed up close to the material. They make great image projectors." He adds that he often adds Martin MAC Quantum Washes to bathe the scenery in solid colors and gradients.
"Robe BMFL fixtures and the MAC Quantums have become my workhorses for lighting scenery these days. I use them on Ray and Sheryl's shows. The optics and horsepower make the windows in Sheryl's portal drop pop with light and look totally different when I apply gobos, rather than just front lighting the piece. The BMFL spots can have lots of subtle nuance when combining gobos, color, and the dual animation wheels"
Roth explains his lighting philosophy, "It's there to create a mood and enhance the experience for the audience, but it shouldn't distract from the music at any point. For me, it's all about the music and making the performers comfortable on stage. With the acts I light, it's simple. If there's a guitar solo, we highlight the guitarist himself, but not with a crazy chase of lights that distracts your eyes to elsewhere."
With Ray LaMontagne, Roth is faced the "no haze" challenge. "Ray has certain rules. For instance, he doesn't want any smoke, and he doesn't want to see the audience at all. I find myself loving this challenge. You have to rethink how you're going to approach things. If you can overcome those obstacles, your show has the potential to look a lot different than what else is out there."
Roth adds, "As designers, we strive to innovate. We like to push boundaries. Recently I feel like I'm trying to redefine the boundaries back towards a traditional theatrical presentation and less of a modern spectacle, unless of course the artist calls for it."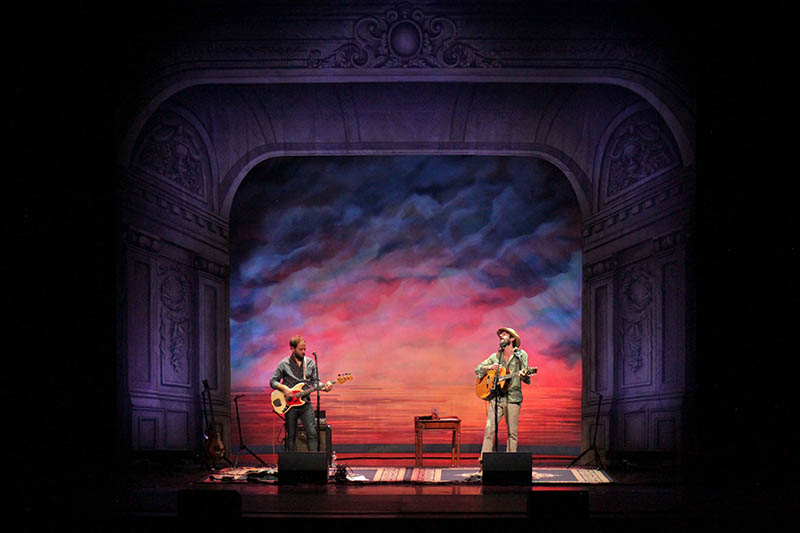 One of those artists may just be Nathaniel Rateliff and the Night Sweats, who Roth had the pleasure of designing for when they played two sold out nights at Red Rocks this summer. There were no backdrops, other than the rocks he lit upstage of the production with the help of their touring LD Amy Kozack. "The idea was to take that huge space and natural perspective of Red Rocks and fill up the space and continue the diminishing perspective from side-to-side and top-to-bottom with tungsten strip lighting framing a 45-by-15-foot video wall. We used a super wide aspect ratio for a 70mm Super CinemaScope effect. Lots of natural camera effects using the video feedback from the screen in the background of the shots. All video was live cameras in black and white, except two songs with custom content."
Sometimes the best-laid plans work out better than you thought; other times, you need some quick adjustments. "When I first brought the Wilco trees out, we had no proper rehearsal or anything. It was just us scrambling to get them set up, and I came up with about ten basic looks for that first show. I snapped a few pictures as we went and after the show I reviewed them. I nearly had a panic attack. I was looking at these really tall trees dwarfing the band standing at their base. They looked like midgets. It was like a reverse Spinal Tap 'Stonehenge' moment. I was supposed to design an intimate setting, and this wasn't it." Thankfully, the problem was easily overcome the next day when he lowered the trim and rolled up the bottom three feet of the drops. "It's always something, but we find a way because the show must go on" Roth concludes.
To view more of Roth's work, check out his website at www.jsroth.com.
Leave a Comment: