Parklife Festival 2018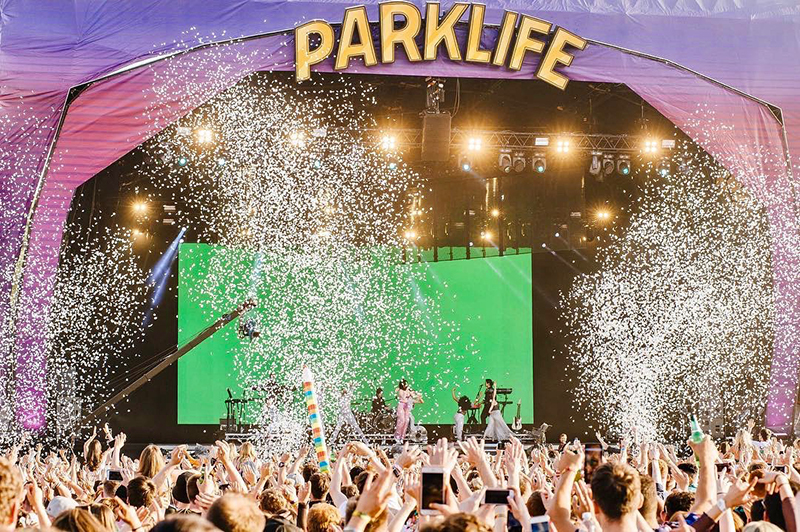 The Parklife Festival, Manchester, U.K.'s biggest independent music festival, has been drawing crowds to its multiple stages with artists performing diverse music genres since 2010, when Ryan Esson and the Warehouse Project first produced the event. The eclectic lineup includes indie, dance, electronic and hip-hop performers along with 80,000 revelers gathering on the grounds of Manchester's Heaton Park.
ER Productions has been supplying the festival with its laser packages and proprietary systems since the event's inception. For this year's Parklife Festival, staged June 9-10, ER once again supplied lasers, but also added to the spectacle with a wide range of special effects (SFX) products, which include confetti, streamers, cryo effects, pyro and flames.
"Our SFX addition was 'born,' so to speak, in the beginning of last year," says Ryan Hagan, who is one of the directors and project managers at ER. He and Mark Webber are the owners of the company. At that time, with the opening of the Las Vegas office, they realized that people did not necessarily want to deal with two FX companies.
"We saw a lot of opportunity being missed," Hagan says, "because people didn't necessarily want to deal with a laser company and an SFX company."
They made the step up to do so. "We pulled a good bunch of people together after searching long and hard for a great SFX project manager and people with the right set of skills to achieve this."
‡‡         The Stages
As a Parklife festival provider, ER operated on two fronts. "We work for the festival, of course, and we also work directly the artists appearing," Hagan says. "A$AP Rocky and Skepta were just two of the headliners we worked directly with to provide production, special effects and laser needs." Skepta headlined the Parklife Stage on Sunday night. The artist wanted both flames and a wall of CO2 for his show. "We filled the whole downstage edge with 14 G-Flame XL's and 12 CO2 jets," says Ryan, "so one minute we gave him a wall of flames and the next, a sheet of cold ice. At one stage we fired both simultaneously, which I don't believe we'd done before."
Two CYRO-Fog HP/XL low smoke generators poured out of the huge industrial-type pipes, looking like steam filling the stage. Six long duration gerbs and six pyro boards firing Red Pyro FX completed the set look. All were fired by ER's new Galaxis Control system.
ER premiered their Stadium Blasters on several stages across the expanse of Heaton Park — the Parklife Main Stage, The Elrow Stage and The Hanger. These are large CO2 powered self loading confetti blowers. The Blasters can be preloaded with up to ten kilos of confetti and are able to be triggered off any DMX-controlled lighting board. Both stages are dance music oriented, with The Hanger predominantly EDM style while Elrow is an actual Spanish dance music production put on by a family troupe. "It is a total party-style tent with lots of artists and crazy things going on," says Hagan.
The VIP area, called Le Discothèque, appropriately had two Stadium Shots firing 48 Kg's of pink and white confetti, by a Commander Control. "If you're not a lighting guy and you don't know your way around a desk, this nifty little controller from Magic FX can be used for firing confetti stadium shots and CO2 jets. It's a four channel desk that just has a 'Go' button. All channels fire at the same time," notes Hagan.
Sea containers were used to create the Temple Stage to enhance the concept that this "ancient" structure has been sitting there "forever." ER showcased their 15-meter single flame jets, which belched from smokestacks, while CO2 Jets channeled smoke through the ducts populating the set. The downstage, "sewer pipes" overflowed from two Unique 2.1 Hazers from Look Solutions.
On Sunday night, A$AP Rocky headlined the Valley stage. "We dealt directly with their production people," says Hagan, "as his show was very much full-on."
A 14-meter pyro waterfall worked the upstage wall. G Flame XL's with eight meter flames and pyro boards were also used, and two high altitude firing positions were set up as well. Once again, all were controlled by the Galaxis Control system. Cryo HP/XL and CO2 Jets were used in conjunction with six Viper deLuxe 2600W fog generators from Look Solutions. The Viper is simple to use and comes in a tough road case on wheels.
Eight concussion blasts were placed under the stage in a bomb tank. These were triggered in unison with the pyro, which "gave the impression of a much louder lift," Hagan points out.
‡‡         Safety First and Foremost
"All of our laser technicians are qualified Laser Safety Officers (LSO)," says Hagan. "Because we do a lot of work in Europe and America, and the rules can be a bit different, we brought in an American LSO trainer to our office in London. This way, all of our full-time guys can meet both European and American standards." This vital capability applies to all their SFX technicians and operators.
Hagan further points out, that, "as is generally true with most shows in our industry, the consistent challenge is time. These things don't get confirmed months in advance, it's weeks," he laughs.
"We had two weeks to get all the SFX together, which included lasers as well. We've got quite a large laser inventory, so we're confident we have the right equipment, and we spend a lot of money on keeping it maintained well." When it came to building their pyro inventory, Hagan notes, "a lot of SFX products are already on the shelf, so we found a good supplier from the Netherlands called Magic FX, which has some great products."
The biggest challenge is crewing, plain and simple. "You've got to maintain a large pool of crew, and fortunately, we have that," he says. "We put nine very experienced guys together very quickly, all qualified pyrotechnicians, and they pulled off a great job in a very short space of time."
When it comes to qualities ER Productions look for in an SFX tech, Hagan is emphatic. "We want someone responsible and professional. Safety is a huge priority in anything we do, whether its lasers or SFX. We need somebody who will not let the pressure of a live show get to them. If it's not safe, don't press the button. So we look for people who are professional enough to make that call."
Of course, ER's proprietary lasers played a large role in the festival's performances as well. Saturday night, they provided British pop band, The XX, with eight of their innovative single beam Kinekt laser and nine moving head GLP laser heads. The GLP is a small LED wash light that ER stuck a RGB laser module inside, after taking their LED's out.
With just a little over a year of their SFX offerings, "we are now seeing the fruits of our labor," says Hagan. "We are currently supporting Faith Hill and Tim McGraw on their world tour as well as OneRepublic on theirs. The SFX side of our company is really growing and that's what we want to shout about. We have a solid reputation with our lasers; and we're now delivering good quality SFX packages too."
More information at www.er-productions.com.
Parklife Festival SFX, Stage by Stage
Main Stage:
8       Kinekt laser projectors
9       Laser-equipped GLP fixtures
4       Stadium Blasters
2       Cryo-Fog HP/XL's
14     G-Flame XL's
12     CO2 jets
6       Long duration gerbs
6       Downstage edge pyro boards firing Red Pyro FX.
1       Galaxis control system
Valley:
2       Cryo-Fog HP/XL's
6       G-Flame XL's
18     CO2 jets
1       40' pyro waterfall
6       Concussion blasts
6       Downstage edge pyro boards
2       High Alt pyro firing positions system
12     ER Storms laser heads
1       Live Beyond control setup
12     Viper DeLuxe fog generators
6       CO2 Jets
12     CO2 Jets
Temple:
3       15 meter flames
3       CO2 Jets
2       Hazers
Elrow:
4       Stadium Blasters with new 4-way manifolds
3       CO2 Jets
VIP Area:
2       Stadium Shots
1       Commander Control
The Hanger:
4       Stadium Blasters
Leave a Comment: