A Summer Season Recap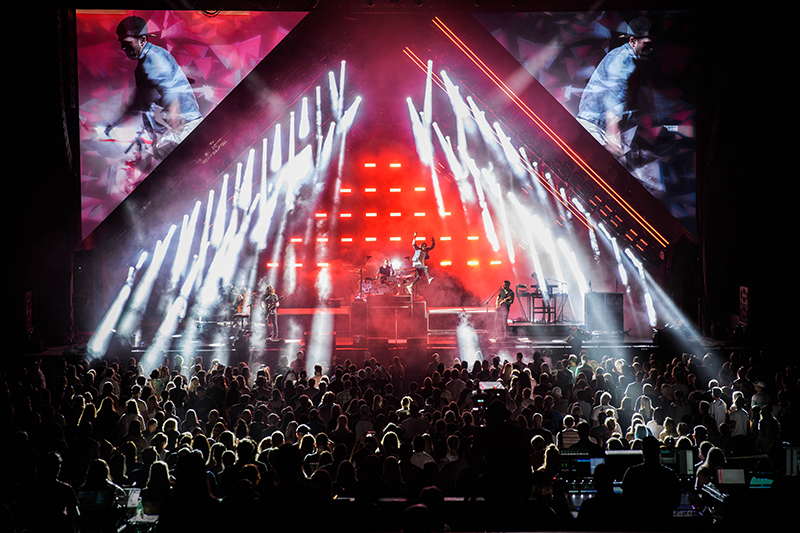 Top Tours, Festivals Enhance Visuals with Latest Technologies
Many of this year's biggest music festivals and concert tours impressed the crowds with converging broadcast and AV technologies. Among the companies on the leading edge: Blackmagic Design. The company recently provided a look at how its AV solutions, from cameras to switching, routing and monitoring, have helped rental and staging companies bring the art of live video production to new levels.
‡‡ OneRepublic
Stuart Merser, live video director and owner of Vis-a-Vis Media, teamed up with Jeff Nolte of OCD Labs to design and specify the video rack used to support OneRepublic's headlining slot on the 16th annual Honda Civic Tour (See related story, PLSN, Sept. 2017, page 30).
The setup made use of switching, routing and monitoring hardware from Blackmagic Design, with an eye toward create unique live video manipulation of the band's performances, including touring, festival appearances and corporate commitments.
"The rack is designed to be powerful but portable," says Merser, of the setup that included Blackmagic Design's ATEM 2 M/E Broadcast Studio 4K, Teranex Express and HyperDeck Studio Mini.
"It's a very modular system, with everything we might need for a show," Merser adds. "However, we can easily connect to additional hardware components or integrate our system into a venue's existing infrastructure," he continues. "That means we can fly into a venue or festival, connect the cameras there into the rack over BNC cables, giving me instant control over the show."
The rack was used for the band's U.S. tour leg, which ran from July 7 to Sept. 12, with more shows in Asia from Sept. 15-27. Content for supporting acts James Arthur, as well as Fitz and the Tantrums, was produced on a supporting ATEM 2 M/E Production Studio 4K.
Three cameras, one 86x at front of house (FOH) and two wide angle 14:4:3 cameras in the pit, captured the action, while four micro cameras were positioned onstage for fixed close-ups of drums, cello, piano and synths. All seven channels were routed to the switcher and several media servers as well as to a live video manipulation engine, VideoDust, to create stunning graphics from the live inputs.
"VideoDust is, in fact, built on Blackmagic capture and playback cards," Merser noted.
"Every picture on the screens at either side of the band is created live using VideoDust, so it's essential that each element of the video system is reliable and offers minimal latency."
Signals to the tour's triangular LED screens, as well as monitors backstage and FOH, were distributed using a Smart Videohub 40×40, with the video rack's Teranex Express standards converters playing a key role.
"Many of the venues we've played have been large, open-air amphitheaters, with delay screens for the audience to watch from a distance. Many of these only accept older formats," Merser notes. "Having the Teranex as part of our system means that we've been able to provide a feed in the right format regardless of the venue or display tech."
Everything Merser produced was captured to SD cards using the HyperDeck Studio Mini. "As soon as the show ends, I take the SD card to our tour cinematographer, Brody Harper, who edits and posts on social media 20 minutes later," says Merser. "People demand this immediacy from bands and artists, so being able to translate the live experience across social media channels is a crucial element in any band's tour today."
‡‡ Other Tours
Other acts and festivals, including Jimmy Buffett, Train and Elton John as well as La Route du Rock, BigCityBeats and Reggae Fest, also relied on new AV technologies this year. Video production companies adding Blackmagic Design solutions to their tool box for this year's shows include PRG XL Video, Lang AG, Fix8 Group, So Midwest, VPS Media GmbH, Subtractive Inc., and Creative Technology.
"We are using [Blackmagic Design technologies] across all aspects of the production chain, from event setup and monitoring and distribution, through to vision mixing for I-Mag projection, as well as recording and even live streaming of performances," says Sid Lobb from Creative Technology, who gave the company kudos for the "low latency, efficiency and multi-format design required for live concerts and performances."
Production company So Midwest recently used Blackmagic Design's Teranex AV, SmartView Duo and HyperDeck Studio Pro on Train's "Play That Song" 2017 tour.
So Midwest is also using a full Blackmagic Design workflow on Fall Out Boy's "Mania" tour (See story, page 78). The gear list includes Blackmagic's Studio Camera 4K, URSA Mini Pro and Micro Studio Cameras for live shots, as well as video racks for I-Mag that include ATEM 2 M/E Production Studio 4K, ATEM 2 M/E Broadcast Panel, HyperDeck Studio Pro, Teranex Express, Teranex Mini, Multiview 4, SmartView 4K, SmartScope Duo, ATEM Talkback Converters, UltraScope and various Mini Converters.
"Blackmagic is shaking things up and being disruptive, but it has allowed us to get an image that looks amazing," says So Midwest production designer Robb Jibson. "They bring a cinematography element to the show that no other shows really have. Every time we've run into any type of roadblock, we know that Blackmagic has the solution."
VPS Media GmbH, who provide live production services for BigCityBeats throughout Europe on the World Club Dome electronic dance music events also believes that Blackmagic Design' product range offers them total flexibility thanks to is use of open interface.
"Our live event work takes us all over the globe," says Björn Assmus of VPS Media, who commended Blackmagic Design's live production hardware for ease of use at home and abroad. "The ability to have a portable production unit which can be transported on standard commercial flights not only means that we can plug in and play our preferred setup anywhere in the world, but also minimizes sources of error and complex onsite builds."
More information at www.blackmagicdesign.com.
Leave a Comment: