Beyond Safety's Reach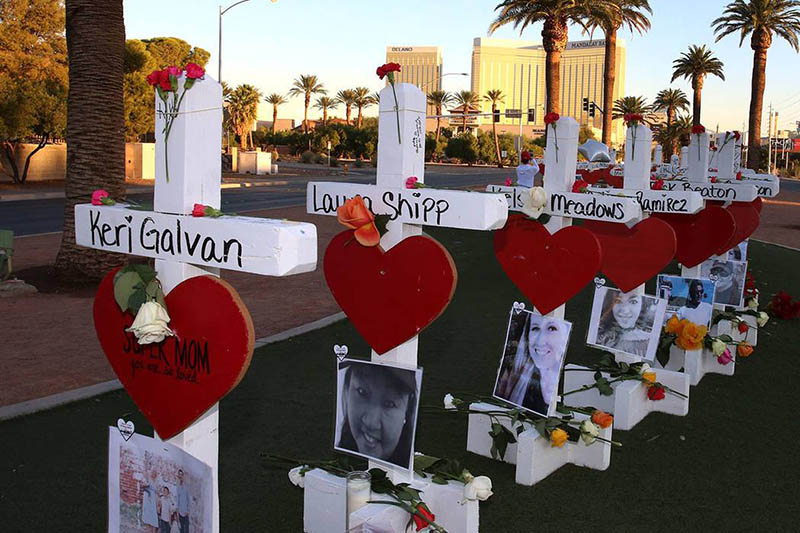 Las Vegas Shooting Shows That Even Best Practices Can't Make Events Completely Safe
The real-life nightmare that unfolded during the closing performance by headliner Jason Aldean at the Route 91 Harvest Festival defied just about every best-practices precaution that could have been deployed to keep the performers, crew and 22,000 concert attendees safe.
No one – even those closest to the shooter, Stephen Paddock, 64 – had the faintest idea that the millionaire without a criminal record and a home on a golf course in a quiet community an hour away from Las Vegas would be quietly plotting the deadliest mass shooting in U.S. history.
Paddock's rampage from the luxury suite on the 32nd floor of the Mandalay Bay hotel and casino defied every reasonable precaution that could have been taken by the organizers of the event, located across Las Vegas Boulevard from the Luxor, the next casino north of Mandalay Bay, both of which are on the west side of the Strip.
Weeks after the shootings, investigators were still searching for a motive that would explain why Paddock would fire machine-gun like volleys toward a distant crowd, leaving 58 dead, 489 injured and more than 22,000 people traumatized before taking his own life.
At this point it seems doubtful that a reason will ever be known. And while Paddock himself will never again be a threat to those partaking in future outdoor gatherings, the "new normal," discussed by the Event Safety Alliance in the wake of the terrorist attacks at the Bataclan in Paris (Nov. 13, 2015; 89 killed) and Pulse Nightclub in Orlando (June 12, 2016; 49 killed) will continue to haunt event organizers and attendees.
If the Oct. 1, 2017 Las Vegas shootings underscore the fact that even best-practices responses to active shooter situations have their limits, that doesn't take away their power within those limits. With that in mind, it seems appropriate to take another look at the guidelines that emerged after the Pulse nightclub shooting in hopes that this knowledge might help save even just one life in the future. A portion of the "Safety Factor" feature that ran in PLSN-affliated publication FOH's July 2016 issue is reprinted below.
‡‡ No Venue or Event is Entirely Safe
The Event Safety Alliance firmly believes that no genre of music or entertainment should be blamed when patrons engage in dangerous activities that harm themselves or others. Likewise, regardless of the type of event, no one should go to work thinking they are immune from the threat of a gunman entering their site with deadly intent. The take-away message of active shooter incidents occurring at locations as diverse as a nightclub, movie theater, university, military installation and elementary school, just to list the five worst, is that none of us has the luxury of complacency.
The Alliance encourages healthy discussion of what should be done to keep people safe. Given the incredible diversity of event spaces around the world, clearly one size does not fit all. Here are a few ideas to consider.
‡‡ Run, Hide, Fight
The U.S. Department of Homeland Security advises that in an active shooter situation, everyone should try to work through the following steps, in this order.
1: Run away from the shooter if there is a safe way to exit.
2: If there is no obvious way to exit, but some other place nearby that is less exposed than where you currently are, go hide there;
3: If you cannot run to safety and there is no good place to hide, then stay put and prepare to fight with whatever is available.
‡‡ Crowd Manager Training
In any emergency, people exhibit a variety of abilities to assess and respond to danger. Live event spaces, being unfamiliar to crew and patrons and loud and dark during a show, present additional challenges. Accounts of many tragic incidents, including the nightclub shooting in Orlando, show that some people simply wait for direction or rescue. In order to help the most people reach safety, event professionals can, and arguably should, be trained in the techniques of crowd management.
‡‡ Security Guards
The simplest security measure is to have trained, licensed security guards performing rigorous bag checks and pat-downs of everyone seeking entry. There are conflicting reports as to how the shooter at Pulse got a bulky AR-15 assault weapon past the person at the door on a typically warm June night in Florida, but it is hard to argue that a person-to-person check at the point of entry (supported by immediately available law enforcement to help deal with any issues) is a good idea.
‡‡ Magnetometers
Another option is magnetometers, either handheld or walk-through. These have the benefit of allowing faster ingress than bag and body checks, and being potentially very sensitive to metal objects like guns; they have the disadvantage of being only as sensitive as the person calibrating them and stopping people who trigger an alarm and they are also more expensive than guards alone. If magnetometers are used, they must be monitored by security guards trained in their use, and those guards, with the support of immediately available law enforcement officers stationed nearby, must be prepared to detain and investigate anyone triggering an alarm.
‡‡ CPTED
Many larger event spaces have a perimeter plus additional space beyond it, which could be used for the initial security checkpoint. This is the concept of Crime Prevention Through Environmental Design, and it likely saved many lives when a security guard doing a pat-down stopped one of the Paris bombers outside Stade de France. As the guard was posted away from the entrance, the bomber detonated his explosive belt far from the crowd, avoiding much larger casualties.
‡‡ More Guns Are Not the Answer
However one feels about the right to carry firearms in other places, the Event Safety Alliance believes that there is no scenario in which a live event space is safer by adding more guns. An already loud, dark event with lots of people in close proximity, in a space that few crew or patrons know well, is not an environment in which even well-intentioned crossfire is going to improve the situation.
‡‡ Re-evaluating Your Position as Circumstances Change
The law imposes on each of us the duty to behave as a reasonable person under the circumstances. This means that as circumstances change, we have a legal duty, as well as a moral one, to reevaluate what we do to see if our actions remain reasonable in light of what is now true.
ESA Statement on Las Vegas Shootings
The Event Safety Alliance posted this message on their website, eventsafetyalliance.org, on Oct. 2, the day after the Las Vegas shootings.
There are few words to describe the heartbreak felt from last night's horrific event in Las Vegas. Our industry is more united and resolute than ever in the advancement of robust security protocols to ensure the safety of our cherished guests, artists, and crew. However, sometimes there is never enough.
Sadly, there are no easy answers to catastrophic threats such as these. While we grieve for those who's lives are now inexorably changed and those who through the bullets of a coward's gun have been lost we will continue together to advocate for increasingly effective safety measures at events around the globe.
We commend the courageous actions of those on both sides of the stage who risked their own lives attempting to protect others. You are a testament to the courage of the entertainment community and those who revel in its glory. You are all our heroes.
For more information about all aspects of event safety, visit the Event Safety Alliance at www.eventsafetyalliance.org.
U.S. Active Shooter Incidents with High Casualty Counts
547 Route 91 Harvest Festival
Las Vegas, NV, Oct. 1, 2017
58 killed, 489 wounded
102 Pulse Nightclub
Orlando, FL; June 12, 2016
49 killed, 53 wounded
70 Cinemark Century 16 Theater
Aurora, CO; July 20, 2012
12 killed, 58 wounded
49 Virginia Tech
Blacksburg, VA; April 16, 2007
32 killed, 17 wounded
45 Ft. Hood Soldier Readiness Center
Ft. Hood, TX; Nov. 5, 2009
13 killed, 32 wounded
29 Sandy Hook Elementary School
Newtown, CT; Dec. 4, 2012
27 killed, 2 wounded
Active Shooter Protocol
Practical Suggestions for Touring and Production Pros
By Charlie Hernandez
An active shooter is an individual or group actively engaged in killing or attempting to kill people in a confined and populated area. Active shooter situations are unpredictable and evolve quickly. Typically, the deployment of law enforcement is required to stop the shooting and mitigate harm to victims. As such situations are often over before law enforcement arrives on the scene, individuals must be prepared both mentally and physically to deal with an active shooter situation.
Before a situation occurs, be prepared — be aware of your environment and any possible dangers. Take note of the two nearest exits in any facility you visit. However, if confronted with an active shooter:
Run
If there is an accessible escape path, attempt to evacuate the premises. Be sure to: have an escape route and plan in mind; evacuate regardless of whether others agree to follow; leave your belongings behind; help others escape, if possible; prevent individuals from entering an area where the active shooter may be; keep your hands visible; follow the instructions of any police officers; do not attempt to move wounded people; call 911 when you are safe.
Hide
If evacuation is not possible, find a place to hide where the active shooter is less likely to find you. Your hiding place should be out of the active shooter's view; provide protection if shots are fired in your direction; have a lockable door; and not trap you or restrict your options for movement — i.e., an office with a single door.
To prevent an active shooter from entering your hiding place: lock the door and blockade the entry with heavy furniture. If the active shooter is nearby: lock the door; turn off any lights; silence your cell phone and/or pager; turn off any source of noise (i.e., radios, televisions); hide behind large items (i.e., cabinets, desks); and remain quiet.
Fight
As a last resort, and only when your life is in imminent danger, attempt to disrupt and/or incapacitate the active shooter by: acting as aggressively as possible against him/her; throwing items and improvising weapons; yelling; and committing to your actions.
When Police Arrive
Law enforcement's purpose is to stop the active shooter as soon as possible. Officers will proceed directly to the area in which the last shots were heard. The first officers to arrive to the scene will not stop to help injured persons. Expect rescue teams comprised of additional officers and emergency medical personnel to follow the initial officers. These rescue teams will treat and remove any injured persons. They may also call upon able-bodied individuals to assist in removing the wounded from the premises.
Once you've reached a safe location or an assembly point, you will likely be held in that area by law enforcement until the situation is under control, and all witnesses have been identified and questioned. Do not leave until law enforcement authorities have instructed you to do so.
Officers usually arrive in teams of four and might be wearing regular patrol uniforms or external bulletproof vests, Kevlar helmets, and other tactical equipment, and armed with rifles, shotguns or handguns. Officers may use pepper spray or tear gas to control the situation and might shout commands and push individuals to the ground for their safety.
How to React When Police Arrive
Do not run when police enter the vicinity. Avoid pointing, screaming and/or yelling. Remain calm, follow officers' instructions and put down any items in your hands (i.e., bags, jackets). Immediately raise hands, spread fingers and keep hands visible at all times. Drop to the floor if you are told to do so, or move calmly out of the area or building
Avoid making quick movements toward officers, such as holding on to them for safety. Do not stop to ask officers for help or direction when evacuating. Just proceed in the direction from which officers are entering the premises.
And do not return to an evacuated building until and unless told to do so by production/public safety officials.
Parnelli Award-winning Charlie Hernandez is both the director of the ESA and a noted production manager.
Leave a Comment: