Claypaky Axcor Profile 900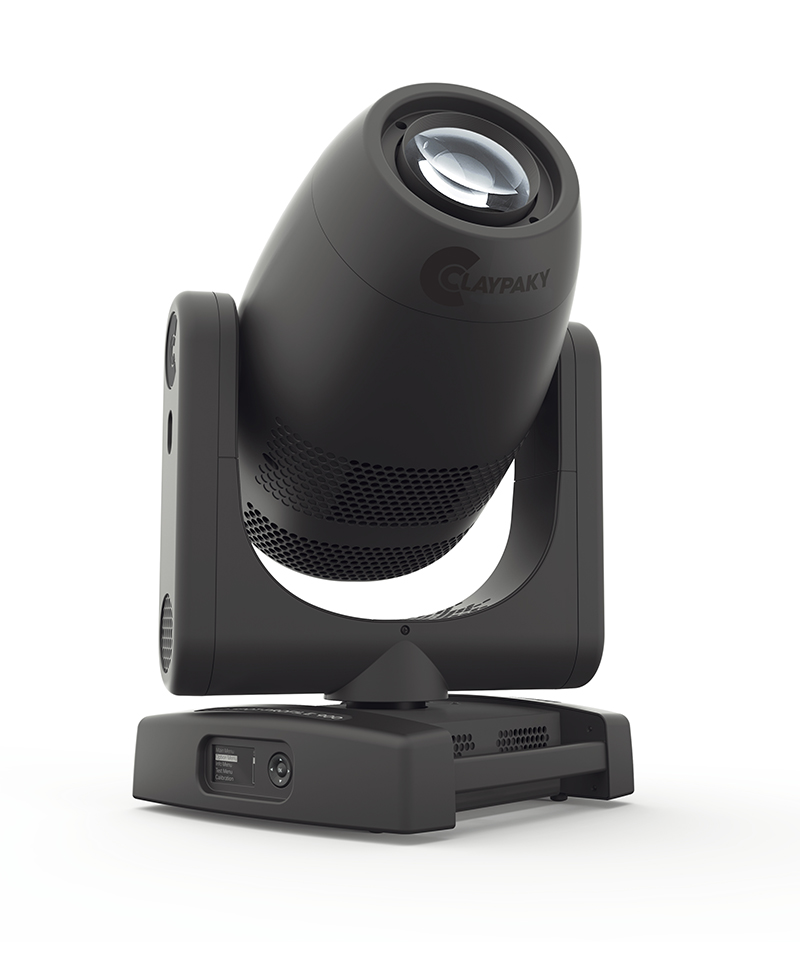 With the release of the Axcor Profile 900, Claypaky has launched their first spot profile to use a LED light source, instead of a traditional discharge lamp. With their recent marvels in LED light engine technologies realized, the time had come for them to show the world what they had been waiting for and by all first responses, the wait was worth it.
By going in this direction, Claypaky now offers a fixture that is environmental friendly as it uses less power consumption (little more than 1 kW) and will be more stable over time. The fixture produces less ambient heat and noise while offering all the attributes one wants in any hard edge profile.
The physical size of this fixture is comparable to most high quality hard edge spots on the market. It measures in at about three feet in height and half that size in width. The handles are built into the base with no extrusion, but these fixtures are heavy, weighing in at just under 100 pounds. The frame is made of steel and aluminum while the black matte cover is plastic.
‡‡ Two CRI/Color Temperature Options
The fixture comes with a high wattage (880W) white LED engine as its source. It is bright, offering 46,000 lumens (output of 24,000 lumens) with a natural color temperature of 6500K. The CRI (Color rendering index) is 70 on this model. With this low of a CRI, the user can get a wider color spectrum when mixing dichroics.
Claypaky also offers the user the option of another 880W light engine that has a CRI of 90 and a color temperature of 5600K. This source offers less intensity, issuing 34,000 lumens (with an output of 17,500 lumens), but the output from the CRI 90 light engine has a much warmer look to it than the CRI 70 light engine. With either CRI option, the field is totally full and flat, with no noticeable hot spots.
The Axcor Profile 900's brightness is about the same — if not slightly brighter than — Claypaky's Scenius spot at full power. The proprietary internal lens system helps optimize the lumens of output. The Axcor also gives users the option of running the fixture in power-saving modes, with options of 600 or 400 watt power levels.
‡‡ Bright Beams, No "Bulbs" to Change
The light source is designed to offer 20,000 hours of use before it starts to dim. Partly because the only time the light source is being used is when the shutter Is opened, for all practical purposes, the light engine should keep working for the full life of the fixture and not need to be replaced.
The other thing to remember about this fixture is that the dimmer and strobe mechanisms are all electronic, and the dimmer is perfectly linear.
The beam on the fixture can be manipulated in many ways, starting with the framing system. The four blades overlap and can move quickly. This enables the user to open the beam output by "wiping" from black to full intensity via side shutters.
Along with the ability to shape their beams any way they desire, users have control over the shutters and can use them to produce cool aerial effects. There are no shaping distortions one usually notices on hard edge lights when the beam is shaped to be a blade of light.

Claypaky purposely mounted the beam shaper close to the gobo wheel to minimize the dreaded "Banana shape" effect. The blade assembly can rotate 90° at any desired speed.
There is a motorized zoom that ranges from 7-40° as well as a fast, snappy iris mechanism. The zoom is quick enough to be used as a beam effect, and the iris comes packed with macros that can pulse and stretch your beam any which way you'd like at any rate.
Users of the Axcor Profile 900 will also find that two frost filters are available with this fixture. One offers the user a soft edge to the beam only so you can still view patterns. The other is a variable flood lens that can be used to change the beam to simulate a wash fixture.
There are a number of ways to break up the beam. A single six-slot gobo wheel offers stock aerial and texture style gobos that are easily replaceable. Indexable and variable speed rotation included. A Four facet rotating prism is also available to the user as well as an animation wheel. Any of these can be used in combination with the other.
‡‡ Tweaking the Colors
Color-wise, the Axcor is covering every angle a programmer might require. The options for color mixing start with a CMY system that can bump color quickly or do a perfectly slow cross fade from one color to another.
Color mixing is achieved using a wheel system which has many advantages over horizontally inserted colors: more uniform color over the whole projection diameter, cleaner color insertion, utmost brightness even with multiple color filters, and almost no color fringing. A linear CTO filter completes the color mixing system.
A six slot plus open white color wheel is well thought out, with five saturated colors placed in a correct order (Navy blue and blood red are on either side of open white). The sixth slot in the wheel holds what Claypaky is referring to as the CRI Enhancement Filter. This is a custom designed filter created by Claypaky, which is able to dramatically increase the CRI.
‡‡ Cool Running
A significant challenge to any fixture utilizing a large wattage LED light engine is the heat that's dispersed. Claypaky has come up with an innovative and efficient cooling system that dissipates the heat with intelligent speed-controlled fans and through tubular heat ducts made of heat conductive
material.
Thanks in part to this innovative cooling system, this fixture can also operate at very quiet noise levels — almost silently.
The fixture moves in a perfectly smooth way, whether it's asked to do so at a rapid or leisurely pace. It also allows for 540° pan and 250° tilt. The fixture can be run from either 38 or 42 channels of DMX. The fixture also accepts RDM, web and Art-Net protocols.
At a Glance
A Smooth, Bright and Virtually Silent Performer
The Axcor is a fixture that can be used on any project. With a high output it can be used in any arena-sized show as easily as it can be used in a lower wattage for a smaller show. The ability to choose what light engine you'd like with your fixture and to run it at a lower wattage is a great idea. The cooling system also keeps heat and noise to a minimum.
Axcor Profile 900
PROS: Bright, hard-edge spot with an LED engine lamp source, flat field, all the functions a designer requires in a profile fixture.
CONS: None
FEATURES
Light Source:
880W white LED engine capable of producing 46,000 lumens and 24,000 lumen output.
Color Temperature/CRI Options:
6500K w/ CRI >70, or 5600K w/ CRI > 90
Protocols/Functions:
RDM, Web Server and Art-Net
Color Mixing:
16-Bit CMY, 6-Color Wheel, Linear CTO
Dimmer/Strobe:
Electronic linear dimmer, 16 bit + electronic strobe
Other Features:
7°- 40° Linear Zoom
Focus Tracking System
6 HD Interchangeable Gobos
Animation Wheel
4-facet Rotating Prism
Framing System w/ 4 Focal Planes, 90° rotation
Variable "Soft Edge" & Flood Frost
0-100% Iris with multiple macros
STATS
Size: 16.7" x 17.4" x 34.4"
Weight: 99.2 lbs.
MSRP: Contact dealer
More Info: www.claypaky.it
Leave a Comment: