Heartbreak Hotel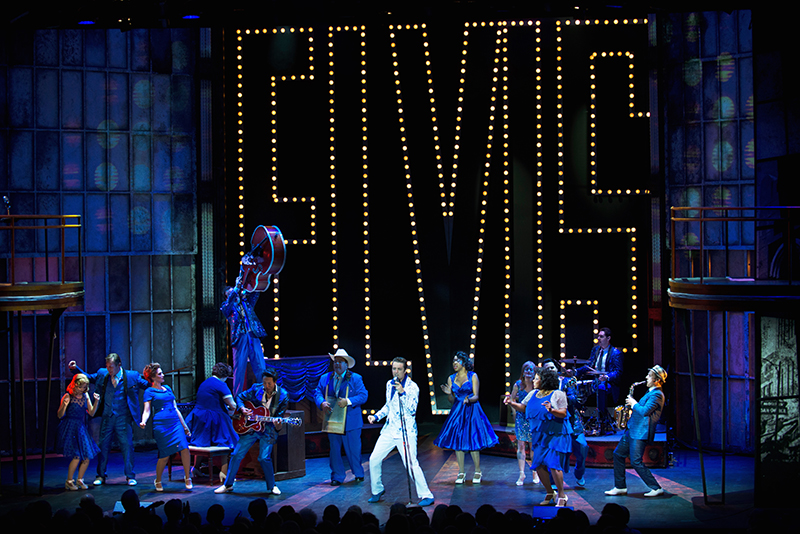 If you're a passionate fan of rock legend Elvis Presley, you may already know much of the story that Tony-nominated writer/director Floyd Mutrux tells in his new musical, Heartbreak Hotel. The prequel to the popular Million Dollar Quartet (which was written by Mutrux and Colin Escott), this new play follows young Elvis from his humble beginnings as a truck driver to the peak of stardom — a tale that captures the imagination of anyone waiting for their own shot at greatness.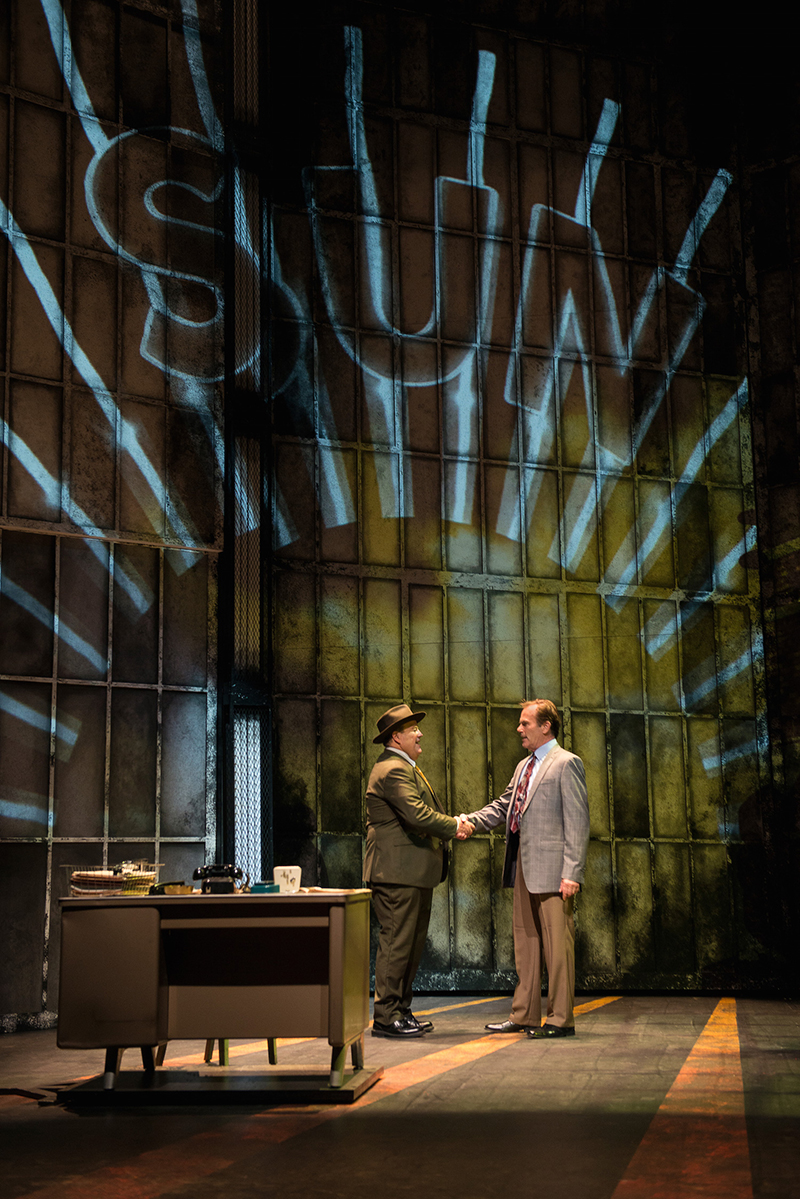 Heartbreak Hotel had its first workshop performances in California, but it was still very much a work in progress when it arrived at Ogunquit Playhouse in Maine for its first fully mounted production. The playhouse in Maine, now in its 85th season, has become a place to develop new musical work: Its list of world premieres and early productions including Billy Elliot the Musical, Cameron Mackintosh's new musical The Witches of Eastwick and Million Dollar Quartet, the story of the night of Dec. 4, 1956, when Elvis Presley, Johnny Cash, Jerry Lee Lewis and Carl Perkins met up for a jam session at Sun Record Studios in Memphis, TN and produced some of the most popular songs of the era.
Mutrux now brings a new musical to Ogunquit to give audiences a glimpse of the superstar's rise to the top of the rock 'n' roll charts. It follows Elvis and record producer Sam Phillips through the 18 months in which Elvis rocketed from relative obscurity to stardom, meanwhile revealing secrets, betrayals and the giddy highs and gut-wrenching lows of his ride to the top.
To bring this complex biographical tale to life, Mutrux assembled a team of designers to create a surround that could move the story seamlessly from one location, time period and event to the next. The simple set, created by scenic designer Adam Koch, provides a background on which the production's most valuable tool can do its work: the medley of projections that keep the audience oriented while enhancing the work of the players onstage.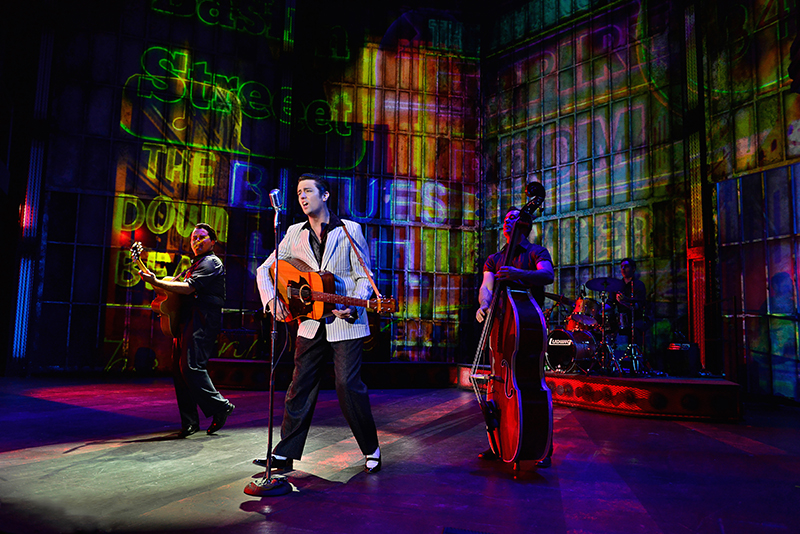 ‡‡ Scenery as Setting and Screen
To create a surface that doubles as a projection screen and flexible scenery, Koch turned to the abstract. "I think the most interesting stage pictures happen when you can't really quite tell what is what — is it projected or painted?" he said. "I like everything to look like a Fantasia, when it's not clear who's doing what work, like a magic trick."
Form had to follow function in this case, so Koch created a set that could stand on its own as a three-walled room or fade away when the projections took over. "Floyd's script is kind of an abstract biography of Elvis with all of this projection imagery to enhance the story," Koch said. "The permanent set had to be an embodiment of Elvis's story. I wanted the ultimate garage band set. "
The result involved a structure of three 25-foot-high walls that wrap around the actors and provide dimension to the sparsely propped stage. Koch created a grid pattern reminiscent of 1950s factory windows, giving the background texture and visual interest. As Elvis reaches the pinnacle of his career, the rear wall lights up with his name in letters nearly three stories high — the kind of climax that moves audience members to cheer and yell for encores.
As with Million Dollar Quartet, "the actors are the musicians, so as a set designer, you have to build a set that kind of worships the musicians," said Koch. "It's about the virtuosity of the performers. It's a live musical event, a live band on stage every night. At the same time, there are a lot of qualifications the scenery has to pass to be projected upon. This had to be equal parts scenic and projections. So I intentionally designed the most projection-friendly set."
Koch and Brad Peterson, projections designer, had worked together before, so Koch knew what to expect and how to accommodate the projection design.
"Because so much of the raw footage and the photos are black and white, one of the best things we can do is make black and white footage come alive in color," said Koch.
"On this set, the projections can be as colorful or as black-and-white as we want them to be. You have to be sort of a blank canvas in a way — much like the musicians are the centerpieces of the performances, the projections are the centerpiece of the scenery."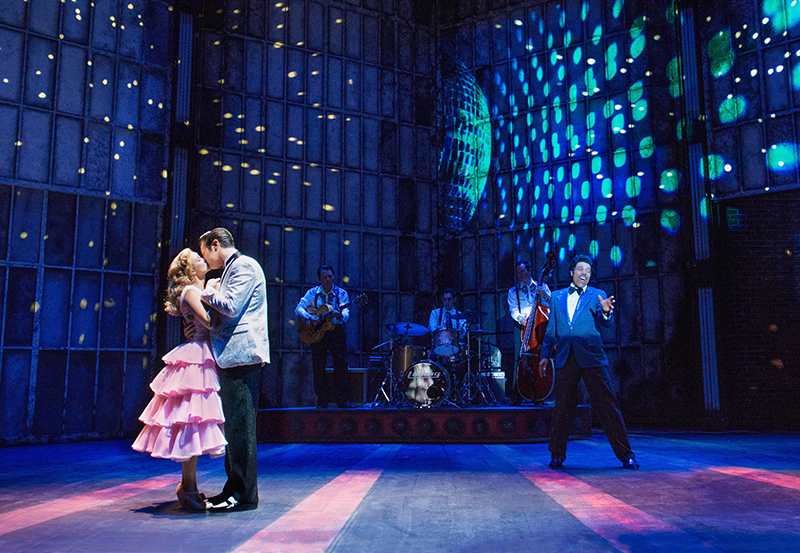 ‡‡ Blending History and Current Reality
"Floyd felt very strongly that the audience needed to perceive our story through documentary photos and video that we could find and use, to reinforce that Elvis was a real person, and that the story has not been sensationalized," said Peterson, whose recent gigs include the Broadway revival of Cats in 2016, as well as productions of The Lion, the Witch and the Wardrobe and A Little Night Music at the Stratford Festival in Ontario — and Halloween at the White House in Washington, DC, in 2015.
Peterson approached the show the way he might a documentary, collecting all the film footage and photos he could find to create a network of moving and static images behind the performers. "It became my responsibility as the designer to think, 'How do we turn this into a musical?" he said.
"People go to the theatre to see theatre, not to see a movie. But people are drawn to projections and video; they're used to watching TV. So it's about finding the way to be immersive without overshadowing the fact that there are incredibly talented singers and dancers and actors on the stage, playing those roles. I'm the documentary oomph that keeps it very biographical."
He began with what he called the "true history," the look of photos and film footage in the 1950s and determined ways to enhance it to create the best possible audience experience. "How do we represent how the people were experiencing Elvis?" he said. "He was the first mega-star that media consumerism made. It's all black-and-white photos, so it was important to me to bring in color. I love color, I'm not afraid of it — it adds emotion and context."
Peterson knew better than to simply colorize all the photos, however. "The show starts in muted tones, intentionally black-and-white," he said. "As the music and Elvis's life get more manic and excited, it earns the right to be more colorful." As the story progresses, subdued shades gradually turn into neon-bright lights. "There's a great image of all the neon signs — the projections are not moving, but the colors and pulsing give it light and energy. We're reaching that peak Elvis acceleration. So by the time we get to that encompassing look, it can be very powerful and present. We've earned it as a story; you can go that far. The act ends triumphantly."
Film clips and images from the 1950s all contained the real Elvis, of course, and Mutrux had an idea about how to handle this, said Peterson. "As a designer, I was skeptical when Floyd said, 'While they're performing, I want to see videos of them performing on the walls.'" Mutrux wanted to see the actors in what would appear to be archival footage, projecting these moving images up on the set while the live actors performed the songs in the videos.
Peterson figured out how to solve this. "We shot Elvis and the Blue Moon Boys against a green screen, which allowed us to immerse the performers in images of themselves," he said. "So while you're watching them play one song, they're playing at a bunch of clubs, in a very abstract manner, in different costumes." This represents the passage of time and the frantic schedule of gigs Elvis and his band maintained at the peak of their stardom.
"We also shot photos of our Elvis and our romantic leads and showed them in historical photos," Peterson continued. "It really did serve to answer the question of what Elvis was doing over several months. The audience really bought into the fact that we are looking at our actors, intermixed with historical stuff. It blurs the lines and make our performers feel that they are in the documentary."
Did it work? "It's been incredibly successful," he said. "The first time we put it up there, it was one of those moments when I said, 'I get it.' We're asking the audience to suspend their disbelief and watch what we've mocked up to be low-quality video of our performers and then weave that into actual Elvis documentary photos. It could have been terrible, but it worked so well. It was pretty cool."
Peterson and the Ogunquit staff project the show using a Barco FLM R20+ projector. "I was trying to do the whole show with that, but because of the incredible 25-foot walls, we rented two Panasonic 12K projectors to put closer to the stage and fill the space," he said. The imagery is fed via PRG's Mbox media server, using Mbox Director software. Peterson noted that his associate, Lisa Renkel, played a role in content creation and editing, paperwork tracking and tracking notes and changes throughout rehearsals. "She also served as an extra set of eyes — something crucial on a project like this, with such a short time frame," he said.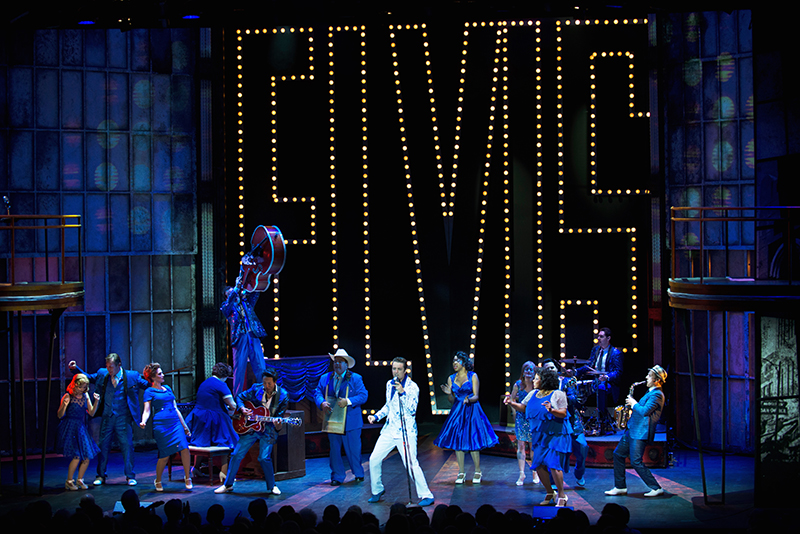 ‡‡ Lighting: Faces and Places
For Richard Latta, Ogunquit's resident lighting designer for 32 years, the design task when working with a projection designer is simple: "Stay out of their way."
Latta has served as a projection designer's assistant earlier in his career, so he brought an innate understanding of the task to this project. "Normally, you let the projectionist get established, and you want to get some dimensionality with the lighting," he said. "We didn't need much on this show. The window walls were supposed to be translucent, but that changed — which helped me and helped with the punch of the projections. There's a lot of information out there, and it needs to get through."
In addition to a significant inventory that includes 200 ETC Source Fours, 12 Martin MAC III moving lights, 18 Martin MAC Auras, some Elation Platinum FLX and Artiste DaVinci fixtures, and 100 dependable PAR 64s, Latta rented wash lights and used the season rental of two Martin MAC Quantum Profile LED fixtures. "It's counterintuitive, but I needed to rent more wash fixtures so I would not have to flood out the projections," he said. The lights are controlled by an ETC Ion that the theatre upgrades annually.
"I focused on the main musical performances," he said. "It's pretty straightforward. Floyd's vision is authentic." Getting the right angles on faces in the dramatic scenes and building excitement as Elvis's career kicks into high gear became the priorities for the lighting designer.
The larger challenge for the entire design staff, however, was Ogunquit's strict 30-hour tech process, with two ten-out-of-twelve rehearsals and one eight-out-of ten. "We had an Act I day and an Act II day," Latta said. "It's that level of Broadway-like intensity. There's more time on Broadway, but the intensity is the same."
Peterson found himself designing and cueing on the fly as the rehearsals moved rapidly forward — so when he and Koch needed to communicate, they resorted to texting one another. "If I had a question or there was something really evocative, I'd IM him," said Peterson. "I was the last one hired, so Adam had more pre-production process than I had. So we'd suddenly have a really cool, collaborative idea in a text."
"Brad was set up with all his monitors and all his associates, and I'm with my associates at my table, so the quickest way to communicate was through text," said Koch. "That's collaboration with a capital C. You have to plan everything out to guarantee success, but within the designer world, we'll plan it all out but we'll have the chance to improvise along the way. Happy accidents happen in the funny moments in the end. You can't count on those, but when it happens, it's fun."
Leave a Comment: