Hometown Hero Finalists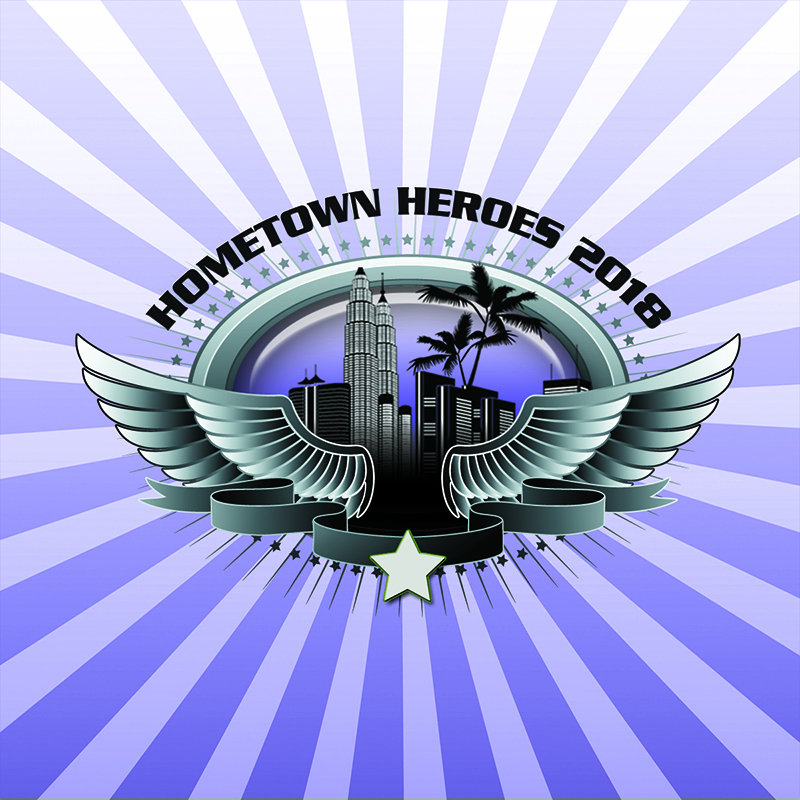 Diverse Group Voted Best in Their Region by PLSN Readers
Thousands of readers across the continent weighed in on which lighting company deserved the certificate, the bragging rights and the chance to take home the "Parnelli Hometown Hero Award of the Year" at the Parnelli Gala in January.
There are some fresh faces along with several who are returning to the winner's circle, but they all offer up a few things in common: a dedication to customer service, a commitment to constantly investing in their inventory and an unflappable commitment to getting the job done. Meet the people running the companies named as the best in their region by readers of PLSN.
Northeast
East Coast Lighting & Production Services/ECLPS, Warwick, RI
"It makes me happy and proud that ECLPS has won the Northeast Region," says ECLPS president Bob Morrissey. "The credit for us being in this position goes out to all of those that took the time to vote and even more so to everyone that has worked here over the last 45 years. I owe this honor to all of you for your hard work and for your dedication to the industry. Technology has changed, but our passion for production never will."
ECLPS has grown through the years, branching out into different markets, serving the corporate and special event needs of their region. This year they started video production services with the purchase of 300 Elation EPT6IP LED video wall panels along with Novastar NovaPro HD LED video processors, Blackmagic Design HD video switchers, Canon HD cameras and ECLPS custom made Resolume Arena 5 media server system racks. "With these additions, ECLPS has grown its video production services for our current market base and allowed us to expand into other markets such as corporate AV, live theatre and an ever-growing video rental market within our region."
But Morrissey maintains that "lighting is, and always will be, our middle name…From our early days, we have supplied lighting to the New England/Northeast Region with a focus on the Boston/Providence markets. 2018 will mark our 25th year as the house lighting company at the Blue Hills Bank Pavilion, and we also serve in the same capacity at the Boston Orpheum Theatre, both Live Nation venues."
Highlights from 2017 included:
Supplying lighting to the four stages at the Newport Folk and Jazz Festivals.
Lighting and video wall support for the WXKS Kiss Party and WJMN Summer Jam
The International Portuguese Music Awards Show.
GrooveBoston Proximity and Cloud 9 tour dates.
Mission 6 events.
The 20th Anniversary Rhythm and Roots Festival stages.
Southeast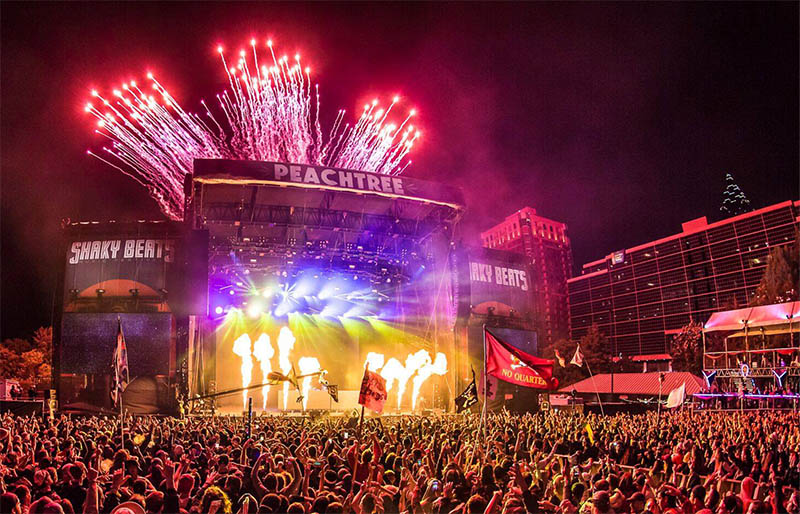 Music Matters Productions, Atlanta, GA
Music Matters Productions owner and production designer Aaron Soriero says his production company grew out of a music instrument store. The New Jersey-born kid moved to Atlanta in 1997 and in 2003 founded Music Matters, a store that also provided lessons.
"One summer I did this 'school of rock' camp, and for the show at the end of the week, I felt I had to buy lights for it," he explains. "Then, after that, a friend asked to rent them out." And the proverbial light clicked on. What started as a side business with a couple of Coemar 250 spots grew, and he sold one of his three music stores, invested in gear including a Martin M1 Controller, and never looked back, expanding officially into a production company in 2008.
Soriero and his core team of professionals and engineers, have produced some big events, providing custom lighting and video designs. "Our in-house production rental equipment can produce shows of any venue size," he says. "Our inventory ensures that our clients are able realize anyone's creative visions." Today, they have a lot of Martin gear, including MAC Viper, MAC Axiom, Quantum Wash, LED Atomic Strobe and MAC Aura fixtures. They also have GLP impression X4S fixtures and Elation ACL 360 and Beam Extremes, among other gear.
"We do a lot of concerts and music festivals, and as of now, we don't do a lot of corporate events," Soriero says. He and his 10-person crew has handled the likes of Lauryn Hill, Pitbull and the EDM Imagine Music Festival, among others. Other notable gigs include the Shaky Festivals (both Shaky Beats and Shaky Knees, both held at Centennial Olympic Park in Atlanta), which he's handled since 2013. These have grown every year, and now more than 100,000 people attend the three-day events in total. This is one event that has allowed him to expand into video, and Soriero recently picked up 700 of Absen's outdoor X5 LED tiles. Another notable event Music Matters has handled this year was the "Hampton 70 — A Celebration of Col. Bruce Hampton" at the Fox Theater. The 70th birthday party featured Duane Trucks, Susan Tedeschi, Chuck Leavell and Peter Buck, among others.
"For a long time, I just had my head down and did the work, and then when I finally looked up, I was like, 'Wow we've really grown a lot.' What I'm really proud of is that I get a lot of compliments on my team, good people who really commit to the job, and to get this award is, for me, a recognition of that."
Midwest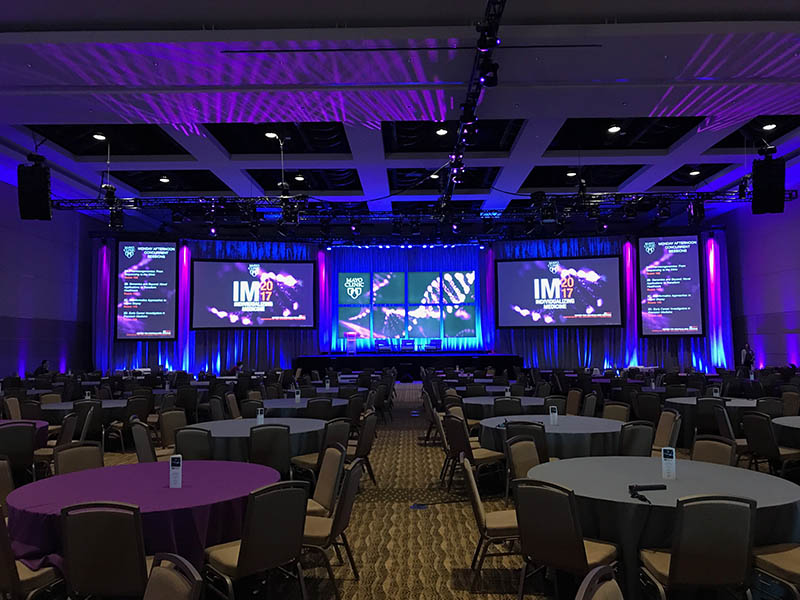 Legacy Production Group, Minneapolis, MN
Legacy is a new full-service production house, started in 2015 by Tom Gorman and Tom McKnight, who between them had 50 years in the industry. Gorman toured in his younger years and started to concentrate on the corporate lighting world when he came off the road to start a family. McKnight came from a sales and production management background. "Our combined skillset matches perfectly to create a great in-office culture and design workflow," Gorman says. "Our secret sauce is really to just be nice to people and try to outdo what we think their expectations might be, with great service and top notch equipment. We know how important it is to have equipment that works. That sounds simple, but it takes a lot of work. We do have an amazing support staff that isn't afraid to work 24/7 if the need arises. They are really the ones keeping this whole thing moving. We don't really want to have an office/shop type of environment. We wanted a clubhouse type feel where people can be themselves and where people just want to show up and hang out and see what's going on."
While today Legacy focuses mostly on corporate work, they are expanding into music, rentals and touring. They are about to go out and support the rapper Tyler, The Creator's tour. "We have just doubled our Color Force inventory and invested in GLP X4 Bar 20s and Clay Paky Mythos 2s," Gorman says. "This adds to a solid inventory of Martin Viper Performance, Auras and both Quantum Profiles and Washes. We are buying what we think people want to use on their shows, but also products that we can use on our full production corporate shows."
One of their recent notable event was for a large conference for the Mayo Hospital. Another event they were called on to light up was a large Gala at the RiverCentre in St. Paul. "We also handled a fundraising kickoff event at the University of Minnesota Foundation, lighting up the Northrup Auditorium inside and out," says Gorman.
Like true hometown heroes, they espouse a "no job is too big or too small" attitude and are still happy to handle the needs of a breakout room to national entertainment acts. "We are so thankful for this nomination and we all celebrate this as a team victory," Gorman says. "We have a group of people that love to come to work. We can't ask for anything more. A huge humbling thank you to everyone who supports us."
Northwest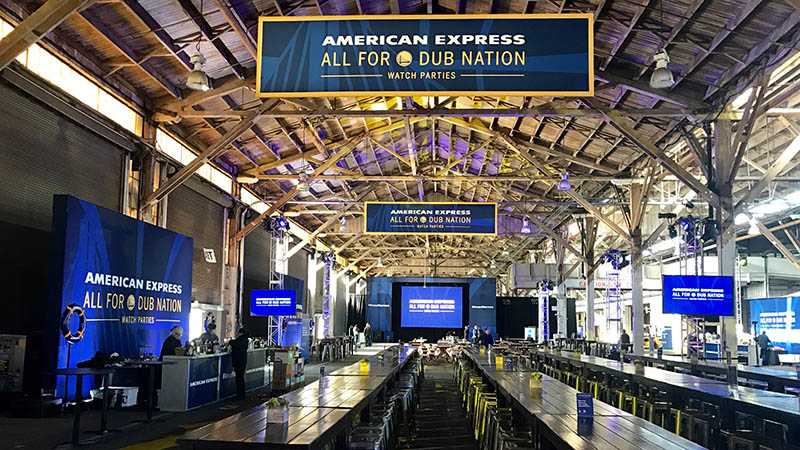 Impact Lighting, Richmond, CA
"This is our second time receiving this award, the first was in 2014," says Michael Dalton, Impact's director of production. "We are very pleased to be included again with this year's PLSN Hometown Hero Award Winners!" Impact has gone through a lot of changes lately. After leading the company for 20 years, Peter Donovan retired last year. Neil Johnson is in his sixth year as VP and GM. Impact's management team includes Susan Sheinkopf, Director of Sales and Marketing; Andrew Dorland, Creative and Design Director; David McCollum, Director of Operations; and Mark Bellows, Warehouse Director. They have expanded their sales and production team this year as well and have about 40 full time employees in all.
"Impact continues to invest in automated lighting technology and have improved our audio/video inventory with Christie PJ's, Stumpfl Borderless Screens, Accurate stage decking and Meyer line array audio systems," says Sheinkopf. "We continue to work with music festivals, concerts and social events. Our strong presence and experience in this region allows us to focus on providing high level production support for events of all sizes."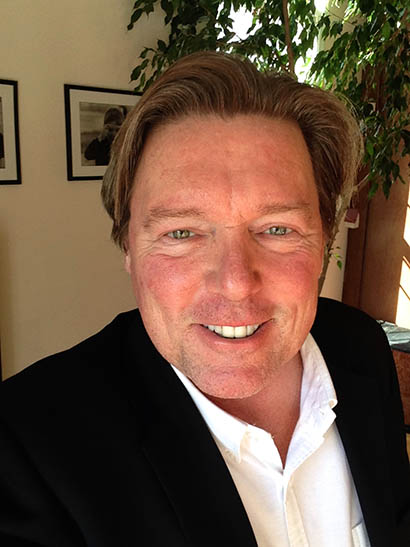 This year, they supported multiple corporate events throughout the Bay Area. "Our production services at Piers 27, 29 and 35 in San Francisco help to showcase the area's top tech companies in these world class venues.
We provided full production support for general sessions, keynotes, breakouts and exhibits for multiple events including; American Express, Slack, Salesforce, PagerDuty, Demandbase, Twilio, eBay and NerdWallet."
For this past summer's Outside Lands music festival in Golden Gate Park, they provided production support with a custom designed lighting rig for one of the main stages and supported the infrastructure as well. They also designed and implement Oracle's CloudFest and OpenWorld conferences, which featured multiple client appreciation events across several different venues.
"In addition to our corporate and concert work, Impact has a close relationship with the Golden State Warriors, as well as the cities of Oakland and San Francisco. We are the primary production company for GSW viewing parties and celebratory events."
While the company's roots go back to 1999, the "Impact" name was adopted in 2002. Their 40-plus employees are part of a greater network of sister event management and production companies that include Hartmann Studios and Hartmann Studio Rentals. Gear-wise, Martin says, they are mostly a Martin house and recently expanded with a fleet [MAC] Vipers and [MA Lighting] grandMA consoles. They also boast having the largest wireless LED Par inventory in the Bay Area.
Southwest
Brown Note Productions, Thornton, CO
"Brown Note Productions had an extraordinary year of growth," says president Ryan Knutson. "We served a wide range of touring clients, festivals and one-offs and provided production for dozens of Red Rocks events here at home. We are so proud of our team and looking forward to what the next year has to bring."
Knutson started in this business touring as a FOH engineer/production manager for the instrumental rock dance band Sound Tribe Sector 9. His wife, Sara, meanwhile, was working as a corporate events manager for a local data storage company. When she saw the bids to rent AV equipment for an event, she showed it to Knutson, correctly guessing that he could do better. "We made up the company 'Brown Note Productions,' wrote up a fake invoice, and I took it to my managers, saying I got a more competitive bid," she laughs. They've been laughing ever since, as the company continues to grow and get larger gigs.
One of their recent notable gigs was handling the Flume World Tour. "It has been such a great experience working with this Grammy winning client on his world tour this year," Ryan Knutson says. "Brown Note Productions provided audio, lighting, video equipment and crew within North America, and our audio, lighting and video crew traveled with the tour internationally." They also rejoined forces with the DJ and record producer Bassnectar to provide lighting and video production throughout the year. "These events are always different in that they consistently push the boundaries of lighting, video and rigging in unique and sometimes challenging venue environments." They bought Nathaniel Rateliff and the Night Sweats to Red Rocks, supplying the ground package lighting. "The use of I-Mag and picture framed video walls paired with one of the biggest lighting rigs ever brought into the venue made for a massive production that really highlighted the natural beauty of the venue and the energy of the band."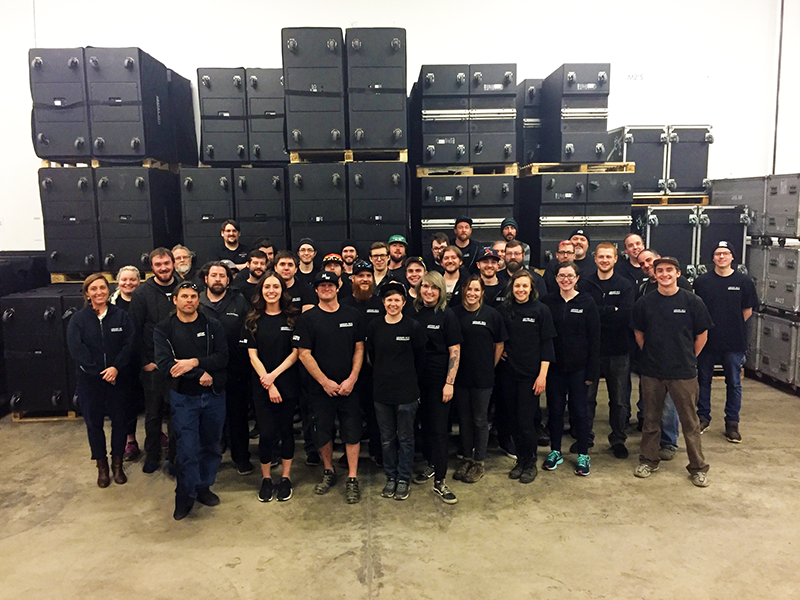 Brown Note has expanded their warehouse, which now spans over 60,000 square feet. "The new space allowed us to improve our rehearsal space and gave us more room for preps as well as additional design and programming suites." They also grew their inventory too adding Martin MAC Axiom Hybrids, Robert Juliat Merlin followspots, ROE Visual LED Video Tiles and grandMA 2 Consoles.
Impressively, the company has won their region every year since 2013. "Our whole focus is quality, in everything we do," Sara Knutson says. "We are trying to grow this business and make it a better company every day."
Canada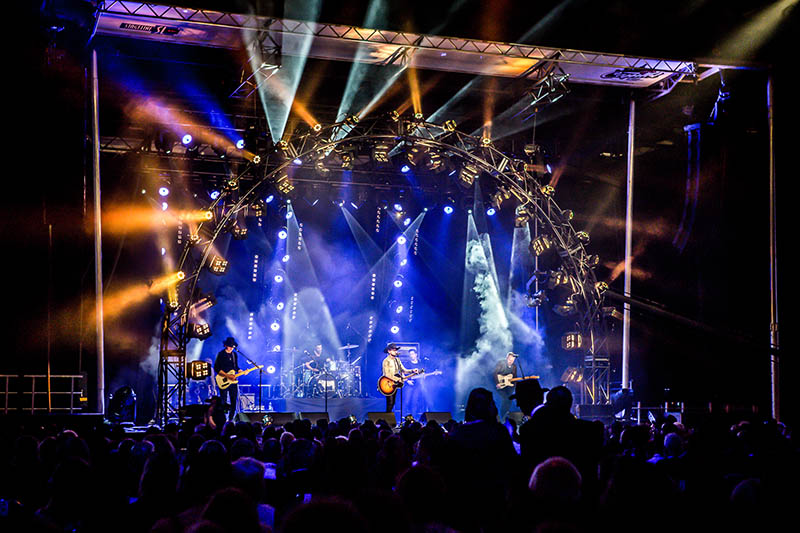 Orange Frog Productions, Calgary, Alberta

Pierre Marleau's path to becoming a doctor got seriously derailed when he was accepted into the National Theater School of Canada where he studied lighting. From there he made his way to New York where he worked in production on Broadway. In 1991, he went out on his first of many show tours with Phantom of the Opera. By 1999, he wanted to get off the road and settle down in his home country, and he noticed a need for a production house serving corporate needs in Alberta. Friends in the business had jokingly called him "Frog," so he knew that the amphibian would be part of his title. "Then they were saying 'green frog,' and I said, 'No, I'm going to be the Orange Frog.'"
Local companies were drawn to his musical theater background and soon were calling on Orange Frog to help with mega spectaculars. He immediately got called in to help with the Calgary Stampede, an annual 10-day event that attracts over a million visitors a year. "They asked me to help improve some things, and I ended up working with them for 19 years," he says.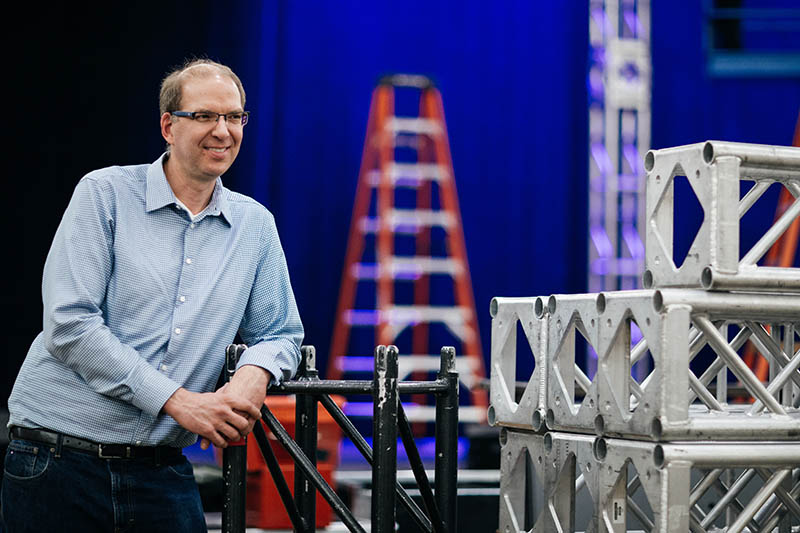 He says that it's corporate work that keeps his six-person crew busy. "If it's a large event, if there's an aspect to it that's difficult, it usually lands in our laps," Marleau says. "We're very much about customer service, and our community appreciates how we give back." Orange Frog has just moved into a new warehouse which houses their 500 movers and 500 conventional lights. "We're heavy into ETC and ARRI lights and have lately been getting ahold of older Vari-Lites. We bought a bunch of their fixtures including VL2500, VL3500 and VL3000 models. Otherwise we have a little bit of everything including some Robe LED 100s." They rent newer gear, like Robe's BMFLs, when needed. "Luckily for us, we don't do tours which require the latest and greatest technology. I would rather do a corporate show with 100 good but slightly older fixtures than five that are the latest and greatest."
Orange Frog recently handled "SoulMen60," a lofty affair where prominent Calgarians raised funds to fight homelessness. The challenge was turning the Agrium Western Event Centre, an arena for western competitions typically filled with horse-friendly dirt, into a high-end concert venue. Jim Belushi and the Sacred Hearts performed with fellow Blues Brother Dan Aykroyd sitting in. "The event raised $3 million and was pretty fantastic," Marleau says.
Leave a Comment: