Rhythm and Roots Festival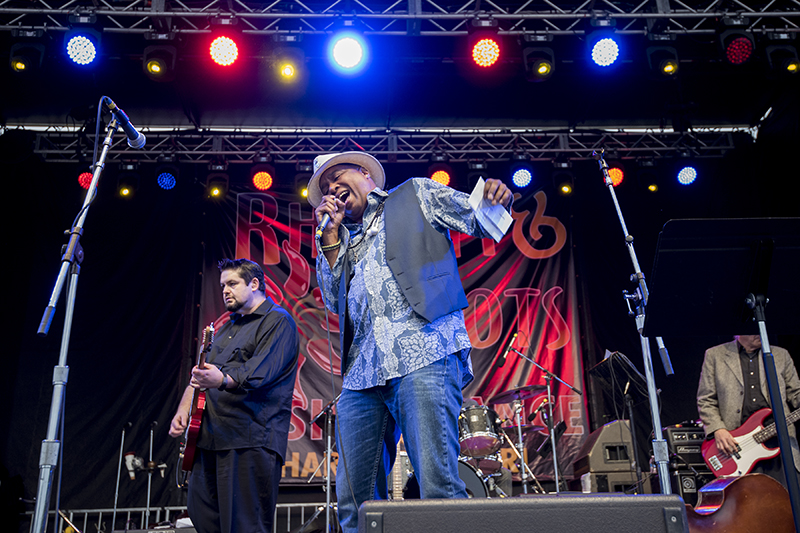 Ninigret Park in Charlestown, RI was the setting for the 20th annual Rhythm and Roots Festival held on Labor Day weekend 2017. The festival has become a "must do" event for hundreds of families who enjoy a variety of musical styles including Zydeco, Celtic, Cajun, Tex-Mex. People of all ages enjoy the laid-back vibe at the 220 acre park in the seaside community of Charlestown, RI. The park features picnic areas, a freshwater swimming pond and the Frosty Drew Nature Center and Observatory and hosts a number of events over the summer months.
Chuck Wentworth of Lagniappe Productions, who produces this extravaganza, has been in the music festival business for 35 years and has a loyal fan base that have learned to trust his tastes and his ability to mix young up-and-coming musicians with well-known bands. Fans frequently buy their tickets early before the lineups have been finalized. Many take advantage of the "glamping" opportunities provided at the French Quarter Camping Village, where they can show up with nothing more than their dancing shoes, sleeping bags and a cooler and enjoy the weekend sleeping in a rented 16-by-10-foot Bell tent with four cots, camp table, throw rug, rechargeable lantern and a nearby Porta Potty.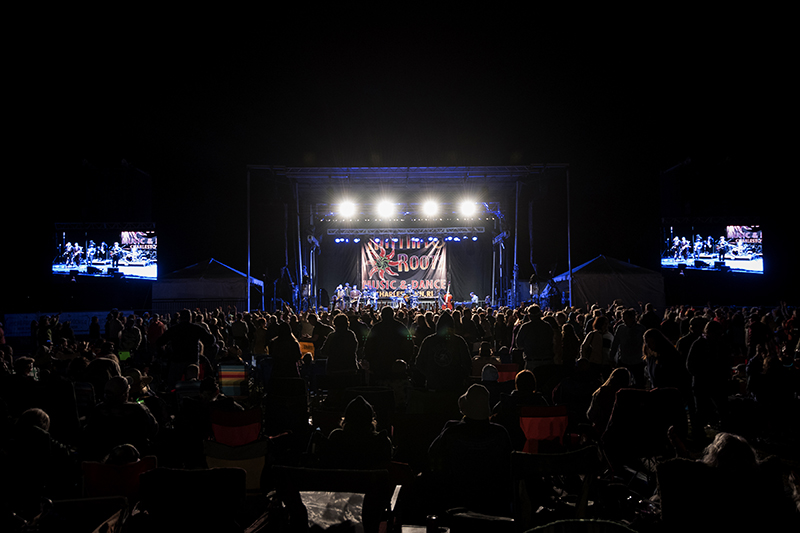 ‡‡ Origins
The Rhythm and Roots Festival began when Wentworth became involved with the Grey Fox Bluegrass Festival that is held annually in Oak Hill, NY. Together they found what turned out to be the perfect location in Rhode Island at the former U.S. Naval Auxiliary landing field, which has easy access off Route 1, plenty of free parking and acres of level, grassy fields.
Wentworth took on all of the aspects of the festival in 2015 and has made it a family affair, with nearly all of his family members being involved. He also has a volunteer crew of 400 strong helping.
"There are people that have been with us since day one," Wentworth says. He is committed to having children attend the festival and offers free admission to those under 12 years old. Teenagers get 50 percent off and all may attend the no-cost Cajun music camp where they get the chance to play guitar, fiddle, accordion, or mandolin.
Although Rhythm and Roots is a music festival spread out over four stages, the grounds are also home to a number of diverse food vendors for the event. Choices include Cajun/Creole specialties, Middle Eastern food, chowder and clam cakes and barbeque ribs and chicken, along with craft beer, wine and other beverages.
‡‡ The Main Stage
The "Rhythm Stage" is the main music stage, and it is the focal point of the festival. There are performances by seven bands thoughout the day and night on all three days. The headline act were the Mavericks and Squirrel Nut Zippers on Friday, Big Bad Voodoo Daddy and MarchFourth on Saturday and Roseanne Cash on Sunday.
East Coast Lighting & Production Services (ECLPS) provided the stage lighting and video walls, along with a crew that included Nathan Almeida, Lee Figueroa, Ed Boulet, Alicia Colantonio, Sean Fields, Chris Griffin, Manny Garcia and Lauryn Morrissey.
Lighting was hung from three main trusses and side trusses located stage left and right. The downstage truss contained 24 ETC Source Four PAR fixtures and four audience blinders. The midstage and upstage and side trusses held Robe Robin 600 LED Wash and Robe Pointe fixtures with grandMA control consoles front of house.
ECLPS' Nathan Almeida, who served as lighting and production designer for the event, spoke of the need for more lighting horsepower this time around. "With the addition of two video screens last year, I knew that I needed to add a lot more key lighting to the overall lighting rig, especially considering that there were no follow spotlights," he says.
"This year, I added in a mid-stage truss along with side trusses. This enabled me to get some good key side lighting.
"The two video screens left and right are Elation EPT6IP 6mm pixel pitch modular outdoor rated LED video display panels and they really did a great job of bringing the whole show to the entire audience," Almeida adds. "Knowing that they are IP-rated gave me peace of mind when the heavy rain came through on Sunday morning. Show producer Chuck Wentworth really likes the fact that even though his audience has gotten larger over the last two years, everyone can now enjoy seeing their favorite artists up close."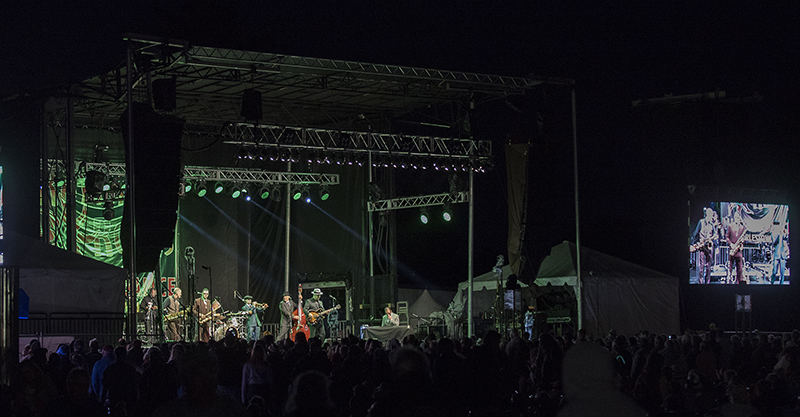 ‡‡ Dance Tent
The extremely popular "Dance Stage" tent included a 4,400-square foot wooden dance floor and a stage where live performances continued non-stop throughout the day and night. Dancers from 38 states and three Canadian provinces were in attendance with their primary goal for the weekend being to have "a swinging good time". The lighting for the Dance Tent included 16 Martin MAC 101 fixtures, 12 Elation Opti Quad Par fixtures and 16 Color Kinetics ColorBlast 12 fixtures controlled by an Avolites Pearl Expert lighting console.
LD Lauryn Morrissey stated, "This was my second consecutive year as the lighting designer for the Dance Tent at Rhythm and Roots. I really enjoy being there to see the smiles on the faces of the people that attend this event. The only challenge that I faced was the low trim height upstage, as the stage is set up along the sloping end of the tent. I kept the movement of the 101s down to a minimum so as to not spill lighting onto those on the dance floor. I really enjoyed the interaction with the artists and fulfilling their lighting demands. Running the Avo console for 12 hours straight for three days was a great experience, and it really taught me to build the show gradually throughout the day and to stay focused over a long period of time."
‡‡ Roots Stage
The "Roots Stage" is a more intimate setting and features at least five workshops each day followed by performances and extended jams by a variety of performers. The audience gets the opportunity to get up close and personal and to interact with the artists. The stage and tent were lit by 12 Chauvet Colordash Par-Quad fixtures, eight Elation Color Chorus fixtures and eight Elation TVL 3000 fixtures, with an Avolites Pearl Expert for control. Says LD Manny Garcia, "I really enjoyed myself lighting the Roots Stage. Being in total control of this stage by myself gave me a lot of freedom to be creative and I was left with lots of time to get myself comfortable programming the Avolites console and setting up looks."
After two beautiful sunny days with huge crowds, Sunday morning brought heavy rains, scaring away some people. By midafternoon, the sun broke through the clouds, and a full rainbow arched out over the audience. Cape Breton fiddler Natalie McMaster and her husband Donnell Leahy hit the stage and were followed by closer Roseanne Cash. As night fell over the 20th anniversary of Rhythm and Roots festival a near full moon appeared, shedding light for the festival goers to safely walk back to their cars and to put a pleasing, finishing touch on this great event.
ECLPS Crew:
Nathan Almeida
Lee Figueroa
Ed Boulet
Alicia Colantonio
Sean Fields
Chris Griffin
Manny Garcia
Lauryn Morrissey
Main Stage Equipment List:
22 Robe Robin 600 LED Wash fixtures
12 Robe Pointe fixtures

24 ETC Source Four PAR fixtures

1 grandMA Full control console
1 grandMA Lite control console

1 LEX 48-way power distro

2 REEL FX DF50 hazers

64 Elation EPT6IP LED video display panels
2 NovaStar NovaPro HD video processors
1 Blackmagic Design HD PRO video switcher
Leave a Comment: