The Console Shade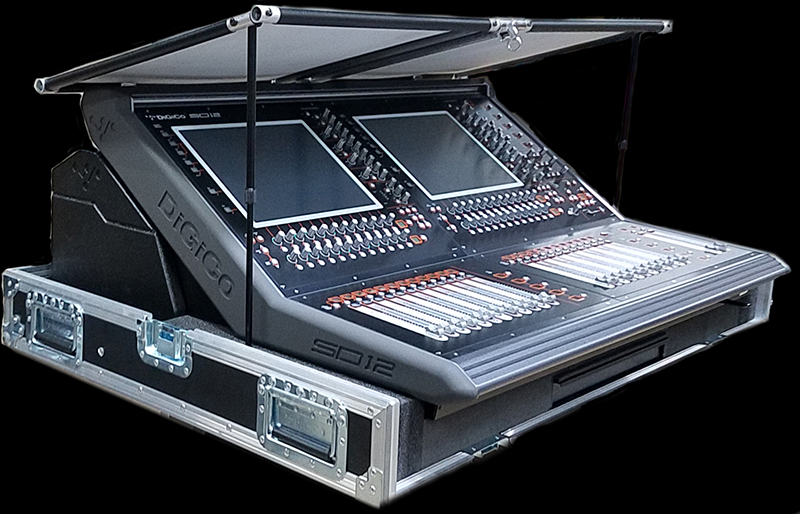 It's a hot one down here in Tennessee. I'm sweating just watching the local crew drag the control snake out to my lighting desk. The dust rises from the brown grass, the roof on the stage provides no relief from the blistering rays. My front of house platform is someone's idea of a joke as there's a plywood floor with some 12-inch truss slammed together around myself and two other operators that wouldn't protect any of us in a storm. Yup, it's another long day in a field where I must battle the elements and try my hardest to focus a moving light rig in the sun, before the crowd comes in.
Only one thing is going to allow this afternoon to be productive. My favorite new toy in the toolbox. It's not a light fixture. It's not software. But it is a tool. It's my new Console Shade. Yes, after 20-plus years of doing battle, I have finally found a product that allows me to see the dang screens on my lighting desk when I'm in an environment exposed to the sun.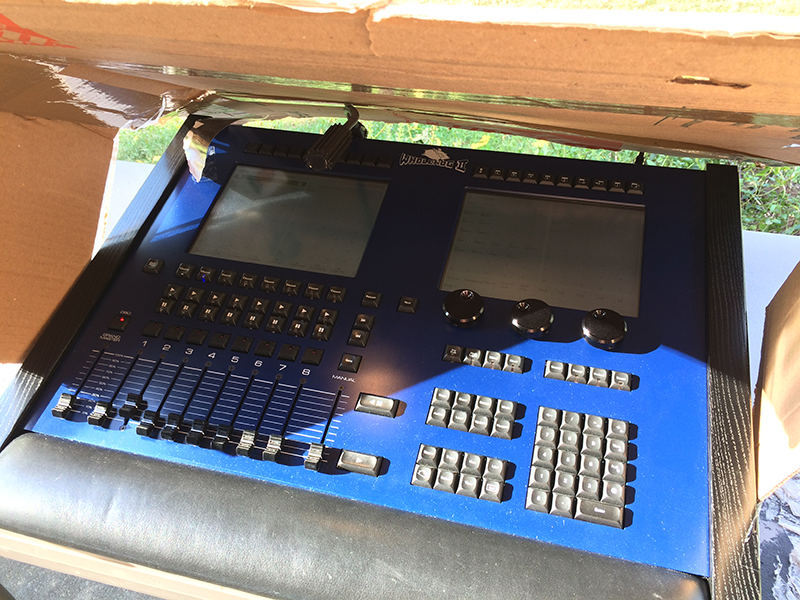 ‡‡ A Look Back
Step into the WABAC machine and let's hop back to around 1995. The infamous Whole Hog 2 hits the scene. The fabulous black and white touch screens were revolutionizing lighting programming as we knew it. It was January when I took the first one on tour. I had no trouble seeing the screens and everything was a love grove…., until the summer tour/shed season started.
Come June, we set up to rehearse in an amphitheater somewhere in Southern Cal. The crew loaded in under this big tin roof while I was placed in some dugout about 100' straight up a hill, in the middle of the audience. There was no roof protection at FOH. I took the console out and fired it up. I remember having a revelation there on the spot, thinking this may have been the single most overlooked thing I have ever done in my life. I couldn't see a thing on the screens.
I honestly didn't realize this was going to be an issue. I'm sure I looked hilarious standing out in a field with a tarp taped to the sides of my desk, rising over my console with my head popping out of a hole. It sucked bigly. So, the next day I'm at a new outdoor venue. I have a canvas type roof at FOH, but still can't see the screens well. So out comes the box cutters, some cardboard and the gaff tape (see image attached). I'm now looking totally ghetto, but with a large amount of swearing, I make it work.
Upstaging, the lighting vendor informs us they may have a solution that I'm going to love. They ship us out a custom made tent. It looks like a popcorn stand at a carnival. It's about 6 feet tall and 4 foot square with a little 12-inch cutout in the center of one side for me to peer out. It takes us about 15 minutes to assemble all the pipes (this was a prototype, mind you). Then we attach the vinyl shell and lift it over the desk and myself. "Hmm," I think. "This is dark enough. This is going to work." I sit down to enjoy my focus.
Fifteen minutes later, my new tent is back in the truck. While the structure indeed blocked the sun, it turned the interior into an Easy Bake oven. Within ten minutes it was over 120° in the tent, I was drenched in sweat and I witnessed my first Hog 2 overheating.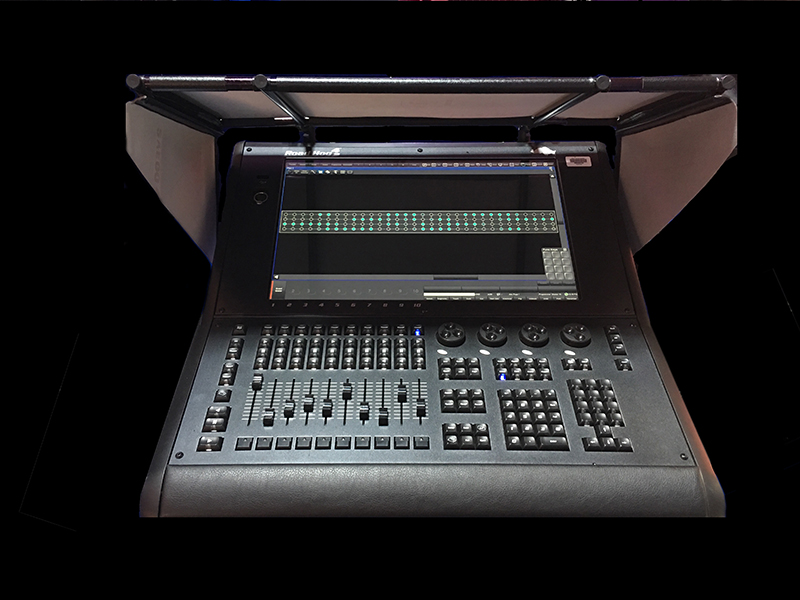 ‡‡ Back to the Present
Let's return to the present, the field in Nashville. Lighting tech extraordinaire Andy Cimerman has attached some rigid gray device to my full size grandMA2 console. He warned me he was going to have a buddy of his bring one of these shade things down here for me to check out. So…I put my skepticism aside and inspect it. I'm actually quite impressed. I sit down behind the desk and look out at the stage. I can easily see over the edge of the shade and reach under it without any physical contact. The sun is beating directly down on it, yet I can see my screens perfectly. No white lines sneaking in between the cracks, just pure shade. My second thought…., just take my wallet.
Jeff Bertuch has been a lighting guy since 1982. He runs grandMA consoles as his desk of choice and for years thought the same thing as everyone else, 'There's gotta be a better way.' So about three years ago tooled around with some metal rods, telescoping legs, magnets and marine vinyl and came up with a solution. The first Console Shade was developed, and he started to make some prototypes while residing in Michigan.
Jonny Tosarello is the LD for Lynyrd Skynyrd, therefore he knows about playing state fairs and outside venues with little protection from the sun. But he loves his shade indoors as well. He explains, "I first met Jeff Bertuch while working the auto shows in Detroit. I was just standing in an aisle trying to focus my booth while my screens were getting hammered by arc lights from the neighboring booths. He walks by me and says 'Hey, ya gotta minute? I want to show you something'. I say sure, and he slaps this shade cover directly on to my console. Took 3 seconds to attach. He let me test it out for the rest of the day, stopping by on occasion to chat. I gave him some advice, like adding some side flaps. He batted some ideas off of me."
"Then I asked him how much he wanted. I was ready to pay him cash on the spot." Tosar adds. "He said they would probably cost about $260. I didn't bat an eye. But he wouldn't let me have it. He wasn't done with the final modifications yet. I told him I wanted the first one off the assembly line when he started up, and he agreed. I received serial #001 a little over a year ago, and it travels with me everywhere. In fact, Jeff came down to visit us at a Skynyrd show last year and I made him sign it."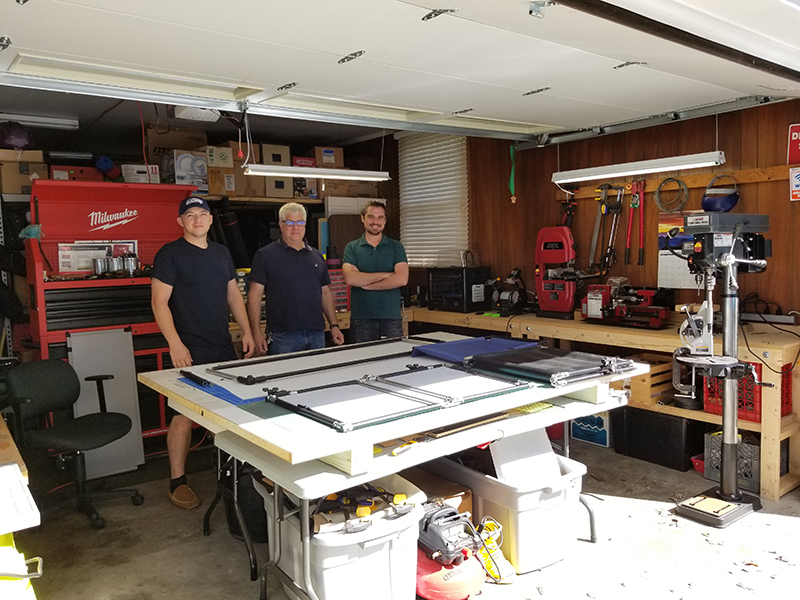 ‡‡ A Family Business
Since then, the Bertuch family has relocated to Murfreesboro, TN, about 40 minutes southeast of Nashville. They are a family-owned shop who works out of their garage. "My sons look after the metal bits and assembly while my wife does all the sewing." explains the owner. He's still a lighting guy at trade himself.
The shade itself is made from marine vinyl which is water repellant. Think of a rectangular section of a tent with poles on two sides. On the front facing the console operator are two adjustable periscope style legs. They can extend from 11 to 20 inches and have magnets on the bottom. I can place the legs right above my encoder wheel, or easily tilt them back and attach them either side of the fold up screens. Attached to the back of the screen are a couple of magnets that clip on to the back of the grandMA desk. There are a couple of optional side pieces. They are triangular shaped and easily clip on to the top of the existing shade. They have magnetic rods along the base to hold them to the desk chassis. There are no thin lines of white light crossing my touch screens; they are truly in the shade and easy to see.
The whole thing weighs about two pounds. They offer different sized covers for the full and light consoles. The skin color comes in black, blue or gray.
Console Shades now have models made for some of the Whole Hog line as well. "Group One approached me last year about designing a model that fits the DiGiCo console, and we have done that." Jeff informs us. "If you give me any piece of gear for 48 hours, I can design a custom model that will help you." I can only imagine how many backline techs and video directors could benefit from these.
DJ set ups and other models such as a weatherproof setup designed to keep water away from the console are available. Since some consoles, such as the Avid audio desk, are not made of metal, the magnets were of no use. Jeff has come up with custom plastic clips that allow the cover to attach to these desks.
Another of the first LDs to utilize this product is Keith Hoagland, Justin Aldean's longtime LD. "Jeff has a great product. I first used them at the Faster Horses Festival near Detroit a year ago. So much better than working in and out of a tarp or flat out not seeing your screens until the sun moves. This year, we played 14 different festivals, where I had to program and update show files in the early morning and throughout the day. The Console Shade has been well worth the purchase."
"Some folks think it might be pricey, but you get what you pay for, as this product is well designed, both in usage as well as construction. Bonus is you get a nice traveling case for it as well. If you do any outdoor shows, it's well worth having along your Console Shade. I am thankful I am done with festivals for this year, but when the chaos ensued in Las Vegas last month, I really do not know where my shade landed."
Once Jeff heard that Keith had lost his shade while escaping the horrific Las Vegas shooting incident, he offered the LD a replacement to use.
In closing, I think if you are a top-notch lighting company, the console shade needs to be a staple in your inventory. Whether it be a rental item you can list for $20 a week or a perk you offer that LD who uses your gear on tours, you gotta have these in stock.
If you're an LD, think of it as the best use of a week's per diem you ever spent. As for myself, my checkbook opened faster than a bottle of Gold Bond after a long load out, to get mine.
At a Glance
A Bright Solution to a Perpetual Problem
The Console Shade was dreamed up by a lighting guy who realized a need faced by anyone who needs to work with a console out in direct sunlight. His product is becoming popular with LDs and sound engineers alike.
The Console Shade

PROS: Provides shade for touch screens, takes seconds to set up, packs into travel bag, water resistant, good for indoor and outdoor use.
CONS: None
Sample Products and Prices (MSRP)*
grandMA2 Full Shade: $295
grandMA2 Light Shade: $255
High End Systems Full Boar 4 Shade: $279
High End Road Hog 4 Shade: $259
DiGiCo SD12 Shade: $365
DJ Universal 48″ Shade: $299
*Source: consoleshades.net
STATS
Weight: 2-3 lbs.
Size: Directly related to each device
Colors: Blue, gray or black
Material: Marine vinyl, aluminum and magnets
Options: Side panels to block more light
Where Made: USA
Contact Info: The Console Shade, 2305 Braxton Bragg Dr., Murfreesboro, TN 37129; 629.201.8007; www.consoleshades.com
Leave a Comment: