Weaving a Unique Experience at Nu Skin Live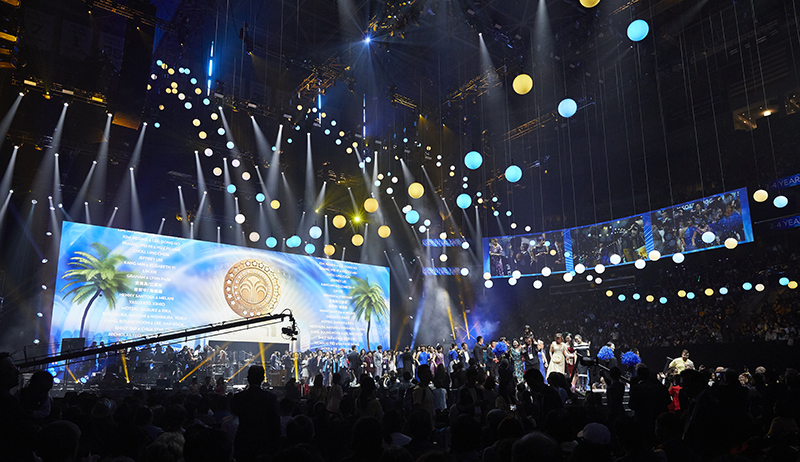 EVI and Lightswitch "Divide and Conquer" an Enormous Production Challenge
The premier anti-aging company Nu Skin has grown from its humble beginnings in Provo, UT in 1984. The company now distributes its products in 54 markets worldwide through a network of close to 1.2 million independent distributors. Every two years, the NYSE-listed company holds a four-day event with a dynamic mix of philanthropy, business sessions, recognition and entertainment.
For the past decade, Nu Skin has turned to Atlanta-based Executive Visions Inc. (EVI) and its large team of producers and creative thinkers to create an exciting and memorable event. For 2017, EVI President & CEO Michael Marto had something very special in mind. "Nu Skin is an especially rewarding company to work with," says Marto, "as the culture of empowerment, opportunity and being a Force for Good influences everything they do. We wanted to weave an experience unlike any other that broke new ground for a customized corporate event and told the whole Nu Skin story."
Of particular importance was addressing the difficult audience of Millennials. Marto expands, "We wanted to use a massive social program to attract young people to the company as part of a strategy for growth for Nu Skin. We didn't have Maroon 5 and Hans Zimmer just because they are colossal global talents, but also because they speak especially clearly to a millennial audience through the international languages of music and movies."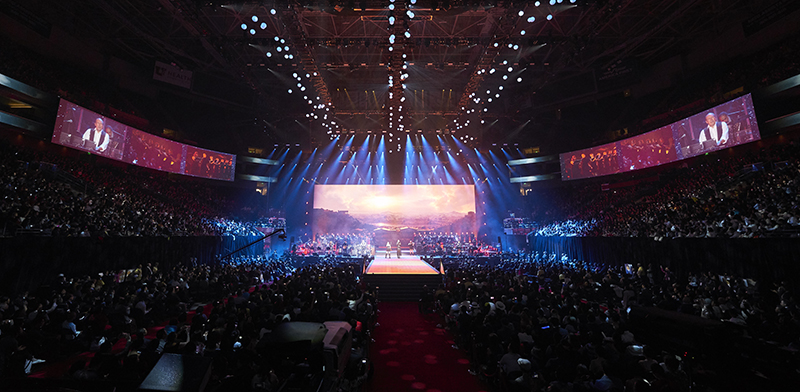 ‡‡ The Dare
That's where John Featherstone, principal at lighting and visual design firm Lightswitch, chimes in. "Several years ago, Michael 'dared me' to dream of a bespoke experience he had in mind that featured genius Hans Zimmer, wrapped around a story of music and film. Michael developed his relationship with Hans Zimmer through their work together on the epic theme for Premier Boxing. Based on the success of that partnership, they developed a unique experience for corporate and private audiences. The EVI team then wrapped this exclusive concert experience in a targeted message of excellence and virtuosity, and bookended the audience experience with a massive opening fundraiser for Nu Skin's charity, Force for Good, featuring Maroon 5. Then, for good measure, Michael arranged for the whole thing to be webcast around the globe to millions of people. That is not your everyday corporate show!"
This year's event, Nu Skin LIVE!, was a packed series of events that ran from Oct. 10-13. It began with tours of the company's Provo, Utah headquarters on Tuesday, kicked into high gear with the "Force for Good Gala" and Maroon 5 concert on Wednesday evening, and didn't slow down until the last note of the Hans Zimmer concert on Friday night. The event required a solid production company. EVI's experience producing world-class live events and Chicago-based Lightswitch, a consortium of lighting, media, and visual designers, were up to the task.
John Featherstone tells PLSN that "what made the show happen with a very demanding schedule was the people. Guy Forget has a great quote — 'Anything is possible so long as you have the passion' — and I think this is a really great example of a giant show being possible because it got subdivided among a group of really passionate, talented people. As always, EVI and its extended team spared no resources providing exactly what was needed to do the job right!"
The project encompassed four shows in one at the Vivint Smart Home Arena in Salt Lake City. Wednesday was the fundraising awards gala for the charitable organization Force For Good. Following the private event, they expanded attendance for an arena concert by Maroon 5. A somewhat more traditional business meeting session was held on Thursday afternoon, followed by the a "Nu Skin's Got Talent" showcase that evening. Featherstone describes it as "a global talent search throughout the whole enterprise." The final night featured a custom concert by Hans Zimmer backed by the Salt Lake Symphony Orchestra and members of the Mormon Tabernacle Choir, followed by an awards presentation.
"Each large event needed their own look, feel, and personality." explains Featherstone. "It was successful because it really checked all the boxes for each show individually as well as having a cohesive and coherent whole." Of course, this whole production did not come together overnight. Lightswitch began work on this year's event shortly after the last one. He estimates that it was a 20-month design process.
‡‡ Video, Lighting…and LED Orbs
The main LED screen for the Nu Skin event was a 4K, 80-by-30-foot Barco C5 LED wall, with five movable doors within the wall for entrances. The LED thrust/walkway that led onto the floor was 46 feet long. Two long curved projection screens hung on either side of the arena. "The video wall was the stone in the pond where everything rippled out from," John says. "We used that as our anchor." The live video was recorded by 19 video cameras and 10 still cameras. Creative Technology provided video equipment and crew, and Very Good Studio created the content.
Beyond the myriad of moving lights utilized for the event — which included Martin MAC Vipers, Robe Robin fixtures and Claypaky Mythos 2 and Scenius Unico units — were three 150-foot-long wavy sets of light arrays of kinetic winches and LED orbs hovering above the audience. These were kinetic spheres provided by Glow Motion and managed by Mike Robertson. "Essentially each one of those orbs is an a wireless RGB color changing device which was on the end of a high-speed cable winch," explains Featherstone. "That was a whole kinetic sculptural piece that moved and ebbed and flowed." The winches had 60 feet of travel space, which allowed them to be lowered right above the audience's heads at one point, and soar into the rafters the next.
Four large vertical trusses upstage dropped in from the video screen for the Maroon 5 concert to give it an edgier rock show feel. When they were in the out position for the Hans Zimmer show, the trusses were angled trimmed about 70 feet up "to do an industrial, brutalist, 'light-breaking-through- structure' set aesthetic," says Featherstone.
The different events over three days in the event meant changing looks each day. Further, with up to 16,000 attendees arriving each day, Lightswitch had to tailor the experience so everyone could enjoy each event regardless of their vantage point. "The show was designed with different vistas in mind, which worked for different segments of the audience," explains Featherstone. "If you were on the floor, the show was all about the main LED screen and the curved projection ribbons. As you got further up in the bowl, your show changed, and you lost some of the functional awareness of the vertical LED screen and got more functional awareness of the LED floor. The challenge is to design something so there are no bad seats in the house."
He adds that they wanted everybody in the audience to feel as if "they were getting a unique experience thrust delivered right in their laps. That's why there was so much visual technology. That's why there were all these connected winches. The audience were able to purchase Wi-Fi-enabled remote control wireless LED wristbands from Xyloband as well, so everybody anybody who chose to, became a pixel. The goal was to give everybody that tailored experience."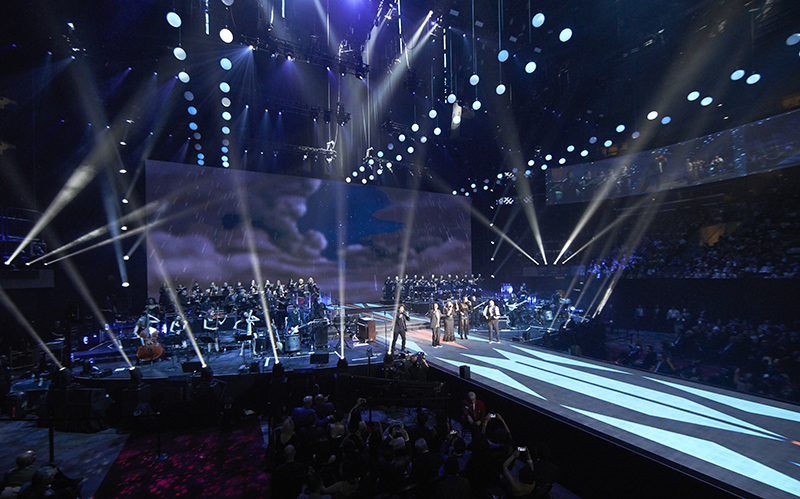 ‡‡ The Design Team
Three lead designers were involved in the Nu Skin event. Featherstone's business partner, Chris Medvitz, tackled the awards gala, the business session, and the talent show, with programming assistance from Chris Herman. Brian Jenkins, Maroon 5's LD, handled that band's concert. And Featherstone himself designed the Hans Zimmer show, with programming by Dennis Connors. 
The designer says they were really challenged with time constraints. They had two days to load in the entire show, which included nearly 1,000 moving lights. "It was definitely a marathon, not a sprint," says Featherstone. "It just kept rolling and rolling and rolling. Keeping everything on track from a scheduling standpoint was as much of a challenge as anything, and our production electrician Jeff Johnson was instrumental in making sure that we had a crew that had as much rest as humanly possible, but still kept moving forward. The undertaking was guided by the technical director for the event, Mark Herring from 3DTD."
Donny LoDico, director of national lighting for Video West, has noted that his new home company increased their inventory from 100 to 700 heads in the first three months he has been there. "This was our first five-truck gig. Video West was brought onboard for the Nu Skin event for their lighting equipment and to assist with content networking.
"We were asked to do a content delivery network because there was so much on-site content being created that needed to go to different departments," LoDico continues. "Being the great video company that we are, and having a very good robust IT department, they asked us to create a content delivery network that ran throughout the whole arena via fiber. That was great, and the first time I had ever done anything like that. Our IT guy, Craig Reilly, headed that whole department up."
LoDico adds that he "took my 35 years of knowledge in the industry and put it to work very quickly here with the support and loving arms of Video West. We are a company that's 'all in' for the future."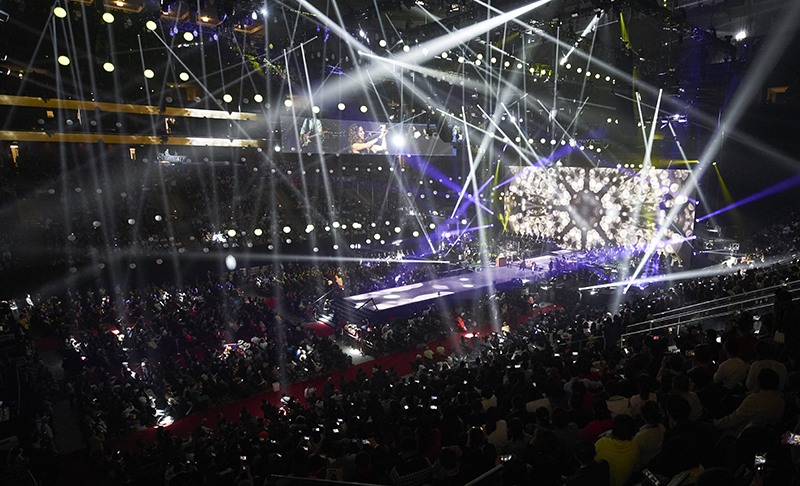 ‡‡ The Media Team
Lightswitch provided a four-person media team event for the event, which included two d3 programmers; lead Troy Fujimura and second Chris Merriman. As there were many video elements within the arena itself, content creator Ben Roy was brought onboard to help curate the d3 material. The other media designer was Austin Shapley, who along with Steven Baggett, John Gray and Michael Lines from EVI focused on creating content and media for the Hans Zimmer show."
Michael Marto and Featherstone were thrilled to create the Hans Zimmer experience for Nu Skin; this production was a "bucket list" item for both men. 'We wanted to create something that expanded from Hans' touring show to a show designed for large scale private events." explains Marto. "We worked very hard to secure rights from several Hollywood studios to use content from many of the movies he scored." Thus, a visual montage of Zimmer-scored films, original content, and a live cast accompanied the set.
"I've got to say, Maroon 5 was great — a lot of excitement, action and energy from the crowd," adds LoDico. "Hans Zimmer's orchestra and the media content that John and his team intertwined into that show was just unbelievable. I think Hans played for an hour and a half for his main set, and then there was an awards presentation that Hans' orchestra played live as they announced the awards, like the Emmys or the Oscars. EVI, with the technical and visual excellence of Lightswitch and the entire project team, put together this show that you could honestly tour, and they did it with such a well-oiled machine. It was a great show to be involved in, and for me, one of the great projects in recent memory."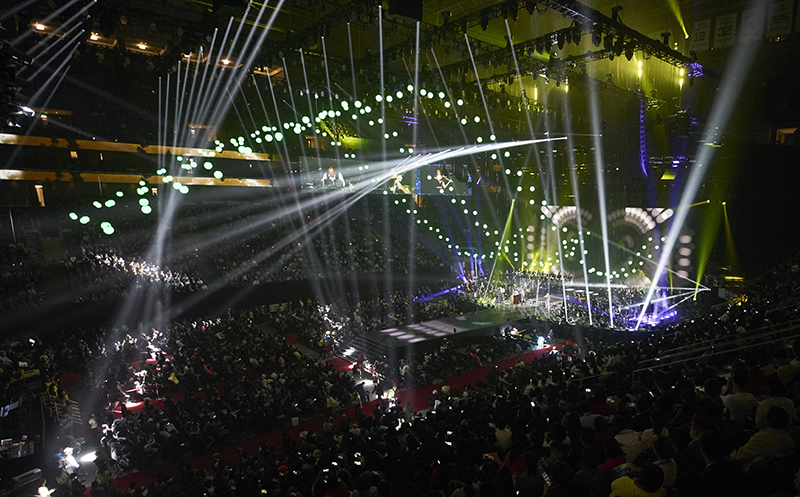 Nu Skin LIVE!
Lighting and Visual Crew
Entertainment LD: John Featherstone
General Session LD: Chris Medvitz
Media Designer: Austin Shapley, Benjamin Roy
Assistant Designer: Matthew Thobe
Lighting Programmers: Dennis Connors II, Christopher Herman
Prelite host/winch programmer: Michael Robertson
D3 programmers: Troy Fujimura, Chris Merriman
Master Electricians: Jeff Johnson, David Strouse, Greg Garrison
Moving Light tech: Lacey Taylor
Assistant Electricians: Stephen Thacker, Hubert Tardif
Video West tech: Ryan Ivie
Video West Account Rep: Donny LoDico
Glow Motion: Mike Allen, Kelsey Heisel, Pierce Scott
Stage Kinetik: Dennis Schneider, Thomas Glindmeier
Leave a Comment: