Zedd, Springsteen, Grouplove, Plant, Bleachers and a New American Idol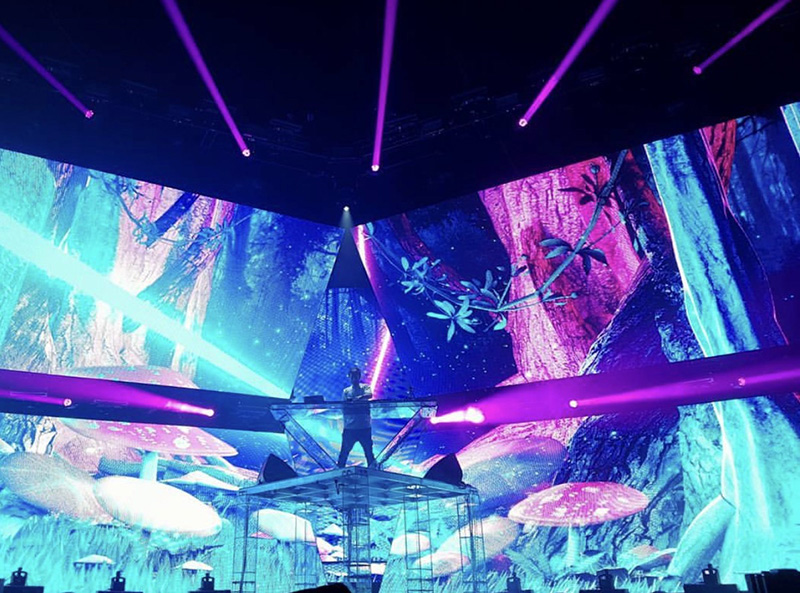 Russian-German EDM artist Zedd is on tour until Nov. 4 in Mexico with a creative team headed by show and production designer Travis Shirley. Longtime LD and lighting director Steven Hernandez and tour director Ken Floyd are also on board for the trek. "Zedd and his team were looking to get a bit more theatrical with the 'Echo' tour," Shirley says. "We created a unique LED configuration along with a custom floating DJ riser and table and several projection moments throughout the show."
‡‡ Bruce on Broadway
Springsteen on Broadway features Bruce, his guitar and piano. While the Boss has received rave reviews, the creative team has also won over the critics. Working his solo show at the Walter Kerr Theatre in New York, which opened Oct. 3, are Natasha Katz for lighting and Heather Wolensky for scenic design. One reviewer wrote, "Natasha Katz's lighting is hauntingly effective, through shadow into play, or just letting the man sing enveloped in a deep, quiet aura." The Boss is performing five shows per week through Feburary.
‡‡ The Who and More
LD Tom Kenny says after lighting The Who as they were "blowing away every massive audience they played to" this past summer, he lit a succession of shows including One Voice: Somos Live! A Concert for Disaster Relief, televised live from Miami's Marlins Park Stadium on Oct. 14. For that gig, which raised $35 million, Kenny got an assist from Jorge Valdez. In Nashville, with the help of Felix Peralta and Han Henze, Kenny lit the CMT Artists of the Year TV special, which aired live on Oct. 18. He is now gearing up for the Latin Grammys Nov. 18 and the Nickelodeon Halo Awards Nov. 26.
‡‡ Corporate to EDM
Patrick Dierson and production design firm The Activity are wrapping up corporate activities for the Royal Caribbean Cruise Lines in New York City; IBM in São Paulo, Brazil; a private event at Philadelphia's Academy of Music. The Activity also lit the blitz of EDM events affiliated with the Ultra Music Festival in Latin America last month. Those shows required nine lighting directors for 14 festivals in 11 different cities within 10 countries — all crammed within only two weeks' time, Dierson says.
‡‡ Over the Top, Down Under
Richard Neville and his Mandylights Australia team have just finished lighting the Parrtjima — A Festival in Light, which ran from Sept. 28-Oct. 7 in Alice Springs, Australia. The event featured a stunning light show programmed across a 1.5 mile stretch of the McDonnell Ranges in central Australia.
‡‡ Quick Cues
Lighting director Ethan Weber checks in from the Rolling Stones' "No Filter" tour, telling us he finishes the run Oct. 25 in Europe. (See feature, this issue, page 70). We won't see him at LDI, though, as he plans to rest at home after their string of packed stadium shows.
KYVA Design's Chris Reade and Jay Ballinger are creating lighting looks for Nashville's Country Rising concert Nov. 12 to benefit hurricane and Route 91 festival shooting victims.
LD Phil Ealy reunited with The Offspring for two of their three shows on his off days from the Britney Spears residency in Las Vegas. The Offspring are marking the 20th anniversary of their Ixnay On The Hombre album. The shows were staged at The Observatory in Santa Ana, CA.
Production manager Alastair Watson and LD Kenny Mason are making up some postponed Sammy Hagar shows in Florida in November after the original gigs in September were cancelled due to hurricane Irma.
LD Gabi Scheff finishes Ani DiFranco's fall "Rise Up" tour on Nov. 19. "It's a small theater/large club-type of tour, and minimal in production, but hopefully it will grow to something bigger next year."
Erich Meitzner is creative director for Grouplove, opening for Imagine Dragons' arena tour, with Chris Griffin as lighting director. Meitzner also designed lighting and programmed Bleachers' tour, with Cory Moses as lighting director.
LD Dara Guiney is taking his design on the road with Death From Above on their North American tour until Dec. 2. He describes the Canadian duo as "techno punk, like Muse a bit. Just drums and bass."
LD Dave Herrman resumes touring with Michael McDonald, who is promoting Wide Open, his first studio album in more than nine years. This second U.S. leg runs to Nov. 17.
LD Eric Cathcart continues touring with Chris Stapleton. Meanwhile, lighting director Kurt Crosley is operating Cathcart's lighting design for Silversun Pickups, now on the final leg of their Better Nature tour.
After lighting designer Kieran Healy finished the farewell season of American Idol on Fox TV, he will return to helm the "new" American Idol — now moved to ABC TV. Joining him are lighting directors Harry Sangmeister and Don Winters. Katy Perry, Lionel Richie and Luke Bryan will sit in judgment, with Ryan Seacrest as host. The show premieres in March 20
Benjamin Stanton's recent designs include the Broadway premiere of Ayad Akhtar's new play, Junk, at Lincoln Center; Regina Spektor's new tour, Remember Us to Life, with touring lighting director Kevin Wilson; select promo concerts for The National's new album, Sleep Well Beast; and designing and operating Bang on a Can All Stars' new work, "Road Trip" at Brooklyn Academy of Music, celebrating their 30th anniversary.
While still out with The Killers, LD Steven Douglas found time to design The Corrs' recent show at the Royal Albert Hall on Oct. 19, in support of the Irish band's Nov. 10 album release, Jupiter Calling. Neil Trennell was at the console for that gig. Douglas also lit Gavin James' European dates with Jolijn Van Iersel operating.
LD Andre Huff is redesigning Martina McBride's rig after the CMT "Next Women of Country" tour for McBride's Christmas run.
LD Carl Burnett hands control of Little Steven & The Disciples of Soul to James Dixon for the European leg, while Burnett starts up Nov. 16 with Robert Plant's U.K. tour.
We're thankful that Debi Moen is still finding time to chronicle all your latest gigs with a new gig of her own. Reach her at dmoen@plsn.com.
Leave a Comment: