Getting Visual for Vérité
Critics have had a hard time categorizing the music of Vérité, since the former Times Square Applebee's waitress Kelsey Byrne burst onto the scene with a string of self-released YouTube hits like "Strange Enough." Pop, indie, electro, alternative… it doesn't matter what label anyone slaps on it, this quixotic mix of delicate, but fearless vocals, soaring melodies and synth flourishes bend and break musical barriers just as surely as it enthralls fans.
After performing the first song from her breakout studio album Somewhere in Between on NBC's The Today Show earlier this year, Vérité went on a North American tour in August and September in support of the LP.
Lighting designer Teddy Sosna set an appropriately evocative and abstract visual tone for her ethereal sound utilizing Chauvet Professional Rogue and COLORado fixtures. Victor Zeiser, owner of Squeek Lights, which supplied the luminaires, also contributed to the design of the show and programmed it using a ChamSys MagicQ MQ80 synched to LTC timecode.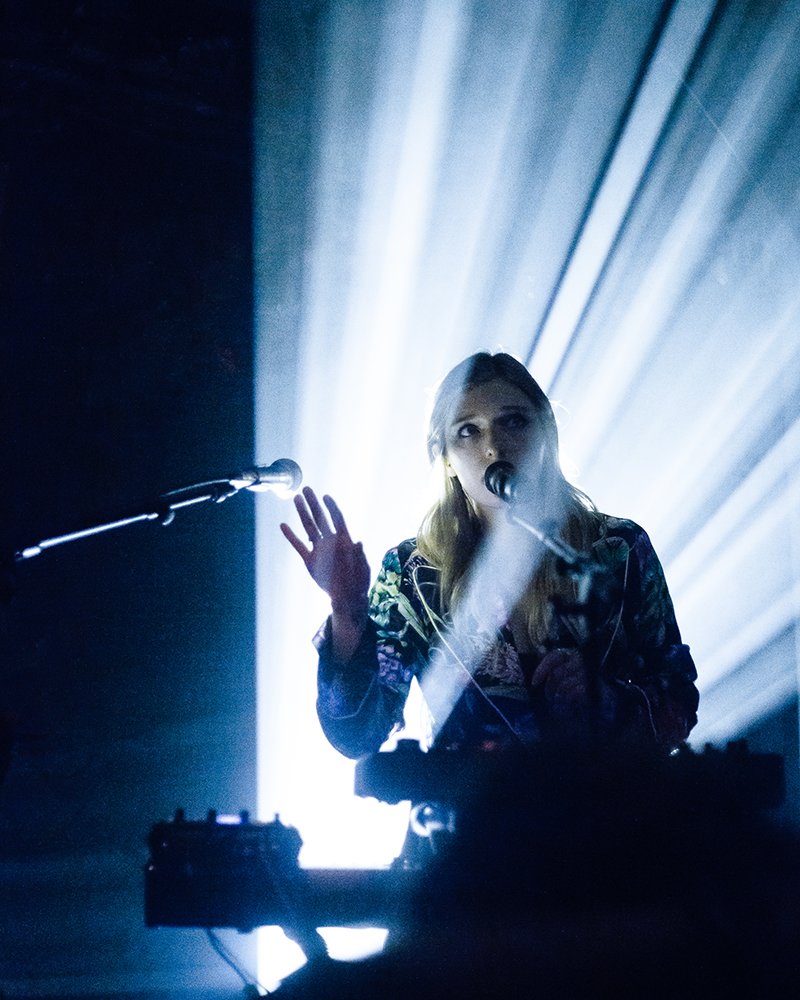 Like Vérité, who redefines music as she performs it, Sosna and Zeiser carved out a unique visual path when lighting the tour. Relying on layered beams, intricate gobo projections and carefully placed dark spaces, they created a sense of depth on stage, unleashing wave after wave of immersive abstract patterns. As the artist glided in and out of this lighting framework, it gave her the appearance of moving through another dimension.
"I have been working with Vérité for over a year finding ways to support and reinforce the visual aspects of the show," said Sosna. "Our goal was not just to light her, but to deliver a complete visual presentation that reflects her music."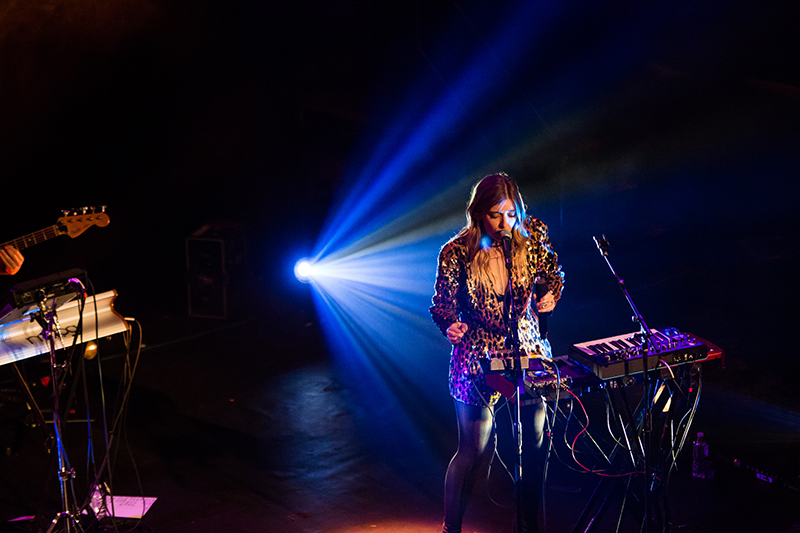 A Lean, Compact Rig
One of the biggest challenges of this project was to meet the artistic goals while still staying with the budgets and technical limitations of a tour that focused on mid-sized venues like San Francisco's Great American Music Hall and New York's Music Hall of Williamsburg. This is where Squeek Lights came into play.
Zeiser put together a lean, compact rig that could deliver some punchy looks when needed, but could also be scaled back to create mood-reflecting visual presentations — all without breaking the budget or taking up too much trailer space.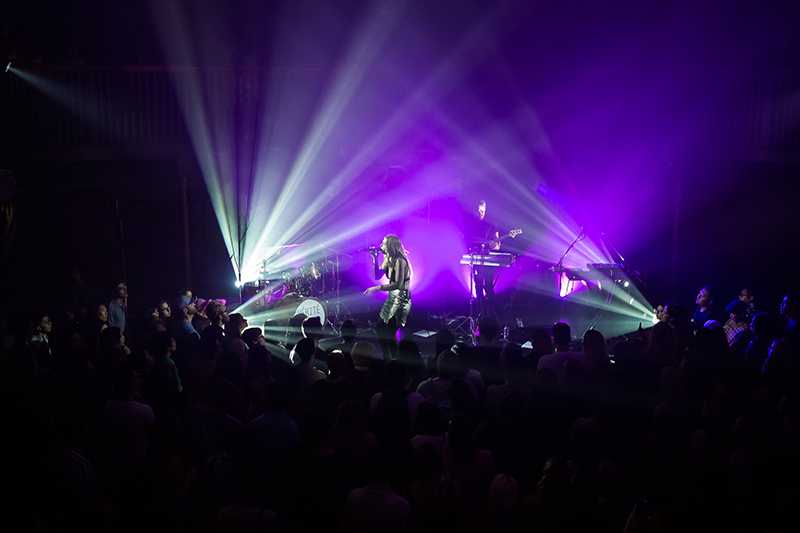 "We specified four Rogue R1 Spot moving fixtures and six COLORado 1 Solo fixtures and programmed the show on an MQ80 that the band could run without a lighting director," said Zeiser. "That was it! We used no other fixtures, so we saved money and space, but still allowed Teddy to create his vision."
Sosna elaborate on the placement of the fixtures. "We wanted to utilize gobos to get breakups in the beams from behind as well as project patterns onto the band from the sides so we placed the spots on the four corners of the stage," he said. "The downstage fixtures allowed us to cross light the band and served a dual purpose as downstage beams over the audience giving us multiple options out of a very compact rig."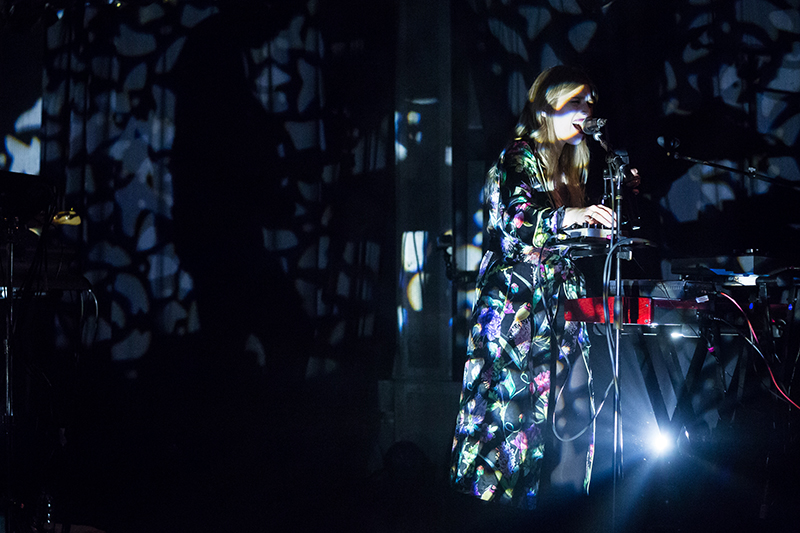 Backlighting Vérité with shaped beams from the Rogue fixtures created an otherworldly effect that lent a surreal aura to her stage presence. Sosna conjured up an equally ethereal look by covering his client with abstract gobo patterns, often making it appear as if she were moving through a floating maze.
The COLORado fixtures in the rig were positioned behind the band and to one side of the stage. (This side varied by venue.) From these positions, the washes were used for low backlighting and cross key lighting. "Having the washes set up this way gave us a lot of control over using backlights for illuminated air effects, and modeling out the band from one side," Sosna explained. "We leaned heavily on side light and gobo patterns to create some very unnatural lighting. That worked very well with the music and energy of the show."
As her career continues to skyrocket, Vérité is likely to find herself playing arena gigs one day. When that day happens, she should hope that her larger lighting rig works the same kind of magic that she got on her first album tour.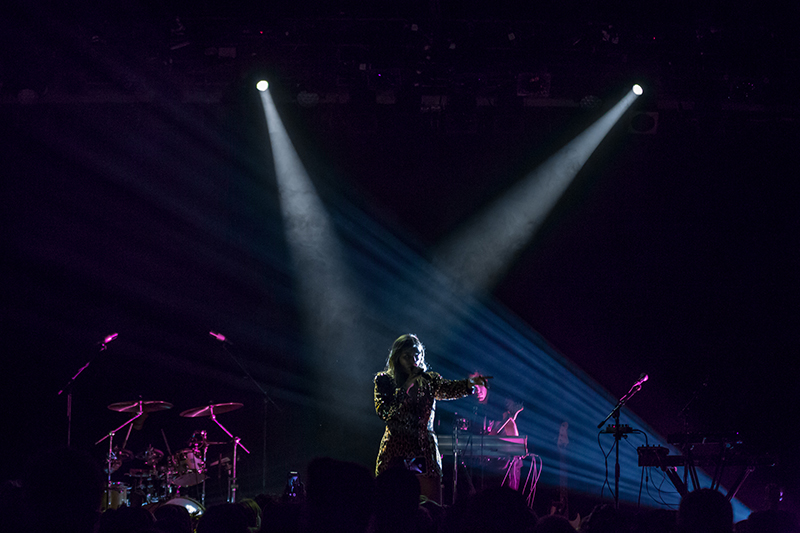 Leave a Comment: