Little Caesars Arena in Detroit: Built to Rock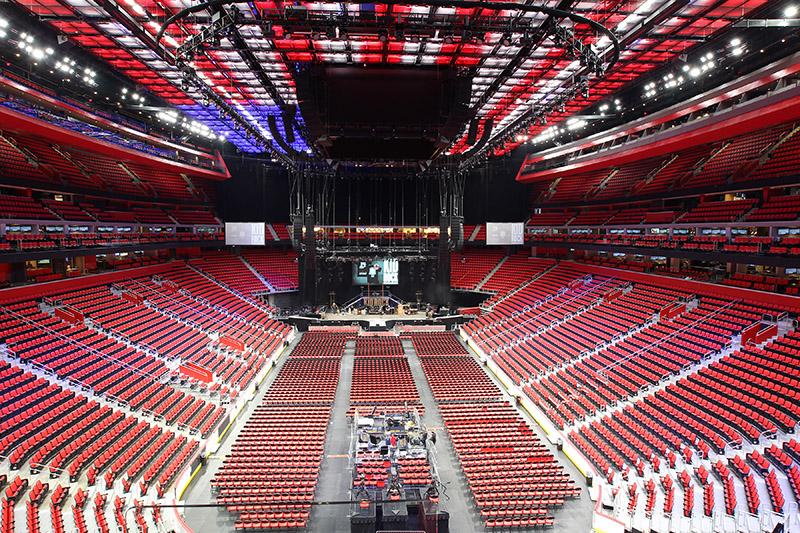 New Arena Immerses Attendees with State-of-the-Art House Systems
"I believe we just opened the nicest, coolest arena I've ever had the pleasure of gigging in," says Kid Rock LD Nook Schoenfeld after six sold-out shows at the Little Caesars Arena in Detroit. "It is an amazing structure; the likes of which do not exist anywhere in the world."
It does appear a bar has been raised — and in a big way, as this is much more than just another arena with fancier suites (though it certainly has that); this was purposely built to maximize any live event experience held here by using state-of-the-art live event technology imaginatively and boldly. Those professionals who make concerts happen in other arenas that are billed as "multi-purpose" will experience what that phrase actually means when they go to put on a show here.
The new arena is home to the Detroit Red Wings hockey and Detroit Pistons basketball teams in addition to many other sports, entertainment and community events. As massive as it is, it is just one part of what will be called District Detroit that will include 50 blocks of businesses, parks, restaurants, bars and event destinations all revitalizing a distressed area that had been affected by urban blight and crime. Surrounding the 20,000-seat arena is the "Via" — an enclosed pedestrian concourse that includes restaurants, bars, upscale concession stands and merch shops. Construction began in April of 2015, and 10 days before the first of six Kid Rock shows in September, they were still working on it. It was designed by HOK, the American design, architecture, engineering and urban planning firm. The arena is a whopping eight stories high, and it cost $862.9 million to build.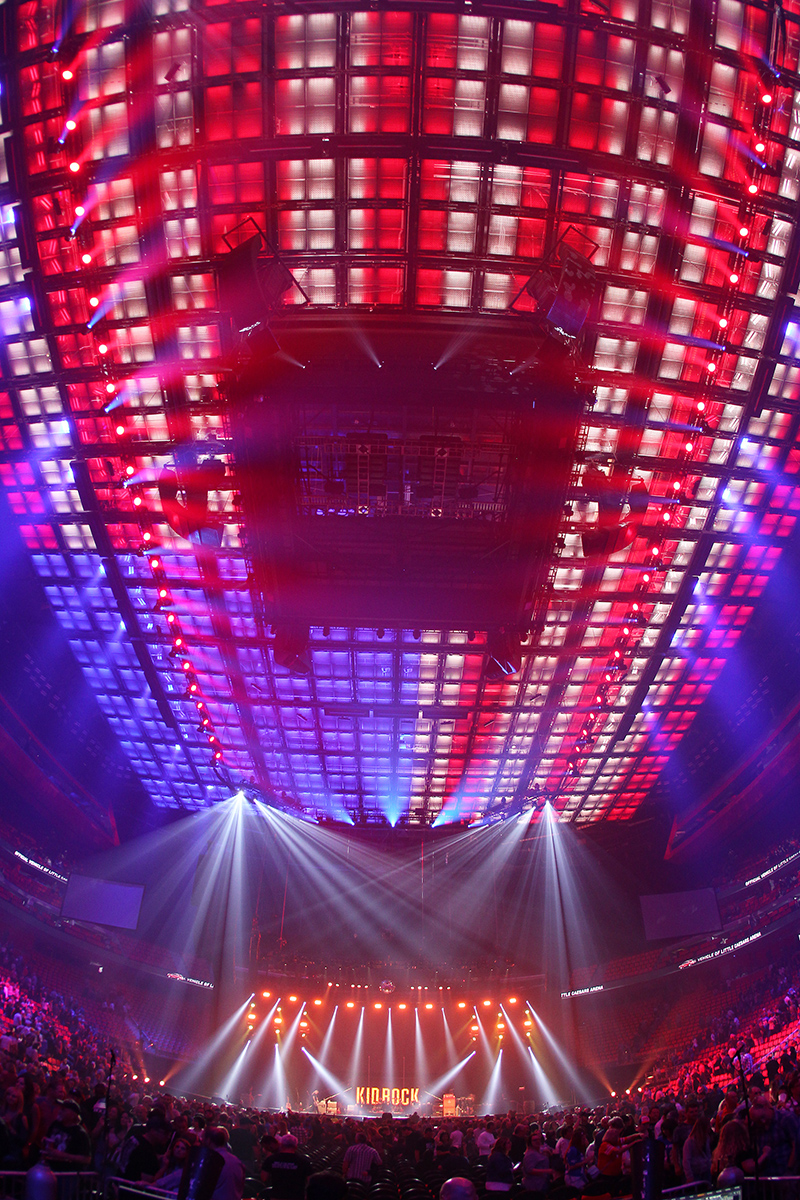 ‡‡ One Giant Network
The key phrase is "holistic integration." From the floor to the walkways to even the iPads in the suites that guests order food on, everything communicates and can be controlled by the LD. "It's set up so when the Red Wings score a goal, it's experienced everywhere," says Eric Wade. "They basically wanted one giant network that can function on a trigger."
Wade, of Crossfade Design, was involved in the entire design process. In addition to the building's lighting systems, he even sat with Schoenfeld to help ensure that the building's new lighting resources were used to their fullest potential during the Kid Rock shows.
Crossfade Design, based in New Albany, IN, is a full-service production company offering turnkey solutions from production and lighting design to video and production management. Wade and his partner designers, Michael Nevitt and Jason Robinson, specialize in live events, which certainly appealed to the Little Caesars Arena executives.
"I got involved even before they broke ground for it," Wade says, noting that the architectural lighting company, Illuminating Concepts (IC) was looking to bring in someone creative with a theatrical lighting and video background. "IC designed all the architectural aspects using thousands of RGB color changing instruments for the parking garage, roof, etc. and wanted to integrate it all with aspects including the video screens in the Via and even the tension grid in the arena."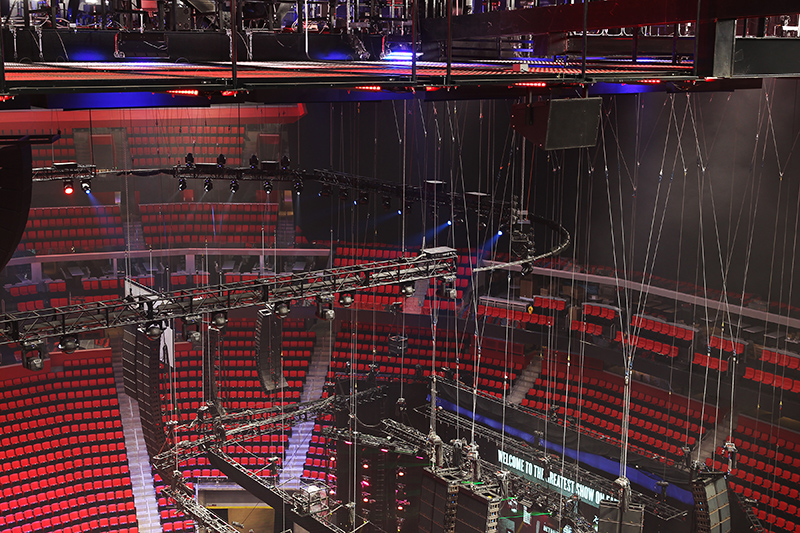 "It's not just a sporting arena, it's a city that happens to have a roof on it with an arena attached," says IC executive director Keith Irtenkauf. He adds that the design goal was to create an environment that allowed for everyone to be part of what was going on — whether one is in a seat watching an event or eating pizza on the patio. "Wherever you are in the complex, you are part of the action." This was done with layers of lighting and video. "There are various pieces of connected kinetic color schemes with a video layer that works hand-in-hand with the architecture and the lighting to create a wide variety of visual opportunities." The result is that the entire space engages, guides visitors from one area to another, creates different moods and disseminates advertiser information. "And when you go for that hotdog, you're not going to miss a goal."
One of the technological highlights is the 660-foot-long video projection wall on second story of the Via. There, 12 Barco HDF 30W LP laser projectors are used to create one big image that wraps around more than half the building. (Another eight of those Barco units are positioned over the floor in the arena).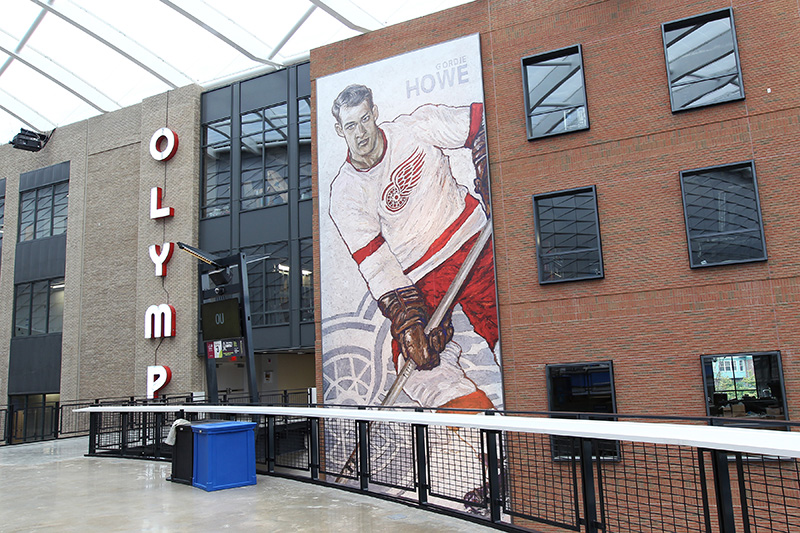 "We can do motion video from one end of the screen/building to the other — like have the Budweiser Clydesdales marching around it," Wade explains. "And because of the walls of windows, it can be seen from outside by those walking and driving by. It's really a great branding and advertising opportunity." The jewel skin of the video wall consists of triangle geometric shapes that have been 3D mapped on all sides and can ripple from side to side, up and down and make the entire surface look like individual triangles. It uses imagery fed by three d3 Technologies 4×4 servers. The d3 servers also feed more Barco projectors permanently mounted in the rigging grid for pixel mapping the hockey Ice and other projects. Crossfade brought in CT Touring's Barry Otto to be the video technical designer.
Another remarkable technological aspect is the tension grid in the arena. (See related story, page 71). Two years earlier, Wade learned that arena owner Christopher Ilitch had told his rep Stephen Chrusciel and lead architect George Heinlein that he wanted a unique ceiling. This spurred the team to start talking to InterAmerica Stage, Inc. about their SkyDeck Tension Grid arena ceiling.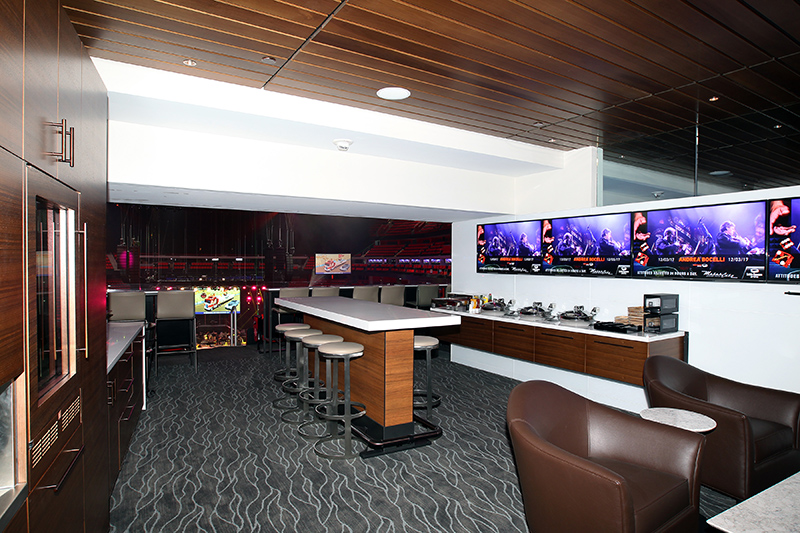 "Immediately I knew I wanted to light it!" Wade says. "They were skeptical, but I said, 'Trust me, we want it to have lights,'" he laughs. "I then did a mock-up along with the guys at IC on a demo panel, and everyone was amazed." Wade would eventually use 1,700 fixtures, and he would turn to Elation's sister architecture company, Acclaim Lighting, to figure out the right one to use. Turns out it didn't quite exist. "Some of what they had had possibilities, but first I had to redesign it for this application because we needed connectors coming in from a different angle. They were helpful and kept making changes until I got everything I wanted, even down to the glare shields and filters, which I needed because I didn't want people sitting in their seats and getting hit in the face with lights that were too bright."
The last element of the ceiling that is still being installed are the 400-plus
Anolis ArcDot Pixels that go into the center of each panel and will provide an entire extra layer look and that starfield ceiling. Otherwise, another custom design was on the ceiling's Banner Reveal Boxes. "I did a design concept to give the arena a 'clean look' ceiling during non-sporting events, and because I wanted them with built-in lighting. I came up with a (championship Memorial) banner to roll away, and then Tait Towers ran with it, building roll drops from my idea. They run on a Tait Navigator Controller."
So now the grid features thousands of lighting pixels offering any number of possibilities. (When Kid Rock's LD Nook Schoenfeld saw it, he simply said, "Just tell me you can make it light up as the American flag — after that, it's all gravy." For a big emotional moment during Rock's hit "Born Free," it did just that, though he found other cool psychedelic uses for it in other parts of the show.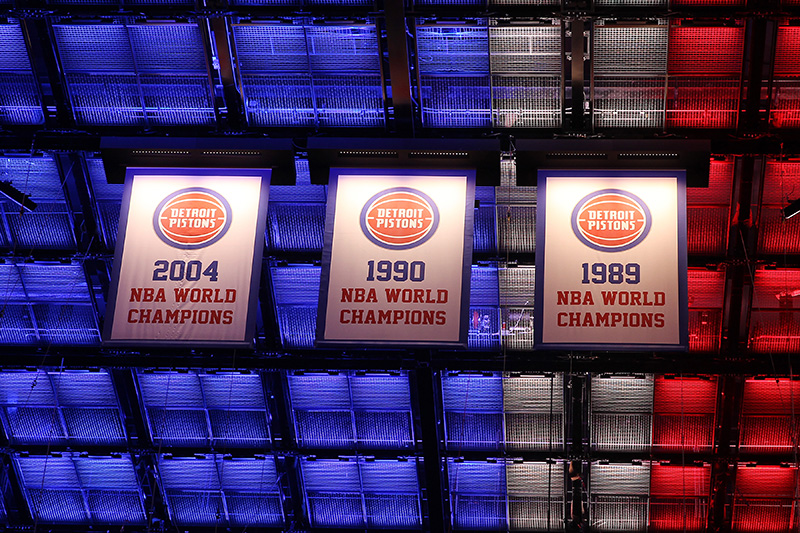 ‡‡ With a Little Help from Their Friends
"This wouldn't have been possible without the support and cooperation of Acclaim," IC's Keith Irtenkauf says. "They gave us an opportunity to do some customization that was so challenging that few manufacturers would fully embrace it." The exterior façade of the arena building features faceted metal "jewel" panels that follow the complex curved form of the arena bowl. "One of the big challenges was how to light those consistently," adds Adam Winter, IC senior designer. "It needed to have a presence at night, and we wanted to make it interesting." They came up with a design that washes 360° of the top ring of the building with full RGBW linear LED fixtures which are mounted to the jewel skin itself.
Additional RGBW floods mounted to adjacent roofs cover the lower half of the façade panels. "There's a lot of engineering and design work that went into this," says IC's Irtenkauf. "It started with the realization that the metal panels have creases in them, and it's the visual relief in each of the panels that makes it more interesting to look at with lights and video on it."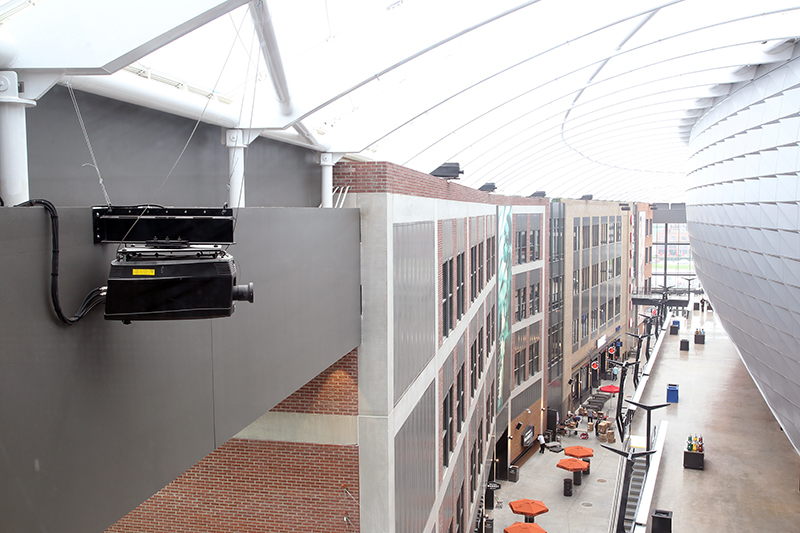 The effect is they are visually "stretching" the outside of the building, and it's all an integrated continuation of what is happening inside. "Video is used exclusively on the interior, but with the lighting of the exterior, we are able to do a lot to extend the energy outside. All of this coordination was well thought through ahead of time: from the architecture to the structure, to the network and control infrastructure. Everyone had to be on the same page."
Michael Giardina of Acclaim Lighting says they provided products for big and small aspects of the project, everything from some lighting in the arena's suites and accent work to the creating custom products to the roof and jewel skin. As project manager, he helped execute their simpler cost-effective lighting products for parts of the building. "We did a lot of accent work in the suites, but the main part we did was lighting the portion of the jewel skin." For that roof structure, their Acclaim Dyna Graze HO Exterior DMX was called into action. "It's a high-powered linear wall wash unit and has a whole lot of punch, offering multiple configurations including RGB, RGBW and dynamic white," he says. "For a small package and 20 watts per foot, it throws good color to 30 to 40 feet. It's all line voltage-driven, and no external drivers are required." Acclaim's Dyna Drum HO fixtures were also chosen for parts of the exterior.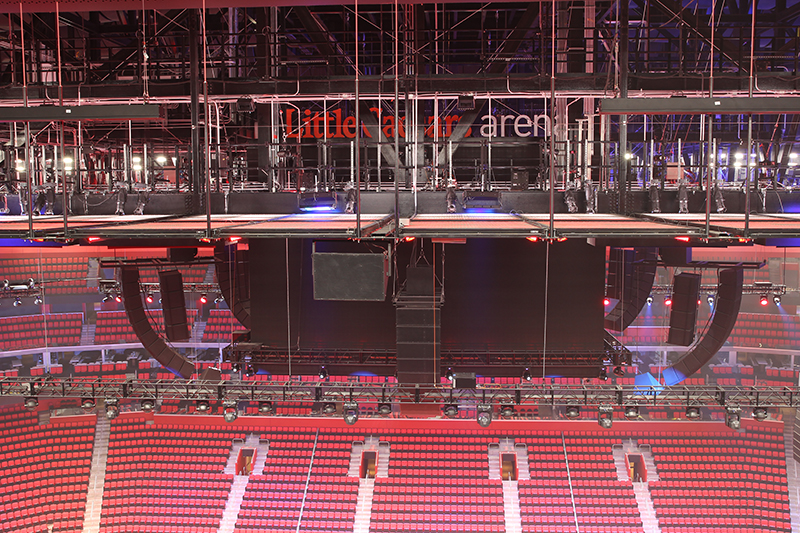 The Arena team turned to Atlanta Rigging System (ARS) for custom work on the trussing, pipe, automation, black drapes and winches — all prepared specifically for the unique demands of this arena. The automation system includes Raynok and proprietary ARS components. "It consisted of 28 variable speed and eight fixed speed 2-hp Lodestar chain hoists," explains ARS' Dave Gittens. "The lighting hangs from custom size sections of 20-inch APR truss to surround the scoreboard, the dashers and the axiom corner trusses. The wash beam trusses in the upper corners of the arena complete the package. The wash beam trusses are automated fixed speed units, but still operate from the same control system. All other trusses are variable speed and can travel from 0 to 70 feet per minute."
ARS designed the permanent system based off their new touring automation system. "With help from our friends at ZFX [Flying Effects] in Louisville, we were able to design, build and install the drives in permanent locations around the arena. The system uses Raynok software for the front end to control the trusses. Since the system was a permanent installation, ARS installed custom beam clamps by APR, and Motor City Electric provided all the hard pipe conduit for the installation." In addition to the moving trusses, the specification also called for load cells, along with features built into the software that allow for constant monitoring of weight and hoist position to increase safety during moves or repositioning of lighting fixtures.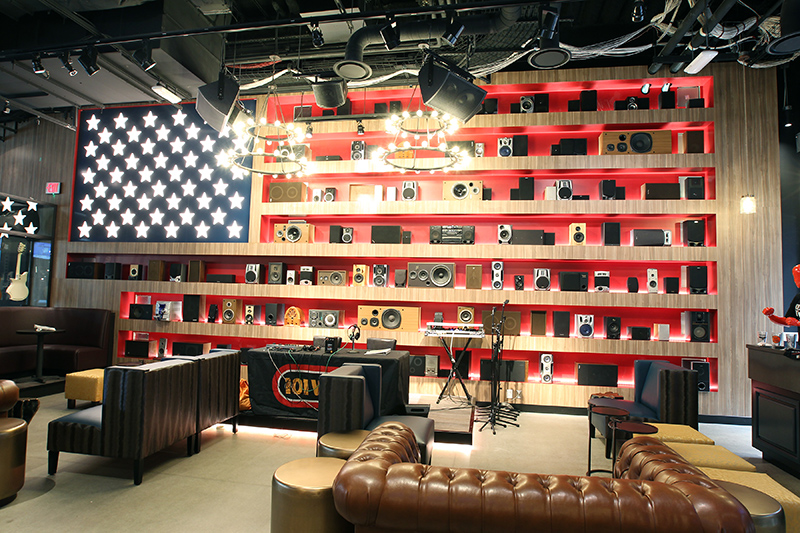 Another LD talent that was called on was Chris Lose, who on short notice was asked to program a few looks for the primary walk-throughs. "It was my job to help Jason Winfree and Eric Wade get caught up enough to be able to show off Eric's creation to the end clients," Lose says. "Programming solid looks became more difficult as work lights needed to be on longer and longer to get work completed on the ice. The construction process took a priority over focus time and gobo sharpness. I came onboard late enough that I didn't have to deal with RDM addressing the 1,700 custom LED fixtures in the ceiling. I did show up just in time to find the few discrepancies in the grid and spend far too long tracking down which LEDs were miss-addressed and why they didn't match perfectly in the bitmap layouts. I was able to troubleshoot a few DMX missed addresses by sitting at a console a floor below street level while one of our programmers walked around the venue FaceTiming," Lose continues, noting that the tech became known as "our FaceTime programmer window." Lose is looking forward to seeing how future guest LDs will "tackle this behemoth of a house rig."
Inside the Arena, they have the colors and matching themes in the Via and inside the arena and the 160 moving lights throughout. Wade spec'd 80 movers as Robe BMFL Blades and BMFL BeamWash, with some Claypaky Super Sharpys on the rooftop. "The in-house designer is Robert Wertheimer, and he wanted 50 Martin Axiom and 60 Quantum Washes," he says. "He also made a few changes to the corner truss layouts so he could add some motion control. In the end, we created a huge audience look."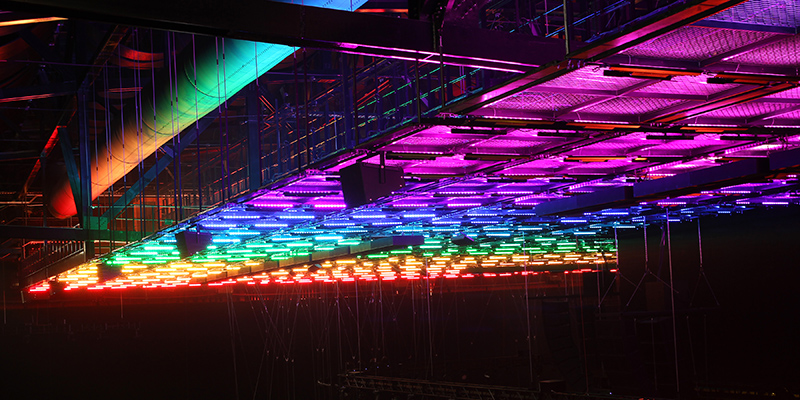 Also included are a smattering of MDG Foggers — including in the ceiling. Schoenfeld explains how valuable this was. "I carry a lot of smoke devices which primarily cover the area over the stage. But lasers play a huge part in Kid Rock's show, as those beams reach the back of the house. The fact is we could trigger the MDG The One foggers that were mounted in the grid as well as the ones they wheeled into the back of the house, and they could fill the whole arena in under a minute. The haze just brought the whole room to life."
Schoenfeld says somebody needs to be commended on the fact that, for once, someone took notice and built a proper air handling system for an arena. "With drapes and soft projection surfaces involved in a show, air handlers are often my worst nightmare. I want it hot and still, but when 20,000 fans are dancing it might just melt the ice under the floor if we didn't turn them on, so we need air. Our production manager, Tony Moon, was able to time the on and off times and sections of the arena we wanted the air to move so it didn't mess with our show. Somebody finally thought of this before they started building."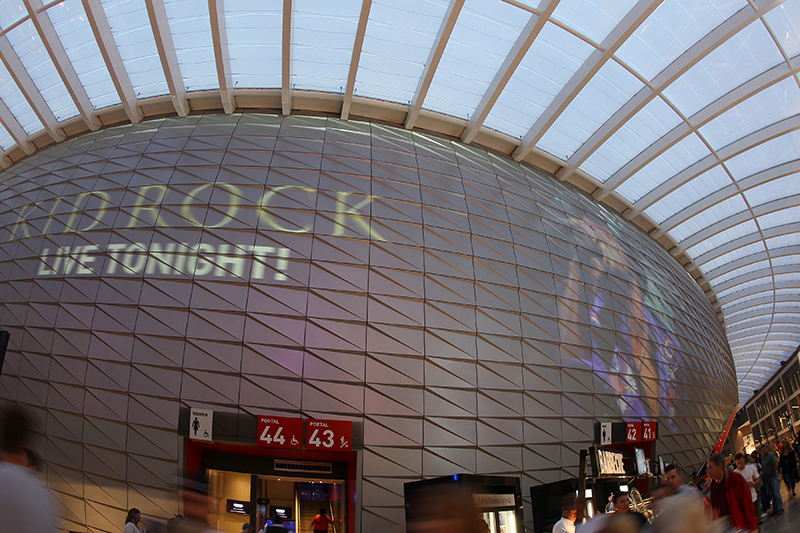 Yes, it's a lot — but part of the plan going forward is while rock acts are still bringing in their own rigs, lighting and video, if they choose to throw in all the other lights in the arena, they can "rent" it from the arena. "It's all running on a grandMA and could be a good source of revenue for the arena."
Wade continues to work with the venue's ownership, designing the opening of the hockey season for the Red Wings in late September in collaboration with Pete Skorich, the creative designer/director for the team. And there's no doubt that the possibilities are ever-expanding as this building ushers in a new era for arena venues.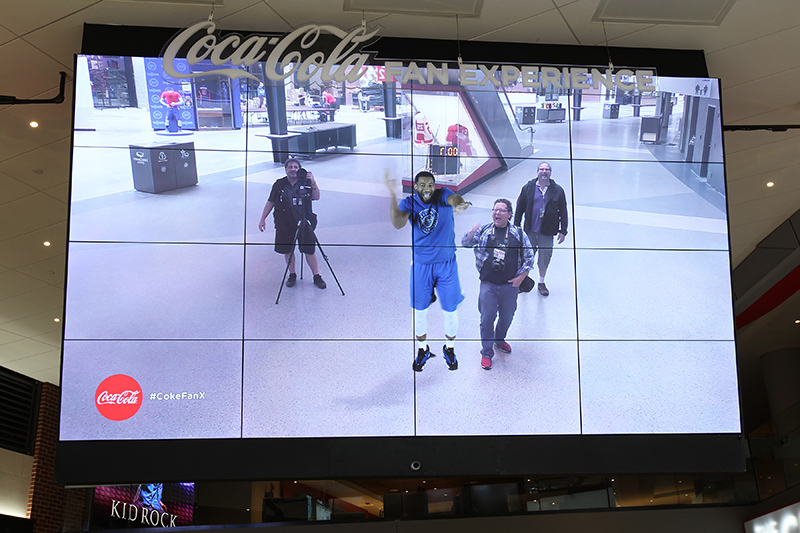 Little Caesars Arena Lighting & Video Design Credits
Crossfade Design Team: Eric L Wade, Michael Nevitt, Jason Robinson, John Early
Crossfade Design Support Staff: Tyler Roach, Sam Brown, Brian Mann, Aaron Wade, Brandon Wade
Programmers: Eric Marchwinski, Jason Winfree, Joe Bay, Chris Lose, Kevin Lawson, Brent Sandrock, Brandon Wade, Drew Hornback
d3 Programmers: Zak Haywood, Andy Babin
Creative Content Designers: Brent Sandrock, Ross McNamara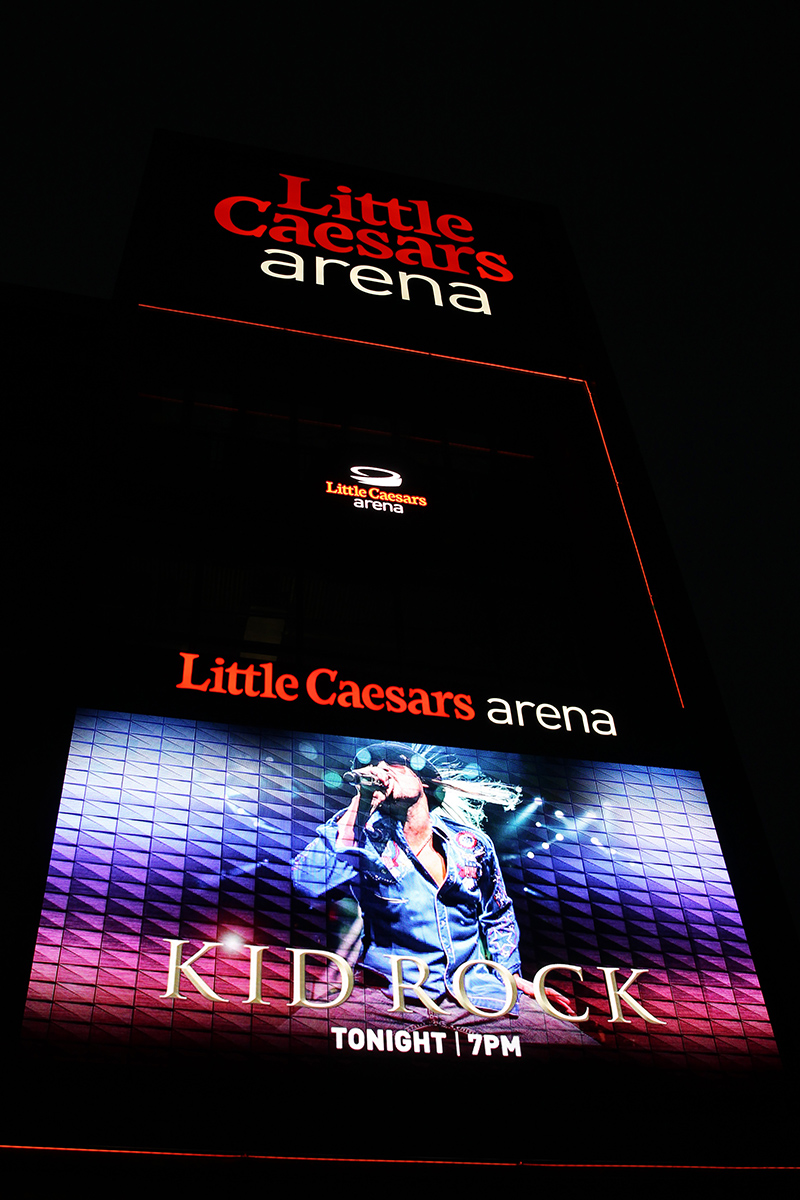 All photos by Todd Kaplan
Leave a Comment: