Ryan Adams' Dystopian Set; Wilco's Schmilco Forest; Killers, Dragons, Danzig and More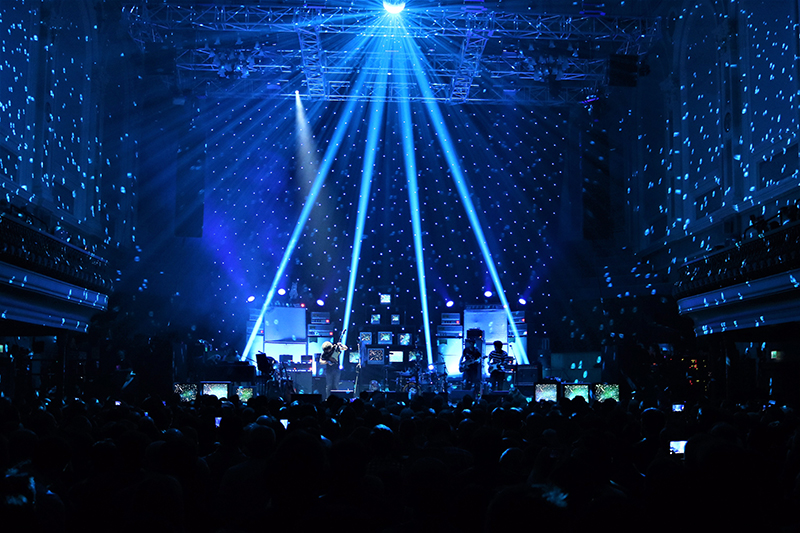 Ryan Adams described the look he was going for on his current tour as "a 1980's dystopian Star Wars junkyard." LD Heather Cossette has been out with Ryan Adams' tour as designer/director since March, supporting his new album, Prisoners. The tour ends Oct. 17.
"When people on Instagram say it looks like space or Star Wars I feel like I have succeeded. We are also wanting the audience to feel as if it's a movie," Cossette says.
Cossette describes the working relationship she has with the artist: "Ryan has been very involved and always has lots of ideas! The old TVs and overall set design was his idea. He is a very particular artist, and I'm thankful we have a good open line of communication. He will often get an idea or a feeling for a song, and I translate that in the technical sense, and do my best to execute it. He has a medical condition that makes live performing difficult and sometimes uncomfortable. I don't push the limits until he tells me he wants me to. His medical condition [Meniere's disease] has dictated so much of the show, so I do lights for him differently than I would for another artist. It took us a couple weeks in the beginning to find our groove, but we got it now. Trust and open communication is a huge part of my success with this show. So he has had a lot of input into the show I have created."
Next, Cossette designs lighting for Vidya Vox, a YouTube artist who fuses the intricacies of Indian music with elements of electronic and hip-hop. Cossette will work with LD Chris Reade, who leads the overall production and lighting design for a tour of India Nov. 17-27. "That pretty much ends my year at the moment."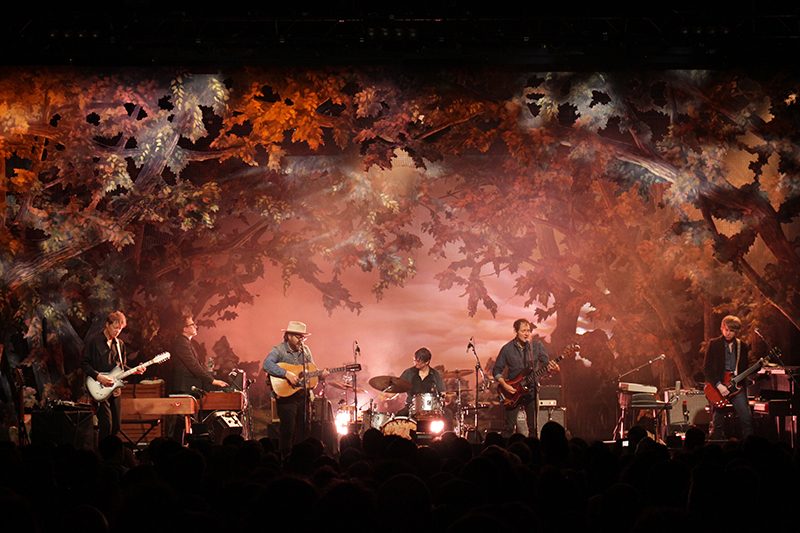 ‡‡ Wilco's Schmilco Forest
Lighting and production designer Jeremy Roth takes Wilco's Schmilco Tour with its "forest" back on the road this fall. Says Roth, "The forest is made up of three hand-painted drops. There are two cutout portals on netting and a backdrop with a translucent sky panel. It's all lighting effects, no projection."
Roth says the forest concept came from band frontman Jeff Tweedy. While visiting a Masonic temple in Santa Fe, he became enchanted with the set of scenic flats that depicted an autumnal forest scene. He was inspired by the diminishing perspective, cutouts, and color to create a sense of depth and warmth. Roth says, "He brought the concept to me and we started to figure out how to turn a scenic concept from a 100-plus year old temple into a tourable production design."
Next, Roth debuts a new design for Ray LaMontagne's "Just Passing Through" acoustic U.S. fall tour, Oct. 13-Nov. 12. Roth wraps up the year with a string of dates for Sheryl Crow.
‡‡ Directing Doobies
Jared Rarick is now lighting director for The Doobie Brothers, filling in for their LD who is on sick leave. "I've been moving forward, advancing a new plot that I've drawn up in previz that features much more automation than the previously advanced 180K rig. Although a moving light plot, it's still simple but offers better color saturation, smooth transitions, and an imagination's number of looks that couldn't be achieved with a traditional PAR rig."
‡‡ Imagine Dragons Evolve
Sooner Routhier, Robert Long and the rest of the SRae Productions team are designing Imagine Dragons' Evolve world tour, which launches in the U.S. and Canada in October-November. Mitchell Schellenger is the lighting director and Andy Reuter designed and created content. Regarding the production design, Routhier says, "Not much to share at this point. We're in rehearsals and trying to be secretive."
‡‡ Quick Cues
LD Steven Douglas is out with The Killers on their Wonderful Wonderful world tour. "We are only doing four festivals in October in the U.S., and then the full tour starts in the U.K. in November," he says. The U.S. leg starts January 2018.
LD David "Gurn" Kaniski just finished Donald Fagen & The Nightflyers' tour and is excited to be designing the upcoming Steely Dan Tour that continues into next year. "Although (it's) bittersweet, never getting to work with Walter Becker. RIP," he says, of the Steely Dan co-founder who died Sept. 3. Lighting director Fraser Mackeen will run the October dates.
LD Lenny Douglas is lighting director for the upcoming Spiritualized shows in Mexico and California in October. "They don't make it over here often but when they do, it's special," he says, of the British space rock band. "I've been doing their U.S. shows for about five years now I think." He describes their shows as "spacey psychedelic gospel music. Some of their shows have full choirs with them. It's pretty moving, seeing them live."
Foreigner LD Dan Lastovka says the band's 40th anniversary tour continues. "Next up for us is a DVD video shoot with all the original and current members, happening at the top of October, then continuing the tour across Canada but with just a vanilla PAR and mover rig."
Andy Cass covered the programming and operator duties for LD Johnny Goode for The Disco Biscuits for four shows in NYC in late September.
Jason Cain has been touring with Danzig as lighting designer/director. "I did The Original Misfits shows last year, and [band member Glenn Danzig] asked me to come do this little run." Dates ran to Sept. 25.
Chris Lose is headed to Australia/NZ with Stevie Nicks as lighting director in October/November.
LD Robert Coleman recently finished with Iron Maiden and is now working with the band Ghost, a Swedish metal band. Dates ran to the end of September, with more TBA soon.
Give Debi a treat this October by emailing news of your latest tricks. Reach her at dmoen@plsn.com.
Leave a Comment: