Brad Paisley 'Weekend Warrior' Tour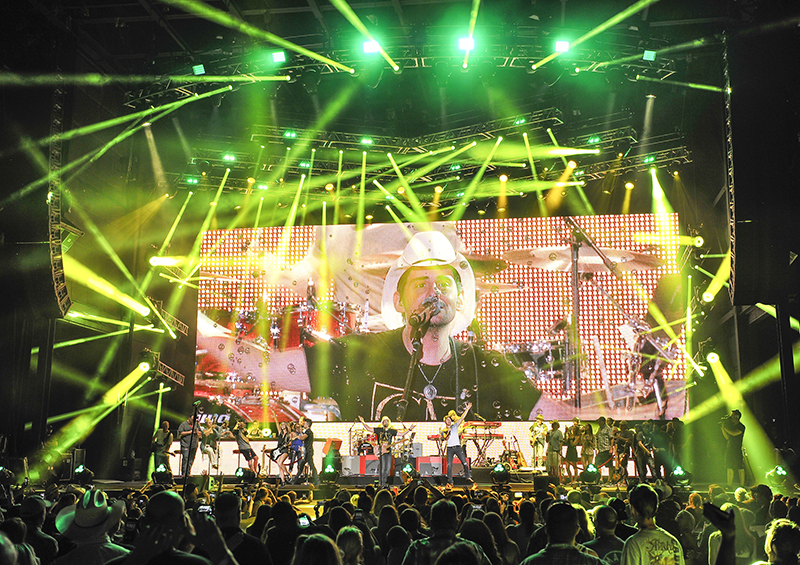 Lighting Co
Spurlock Lighting
Venue
Various (Tour)
Crew
Lighting Designer & Director: Dean Spurlock
Lighting Crew Chief: Brace "Cowboy" Balthrop
Lighting Techs: Ryan Thresher, Jim "LFJ" Martin, Monica Rose
Video Director: Bailey Pryor
Media Server Programmer: Joe Monahan
Video Tech: Jess Quinn
Production Manager: Kevin Freeman
Tour Manager: Brent Long
Stage Manager: Bill Farris
Riggers: Greg Harvey
Video Company & Content: Moo TV
Staging Company: Accurate Staging
Trucking: Extreme Trucking

Gear
Lighting:
2 grandMA consoles
24 Vari-Lite 3500 Wash
20 Vari-Lite 3000 Spot
14 Vari-Lite 6000 Beam
12 Vari-Lite X3 LED Wash
60 Elation Platinum Beam 5R Extremes
14 LED Strobes
12 Elation Paladin LED Wash Blasters
2 MGD Hazers

Video:
1 40" x 100" LED curtain
1 Ross Carbonite switcher
3 Manned Hitachi SK3010's
2 Panasonic Robi cameras
336 20mm Elation Tiles: (60" x 25", upstage wall)
52 20mm Elation Tiles: (12'6" x 12'6", side panels)
60 15mm Elation Tiles (Fret Board
32 15mm Bar Fronts
Designer Insights by Steve Jennings:
Dean Spurlock
Lighting Designer & Director
"For this year's Brad Paisley tour design we went with V-shaped chevron trusses with a custom curve downstage. We also added up-stage, left & right, ladder trusses, with the new Vari-Lite 6000 Beam fixtures off the ends. I'm very impressed with their output. We have a good mix of Vari-Lite and Platinum Beams throughout the hang.
I've been really lucky to have been given the opportunity to cre-ate, design, and operate Brad's show for all these years. Brad has always been great to me and he always gets involved with things just as Moo TV is back as the video vendor and content creator. We've been fortunate to have the same production group for years out there with us. Bailey Pryor (video director) and his crew work really hard and they all do a great job for us.
Laser elements are occasionally brought back in to supplement or add to various shows. We use Peachtree Laser Inc. when we need them and our lighting tech "LFJ" (Jim Martin) is always ready to go when we do.
It is definitely like a family, some days you love 'em, some days…not so much. LOL. No, everybody is great, we work hard, have a good time, and get the job done. I've always had a great crew and appreciate everything they do. Lighting techs Ryan Thresher and Monica Rose have really added a real level of experience we nee-ded. Our crew chief "Cowboy" (Brace Balthrop) has always stuck with me and keeps things rolling. I don't know how we'd do a show with-out him!"
More Brad Paisley 2017 "Weekend Warrior" tour photos by Steve Jennings:
{gallery}17/09/bradpaisley{/gallery}
Leave a Comment: