Green Day 'Revolution Radio' Tour 2017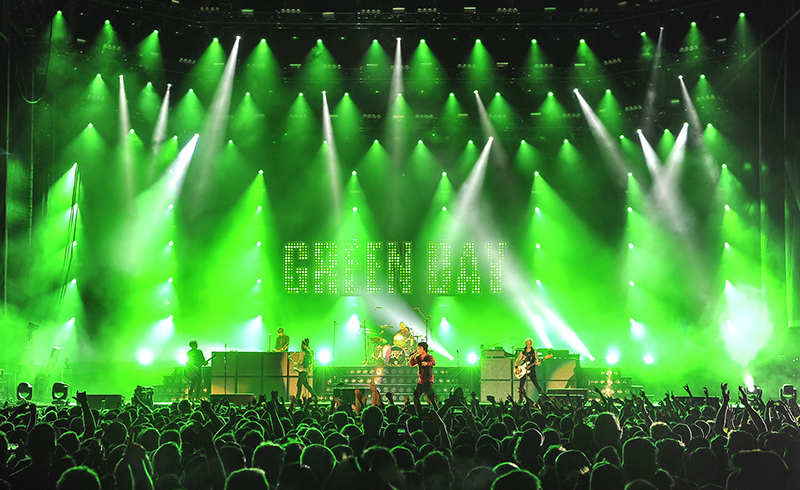 We caught up with production and lighting designer Ethan Weber and lighting director and programmer Tommy Horton for Green Day's hometown show in Oakland, CA. Although the band has been playing mostly in arenas and sheds for their Revolution Radio tour, this show, staged on Aug. 5 at Oakland, CA's Alameda County Coliseum, is one of the band's stadium gigs. The tour, in support of Green Day's Sept. 2016 album by the same name, is a 120-show trek that launched Sept. 26, 2016, one day after the album's debut. Since then, the Revolution Radio tour has included multiple legs in North America and Europe along with a series of shows in Australia and New Zealand. After a performance at the Global Citizen Festival in New York's Central Park on Sept. 23, the band heads to South America and Mexico for a series of shows this November.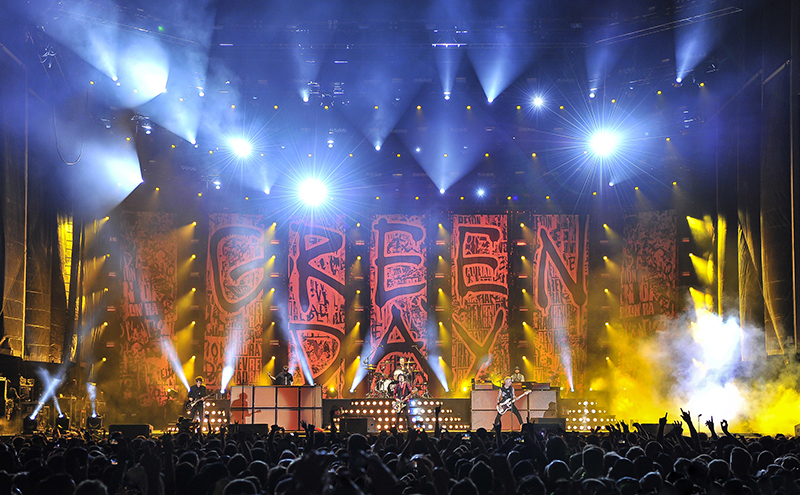 Ethan Weber
Production and Lighting Designer
"Green Day shows are always very energetic shows and I tend to strive for bigger looks with a fair amount of activity. That, coupled with the variety of venue sizes and types led to a straightforward truss layout that fills the air and can be easily duplicated by festivals and widened for the stadium shows. I submitted a couple different truss layouts to the band and management. One was a little more ambitious, but in the end, we all agreed that the simpler configuration was preferable, and we would rather have consistency throughout the world on the tour than to have the band play under something different everywhere they play.
"I'm not the fastest programmer; so in my eyes, there's never quite enough time, but they were generous. I don't remember the exact numbers, but we spent a few days with the band and system at the PRG shop in Las Vegas, then 10 days or so at LH2 in London. My goal was to get 50 songs done, but think we ended up with about 40, and Tommy has been adding as the set list has evolved."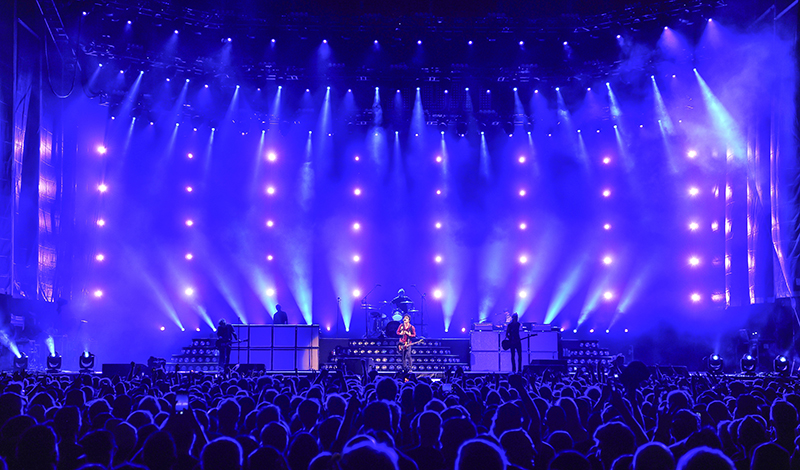 Weber notes that he's "usually pretty loyal" when he finds fixtures that he likes, but adds that he "did try a few new ones" this time around.
"While it's tempting to use some of the new toys, this band plays a lot of festivals, and I try to use lights that are widely available. Mole fays, and a lot of them, are the first requisite — in my first meeting with the band, one of the first things they told me was that they like to see the audience as often as possible. I've used [Claypaky] Mythos for the past few years, and have been very happy with them; they're the first of the multi-purpose lights that I really liked. We tried an LED strobe in our first round of rehearsals, but couldn't get a decent low-level flicker, so I ended up going back to the traditional [Martin] Atomic Strobes. The Solaris Flares were added when it became apparent that the backdrops needed coloring.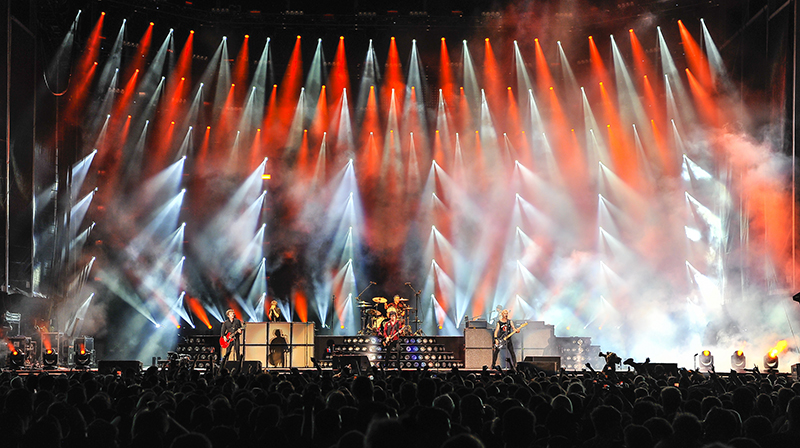 Weber appreciates the ability to cut down the total fixture count without compromising on the range of looks by relying on multipurpose hybrid fixtures.
I've used [Martin MAC] Viper Profiles for a few years now, but this was my first time with the [Martin MAC] AirFX. I had never been too excited by the wash/profile lights on the market, but saw a show with the AirFX and thought that Martin had really gotten it right — a great wash light with useable gobos. Being able to use two source types instead of three — wash, profile, effect — makes it possible to get much bigger looks with a lesser fixture count.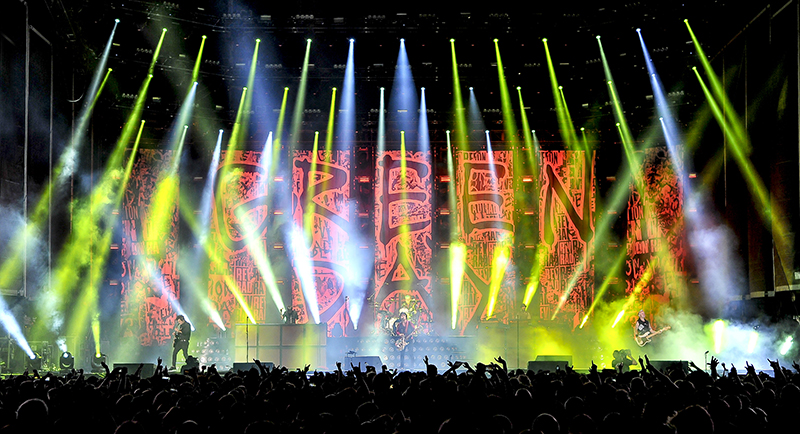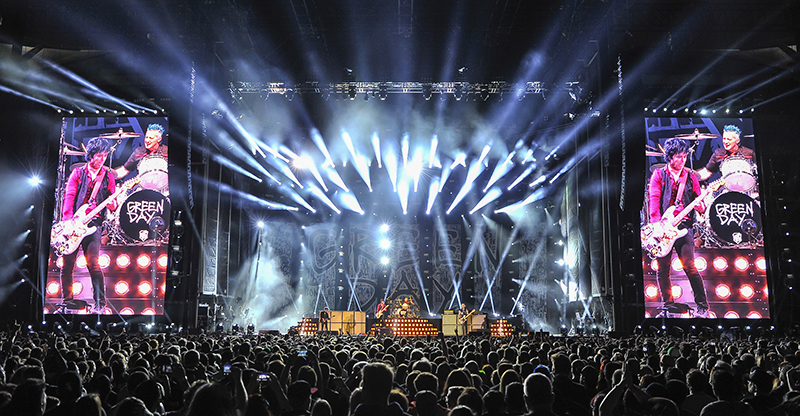 The band decided against having a video wall behind them.
"Although video assist has been added for any festivals, stadiums and sheds that have side screens, we don't use any content or put any video onstage. While not opposed to it, I've never thought video should be a given, and I think it's refreshing to see and be a part of a show that focuses attention on the band.
"The band did want some kind of scenic element, though, and because of logistics and varying venue sizes, soft goods seemed the right way to go. It's a long show — generally two- to two-and-a-half hours, so I proposed breaking it up into a few parts. The band plays the first song in front of a black backdrop. That drops, and the second song reveals a full-stage drape with the CD artwork. After five songs or so, we reveal a set of seven banners and six upstage lighting torms. There's a second set of banners that takes it close to the encores, then they drop, and the last few songs are done bare."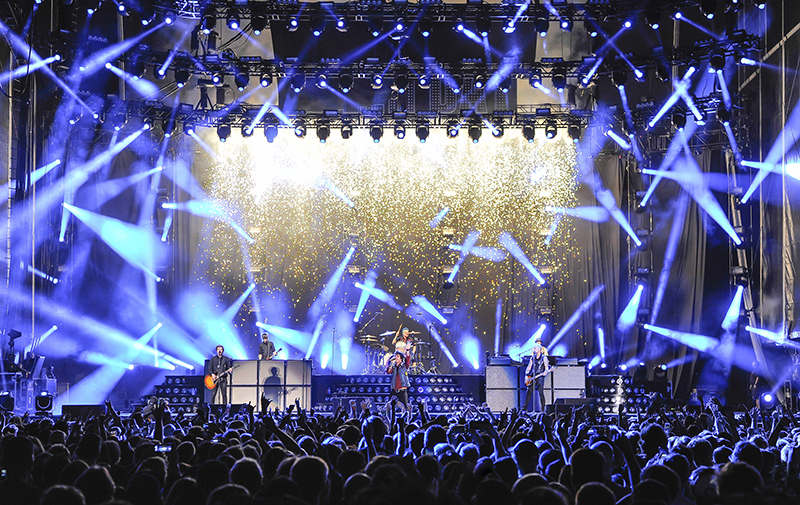 Pyro — a "welcome addition" — was driven by the band, says Weber.
"My only involvement was to make sure our lights are tipped up during the flame cues so that we don't destroy the lenses. We didn't use pyro on the last tour, but the band has a history with it and some very specific ideas about when they want it. They chose the songs they wanted pyro in and had a couple companies come up with ideas and renderings. The band liked what Nicolai Sabottka from ffp Special Effects offered, and, between them, came up with the final design."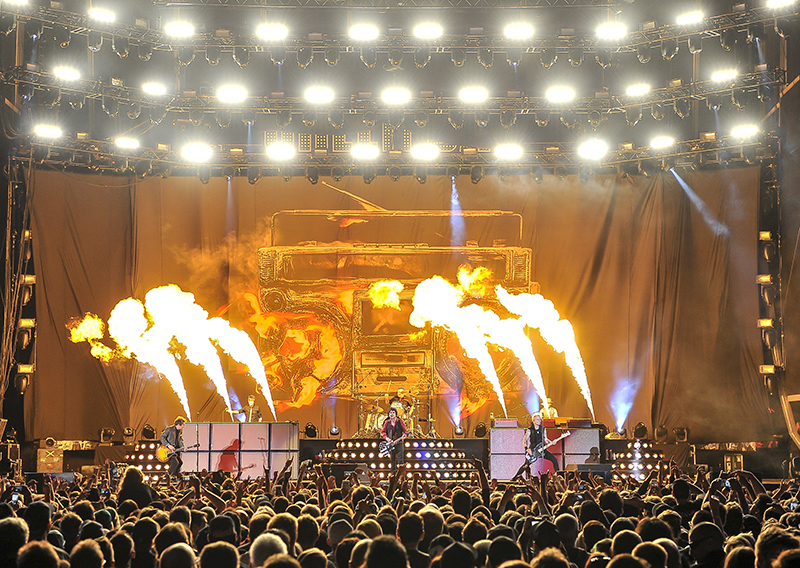 Along with the production design team, Green Day band members – and their accountant – provided ideas, Weber says.
"Lighting also benefited from a couple other band requests — a new drum riser and a modernized version of their old Green Day sign. I wish I could take credit for it, but when discussing a new drum riser, our tour accountant, Tom Golseth, suggested putting lights in the step units a la Queen. We went with a few hundred DWE's and, though it's probably a bit harsh for the first few rows, it ties in nicely with all the overhead Moles. That, and the LED sign, were designed and engineered by Gallagher Staging, longtime friends of mine and the band, with an additional set built by Brilliant Stages in the U.K. to use on the European runs."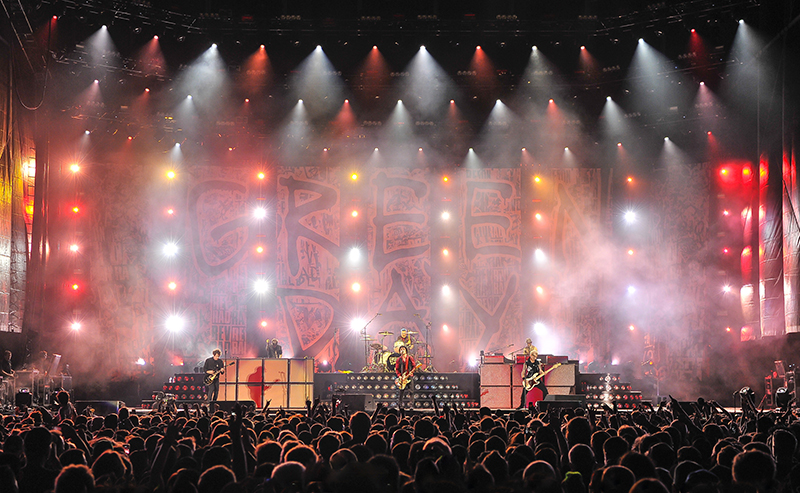 Weber also credits lighting director Tommy Hortan for a big assist with this tour.
"I was only out for the first four shows, as I had another project I was working on as well. It's never easy turning a show over to someone, especially if not time-coded. I had seen Tommy Horton's Judas Priest show, and it was very tastefully lit. Between his lighting talents and calm demeanor, I thought he was the perfect choice for this, and he has really done a great job with it. It's comforting to know that, between him and Jason Dixon (worldwide lighting crew chief), Curry Grant and Yvonne Donnelly Smith (PRG account reps), that the show is being well looked after!"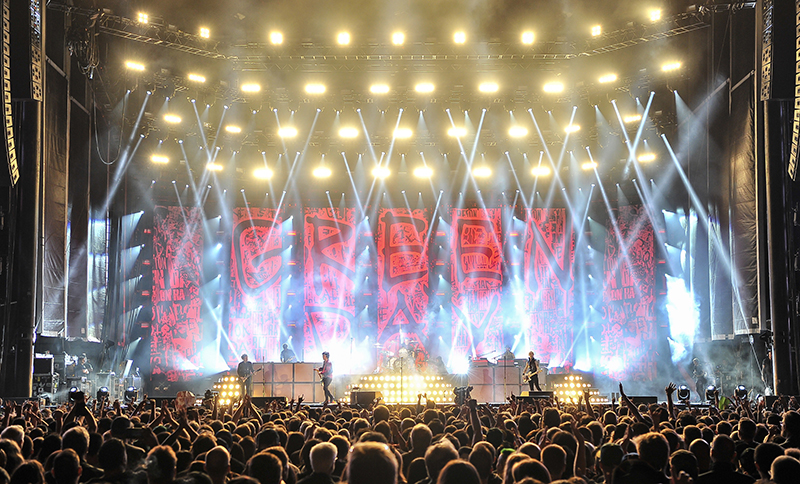 Tommy Horton
Lighting Director
Horton first crossed paths with Ethan Weber a few years ago in South America, where Weber was working with Ozzy Osbourne and Horton was with Judas Priest.
"At the time, I was using a HES Hog 3's (before making the move over to the grandMA console). Later, as I was finishing up with Judas Priest, Greg Dean (production manager) needed a 'Hog' guy to work with Social Distortion. Ethan recommended me to Greg for the gig, which worked out great. When Green Day was getting ready to go out, Ethan had commitments with the Rolling Stones, so Ethan and Greg felt that I would be right to fill in.
"The band's set list has been pretty consistent on this tour. Usually I get a good night of programming before each leg, Ethan left me with a very deep catalog of potential songs already programmed. I spend a little time just cleaning things up, as one always does on the road. But what usually happens is Billy (Joe Armstrong) will throw something out during the show, then I'm scrambling to get in the right song or jump to the punt page and play along with them. Of the additional songs I've programmed on the road, I really try to maintain the feel and style that Ethan created for the show when I'm adding new content."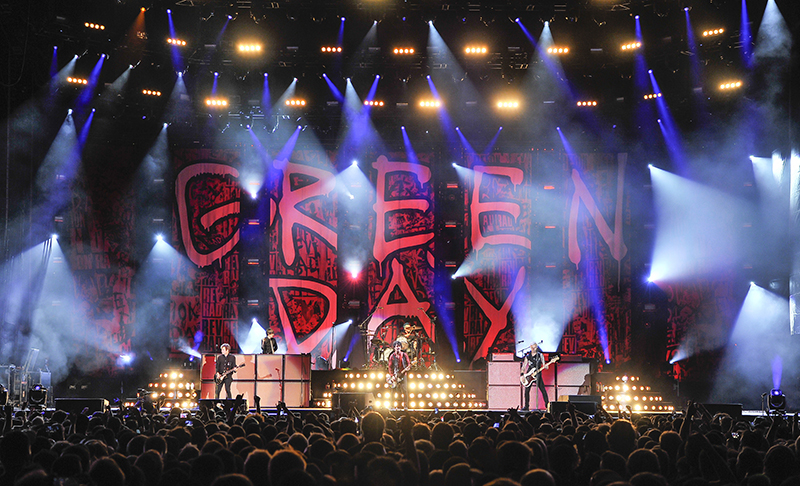 The band can — and will — throw anything at you at any given moment, notes Horton.
"Nothing in the show is 'timecode.' We sometimes refer to it as Tom code… Ethan has spent a lot of time developing the cues, and the band is really consistent. There are some moments that allow for bump and flash, but that still just feeds into the cue structure.
"I have been very fortunate to have Jason Dixon with me as lighting crew chief. He's worked with the system from day one, and the information that he is able to pass on to the different crews and companies have streamlined the lighting prep into a very tight and efficient lighting system. He's been great at organizing all the different entities of PRG throughout the world. Working with Ethan is a real pleasure… such an icon in this industry. Taking on this experience with him will elevate my own abilities to create better shows."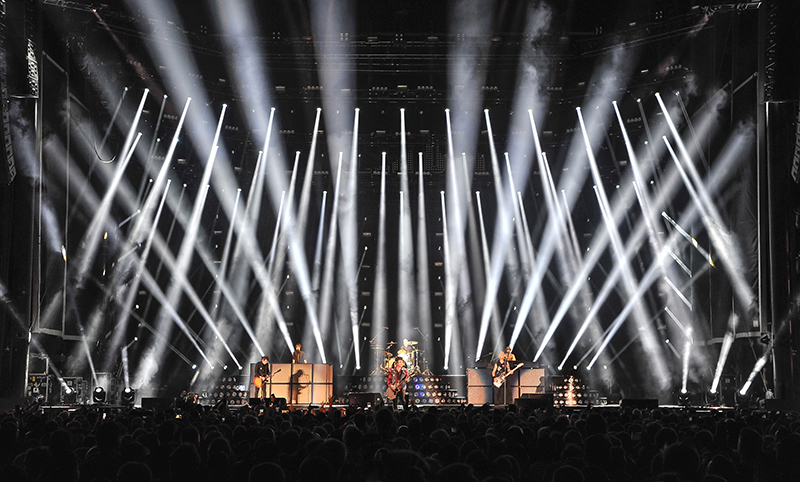 Green Day Revolution Radio Tour 2017
Crew
Production and Lighting Designer: Ethan Weber
Lighting Director: Tommy Horton
Lighting Programmers: Ethan Weber, Tommy Horton
Lighting Co: PRG
Lighting Crew Chief: Jason Dixon
Lighting Techs: US Fall Tour: Patrick Warrington, Tom Bider, Jennifer Dymond, Thomas Mayer
PRG Reps: Curry Grant, Yvonne Donnelly Smith
Video Co: VER/Barry Claxton
Video Director: Peter Moll
Video Engineer: Curtis Miller
Camera: John Myrato
Tour Manager: Mike Amato
Production Manager: Greg Dean
Production Assistant: Maya Gas
Stage Manager: Brian Koontz
Staging: Gallagher Staging/Joe Gallagher
Rigger: Brian Collins
FX/Pyro: ffp Effects/Nicolai Sabottka
Pyro Shooter: Alex Hammel
Pyro Tech: Naloni Hydo
Backdrops: Sew What?/Megan Duckett
Trucking: Upstaging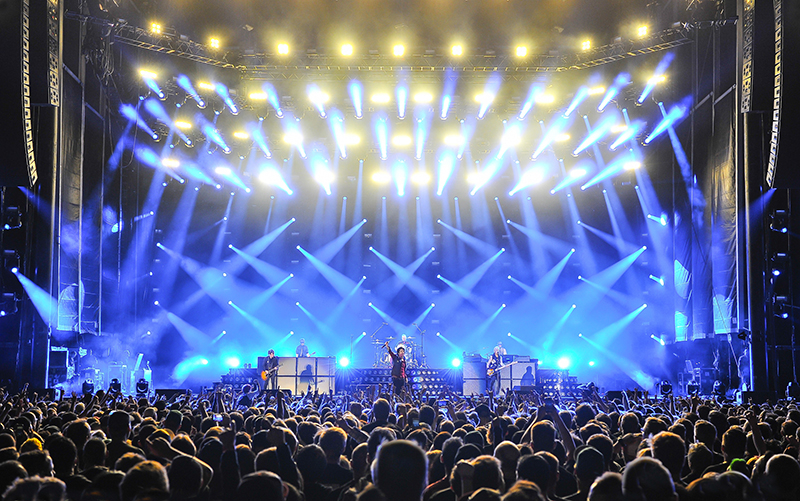 Gear
2 grandMA2 Full consoles
75 Martin MAC Viper AirFX fixtures
48 Claypaky Mythos
20 Solaris LED Flares
48 Martin Atomic 3000 strobes w/ color changers
36 8-Lite Molefays
23 4-Lite Molefays (Linear)
10 ETC Source Fours (8 x 10°, 2 x 26°)
2 PRG Bad Boys (set for spotlight use)
4 DF-50 hazers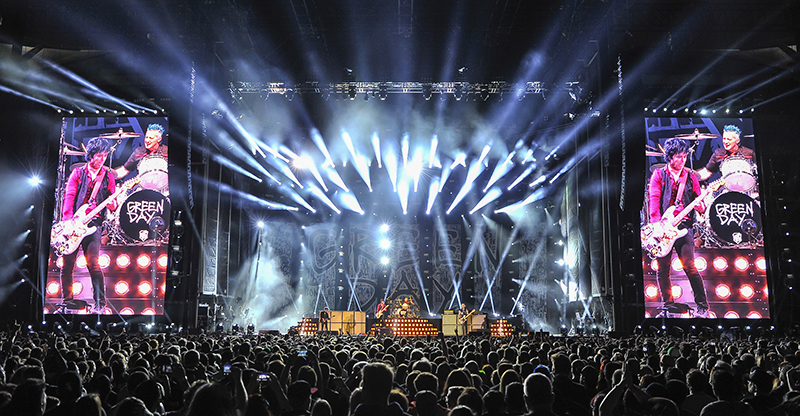 More Green Day 2017 "Revolution Radio" tour photos by Steve Jennings:
{gallery}17/09/greenday{/gallery}
Leave a Comment: