H.O.W. Interview: Trey Blair of SES Integration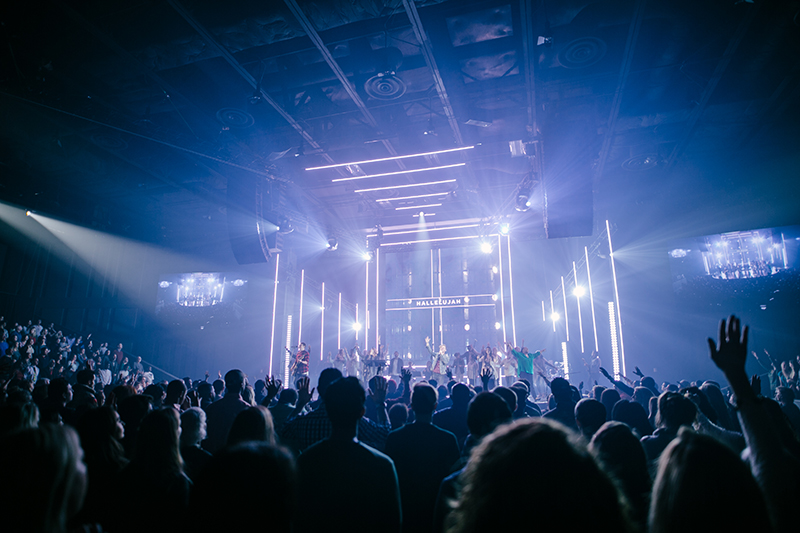 Helping Ministries Optimize their Investments in Technology
Some schoolchildren find their favorite sport at a very young age, and others discover their passion for art or music. For Trey Blair, when he was a student at Concord First Assembly Christian school in Concord, North Carolina, the calling took him where most PLSN readers found themselves: in the dark with the audio, video, lighting and rigging that made things happen onstage.
"I started working with the technical director at the church and supported a lot of events there at the church and the school," Blair recalls. "At the time, I enjoyed the technology and working with the equipment. Then it grew from that until it was all I did."
Blair jumped from his extensive school experience directly into the professional world, when the church's technical director offered him a job at his small company, Sonlight Sound. At Sonlight, Blair installed audio and video systems in churches in the area, which suited him just fine — by this time, he understood that working with houses of worship gave him the greatest satisfaction.
"That's where I got my start, so it's where my heart's been since day one," he says.
His expertise grew as he made the move to Audio Ethics in Charlotte, which became AE Global Media. "I was mostly running the production department," Blair says. "I did a lot of full-scale installation work in terms of design — everything from one-off events to touring."
This experience led to his current position at SES Integration, where he serves as director of the company. SES takes on the big jobs for a number of different venues, including houses of worship that are "a lot further down the road in terms of technology," Blair observes. "These are almost concert-feel in their worship styles."
Not only do these churches require full-scale lighting, audio and video equipment, but they require levels of broadcast and networking technology that Blair could not have imagined back in his high school auditorium. "It's a different world from when I started," he says. "Where I used to spend my days turning a knob or operating a console, now I touch a screen. It's easy to lose the artistic side with everything so computerized, so that's where I tend to focus."
‡‡ From Production to Communication
Many of today's churches have moved from small, quiet Sunday services to large productions, designed to bring in a congregation of younger people and their families. The concept has worked well for churches with the greatest vision and the ability to present these services well, paving the way for some of these houses of worship to create branches and satellite churches, broadcasting the main service to other churches across the country and around the world.
"Probably the biggest thing we run into these days is to send signals to other campuses, or to send to venues on the campus," Blair says. "Streaming technology has become a big piece of what we do, and designing systems to get the exact signal they need to the other end. That's been driving a lot of our work."
At Elevation Church in Ballantyne, NC, for example, Blair and SES Integration's director of operations, Tim Owens, customized the church's new location by making it the broadcast hub for the church's network, streaming live video of its services to its 14 campuses throughout the southeast and as far away as Toronto, Ontario.
This award-winning project involved a broadcast video system using Panasonic AK-HC3500 HD cameras and a Ross 3M/E Acuity switcher and Evertz audio and video router/multiviewer system for technical direction and routing.
The ability to broadcast to all of its campuses is key to the Elevation experience — but first, the church required an unparalleled worship experience in Ballantyne that would draw in its members every Sunday. Blair and Owens designed an audio, lighting and video package that allows the church's staff members to create any kind of high-tech experience they can imagine.
The audio package came from L-Acoustics, and includes a K2 system with ARCS II Line Array Speakers and K1-SB and KS28 subwoofers, fed by a DiGiCo SD10 console. Shure UHFR wireless microphones and PSM1000 wireless IEM are used onstage, mixed by a DiGiCo SD8 monitor.
Blair and Owens worked closely with Elevation's lighting designer, Andy Bentley, to design and specify the lighting system. Lighting instruments include Philips Vari-Lite VL4000s and Showline SL Bars, ETC LED Lekos and Martin VDO Sceptrons.
"Now, lighting is almost 100 percent LED driven," Blair notes. "We haven't put in a dimming system in a while. It's all LED and a bunch of relay panels where interacts used to be. The lighting design side hasn't changed much in terms of principles, but the instruments we use and the way we achieve it is changed. The efficiency has gone way up."
The main goal for this church, and all the churches SES Integration works with today, is flexibility, and having a system in place that can grow as the church's needs and congregation become larger. The installation at Elevation Church has become a hallmark for SES Integration's capabilities, demonstrating what other churches can do to grow.
"Elevation is infinitely flexible," says Blair. "Whatever they decide they want to do, they can do. The backbone is there to support it. For them it consists of the networking infrastructure for the lighting systems, and the power infrastructure to support bringing in additional systems. That's the core of that."
SES Integration provided a scalable networking system that allows the church to expand as new technology emerges, or to add new systems whenever they determine a need for more. "We go back quite regularly to add on to that system," Blair says. "They've already gone to a couple of expansions."
‡‡ The Next Big Thing
Working in churches that broadcast their services, Blair has come upon a new field that may be the next frontier in lighting. Today the house designer's creativity often extends to house lights.
"One of the big shifts we've seen lately is this move to full color mixing house lights," Blair says. "We've had the most success and the best results with the RGB fixture from The Light Source. They're using them for everything from effects to having the house change color, to be a color when you come up, for doing it for broadcast looks."
Color-changing house lights can help the camera catch people instead of the room's walls in a wide shot, Blair says. "They've got edges of the room down to blue, color-correcting for everywhere the people are," he says. "Five or six years ago, no one would have thought about making their house lights be color. Now it's a big part of the discussion — can the budget sustain color-changing house lights? It's a whole different animal — you didn't see it coming, and now everyone says, 'I have to have that.'"
In addition, LED screens have summarily replaced front and rear projection, Blair says. LED screens receive their images electronically, so the image does not depend on outside light sources for its integrity. "We're using more and more video backdrops," he explains. "With front and rear projection, we couldn't get away with taking things down to the floor, because the lighting would wash it out. Now we have full-length backdrops."
The fact that all this technology is available does not make it right for every church, however. Blair takes an ethical approach, being careful not to oversell to churches that are just starting to move into high production values in their services.
"I would rather see a church not buy something today if they can't afford the right solution, and wait a few months to afford the solution," he says. "I don't want to see people doing something in a poor way just to get it. Do it right the first time, or you do it multiple times."
SES Integration often encounters clients who have heard about a specific technology and are sure that they must have it, whether or not it's affordable for their organization. "When I see churches make the right decisions about how they should spend their money now, instead of spending it again down the road, that makes me happy," Blair says. "We tell churches, 'Don't spend money on that, you won't see the benefit for that.'"
Today the "next big thing" for churches is 4K cameras and projectors, but many churches will see no real benefit from purchasing the highest available resolution — especially small churches that don't broadcast their services. "Maybe with your TV, when you're sitting up close to it, you want to see fewer pixels," Blair says. "But when you're 20 or 30 feet away, you don't see the benefit of that. We've told people to stay with 1080p, because it doesn't make sense to spend the money on something when no one will tell the difference."
Blair also sees churches looking to save money by using off-brand or less dependable equipment at a lower price point, but he doesn't feel this is a good strategy, either. "I hate to see them spending money on equipment with high failure rates," he says. "I don't want to spend my days servicing failed equipment. That goes back to not spending the money on things you can't afford. There are things we won't sell because we know we're going to have to service it. It's just not a good investment for the church."
Helping churches make the right choices has become central to Blair's career — a critical component in helping church ministries grow their membership and reach more people using leading edge technology.
Randi Minetor is a freelance author and journalist based in upstate New York.
Leave a Comment: