OneRepublic Develops a Look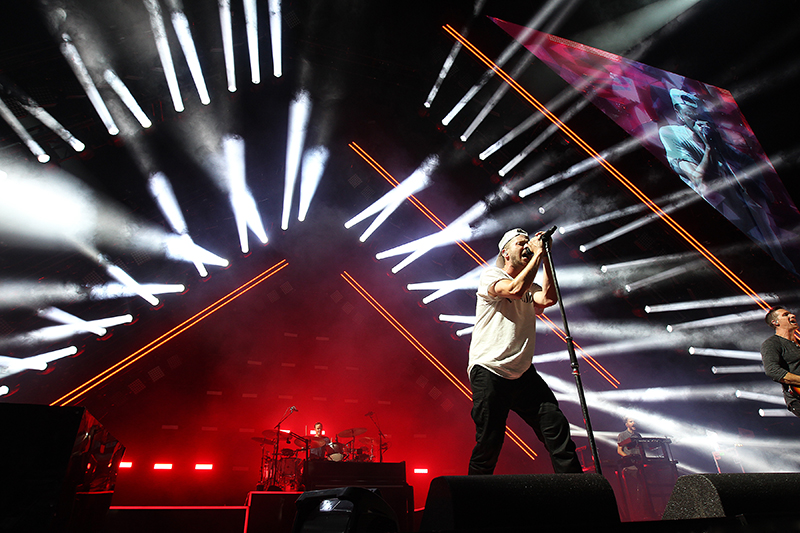 When opportunity knocked for Mark Butts and Raj Kapoor to work with OneRepublic, two things made them open that door: The prospect to work in the rock genre, and the chance to provide visual direction for a young band. "Raj and I work together often, and we've always wanted to do a really bad-ass rock show, so we could approach things a little differently than we normally do," says production/lighting designer Butts. "Someone like Kenny Chesney knows what he's looking for, but something like this is fun because it's a blank slate."
Producer/director Kapoor points out that while OneRepublic has put on some great tours, they have yet to develop a "look." "They didn't really have a visual vocabulary," he says. "They put on great shows, but I could tell they aspired to more, especially since [frontman] Ryan Tedder has worked with Bono and is inspired to put on big anthems." But here's the rub: The band's eyes for visuals was bigger than their wallet. This did not deter Butts and Kapoor — they welcomed that challenge and, in the end, created a dynamic, original look that translated to a stimulating show with an arena-like feel, budget be dammed.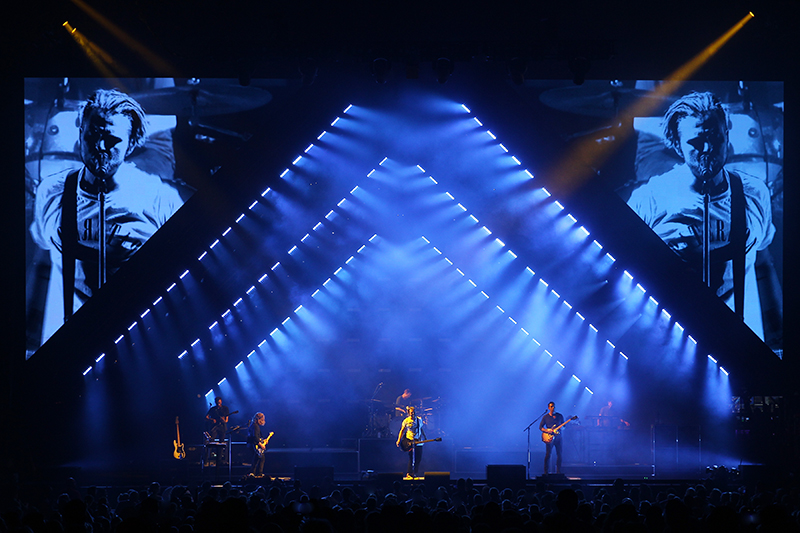 "If you're a good designer, you don't need all the latest gear for a tour," Butts says, with a shrug. "It's about how to be creative in a way that looks visually impressive but doesn't cost a ton of money. That's part of our job."
VER was the supplier, and Kapoor says they while he's worked with them before out of their newly opened Vegas office, this is the first rock tour they've done together. "One of the first things I asked was if we could bring in VER," Kapoor says.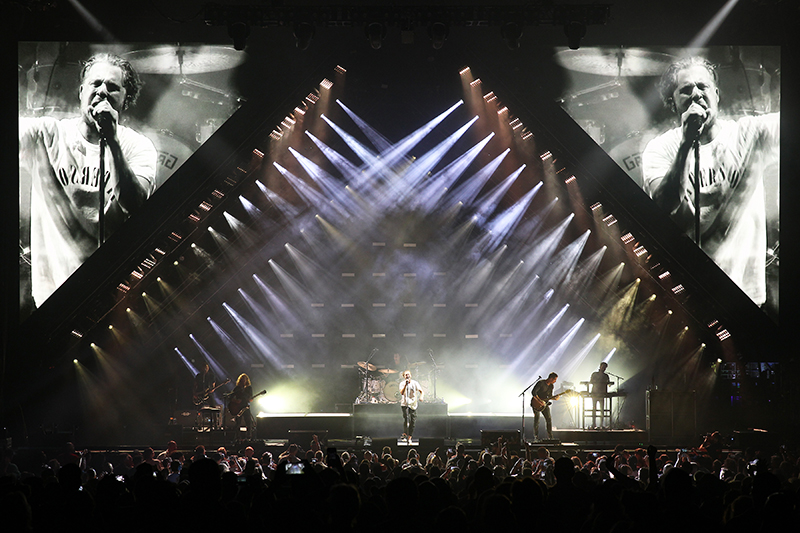 ‡‡ Getting There
Butts is a conservatory graduate of the Capital University near Columbus, Ohio (saxophone) who worked programming lighting for TV before getting into concert touring. He's worked on every Kenny Chesney tour since 1999 and has worked on Tim McGraw/Faith Hill and Shania Twain shows with Kapoor.
Kapoor is the son of two schoolteachers and was born in New Delhi, India; eventually the family settled in Alberta, Canada, where he grew up. He started as a dancer and choreographer and moved into working in concert touring with the likes of Rascal Flatts, Jason Aldean, Tim McGraw/Faith Hill and the Backstreet Boys' Vegas show, among others. He also works extensively in the world of television, including the Grammys and the Oscars.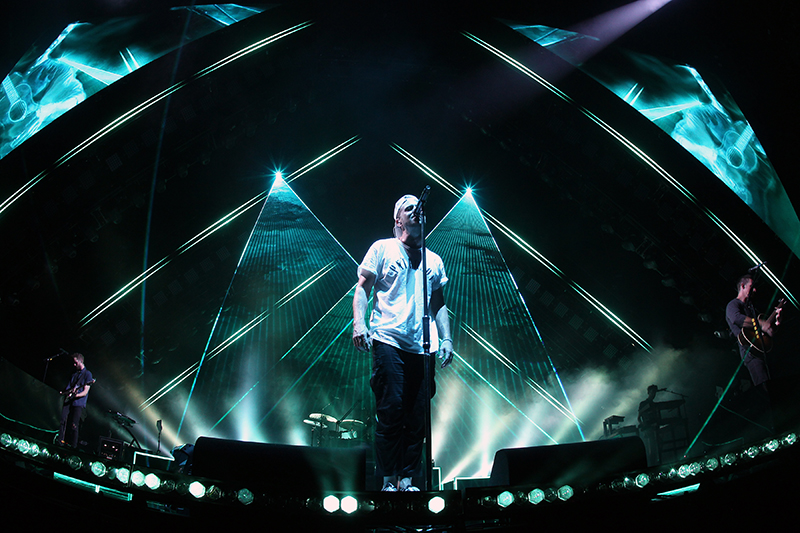 "We've actually been talking for almost two years about working together," Raj says, of OneRepublic. Delays ensued until they crossed paths again, working together on a big budget Bose commercial filmed in Reykjavik, Iceland. "We went in and designed that commercial, and that led to working with them on several one-offs including the Apple Music Festival and iHeart Radio. But this tour eventually settled into being a summer shed tour." Going from the idea of an arena tour to heading to the sheds involved some scaling down. "We needed to make every dollar count, but still make it really cool."
Kapoor took the initial meetings with the band/artist, and then met with Butts to discuss creative concepts. "We try to get the vibe or style, and sometimes he has a specific idea, or sometimes I do," Butts explains. "Then we'll sketch out things and start putting together a presentation." As noted, initially, the tour was going to be an arena tour, and the team started down that road accordingly. Then it shifted to a summer shed tour, and while some of the ideas were kept, new ones needed to be created. (Although somewhat scaled down, this is still a seven-truck show).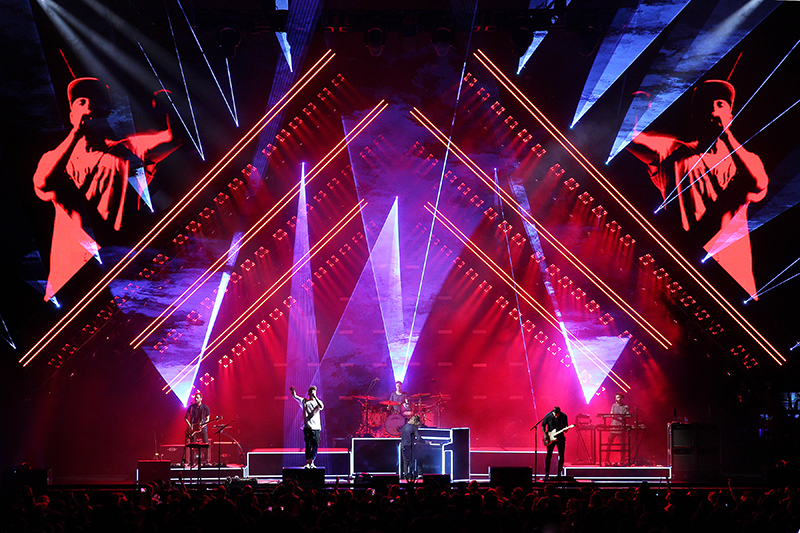 Butts says their final design is straightforward. "It's all [Ayrton] MagicPanel 602 fixtures and Claypaky Mythos on four trusses, two that move. It's DMX-run, so it's simple, and none of what we're using is brand new." Butts does point out that he insisted on using the MagicPanels in different ways for each song by just using certain arrangements of pixels illuminated at times, as opposed to the whole fixture. There are 28 Claypaky Sharpy washes being used and 54 Philips Showline SL Nitro 510C strobes as well. There are six Robe BMFL lights in the rig being used as followspots. Four are manually operated — moving to keep up with the band; and then two stationary ones focus on keyboards and drums. Sixty-two Claypaky Mythos are part of the mix. "I use a lot of Mythos because they are functional, lightweight, and don't use a lot of power. Because I've been using them since the first batch came out, I have a lot of history with them," Butts says. Adding to the mix are confetti canons and the Sparkulars, a product from Sparktacular that spews non-pyro gerb-like effects.
Kapoor notes that OneRepublic's Ryan Tedder is completely engaged in technology and is "very much a pop culture guy," and wanted the visual aspect to relay that. Once he had his say, he was comfortable leaving the details up to his team. "He's not one who gets into the minutia details of the look, as he wants to concentrate on his performance."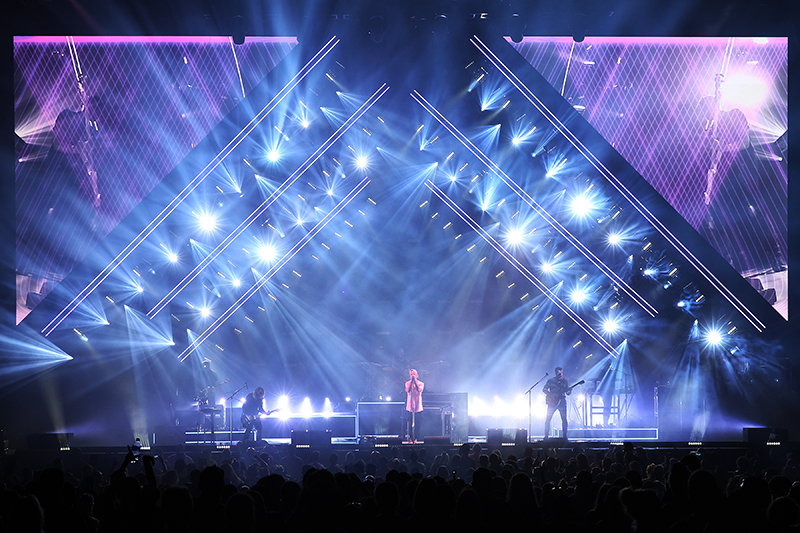 Because of the variety of places they are playing, they had to put together an A, B, and C rig. "This is the A rig," Butts says, at the St. Louis gig on July 8. (Part of the 2017 Honda Civic Tour, the concert, staged at the Hollywood Casino Amphitheatre in Maryland Heights, MO, just outside St. Louis, also featured Fitz & The Tantrums and James Arthur). "The B version hangs a little lower, and for the C rig, we just start lopping off parts until we get it to fit."
An extreme example of that, Butts says, was when the band played the Ravinia Festival in Highland Park, IL, near Chicago, a week after the St. Louis gig. "It's a cool venue, but it only has a 20-foot trim."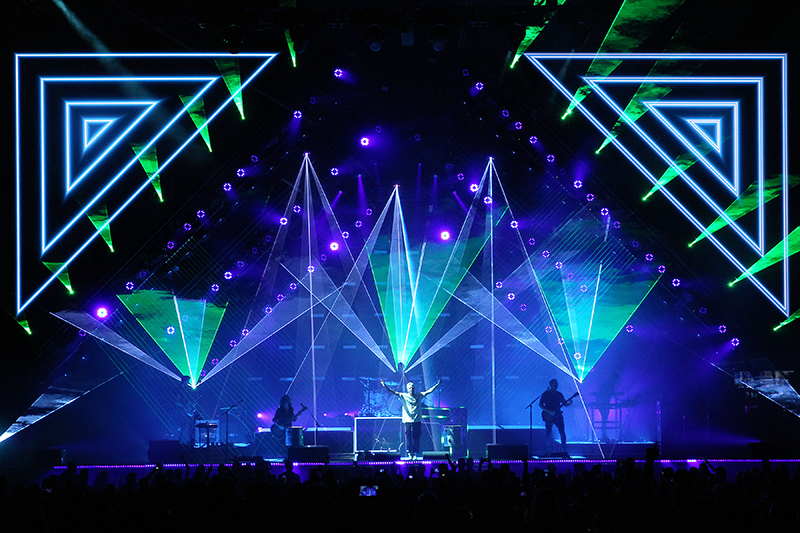 ‡‡ See No Gear
When they don't have to be shoe-horning the production into tight spaces, another way they filled big spaces on a budget is some creative use of triangular LED video screen pieces, made by Revolution Display and supplied by VER. Kapoor produced a small amount of original content for the show, but the choice was to focus on I-Mag and the creative treatment of it, which the shaped video screens demanded. "It took a while for the camera operators to know how to frame what they were shooting on. It's an unusually-shaped screen," Butts confirms.
"Having as much of the equipment disappear to the audience's eyes was important, and that led to it being both an intimate show and a huge one," Kapoor says, noting the precision behind how the lights and trussing were shielded and the way the lasers were arranged. Color — or lack thereof — also defines the look of the shows. The team chose to focus on only five colors, with a visual emphasis on a monochromatic palette for different songs. There are also some cool scenic elements worked in, like the upright piano shell custom-built by DAS Design Works, which is covered in hundreds of individual-pixel LEDs. The team uses this element to great emotional effect during the course of the show, including the moments when Tedder stands on top of it, and is uplit from below, during the song, "Love Runs Out."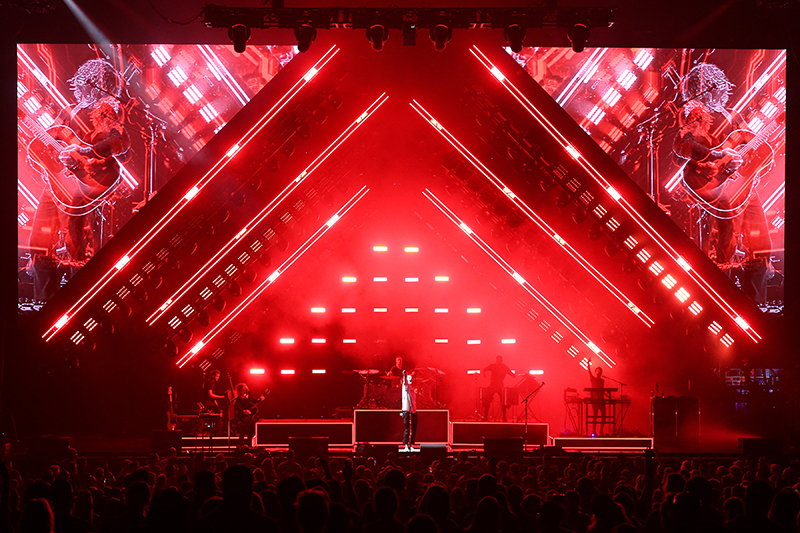 On the road to creating the "OneRepublic look," there were points where the creative team had to make their case. For example, the band's last tour had a lot of video content, and so they expected to have it for this one, too. "There's a little bit that complements a couple of the songs, but it was my job to say, 'Let's step away from that, as this tour is about taking risks.'" The day of the St. Louis show, the band was for the first time watching the tour's opening show, which had taken place in Kansas City the previous night, July 7. "One of the things they will be looking for is if we were able to get to the emotional level at key points of the show with what we have that they previously got with video. But we hope they see we're telling their story with lights." He adds that there hasn't been a negative comment yet about the visual treatment, and the first reviews of the show have been completely positive. "Everyone is blown away by the look that this is being developed for them."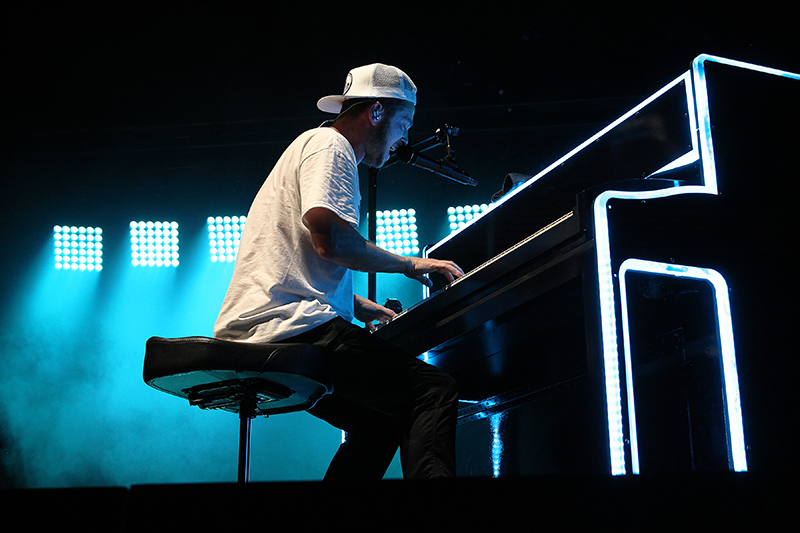 Kapoor credits the OneRepublic lighting team, including lighting director A.J. Pen, programmer Brian Jenkins and laser programmer Andrew Turner, for contributing to the long-range goal of creating a distinctive look for the band. "They were onboard with the goal, and were really collaborative," he says. "Everyone has their own aesthetic and style, but we all worked together well. Brian was a big part of making the show what it was, and Andrew is one of the best laser programmers in the world. He's so musical and collaborative. He's able to create a great balance between his lasers and the LEDs in a manner that achieves a perfect balance of being super without being overwhelming. He's one of those guys that really articulates a point of view and is really innovative." The laser system was rented from ER Productions.
To optimize the impact of the lasers and beams, haze plays a key role on this tour. "There's a lot of it, and we use it in a big way, from the beginning," Kapoor says, of the effect from four Ultratec Radiance hazer units. "We pump it in to the point the band is 'lost' and backlit in an effective way, which was Mark's idea."
The haze, Kapoor says, is part of a "layering" approach in that every tool at their disposal is used to build a show. The first two songs, for example, are minimum and it's only the third song when some key parts of the moving truss are brought into play. "We're 11 songs into the show when we finally show our full hand," he says smiling.
"I had someone tell me that this now looks like a OneRepublic show, and that's the coolest thing to hear, because that's exactly what we set out to do," adds Butts.
Crew
Production/Director: Raj Kapoor
Production/Lighting Designer: Mark Butts
Lighting Director/programmer: A.J. Pen
Lighting Programmer: Brian Jenkins
Laser Programmer: Andrew Turner
Video Director: Stuart Merser of Vis a Vis Video Ltd
Lighting/Video Co: VER
Crew Chief: Jeff Archibeque
Crew: Sam Raphael, Courtney McDaniel, Chuck Myers, Tony Cerauolo
LED Lead: Sean Green
LED Technician: Alex Gibson
Associate Producer: Rita Maye Bland
Tour Manager: Mark Oglesby
Production Manager: Mark Zito
Gear
Lighting:
1 grandMA2 Full console
1 grandMA2 Light console
100 Ayrton MagicPanel 602s
62 Claypaky Mythos
28 Claypaky Sharpy Washes
18 GLP impression X4 Bar 20s
6 BMFL Spots (four manual)
54 Philips Showline SL Nitro 510C
6 Philips Vari-Lite VL3500 Spots
16 Elation 4-Light moles
4 Ultratec Radiance hazers
Video:
132 VER Revolution 5mm LED Panels
24 VER Revolution 5mm LED Triangles
100 VER Revolution Blade HD 900mm
60 VER Revolution Blade HD 30mm
6 VER Revolution Blade Box V3
2 Pathfinder V2 Video Dust system (for I-Mag effects)
2 Blackmagic Design (BMD) GPI & Tally
1 BMD Atem 2 M/E Production Studio 4K
1 BMD Atem 2 M/E Broadcast Panel
2 BMD HyperDeck Studio Mini
1 BMD Design Teranex AV
2 BMD Teranex Mini Rack Shelf
1 BMD SmartScope 4K
1 BMD SmartView 4K
1 BMD Smart Videohub 40×40
1 BMD Smart Control
4 BMD Teranex Mini Panel
1 BMD MultiView 4
1 BMD Teranex Audio to SDI 12G
1 BMD Teranex SDI Distribution 12G
1 BMD Teranex HDMI to SDI 12G
1 BMD Sync Generator
4 BMD Micro Converter SDI-HDMI
Honda Wall:
90 WinVision 9 Air Panels
1 Galaxia LC2012 HD LED processor
Leave a Comment: