'Bohemian Rhapsody'
Recapturing Queen, and the Band's Epic Lighting Looks
Fronted by flamboyant and cocksure showman Freddie Mercury, the rock band Queen became one of the most iconic and popular acts of the 1970s and 1980s.
Queen skyrocketed to upper echelons of rock stardom on the strength of the operatic six-minute single, "Bohemian Rhapsody," featured on the band's 1975 album, A Night at the Opera. Queen's records married masculine and feminine musical elements in ways that Glam rock sometimes sidestepped, Prog rock largely ignored, and hard rock simply could never allow. Mercury's often-anguished and tortured piano-led balladry and multi-tracked vocals bathed Queen's material an aura of pomp, pageantry, melodrama and, dare we say, campiness.
After "Another One Bites the Dust" and "Crazy Little Thing Called Love" climbed to the top of the U.S. charts in the early 1980s, Queen's stardom followed a downward trajectory. The band quickly lost its grip on the North American market and, increasingly, Mercury's private life became fodder for rumor and media focus.
Mercury died of medical complications as a result of AIDS in 1991, but years prior, the band experienced a resurgence of interest, largely due to their show-stopping, 20-plus-minute performance at the star-studded trans-Atlantic charity concert event, Live Aid, in July 1985.
The recently released Mercury biopic, Bohemian Rhapsody, traces Freddie's — and Queen's — various music industry victories and some of their missteps. Starring Rami Malek (Mr. Robot) as Mercury, Bohemian Rhapsody captures the macho microphone-shaft wielding prince of Pomp rock at the peak of his musical powers.
Queen's storied career contains much to explore and scrutinize, but perhaps unsurprisingly Bohemian Rhapsody is bookended by the band's Live Aid performance — a defining moment marked by the timeless image of Mercury in his chest-thumping, rock-star plumage glory.
"The Live Aid set was very much choreographed," says Newton Thomas Sigel (a.k.a. Tom Sigel), cinematographer for Bohemian Rhapsody. "They were in complete command. In Hollywood terms, Live Aid is your third-act action scene."
‡‡         Enter the Pizza Oven
Queen concerts were visual spectacle. By 1977 a "Crown" lighting design — a circular frame which encased what appeared to be an octagonal trussing system and stretched fabric, like ship's sails — became a hallmark of Queen's killer live visuals. The Crown design morphed into a kind of lighted ring, largely concealing trussing, and later into a mammoth motor-operated mobile main stage setup, involving hundreds of Par cans, big blocks of color and plenty of smoke. (Scroll down for sidebar for Q&A with Queen lighting director Joe Trovato.)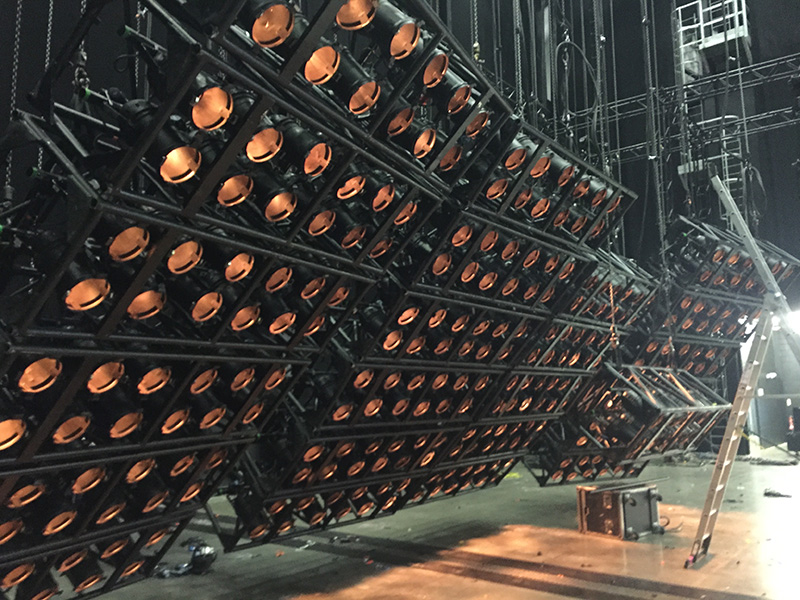 The heat emanating from this largely three-color lighting behemoth earned the endearing title of "Pizza Oven," a phrase author Peter Hince employs in Queen Unseen, a memoir on his life as a roadie and close friend of the band.
Iterations of this Pizza Oven can be glimpsed in the official video promo for "Fat Bottomed Girls," shot in Dallas during Queen's American tour in 1978 and the cover of the 1979 double album, Live Killers.
"Lighting was done in these big blocks," says Sigel. "Depending on the venue they would move them, and at a moderately low angle, and [guitarist] Brian May would be enshrouded in Par cans and light."
‡‡         Shooting Locations
Recreating Queen's complicated lighting rig occurred at two major locations: indoor concert scenes were lensed at LH2, a London rehearsal complex built by British equipment rental mavens Neg Earth, and Bovingdon Airfield, Hertfordshire, for the outdoor Live Aid show originally staged at Wembley Stadium in 1985.
"All the physical concert shoots that appear in the script from 1970 to 1982 are basically done in this single space [LH2]," says Tony Simpson, lighting designer for the concert scenes in Bohemian Rhapsody, who also designed the opera scene for Mission Impossible: Rogue Nation shot in LH2. "The full sized system in LH2 for the Madison Square Garden shoot, including the drum riser, was 804 cans, with nearly 600 overhead. We had something on the order of 37-and-a-half tons of kit flying."
"I had these massive banks of Par cans that we could lower or raise based on the shot," says Sigel. "You could get these heroic angles where Brian May is taking a guitar solo or Freddie jumping on a speaker with these kind of colored lights sequencing."
"Tom was insistent that we come up with a way to tip the pods over to a point, almost horizontal, to give us that feeling of a little bit of a roof," adds Simpson.
‡‡         One Vision
Bohemian Rhapsody is the product of a decade of struggle and determination by the film's producers to usher this work from conception to Silver Screen. Conflicting ideas regarding script direction kept the production off track. Stories circulated about casting problems and how deep the movie would probe into Mercury's sexual preferences and private life.
Sacha Baron Cohen, originally cast as Mercury, reportedly clashed with the producers. Cohen looked the part, but it was 37-year-old Rami Malek who ultimately transformed into Mercury — with the assistance of prosthetic dentures.
In late November 2017, with the project nearly completed, production was delayed due to the absence of director Bryan Singer (X-Men series, Superman Returns). By early December, the crew would learn that Singer, who had attributed his absence to "a personal health matter," according to Variety, would not be returning.
Dexter Fletcher, who helmed the upcoming Elton John biopic Rocketman, inherited the director's chair, with Sigel, who had worked with Singer on projects including X-Men series, Apt Pupil and The Usual Suspects, on hand to provide valued input and guidance through the brisk 71-day shooting period.
"Tom Sigel is legend," says Simpson. "Listening to him speak and how he was framing up — it was an elegant lesson in the beauty of what film could be, just to watch him work."
‡‡         Under Pressure
Sigel may have made the technical requirements and interpersonal aspects of the job look easy, but from Simpson's perspective, there were still plenty of challenges to be dealt with, almost on a hourly basis. "What takes you out of your comfort zone is, suddenly you're responding to the camera," says Simpson. "When camera is up and the monitors are on, and you are suddenly starting to frame up, there's no room for test or rehearsal."
PRG U.K. was instrumental in facilitating Simpson's lighting design and practical problem-solving on set. "The big nut to crack was how we were to approach a large lighting system, predominately of Par cans, that could be completely modular and split apart with a bit of re-patch and re-color and re-flying to suddenly create a different look," says Simpson. "That was all down to PRG saying, 'We've got this particular retractable truss system, and it is on the shelf, and we don't use it a great deal.'"
The lighting design for the 1981 Madison Square Garden concert shoot at LH2, involving over 800 Par cans, was a prime example of Hollywood-style split-second decision making. "There's a chevron pattern that was used quite a lot," says Simpson. "We were getting our chases ready, and Tom didn't like the green [lights]. He didn't think it worked. We had to completely drop the entire rig, strip it, re-patch it, re-plug it so I could map it. We had to do it, and do it quickly."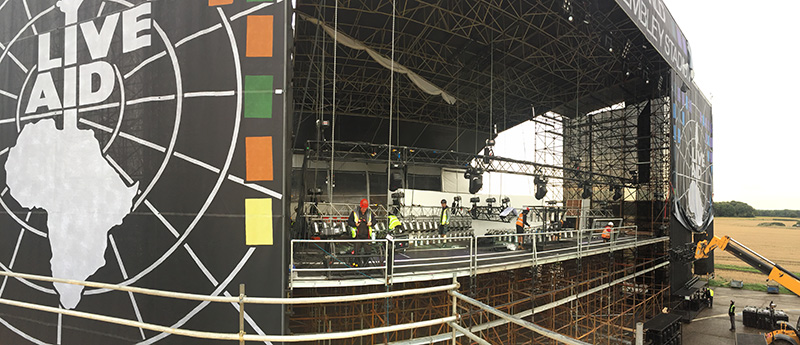 ‡‡         Live Aid
Historically, Queen's 20-plus-minute appearance at Live Aid has been perceived as the zenith of the band's rebirth. "Everyone got their 22 minutes, and Queen figured it out best, didn't they?" says Andrew Zweck, one of the organizers of Live Aid, who was Queen's European booking agent in the mid-1980s.
Thanks again to PRG, Simpson was able to transport the viewer back to 1985. "We used the PRG Best Boy, because I wanted to be able to replicate the feeling of overhead followspot look," says Simpson. "The Best Boy is an incredibly bright unit and it gave a little bit of up-our-sleeve daylight addition.
"At Wembley, they used VL1s," continues Simpson. "We couldn't get the VL1s, but had access to the VL16. They were terribly temperamental. If you turned them off overnight, the condensation caused problems everyday. The poor old things just had to stay on, but they gave us the right kind of eye candy; the right kind of visuals."
Control was achieved via a grandMA2 and DMX protocol. "We used the Live Aid performance video as a base to get basic cues and basic cue structures in the console," says Simpson. "For the LH2 stuff, I think we spent about a day programming, and a bit more for Live Aid."
‡‡         Staging 1985
By rights, the Live Aid stage at Wembley shouldn't have been there at all. Bruce Springsteen, who was touring the U.K. at the time, declined to appear at the charity concert, but left his stage in the stadium as his contribution to the cause. Serious Stages (stages.co.uk) reconstructed the Live Aid stage for the film, remaining true to the original specs.
Sigel says production designer Aaron Haye "basically reproduced the stage. Although Wembley's stadium and crowd is digital, via green screen, "the stage, itself, is all real. It was quite impressive. That was an interesting thing from a lighting point of view, because the original Wembley stadium had an egg-shaped opening and a small roof around the perimeter. Queen went on at 6:40 and finished around 7 p.m., and at that time, the sun was slightly behind the roof of the stadium. We utilized that to bring the setting sun through some of the openings of the stadium just to enhance the feel. There's an arc in the concert itself. It's a little brighter at the beginning, and then you feel the end of day coming. It's subtle."
The Live Aid at Wembley concert serves as an ironic ending sequence, because, despite its often-troubled process, Bohemian Rhapsody is the product of new beginnings, credibly recreating Queen's world through a mixture of creativity, ingenuity, and technology. "The final product is pretty much the movie we set to make," says Sigel. "Nobody wants to have their director not finish the movie, but this was the film he wanted to make."
A Kind of Magic: Q&A with Joe Trovato
For the inside scoop on Queen's classic lighting design, PLSN tracked down Joe Trovato, the band's former lighting director, who discussed his work with Freddie and the band.
PLSN: Why do you think Queen's lighting
design was so iconic?
Trovato: Probably because it was one of the first of its kind. It was a large lighting rig affixed inside a large scenic element that moved. We had CO2 jets giving it a rocket look when it was lifted and when it settled back down at the end of the show, surrounded by a black drape on a track.
When did you start working with Queen?
Officially, 1977. We loaded our rehearsal at the Orpheum in Boston on New Year's Eve, 1976-77, and we rehearsed there for about ten days. I had to develop a lot of chops for what was a pretty simple rig. It was a curved truss, so it had a different look. The genesis of the "Crown" started in London, when they played for the Queen's Silver Jubilee, 1977. The people who actually executed the engineering design of the "Crown" was M2 Research, John McGraw and John Miles. The Crown we used at Wembley was too big to be taken out on the road, so M2 Research scaled it all down to operate like masts on a sailing ship.
The later block lighting moved, but did the "Crown?"
None of those bars moved other than for setup. It was pretty complicated, but we got a handle on it pretty quickly. We could put the thing up in not much time at all. The lighting grid itself hung underneath tubing, piping.
What about the design for the block
lighting?
As the show morphed to the "Crown" I had used pink and some blue. Fred looked at it and said, "I need big chunks of color, but I don't like that pink and I don't like that yellow." Basically, he wanted a three-color show: red, white green. That was it. I had to reconfigure everything that was going on under the "Crown." He would cue me as well. He said, "When we get to this song, I want it to start in red. Then do whatever it is you are doing. But when you get to this part of the song, red again." I knew how to read music and I played the drums and trumpet, so I had a sense of timing. Basically, I followed the structure of the song.
What was it like interacting with Mercury?
The only time he would complain to me would be when one of the followspots would go out. "Fred, it's a carbon."
How long did you stay with Queen?
I worked with them on and off, but stopped in the mid-'80s, then returned for part of The Works tour (which ran from 1984-85). That lighting rig was three pieces that was 600-something cans, all aluminum. There was another piece, for front light, and there were probably another 200 there.
What were the specs on the console or
consoles you were using?
The first Queen console had a vertical pin patch. I later used what was the first generation of Avolites QM500. The guy who was our first electrician, he and his brother designed the desk.
Who was it?
Dick Ollett, who helped establish Avolites.
Were you stationed at FOH?
Always in the middle of the folks. You take the house out and the crowd goes nuts. Queen were tremendous live. Fred was the ultimate showman. He knew exactly how to get the crowd moving and how to quiet them down, how to get them standing. It was like magic time.
Leave a Comment: