A Look at Absen in the USA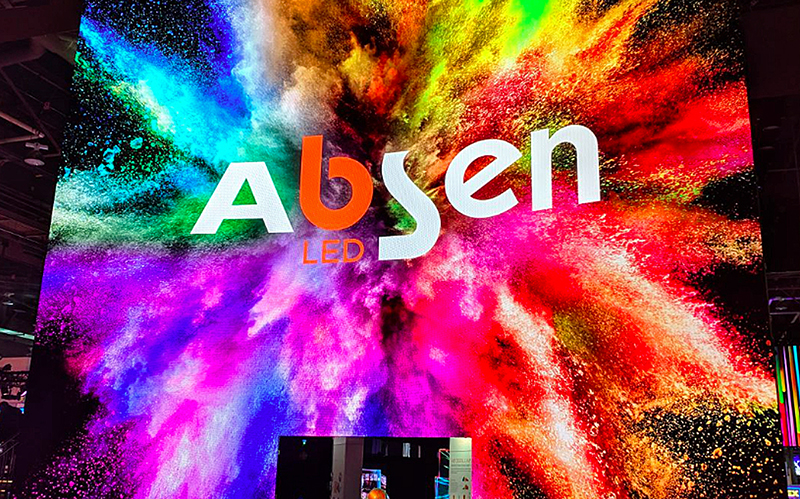 Absen Inc. recently announced two major developments — the appointment of Evolve Media Group as their first Value Added Distributor (VAD) at LDI in Las Vegas last fall and the launch of their NXTGEN technologies at the Integrated Systems Europe (ISE) conference in Amsterdam last month.
Shenzhen Absen Optoelectronic Co. Ltd., Absen USA's parent company based in China, was founded in 2001. The manufacturing headquarters presently sits on 30 acres with more than 1,000 employees engaged throughout the five buildings on the campus.
Absen opened their headquarters in Orlando with only four employees in 2013. There are now more than 50 employees associated with the subsidiary handling the exponential growth that has taken place over the last three years. Absen's Gary Fuller, Jeremy Fish and Alison Maxson recently gave PLSN the 411 on their growing company. We also spoke with Evolve Media Group's Tyler Mayne.
‡‡         Building the Team
Gary Fuller, Absen's EVP of sales and marketing, is a veteran of the industry with many years of experience at companies like Proxima, Christie, VER, and Barco. He came to Absen in 2016, initially as a consultant before being hired to his present position. "During my time as a consultant with Absen," says Fuller, "I realized immediately that this is a very special group of people. I was amazed with the passion I found and most of all, their will to do the right thing, always."
The company, he says, is built upon a very healthy blend of Chinese and American concepts. The core group that launched Absen in 2008 was all Chinese. Then Absen doubled their sales in 2017 over 2016, in what many consider to be "a remarkable year."
"Our business just exploded," says Fuller, noting that, "It had a lot to do with the added American sales staff. They're all veterans in the industry who know exactly what they are doing."
Fuller set about bringing on like-minded top talent that he had worked with in the past. His goal? "To create a brand within the industry, one that people are looking for and want to use, no matter which of the markets we are competing in."
One of Fuller's first hires was Paul Johnston to head up operations and technical support. Johnston was also tasked with making sure Absen products were protected once they entered the hands of freight forwarders. In the process, Absen has garnered a stellar reputation for instant and total support.
"Paul and I have a long history, having worked at Christie and Barco together. I'd say he is a savant — a genius, actually — and on top of all that, a really nice person."
Another equally important space on the marketing front is social media. "Alison [Maxson] and I met and worked together at Barco," Fuller says, of Absen's PR and Marketing Communications manager. "Getting her to come on board was huge," Fuller says, enthusiastically. "She is The Social Media Queen and has taken that platform into the next dimension."
"In my initial conversations with Gary," responds Maxson, "and while doing research to see where Absen was at, I saw a lot of opportunities. They are selling a wonderful product in a field that excites me because I know where the potential of LED is going and it all speaks 'upwards trend.'"
Maxson has a solid foundation of established contacts and knows the players in the industry. These enabled her to immediately start engaging with them via Instagram, Twitter, Facebook, LinkedIn, and yes, even Snapchat. "Not only do these platforms help get out the word about Absen, these also are my eyes to what is happening in the industry," says Maxson.
"Seeing our successes play out in Instagram feeds," she continues, "which is just one of our many social media outlets, has more than tripled. The involvement, the re-sharing of installations, the vocalizations about their projects is just one of many instances that showcase back to us we are doing the right thing. We see and hear their excitement about their new video wall; they want to engage with us. They are delighted to see the interaction that we are providing through social media. It creates a positive revolving door of how their individual companies are growing. This in turn builds a community that extends beyond our family of employees."
Plans for a website refresh in 2018 are being finalized as this article goes to press.
Historically, Absen has had all-Chinese staff based in Orlando who occasionally flew out to the territories. "In our business," continues Fuller, "if we really want to grow, we've got to have people in territory that know what's happening out there all the time."
"Eric Lardner is our Central Region sales director. He also came from Barco, and before that, Digital Projection Inc. He has been working that territory and region for 25 years. On the West Coast we hired Joseph Cordts, a well-known expert in the display business with Silicon-Core and NEC. In the Northwest, we hired Lee Binschus, a respected and experienced sales manager who has been involved in emissive display and processing sales for decades. Leading the Eastern region, we have Justin Mack, another well-known AV expert with broad and lengthy experience in the rental/staging R/S and LED world," says Fuller. "We are putting Americans in virtually all the customer facing positions out in the field. Stay tuned, more to come."
‡‡         Critical VAD's
Absen's team is using a very strategic approach to adding partners. They do not want to saturate the brand. In the next two years, the plan is to very selectively increase the number of partners to around 80 or 100. Absen will also establish a few more VADs, specifically chartered to sell into either R/S or integration.
As evidenced by the partnership with Evolve, Absen chooses to keep R/S and Integration distribution sales separate. Along this same line, R/S are not allowed to resell new Absen-branded products purchased directly from Absen. (There is opportunity for R/S who wants to resell Absen-built products to be found in an OEM/ODM branding arrangement.)
Drawing a clear distinction between the markets, and limiting who can resell, is not an uncommon practice in the industry, as evidenced by other large manufacturers using this same approach. At Absen, Fuller is determined to take the best care possible of both the R/S and the Integration markets, which requires unique support and infrastructure for both.
Evolve is a well-known dry hire wholesale rental house. That is, they only rent to other R/S companies. Evolve also owns a completely separate distribution company in parallel with their wholesale rental company. They're a very strong distribution partner that can sell into R/S, as evidenced by the other lines they distribute. Tyler Mayne is the owner and CEO. "He understands the distribution business as well as, and in some ways better than others I've worked with over the decades," says Fuller. "Committing to R/S-specific Distribution underscores our commitment to one of our most important markets. Tyler also understands and supports the practice of focusing only on R/S, as the infrastructure and knowledge base required to support R/S is far different than typical Integration market needs."
"Our partnership with Absen allows us to provide a complete LED solution to our clients," says Mayne. "Absen's M2.9 panels will be fully incorporated into Evolve's 'trifecta' of services, where our clients will be able to buy, rent, learn and have the equipment serviced in-house by the Evolve team."
Evolve initially invested in 1,000 M2.9 Indoor Mobile LED panels. Half are for rental from the sub rental company, and the other half are for resale through their distribution company. In addition to being able to rent and buy, Evolve's customers will be able to participate in Absen Certified Engineer (ACE) training courses that will be held by Evolve.
Headquartered in Orlando, Evolve has three regional offices across the U.S. where training courses will be held. In addition to training, Evolve's locations will offer full service and repair capabilities for their LED customers.
"When we find standout products, we work to forge relationships with those manufacturers to provide our clients with the best possible experience," Mayne says. "That is exactly what we have done with Absen."
‡‡         Absen's Past, Present and Future
As senior marketing manager, Jeremy Fish is well versed in Absen's history as a company, how that relates to its present status, and where he plans to help lead it into the future. Absen's manufacturing facility and world headquarters were established in Shenzhen, China in 2001 and the company began exporting within a few years of opening its doors.
In terms of global exports out of China, Absen has been one of the top three leaders for the past nine years. The 30-acre campus houses five factories that can manufacture up to 25,000 square meters of LED panels per month. "Our economy of scale gives us the capabilities to acquire the best components possible, such as first-batch LEDs from our suppliers," Fish says.
Globally, Absen has nine subsidiaries across the world, with the Orlando office being the largest facility outside of China. Orlando has a service department capable of repairing modules down to below 2mm pixel pitch. "That fact alone is a key reason that many of our customers decide to partner with us," Fish adds. "Most of our competitors either have to send their product back to China or schedule maintenance/repair techs to come to the States."
Hand-in-hand with a U.S.-based repair facility is the Absen Certified Engineer (ACE) Training, which Fish has led since he first came on with the company. Over 500 engineers have been certified during the last three years. "We realized a long time ago that a bad engineer can make our great products look shabby," he notes. Along with the training, which comes with every sale to their partners, the ACE training team will travel throughout the U.S. to stage 12 of the three-day sessions this year. "We always keep a few slots open for freelancers," says Fish.
The Absen business model from its founding day maintained they would not compete within the Chinese market. That market has always focused on quick, cheap products sold for the greatest profit. Absen never wanted to do that. They always wanted to export quality products and compete on the world stage. The team in China spent a long time creating an internal operating culture that is effective as well as very nurturing for its people. That was based on their original core principles of honesty, gratitude, and responsibility.
One of many things that set Absen apart from their competitors is their keen sensitivity to knowing the culture of the countries in which they operate. Absen first entered Europe as their proving ground since the continent has very defined standards of production which are closely regulated. With success in Europe came the confidence to enter the U.S. market, which they did in 2008. They brought in small teams and built up a gradual growth purposely, which facilitated the explosion in 2017.
Says Fish, "There is a reason why the Chinese companies have been effective entering the U.S. market. We have assimilated what China does well and taken it to the next level. We too operate on a very firm set of principles. Being a Chinese company and having the connections in China, allows us to control the supply chain," Fish points out, "but what we have been ramping up these last few years is the cultural knowledge of our industry in the States and combining these two things together."
Fish adds that Absen's efficiencies lie in supply chain control and has "ruthless quality control" standards in place, all of which ensures a higher quality product. And should there ever be a problem, Fish continues, Absen's people "swarm the place" to make it right.
"We are able to understand the market better, provide better products, service them more effectively, and be here for our partners in the States throughout the product's life," Fish says. "When you combine those two things together, you get the best of both worlds, and that's what we are aiming for. We're aiming for something far better than what either side can do on its own. That is one of the big thrills of working for Absen."
Fuller sums up the mission as the company's Why: "We love what we do, we love who we do it with, and we're better together."
‡‡         Looking Ahead
Looking ahead, Absen continues to make strides toward products that meet end user needs. The Polaris Series, for example, leverages innovative technologies for indoor and outdoor events. Engineered to provide quick installation, ease of use, robustness and precision, the Polaris Series features a number of mechanical advances including Auto-Lock, Auto-Eject and Fast-Switch curve locking systems.
In addition to the innovative engineering Polaris features advanced on-board components including COBALT (Chip-on-Board Advanced Light Technology). COBALT uses Absen's NanoShield Technology which encapsulates the LED chips with a durable layer of advanced composite material that offers the highest level of pixel protection from physical damage, perfect for use in rental applications.
Company Snapshot: Absen Inc.
Parent Company: Shenzhen Absen Optoelectronic Co. Ltd.
Founded: 2001, Shenzhen, China
Number of Employees in China: 1,000+
U.S.-Based Subsidiary: Absen Inc.
Founded: 2013, Orlando FL
Number of Employees in USA: 50+
First U.S. VAT (2017): Evolve Media Group, Orlando FL
More Info: www.usabsen.com, www.evolvemediagroup.com
Leave a Comment: