At MEGA Systems, It's a Family Affair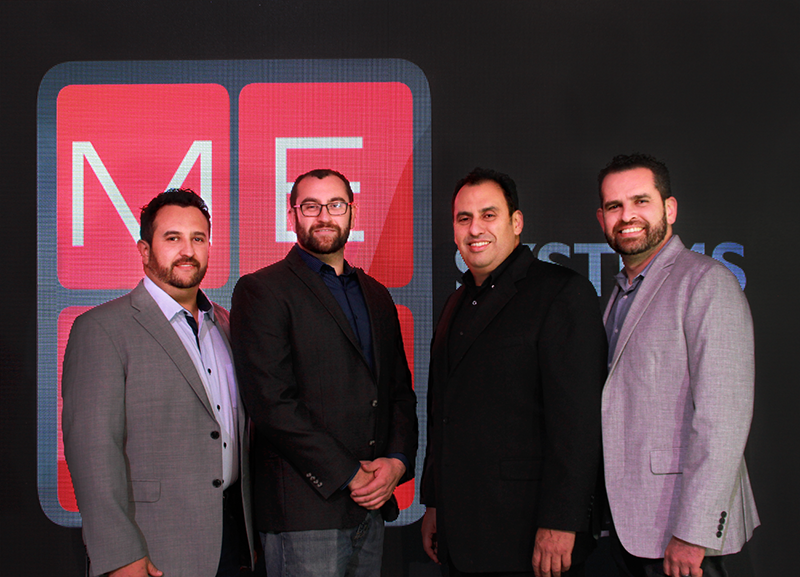 M.E.G.A. Systems Inc. (Mega) consists of the four Cabada brothers, doing what they do best — developing new fixtures, selling all kinds of gear, maintaining relationships with clients and backing their products. They do all these things well, because each brother has a separate job in the company that they are responsible for. They work in tandem, and despite their different roles, all company-wide decisions are made by the four partners. On top of that, I love hanging out with all of them because they are happy, fun people who have a zest for life.
‡‡         The Family
Guillermo is the oldest brother. The siblings are basically five years apart in age, but that doesn't mean much to the family. When they incorporated their business 18 years ago, the family dictated that all the brothers would be equal partners, even though Elio (the youngest) was still a teen. Guillermo was born in a town in Northern Mexico and emigrated to the Los Angeles area with his parents when he was young. He is now a U.S. citizen, as are his brothers, who were all born in stateside.
In Los Angeles, the brothers had some successful businesses they set up outside of the entertainment line. They were doing well with side jobs when Guillermo and his next younger brother, Miguel, started doing DJ gigs around the city, calling themselves Axis Entertainment. Guillermo explains how they worked back then. "We did well because we were playing a part of the country that needed a mix of Salsa and Ranchero, but needed hip hop and rock music as well. We offered all of that."
Miguel explains the schedule. "We were playing weddings in the afternoon, a gig at night, then often ventured into after-hour clubs. This went on for about three years. Then Guillermo got into other stuff and I kept at it for a while."
"We started doing video at the proms around L.A. as well," Guillermo adds. "We had these old three color projectors that shot light out of tubes and mixed colors on the screen. These proms were a big business. We would record the shows on camera too and sell copies of the event on VHS tape."
Guillermo met a guy from Texas named Tony Magana who was working for Coemar back in the '90's. Tony was in California looking after some Coemar gear for John Wiseman, who was working for a lighting vendor named Obie Lighting at the time. He had Guillermo tag along to a concert and help set up some gear that the brother admits "I knew nothing about, but hey — they were paying me to hang out at places like the L.A. Forum." His first hookup with Wiseman was when they got a call from him. John's place in the Malibu Hills had gotten flooded out by a bad storm. In his garage were cases full of NAT fixtures, an expensive bright telescopic 2.5K light from Coemar that was just hitting the scene.
Says the oldest brother, "We were DJ'ing on weekends, with nothing to do during the week. We owned two trucks and two vans, so we helped them out. The next thing you know, all these lights are in our garage, and we are trying to get them show-ready with hair dryers. Suddenly, we had 12 Nats that we were storing, but allowed to use them whenever we wanted." The first show he worked on was the VH1 Honors Awards. "Tony called and asked if we could help them out with the gig. I asked, 'What did he mean?' He said he could pay us 400 dollars per day, which was a lot of money for us at that time, so sure, we could help them out. Then Tony Magana explained that we just had to set up four Nats at the venue and sit around for five days and make sure they work."
Guillermo adds, "So I'm about 18 at the time. We are at the Shrine, it's live and it's all new to me. I'm totally star struck already when, for the start of the big finale, Michael Jackson pops up out of the stage. My four Nats light him up. I'm thinking, 'Oh, that's what the cue was for'. That was the first show of my life when it just hits you, the excitement, the adrenaline. You just want that feeling for the rest of your life." And so it began.
While they were DJ'ing, they had to provide sound reinforcement as well as DJ lighting. They promoted some of their own shows with DJs doing dance-offs. Eventually, they started selling gear out of the garage, thanks to Tim Edwards for setting them up with all his lines at the time. Guillermo expands, "I remember being all excited. We bought some new Martin gear. Four RoboZaps. I recall only two of them worked out of the box." Eventually, they realized they needed better gear to sell. Around 1998, they started importing FAL fixtures with plastic covers under the name MEGA-lite. "We bought some par cans as well," Guillermo adds.
Around the same time, they incorporated Mega Systems Inc., and were off. "I became a rep selling audio for Jim Melhart, who owned a music store down in Texas," Guillermo explains. "He offered me a deal and told me what I had to do. He brought me to NAMM for the first time, and I got to know the industry."
Guillermo relates a funny story to an early experience on a convention center floor. "We (Melhart Audio) were the last booth in a corner, about 40 feet from the loading dock. As we were setting up, Jim got the bill for the drayage charge. The cost of moving the gear from the dock to our small area was something like $12,000. Jim argued to the point that they told him, 'Look if you can get all your gear out of here in one hour, then we won't charge you.' My wife (girlfriend at the time), his wife and the rest of us got that semi loaded in a hurry."
Twenty years ago, the brothers rented a booth at NAMM and brought everything they owned down to show the public. Reps from a China-based company met with them, bought it all and exported it to China. The brothers started buying newer gear from more reputable companies at the time, such as Coemar, and selling it. The first year, they sold $100,000 worth of gear out of their garage. It was very much a family affair. Elio, the youngest brother, recalls having a garage full of cardboard all the time and stuff to play with. Little did he know that he would become a partner when they incorporated. He was 16 when that happened.
Guillermo went to Texas in 1998, and through his friendship with John Wiseman, he got a job as a Western U.S. sales manager at High End Systems. He was selling a lot of lights, but customers started asking for road cases. Guillermo was concerned that he left the family business with his little brothers to look after and wanted to make sure they were taken care of. Miguel and Guillermo had an idea that the Cabada family could start making the road cases for such lights. The market was open, and Arturo, the third brother in line, became part of that operation. M.E.G.A. Cases was born.
The brothers were soon approached by large companies such as TMB, Warner Brothers and several other studios, to make cases for them. They had 30 employees at one time, just for case manufacturing. The next thing you know, Guillermo's friends at High End were helping sell his cases to their customers as well. Brother Miguel adds, "Bands like N Sync and the Back Street Boys were going out. Premier Global had signed some big accounts, bought the gear, but now needed cases. Creech [Steven "Creech" Anderson] called us a week before he needed the cases. We shipped them a full semi-truck at one time. What basically happens is that some people will order the lights three months in advance, then wait until the week before a show to order the cases." Guillermo adds, "In retrospect, the hardest thing about running that case company was dealing with the employees. I guess you don't go to school for that. We stopped building cases when we started selling more lights."
He worked there for several years until MEGA hung up a shingle and started their own company, officially in 2000. Immediately Guillermo saw some things that weren't making sense. Lights were being manufactured in China, then shipped to Italy, only to be sent back to California for him to sell. He found a lot of gear had middlemen, and he worked to cut deals directly. He found himself selling PR Lighting gear along with other manufacturers' lights.
In 2003, the brothers bought their first warehouse, in Paramount, CA, with some help from their parents, Alicia and Leopoldo. They began importing speakers under the moniker OVO, and the case business flourished. But in 2004, they took their first business trip to China, to look at importing speakers. They noticed that they could start making their own brands of moving lights as well. That same year, they had their first fixture out, the Axis 500, which is still in service today. They were onto the LED fad before most, as they started selling the ECO tube and N-E Color Par 38, all RGB LED products.
In 2006, the family had a plan to open offices on the West Coast and the East Coast. Guillermo and Arturo would head East while Miguel and Elio would stay and run the office in Paramount. But that meant splitting up the family, which was tough. They relocated to the San Antonio area of Texas and set up their second office. By 2008, the other brothers had joined them, which was perfect timing before the economic bubble burst in 2008. The Cabadas liked the warm climate, the proximity to their roots and the culture was closer to their origins here in Helotes, TX. California had become very hard to run a business, with the safety regulations, high taxes and work costs, it made sense to relocate to a state that was more business-friendly. "We aimed for the middle market on purpose. We felt there was a need for middle-of-the-line pricing for fixtures, and we had a game plan on how to achieve this."
The brothers' roles at MEGA Systems are all different. Guillermo looks after marketing and running day to day business. The next youngest, Miguel, is in charge of R&D. He brings the products to the company and decides what needs to be designed and sold by the company. Arturo deals with sales and customer relations. He would be the guy sent out to remote locations to make sure the install goes well and the client is happy. Elio is the service manager. He knows how everything works and is the man who will answer the phone when a customer needs help troubleshooting.
As Guillermo explains, "The older we get, the less time we have to explain technical aspects. That's true across life in general. Elio has the patience and the skill set to deal with the calls from new people about our gear. He puts out fires on the phone, seemingly at all hours."
Personal service is what they offer, as Miguel told me, "If there is a problem, you will call here and talk to one of the brothers. No matter what, the client is dealing directly with an owner, so everything will get solved immediately." Some of the wives and a couple children work in the family biz as well. Even Mom and Dad eventually moved here and, while retired, like to stop by and help with maintenance and shipping. The convenience of living in the central U.S. worked out better for everyone, from the family staying together to the operating hours and ease of shipping products.
‡‡         The Gear
Last year MEGA moved into a new five acre, 16,000 square foot facility. Complete with sales offices, tech rooms, a showroom and warehouse space, it seems like a one-stop shop for all your lighting needs, as well as video panels and processors. The shop is already busting at the seams, with plans for groundbreaking an adjacent 10,000 square foot office building this spring. Part of that is because MEGA are distributors for a lot of products that are sold in the U.S.
They offer a complete line of TAF [Truss Aluminum Factory] truss, made by the Czech Republic company for the last 20 years. This includes their new Vario plate, a clever aluminum plate device that can be added to any truss with a pinned hinge that makes a hard corner at various angles. Along with trussing, they now offer a range of ground support lifts made by Fenix Stage, in Spain.
A popular seller is the simple and easy ImageCue media server, a basic device that is designed for elementary playback of video clips through DMX signal. It is the most affordable and trustworthy media playback device I have seen on the market.
They also have a new brand of video products — MEGA View will be a big part of their expansion this year. Currently the line includes 3.9, 5.9 and 6.9mm pixel pitch tiles. They also sell four-inch-by-half-meter strips of LED. These panels are installed in clubs, houses of worship and casinos all over the country. They are also the U.S. distributors for RGBlink products, such as video processors, which are flying off the shelves.
MEGA FX is a relatively new division. They now make their own two sizes of hazers, plus a DMX-able fan. They are currently setting up plans to produce and sell fiber cables for networking lighting systems and their data.
They distribute several of the more popular lighting fixtures that PR Lighting make. This includes the PR 6000 spot, which contains a 2K lamp source and offers all the typical functions one gets with a hard edge light, but at a much-reduced cost. They also carry the XLED 6007, a pancake-faced light that has seven 60W Osram 4-in-1 LEDs. This fixture is brighter than any comparable sized wash light on the market and can zoom down to a 3° beam. With all the colors at full, there is little pink residue, and with the CTO color addition, it emulates tungsten well.
‡‡         MEGA-Lites
Early on, the brothers started designing their own series of MEGA-Lite products to sell as well. The first fixture, as noted above, was the Axis 500, a spot fixture on a moving yoke with color and gobo wheels. Many are still in use today. The Axis family is the series of yoke fixtures they have designed to be quite affordable good beam fixtures as well as a pancake style LED wash fixture. The Axis Grid boasts a 36-cell square grid of LEDs on a yoke.
A new direction that the brothers have gone in is manufacturing weatherproof light fixtures. Their line of ETL listed Tuff Baby LED squares has been a steady seller for a while. Now they have the P-84 model for the "architainment" and outdoor stage worlds. It can easily be hung from a truss or planted in the ground as an uplight. They make an outdoor par called the Outshine T54, a 54-watt, RGB-sourced fixture that is lightweight yet sturdily built. The addition of PR's new Aqua Series of waterproof yoke lights was recently unveiled. (For more information, see "Product Spotlight," this issue, page 64). A hybrid model is marked for release later this year.
The Drama series of fixtures pertains to the classic theatrical light fixtures one would expect in today's LED world, with strip lights, several models of pars, ellipsoidals, Fresnels, and my personal favorite, the Drama followspot line. The first model was a slick 350-watt LED little guy on a stand, named the Drama FS-LED 700, because it was said to produce outputs comparable to 700W fixtures or brighter. This came with push buttons on the back that controlled the color booms. They upped that this year with a manual zoom model that is DMX controllable from the lighting desk as well as manually. And this year, a 600-watt version is in the works.
The Color Pac Series made for a lot of talk this year, winning a PLSN Gold Star Product Award for Best New Conventional Fixture. This LED Uplight is battery-operated, with WDMX built-in. It can emit a tight beam to stripe a wall or tone a truss, but it can also flood out to 120° while still producing plenty of output.
Two years ago, the brothers released the MEGA-lite Lumen8, their own lighting console. It has a simple layout that's very easy to learn, yet it can still handle most tasks pro users might need when programming a show. I found I could figure it out quickly. This is the perfect console for houses of worship and anywhere you have dedicated young techs who need an affordable and easy operating solution. I got a sneak peek at the next model, and it is quite impressive.
We could spend days talking about all the other strobes, eye candy fixtures and various gear that MEGA offers to support any show. But back to the operation. As the company grows, there simply aren't enough Cabadas to fill every role. So, the natural progression was to invite some other trusted people into their family. Most of them are home-grown local folks who got a break in the business and have grown with the company. Notable is Winston Potgieter, the man behind the console, its design and update as well as next model. Jesse Gutierrez also works with marketing and is well versed in all the gear. I think he just may be everyone's right hand man at MEGA.
In conclusion, Guillermo adds, "We may not have what everybody wants, but I feel we have what everyone needs here at MEGA. Our commitment to helping our customers, via reliable products at an affordable price, is how we roll at the MEGA family."
Stop in at MEGA and see what they offer. They just may have the solutions to all your needs in a one-stop shop. Visit www.megasystemsinc.com for more info.
Leave a Comment: