Elation Cements Brand as a Top-Line Pro Level Solution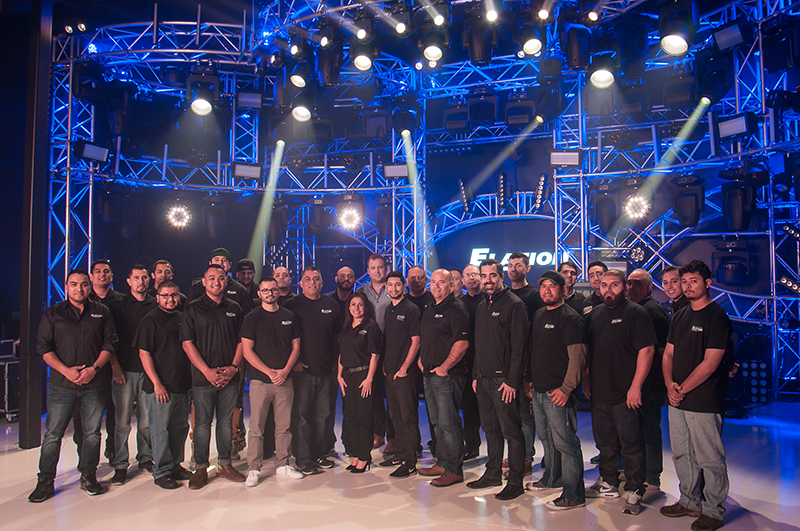 If you were to become lucky enough to get to work for Elation at their Los Angeles world headquarters, during a tour of the facility you'd dig the deep freezer, the full shower and the steam room on the premises. Then you'd likely get disappointed when you are told that they ain't for you — those perks are for the Elation products.
"The big focus at Elation is our 100 percent commitment to quality control," says Elation sales director Eric Loader. This includes having every piece of gear that comes from their manufacturing plant overseas put through the rigors of being rigged and run at full speed for long hours of testing in the warehouse. But that's not enough, and thus the extra effort. As Loader points out, with festivals, desert concerts and extremes in everything else, the times call for 100 percent quality control to go to … well, 110 percent. That's why they look for additional ways to test their products. President Toby Velazquez, with a gleam in his eyes, adds that right before a recent rare Los Angeles storm, they ran their new Proteus lights up to the roof to see how they'd take the intense weather (they did).
"We try to break stuff," Loader smiles. At Elation, they understand that, in today's hyper-competitive pro market, dependability is key; designers must have peace of mind when using a piece of gear. "Elation's biggest challenge is the glass ceiling of perception," Loader says. "People are attached to brands whose products usually cost more and/or don't have as many features as ours."
"But that perception is changing," Velazquez adds. "We're seeing our Elation products on riders, and when a client takes out something of ours, they see how good and how dependable it is, and then they come back to look at what else we have to offer. But we understand that LDs become comfortable with a certain brand and have a loyalty to that, and we respect that. So our challenge is to convince them we are bringing the right products to the market. Again, our showrooms around the world offer a 'wow' element as so many don't realize just how vast our portfolio of product is."
State-of-the-Art Facilities
The company's Los Angeles showroom, open since mid-2012, is stunning by design, taking up about 4,000 square feet within the headquarters location.
"We like to bring designers and dealers here as much as possible, because they can really get a sense of the variety of products we offer," Velazquez says. "It's an investment to have these kind of showrooms, and is so important to be able to show the depth and variety of what Elation has to offer. We have them in the other three offices too."
Dealers and designers can go online and book a demonstration with just 24 hours' notice, and the show the Elation team put together is worth it. When sitting in a comfortable chair taking it all in, it's easy to imagine some or all of what is on display on your concert tour, in your new dance club or house of worship, at your auto show, or anything else.
In all, there are close to 140 employees working at Elation's 100,000 square foot Los Angeles location, and it is impressively organized. A few miles away is the original 58,000 square foot warehouse that the ADJ company started in; today it houses mostly aluminum truss from their sister company, Global Truss America.
Elation products can also be found at the company's 60,000-square foot location in Kerkrade in the Netherlands, which has been around since 2010, and a 48,000-square foot location in Miami, which opened in 2013. At the end of 2016, the company opened a facility in Mexico to meet the demand of their expanding Latin American market. "All have a showroom, support staff, repair facilities and warehouse, to better serve customers in those markets," says Velazquez.
Since the earliest days, when ADJ Companies founder Chuck Davies was bending metal to make lights for Los Angeles-area DJs and clubs, the company culture has always been of the "if you want it done right, do it yourself" nature, and so the facility is completely self-sufficient. All their marketing is done in house, for example, and the company even has its own IT department handling the alphabet soup of ERP, CRM and BBPs for dealers and customers. Interestingly, that department not only takes care of all the company's needs, but also has been expanded to serve others. "The division is so successful that today our needs take up 40 percent of their time, and the other 60 percent is spent serving clients outside this building," Velazquez says.
And while manufacturing overseas has been a key component for decades, the most crucial element, R&D, has always been done in the states, specifically in their southern California labs. "The clients drive our R&D with discussions about what they need," Velazquez says. One example is the Proteus Beam and Proteus Hybrid. While there seems to be plenty of moving heads on the market, the need for those built for outdoor use is increasing. "Those used in outdoor events are getting wet, they are getting dirty, and we're building products for those solutions. For the rental houses, they need to be at a price point so they can get their ROI." (Proteus lights were put to use during one of the Super Bowl-related outdoor events in Houston this year.)
There is even has a dedicated room with a photometer to measure light on the premises. "We want to give the data to the clients as fast as possible — they all want to know color temperature, total lumens brightness, CRI, etc., as soon as possible," Loader says.
A Company Within a Company
Elation is completely separated from the other divisions, and Elation clients and customers have access to dedicated teams for all their needs. There are eight professional techs on the phone lines and 10 on the bench, strictly handling just Elation.
Something else many might not know is that ADJ Group's Elation division also includes a full range of LED video display products, which launched in 2011. "We were one of the first established lighting companies to get into LED video, which made sense because it's all LED technology," says Loader. "As increasingly video and lighting merge, as media servers control both of those elements, our clients were coming to us about video. Everything we do is based on client demand, and so we started developing video products. At first it was low-res, and that slowly evolved into higher-res screens, and today we have products like the EPT61P, a 6mm pixel pitch modular outdoor rated pro touring LED display. It's about LED experience, and LED video was easy for us, and we were well-situated to integrate it with the lighting we offer and the lighting control system that runs it."
A Solid Foundation
Davies founded ADJ in 1985, and Elation was founded originally as a higher-end line of DJ lights in 1992. In the beginning, Davies built the products here in the U.S., but as is the typical trajectory, manufacturing was moved to China. But here's where it gets more interesting: Davies went to the trouble of learning Mandarin, clearly giving him an edge. "We've had relationships with some of these manufacturers for 15, 20 years," Loader says. (Davies still has the corner office and overseas the big picture, but appropriately also spends time on his hobbies which include fixing old cars. When at the headquarters feel free to gawk at the 1929 Pierce Arrow Sedan and Model A truck and 1931 Model A Convertible Coupe with rumble seat, all in excellent condition.)
As for Loader, he started in the industry with Towards 2000/T2k, a Burbank-based specialty lighting provider, in 1987, and joined ADJ in 1991 before he was hired by Martin, where he worked from 1997 to early 2006. In Jan. 2006, Loader returned to become Elation's sales director — with some conditions.
"From 2000 to 2006, Elation made a lot of strides in the pro market, particularly with their scanners and Design series moving heads," Loader explains. "But I told them they needed to have a serious investment in products, parts and support to make this work, and today we have hundreds of professional grade products and parts to support them, allowing for a high response on anything."
Loader says the main reason to bring him on was to increase the presence of Elation in the professional lighting world. "They were already doing a pretty good job with LED products when I joined, offering one of the first LED moving head/intelligent lighting product that was a good solution and value for the money. They were already on their way to making a dent into the professional market when I joined 11 years ago."
Velazquez, who joined the company shortly after it was founding in 1985 and was named president in 2013, agrees. "We remained personal friends during his time at Martin, and when we were ready to commit Elation to the pro market 100 percent, we knew we needed someone equally committed," Velazquez says. Plans for the current larger headquarters warehouse in Los Angeles were already in place, and it was completed in 2009. Loader says he was impressed when he saw the plans because he could see they were going "big." "We didn't want to outgrow it too quickly," Velazquez adds.
Both point out that ADJ Group is still privately-owned, while many other companies their size are run by venture capitalists or are public companies run by boards. "This is important, because it'll always be a people business, and our relationships with designers and dealers are super important to us. We especially work closely with our dealers to make sure the choices they make lead to profitability," Loader says.
At the end of the day, the Elation team wants you to take a closer look. "Our moving heads can be put up against any in the market," Loader says. "While there are pros and cons to any choice, we back it up with quality, service and products that offer more bang for the buck." And they are in fact penetrating that glass ceiling. "We're working with top lighting designers now. Our mantra is 'Create the vision, deliver the experience,' and that's what we're doing together. We help the client create their vision, and then we're there with products that enable them to deliver the experience."
Leave a Comment: