HIGHLT PDS Inc.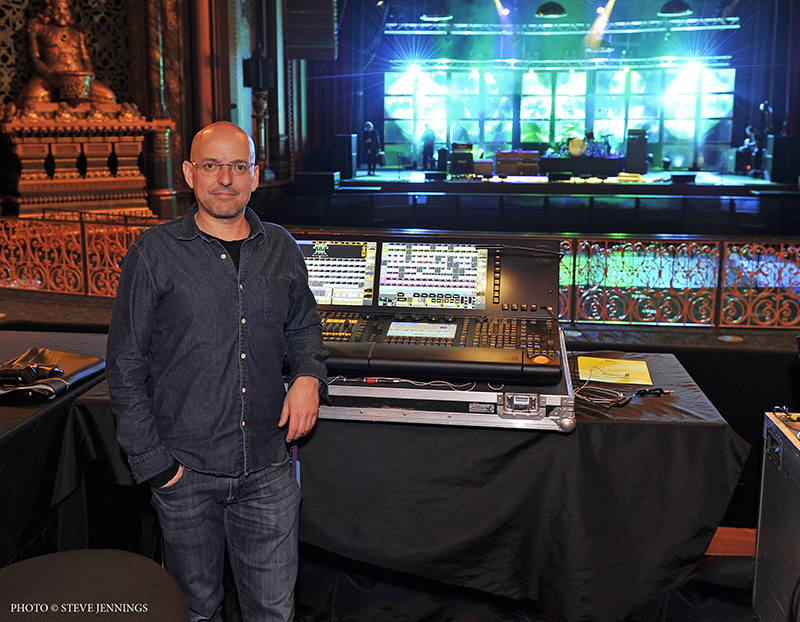 Myles Mangino's Previz Studio is Based in See Factor's Facility in Queens, NY
When Myles Mangino was searching through New York City for a home for his new previz and production design studio, Highlt PDS Inc., to his surprise he could not find anything like that. And his search was extensive. But after settling into his office and studio within the new See Factor warehouse in Queens, NY this past March, he is pleased.
"I created this space for myself to have a fast and efficient creative environment to work on my designs," explains Mangino. "But also for anyone who wants to hire it out to have a space where they can spent as much time as they need with the best available equipment in a comfortable, adaptive environment, to really get some great work done."
‡‡         Creating Practical Spaces
When Mangino was living in Connecticut many years ago, he owned several audio recording studios. For 10 years, he owned and ran a multi room studio complex in Hartford called Planet Of Sound. (His 100+ album credits include Frank Black and Mark Mulcahy.) When he moved to New York, he helped build studios in Brooklyn and the Hamptons. "I've gotten used to creating this cozy environment where people like to stay and create," he explains. He created practical spaces for bands with limited budgets where they could live and work, around the clock, if they chose.
"I tried to bring that environment to the previz studio," says Mangino. "Many designers have their own home previz, and there are some companies that set up a screen and a console in the corner of their shop. But I really haven't seen a previz studio that was put together to be that same sort of comfortable creative environment like a recording studio is." He recalls how, with his recording studios, he added décor, changed the layouts, and added new equipment. "So it grows and adapts. This is our start of it all."
‡‡         Broad Expertise
Mangino, who has an extensive background in audio, lighting, and production design, describes his formal education as "riding in the back of a van across the United States and Europe, designing or mixing concerts in punk rock clubs. After I got out of high school, I went to Boston to get into music scene, and that's where I started working for some of the Boston acts. That's where I met the Pixies, and I started working for them in 1986." He has worked with Pixies and frontman Frank Black consistently since then, and over the years his other clients have included Pixies side projects, the Breeders, Sugarcubes, Spiritualized, Cocteau Twins, and Dead Can Dance, whom Mangino has worked with for several years now.
‡‡         Cutting Edge Technology
As we speak for his PLSN profile, Mangino is designing the Pixies summer show for their tour with Weezer. He shows me his production design, remarking that it is his first time using his new system, "the fastest, most powerful computer system available. It's insane how smooth and detailed the response of the visualizer is."
He shows me the heart of his system, a maxed out 18 core, 5K iMac Pro. There is an MA2 Command wing with two 21-inch touch screens, and an 82-inch QLED main monitor, and two Yamaha HS40 studio monitors. The desk is three by six feet, and the bridge is a standard butcher block kitchen counter top and island measuring eight by two feet.
"The screens are mounted to the back bridge on movable arms," explains Mangino. "So the whole system is customizable for how each person likes to work. The lower table can slide in and out to accommodate different size workspaces or consoles. We also have every major brand of console available right next door — MA2s, and soon, MA3s — ChamSys, Avo, Hog" and more. There is space to set up two additional workstations, and he left space in the 35-by-15-foot suite to bring in fixtures or other gear for live use during previz programming.
Mangino wants versatility in the technological options he provides for himself and his clients. "Today, I was working in Vectorworks drawing out 3D sketches in CAD, and then I switched over to do some lighting programming in MA 3D, then switched back to Mac drawing some plots in Capture," he says. "Eventually we'll have pretty much every software platform that's out there. I mainly need it to be versatile and configurable. This is set up for previz now, but I actually spend more time working in CAD, drawing site plans for festivals or the scenic design for stages or 3D design for fashion shows. For the next week, I'll be programming the lights for this tour."
For the summer Pixies/Weezer tour, he is utilizing a lot of Viper AirFX, the updated version of the Mac Viper. "I was sick of seeing the original Viper Gobos for so many years," he remarks. "These are more fresh, they're a little bit brighter and have a better throw distance on them." The tour goes out for 42 dates, with the Pixies doing eight separate shows on off days. This fall, the Pixies will celebrate the 30th anniversary of their Surfer Rosa album with a specialty show that will be a residency at the Roundhouse in London and possibly "a few other places in the world," says Mangino. "It's going to be a very video heavy show where the video will completely surround the audience on all sides, and then that will be combined with a video art gallery." He adds it will be combination of LED and projections, with seven video screens surrounding the venue. "Very simple lighting, but a very video heavy show. That'll take us to the end of the year."
‡‡         The See Factor Space
As mentioned above, Highlt PDS is located in the new See Factor warehouse in the Woodside neighborhood of Queens, which gives him great access to lights for client demos. He has freelanced for See Factor and used them as a vendor throughout the last decade. In the future, people from other disciplines should have offices in the warehouse, allowing for great networking and collaborative opportunities. See Factor's "gigantic inventory" was one of his deciding factors in picking the Highlt LDS space, which he originally planned to put in a different part of the city. He feels this one is perfect.
"I was actually looking for a place like this for myself for the past eight years," concludes Mangino, "and I'm just amazed that it didn't exist in New York. Why? Why, with so many designers here between Broadway and event designers and fashion shows and all of us concert people? It's hard to believe that there wasn't a place like this. You'd think New York City would have had this. Now it does."
Company Snapshot
HIGHLT PDS Inc.
Owner: Myles Mangino
Company Type: Previz & Production Design Studio
Contact Info: 30-30 60th St., Woodside NY 11377; 347-268-4178; www.highlt.com
Leave a Comment: