Luxium Lighting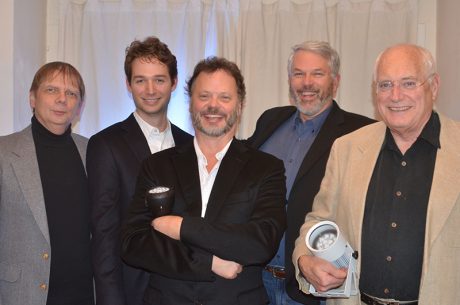 There were a lot of new products on display at the LDI show in Las Vegas this past November, so the three partners of Luxium Lighting were honored when one of theirs — the Ziba, a bright, compact, battery powered and color-tunable LED fixture, scored an honorable mention in the "Best Debuting Product — Lighting" awards category at the show.
Founded in 2014 by "serial entrepreneur" Arlie Conner, the company was originally conceived as an entity that would target "an interesting little niche market," Conner says, supplying school auditoriums and other theatrical venues with the fixtures they'd need as they migrated away from conventional lighting and toward LEDs.
In particular, the company focused on setting itself apart with LED products that would "get the best color range possible," while also optimizing both CRI and efficiency with its fixtures. Like all the lights in Luxium's product line, its color rendering capabilities are based on the propriety RGBCLW (red, green, blue, cyan, lime, white) technology that can deliver more than 100 lumens per watt, the highest efficacy stage and entertainment lighting in the industry. Soon enough, however, Conner's young company "went wild on features and applications," and the product focus grew.
For 2018, fresh off the success at the 2017 LDI show, the company, based in the Portland, Oregon's "silicon forest" region, is poised for growth, led by a core team of three partners — Conner, the inventor of the company's products; Roger Hicks, the marketing guru; and Tom Roth, who is in charge of sales, setting up channels and all things customer-related.
Other key members of Luxium Lighting's team are Jon Farley, who was instrumental in the development of the firmware for the light engine that does the specialized blending of all the LED channels, and Oke Tammik, the mechanical designer of the company's flagship Zobo lamp with Luxium's patented PAR30 configuration.
‡‡         A "Serial Entrepreneur"
Conner has more than 30 years experience, with a wide breadth of experience in both the arts and sciences. He studied Music Composition at University of Oregon, for example, and then went on study Digital Signal Processing at Oregon State. And while he shared an "Innovator of the Year" award with Paul Gulick bestowed by EDN (Electronic Design Network) Magazine in 1990 for pioneering work on color projection technologies, Conner also has an extensive background in theater.
But if it was Tom Roth, and not Conner himself, who informed PLSN about the EDN accolade, Conner freely embraces a somewhat self-mocking description of his willingness to take chances on new ventures. Even his company's own website describes him as a "serial entrepreneur." When asked to explain, Conner laughs and notes that the phrase references "all the companies I founded. I can recall about five, but the list goes on."
Conner started working with lasers in late 1970's. He developed a video colorizer product moving onto holography and projection systems when he founded his first company; Lightware, which offered data grade projectors that were under 10 pounds in weight while others were in the 20 to 30 pound range. Lightware was acquired in 2000 by Corning, which later sold their Precision Lens division to 3M.
"While employed by 3M," says Conner, "we were developing liquid-cooled LED-based DLP rear projection TVs, part of my initial learning curve on LED technology."
In 1998, Conner founded Lumencor, which used his light engine expertise to go after the "life science" market and won business from Intuitive Surgeries, a nice-sized niche. The company specializes in microscopy tools for looking inside the human body, he notes. In a shootout, Conner adds, his light engine was measured to be 50 times brighter than a Zeiss product.
"The character of an entrepreneur is somebody who sees the future before everybody else and never gives up on trying getting there, says Roger Hicks, the company's head of marketing. "I think Arlie sees the future a little bit, and how technology can be applied."
‡‡         Shared Connections
For his part, Hicks also brings extensive experience to the company, with 30 years in marketing high tech products and a background in engineering. Tektronix, the test instrument giant, "was my proving ground," he says. That led to other opportunities to help corporate startups that were looking to bring high tech electronics to market, including a key role with Intel and others. "Working at Planar is where I got my exposure to optics and LED's and the visualization of information," Hicks adds.
While Hicks' expertise overlaps with some of Conner's high-tech smarts, Conner is the one with the theatrical background, and he has remained involved in that realm over the decades. A musician himself, Conner has also written three musical which were produced for the stage.
"I have a lot of friends in the theater business, and one of them told me he thought there was a niche that was underserved, in particular the need for border replacement," for instance, in high school auditoriums. "We felt those sockets would need to be filled someday with something other than big incandescent lamps, which are being phased out. That's really how the idea of Luxium Lighting began," Conner continues. "Just an interesting little niche market. But then we sort of went wild on features and applications."
It would seem that the Silicon Forest is as tight knit as the live event industry; just about everybody knows everybody, and as it turns out, Conner met both Hicks and Tom Roth through mutual friends. "Arlie found me when he was ready to take the technology to the market and needed to add that marketing component to the business plan," says Hicks.
As for Roth, he has an extensive background in computers. He spent 32 years in Europe, including 24 handling marketing for Fujitsu. He left Fujitsu to co-founded TCP-Connect; an early player in the set top box arena and, unfortunately, a casualty in the "dot-com crash."
He then returned to the U.S. to "start life again." He became involved with a startup called Lightspeed Technologies, which became a leading supplier of audio for classrooms around the world, then "retired" in 2013.
During his "retirement," Roth became a mentor at his old undergraduate school advising students and professors how to commercialize their research. While there, he ran into his old roommate from college, who was a mutual friend of Conner, which is how Tom and Arlie finally met.
‡‡         The Luxium Difference
Roth provides a nutshell description of what makes Luxium unique. "We believe we have the best color palette," he says. "That's the real secret sauce of Luxium. You get more CRI out of our lights with very little watts. Our lights are exceedingly efficient and powerful."
This achievement has its roots, Conner notes, in "my interests at the time of trying to get the best color range possible" for theatrical applications when the company was founded. "The Philips lime emitter is one way to make a better yellow," Conner notes. "We found a really clever way to make a better cyan, so we have a remarkably beautiful yellow and a much better cyan. We think we're just doing a better job in the color gamut."
With Luxium's RGBCLW LED combination, as it turns out, their lights put out just the right amount of red and blue to balance the green and lime from a calibration standpoint. Each LED gets driven at a set power level to balance, which results in a more efficient combo, the company says.
"That's what Arlie's color science background gives us," says Hicks. "He is the cook in the kitchen, cooking it up so we end up with this efficiency level that's twice as efficient as everybody else in the market. We think this will be attractive as the market expands to non theater applications."
The Zobo, Luxium's flagship product, is touted for its light engine, which is designed to produce an extra wide gamut of colors and blended pastels, or a range of precise white settings with no flicker and increased efficiency. Essentially, it is a theater-quality light bulb that you can screw into a light socket and, as with all Luxium products, it's designed for rock-solid wireless connectivity.
The Ziba, which garnered kudos at LDI 2017, came together when a friend from an event company in town wanted to light up a bunch of oak trees in a field for a wedding event. And, half a year prior to the 2017 convention, it didn't exist. Instead, Luxium had a little track light product — a small-yet-powerful mini-par.
The guy from the event company wanted to know if Luxium could make that little track light battery powered. He also needed it to last up to 10 hours, be weather resistant, and be super-easy to use so he could hand it off to the client. After six iterations and about six months time, the Ziba light emerged. Finally, the event client said, "Okay, you nailed the design, I'll buy some!"
As Tom Roth puts it, "we like to solve problems that are not being solved with the present lights, and do things better. We believe we now have the next generation of event lights. It lasts twice as long, it's twice as bright, and it's half the size. Also, you can run it with a Bluetooth phone."
From the successful experience with Ziba, Conners and company thought they might have something to take into the event market, so they decided to make a big splash with it at LDI. It was the first time they had exhibited at a show.
As for the product's award, "we did not even know we were in the contest," says Hicks, until one of show organizers came around Saturday morning and told them to stick around till Sunday, because they might have won something. "We are very happy that our little small startup company in this sea of giant companies got noticed," says Hicks.
Roth recalls a comment by one of their very first customers, a lighting director who spent eight years in Las Vegas; four with Cirque du Soleil, now operating the Majestic Theatre in Corvallis, OR. "Within a minute after putting the light in and turning it on with his DMX controller, he said to me, 'You guys don't know how good a light you have developed.'"
‡‡         The Modern Virtual Company
The facility in Portland, where Luxium is based, is just a couple thousand square feet, with enough capacity for a lab, calibration activity, assembly, testing and storage. They farm out the board build assembly, then bring it all together to do their value add. "Think of us as a virtual company that outsources a lot of activity around the community. We are the modern virtual company. The world is headed toward virtual companies where you don't really have a big factory anymore," says Hicks.
"We have tremendous resources building off the local infrastructure here for wireless resources," Conners adds, referring to Tektronix and Intel. Luxium also calls on a dozen people regularly to do tasks to help the business grow, as needed.
"Arlie has way of gathering the best talent locally," says Roth. "We have a lot of outstanding engineers with many years experience in what they do. Together, we feel we can develop lights for new customers whether it's an architect, construction company, event company, or lighting production house."
As for a company vision, Hicks says, "We see a much bigger opportunity for theatrical grade lighting outside the theater. We believe we can take that capability and package it up to be more versatile and portable. Then all the people who would like to have this kind of easy-to-use lighting will have access."
For more information, go to www.luxiumlighting.com
Leave a Comment: