Pyrotecnico FX
Five generations into their family dynasty, the fireworks company that was founded in a small village in southern Italy in 1889 by Constantino Vitale is now one of the largest pyrotechnic and special effects companies in North America. Along the way, the town the Vitale clan settled into, New Castle PA, has become known as "The Fireworks Capital of America." PLSN sat down with the great-great grandsons of Constantino, brothers Stephen and Rocco, to talk about the company's history and present. Joining the discussion was Bob Ross, recently appointed COO to Pyrotecnico, who talked about the shared vision he and the brothers have for the future.
‡‡         From Italy to the USA
In 19th century Italy, fireworks were a village trade. "Our ancestors typically worked in the mills during the day, and then did fireworks at night and on the weekends," says Stephen Vitale, president and CEO of Pyrotecnico. "These events ran the gamut of traditional festivities, including church and religious activities, but the big market drivers were the traveling fairs throughout the countryside."
By the turn of the century, the streets "paved with gold" in America beckoned, and in 1920 Constantino immigrated to the United States entering through Ellis Island to make a home for his family and company in New Castle, Pennsylvania — a small town between Pittsburgh and Cleveland. Since its inception in the U.S. in 1922, Pyrotecnico has remained headquartered in the town that would become known as "The Fireworks Capital of America." Continuing the Italian business model, teams of pyrotechnicians traveled by trains around the country nationwide, working the fair tour circuit. In those times, transport of fireworks was much less regulated, so chemicals and powders were transported with the crews.
By 1940, the company became one of the largest fireworks businesses in the country. At the helm was Constantino's son, Rocco Vitale Sr., who led the expansion of the facilities in New Castle, which were also briefly used to manufacture explosives for the U.S. Navy during WWII. Many of these buildings still stand today, across the street from Pyrotecnico's corporate headquarters. "My father and aunt ran the company until 1993 when I took over the business," says Stephen. "Rocco, my sister Lynn, and my daughter Mia, who is fifth generation in the business, now work alongside me."
During the 50-year span between World War II and the mid 1990's, Pyrotecnico maintained their business with traditional fireworks "ship shows." These were for predominately municipal/civic organizations, which essentially placed an order through the company's catalogue by filling out their order form and mailing it in, much like shopping through an old Sears-Roebuck catalog.
During the 1990's and into early 2000, the Vitale family focused primarily on growing their outdoor fireworks business. Says Rocco, Pyrotecnico's vice president and director of live events, "we recognized that our existing clients were asking for more services outside of what we did from a firework display stand point. We were having requests from our clients to provide additional services whether it was confetti, lasers, indoor stage pyrotechnics or CO2 jets. We felt this was a good opportunity for us to balance our business a little bit and venture into new markets. From there, it bloomed into the live entertainment space, which we consider as touring, music festivals, award shows, and so forth." What once drove 65 percent of Pyrotecnico's business now splits equally with their event entertainment branch.
In 2010, Pyrotecnico started offering special FX through professional sports teams the company had affiliations with. "Through that channel, shortly afterwards, we began to expand into special effects for the live entertainment market," explains Rocco. "Just like our great-grandfather, grandfather and father, our goal is to create 'oohs' and 'aahs' and 'wow' moments for audiences."
Stephen adds, "As we continued to grow that business, we recognized we not only needed to but wanted to bring some industry experts into the company." Enter Bob Ross. "He is an integral part of our efforts to continue to improve our client experiences and our value chain," says Stephen.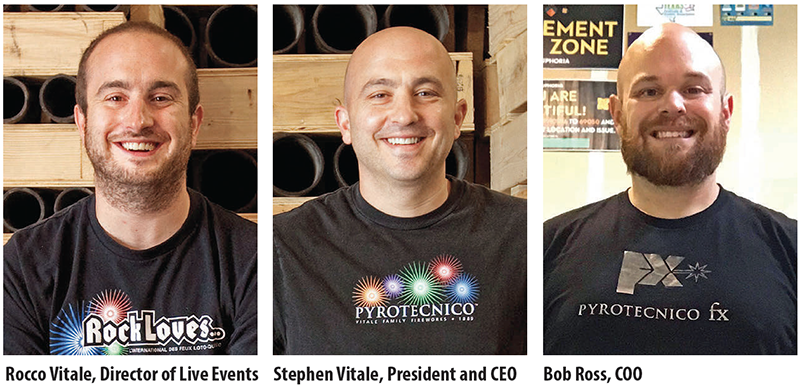 Ross, the former COO at a competing pyro company, picks up the story line. "I started in the fireworks industry working up in Toronto Canada for a U.S. based company back in '96 called PPA. From there I transitioned out of college and joined another company, also based in Toronto. I spent 19 years working my way up from the warehouse floor to an event technician to heading up operations for the company and exiting as their COO when I retired from Pyrotek in 2018. At that time, we were focused mainly on concert touring and award shows. Once I took on the role as COO, I was represented as the face of that company and found myself working in sales primarily which was a disconnect from my passion around operations and facility execution.
"After exiting my former employer," Ross says, "a wonderful opportunity presented itself during a conversation with Steve and Rocco about joining their team and continuing my journey to build a larger division in the live entertainment field based on operational excellence. One of the main attractions to me with the company is that it offered multiple points of product lines, from their special effects division as well as having a robust fireworks element to be able to elevate to the next level of stadium concert touring, something I had been a part of designing and or executing events over the last 10 years. I saw this as an avenue that really hadn't been pushed from the majority of the competitors out there in the industry.
"Part of my decision of coming to the company is how much emphasis Steve and the Vitale family put on being not only a part of the communities where their companies are located, but being an equally large contributor to those communities."
Ross has spent much of the last nine years of his career heavily involved with different safety committees in the industry to regulation with National Fire Protection Association (NFPA) as well as Event Safety Alliance (ESA) with Jim Digby. "I was proud to be part of the collaboration and creation of the ESA book of standards for our industry. I started as a general member, then became a committee member. I also became part of different work groups on the safety of our industry and continued to learn the art of rewriting and elevating code and restrictions around pyrotechnics and special effects."
"I've always recognized Pyrotecnico in attendance at the event safety conferences in the industry," notes Ross. "Talking with Stephen and Rocco and understanding the value that was placed on safety within their organization was something that attracted me toward the company."
‡‡         Safety = Priority #1
"It's true," says Rocco, "Our priority is that we put forth to our customers the fact that safety is our top priority here. We invest a lot in our people who we feel create a great customer experience for the people we entertain. What's very important to us — it's not just about what kind of great gags we can do — it's about providing the best possible customer experience every day, and that comes from top to bottom."
Rocco describes the type of pyrotechnician he seeks to represent their company as "people who are passionate about the business and have the utmost respect for and adhere to safety standards."
"Two things I've never felt capable of teaching people is passion and common sense," says Ross, indicating that those tend to be traits that are engrained in a person's character instead. "We're looking for grounded people, identifying people who are not star struck, that will not go chasing celebrities. At the end of the day the artist is on stage doing their job; we're there to support them by doing our job."
The company does run a number of what they call "shooter schools" across the U.S. Candidates go through a training program before they come out on a show. It's an open walk-in one day event with a practical hands-on demonstration as well an after classroom element. "We've been fortunate to continue these as we've had great feedback of recruiting," says Rocco. "Having 13 locations across the U.S. from coast to coast and border to border gives us some great reach of meeting new people."
"We're looking at people with a growth mindset that are always looking to continually improve on who they are and who we are as a company," says Steve. "We have a simple saying around here — 'We want to be the company who people want to hire and the company who people want to work for.'
"A lot of our focus right now is with innovation," adds Steve "We're internally looking to build the best systems and provide the best training. In essence we want to set our people up for success not only in our facilities, but out in the field as well." Over the last eight years Pyrotecnico has improved their footprint in Los Angeles quite significantly, having just recently relocated from a 3,500 square foot building to an 11,000 square foot warehouse.
"L.A. and New Castle are our two primary hubs for our special effects side of the industry," says Steve. "We are in the process of breaking ground in our Dallas location on a company piece of land, where we are building out a new building from spec. This will service not only our fireworks division in one of our larger states, but also our local effects market. This facility will cater to all the items we offer in the industry. Currently we supply a couple of sports teams. We have an office for our effects division in downtown Dallas. This new facility will increase our footprint in Texas as well."
Pyrotecnico employs about 100 full-time employees in their depots around the states and also relies on more than 800 freelance technicians to help produce shows in the field. Last year, they shot about 3,500 shows, across the board. The recent addition of their in-house previz effects suite greatly enhances their capabilities to expedite the quote and build process. "Not only does it ensure we are going match our clients vision, it often allows us to exceed that vision," says Rocco.
"From my experience in the industry," says Ross, "the financial completeness is a decision making factor in the bidding process. The reliability of execution and the relationships built with our clients is what carries a great deal of weight in the industry; you are the person representing the productions choice to execute the overall picture for their client they represent. The same goes across the board whether it is a promoter, a municipality, a concert tour or an award show."
"One of my goals coming on board is to continue to improve our process and our execution," says Ross. "At the end of the day I want to walk away with a client that says 'Pyrotecnico executes a really strong show'." We may have just one person executing the effects onsite, but the amount of people within the company and internally that bring that show to life is what is so valuable."
For more information, visit www.pyrotecnico.com
Leave a Comment: