Solotech is Making its Move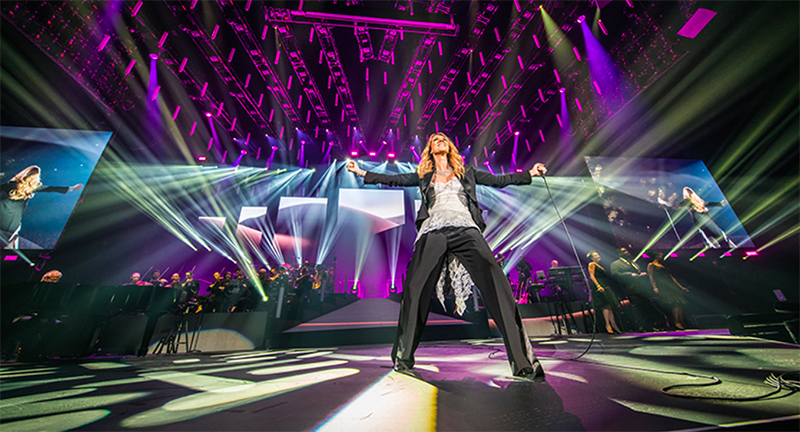 Solotech seems to be living by the "you can't hit a moving target" axiom, as they are everywhere, yet going someplace else all at once. Rattling off a list of projects as he starts to provide the visitor with a tour of the Montreal HQ, director of productions Hugo Tardif mentions clients Pink, Justin Timberlake, and that they have "60 trucks out with Taylor Swift, our largest show ever. We have 27 of our people on the tour including on the advance team, as the structure is so big it requires a team to go to the next venue and do some pre-rigging. Swift's show and Pink and Timberlake's pretty much started all at the same time." He pauses, adding, "It's been quite a ride!"
The company recently celebrated its 40th anniversary. It all started humbly enough — as just another audio company started by two guys from Canada. While neither of the original owners are involved anymore, the business has thrived, especially the last decade, branching into lighting and video over the years to become a one-stop shop. The first three offices were in Montreal, Toronto and Quebec City. Over the past 10 years, they have expanded stateside with offices in Las Vegas and Nashville allowing them to further support their clients with gear on both sides of the border.
In case there was any doubt that they mean business, last year Solotech opened a 170,000-square foot complex in the Chicago area, which proved to be geographically beneficial as it was a stopping point that was central to their offices in Canada, Nashville and the West Coast regions of Las Vegas and Los Angeles. Todd LePere, a local resident who used to work for another video company, had spoken with key members at Solotech about taking on some work. Todd had a lot of friends in the biz who wanted to use his services as an account rep. He knew plenty of freelance video folks looking for work and had contacts for local labor in the DeKalb, IL area.
The process of putting shows out of this facility has been ramping up over the last year. Eric "Sluggo" Eaton, who has been working in the biz around the Chicago area for 20-plus years, was hired to look after the shop's general management. They recently added touring lighting veteran Stephen Schumi to head up the lighting division, with lighting shows being prepped there starting in July.
Bob Brigham and Ron Proesel are now working out of this Solotech location, both with official titles as VP of U.S. Operations. The two of them have long been associated with developing groundbreaking LED display products and have resumed a role that includes dealing with Saco on designing and building future LED products.
In early May, Martin Tremblay, president and CEO of Solotech, announced the appointment of Mickey Curbishley as president of Solotech's U.S. Rental Division, effective June 3. Curbishley has more than 20 years of experience in the industry, including tours for Madonna, Prince, Lady Gaga, Roger Waters, Taylor Swift, Bon Jovi and The Eagles, among others. In 1994, Mickey was part of a team that ran Light and Sound Design (LSD), where he played a strategic role in LSD's international expansion. Following PRG's acquisition of LSD in 1998, he filled leadership roles for PRG's concert touring division for the next 18 years. Most recently, he was the senior vice president of touring at Tait, designing and engineering scenic equipment. Curbishley will be responsible for Solotech's Rental Division for Touring, Special Events and Corporate market segments in the U.S., a position that includes overseein façade g operations in Las Vegas, Nashville, DeKalb IL and the upcoming Los Angeles office. (See PLSN Interview, this issue, page 40).
Montreal HQ
Back in Montreal, the tour of the HQ facility continues, and the building is much larger than one might think just looking at the façade from the streets. It's like there are several warehouses within the complex, all organized according to categories (lighting, audio, video, etc.). Right now, there are some empty shelves because of the aforementioned tours that are out. "All three of those shows are doing super well, and the production managers are happy," Tardif says, of Timberlake, Pink, and now Swift. As for the latter: "They wanted this tour to be huge. At a certain point in one's career, the artist gets to a certain stature that they get to choose the kind of tour they want to do. They decide how big, or how long they want to be on the road, and the people they want to reach. In that situation, you're not copying and pasting from the previous tour, but reinventing the entire tour, and building it so it can go around the planet."
On the Taylor show, Tardif says the team had a collective "oh sh*t" moment when they saw the renderings and had to pause to "wonder how the hell we're going to do that!" Then, of course, came the fun part — figuring it out. Working closely with Tait Towers who "are always incredible," there came to be a lot of designing, building and testing. "We had the best people working on this project, and since it was a stadium-sized one, everything had to be designed so that you didn't lose a minute [in load-in or load-out]. It's so much money to set it up and move this thing around to cities, it all had to be perfect and perfectly timed."
Tardif is from Montreal and has an audio and theater background. He first started working for Solotech in 1997. A few years later, he left the company because "it was very small and working locally." He went on to be technical director of the Montreal Jazz Festival for three years, and then got into TV production before doing additional major festivals and touring acts. In 2005, he returned to Solotech when "the company started a series of expansions — they were working on huge accounts such as Cirque du Soleil and Celine Dion. The company was on the move. I came on as technical coordinator for audio and, in 2011, became director of operations." Recently, his current position opened, and he stepped right in. "Thinking back on it, when I left, there was just 100 people working here. Now there are 1,100 different positions filled worldwide." And today he's the link between production managers and 13 sales reps. "So I'm the one that takes care of logistics, making sure everybody has what they need."
In a short period of time, Solotech has announced several big moves, and more are apparently on the way. "Everything is being considered, and everything is the board," Tardif says. "We're looking into acquisitions, and looking at different operations. We're asking ourselves, 'What is it we need?'" So it's not that small, local company any more — or is it? "We're growing into a major company, yet keeping the same ideas we had as a small company. We want to be close to the client, and we never forget that it's a people business. The production managers and artists who go out on tour for a year want to work with good, talented people that they can live with, too. They like to see it when everybody pulls together, and that's what we will continue to do."
Dean Roney, vice president of touring, who is based in Las Vegas, has been with Solotech for 10 years. He's also excited about the growth of the company, particularly the opening of the L.A. office. "It's always been part of the plan, and we were just waiting until we found the right guy to make the move, and we found him in Mickey," he says. "We've been talking about it for a long time, and it'll mean we're able to have more resources for our clients." He acknowledges that it's a time of tremendous change in the industry, and "how it all plays out is unknown." He stresses that the growth of Solotech is able to happen because the company is financially sound. "We hope we don't ever become too big, as providing our clients the service and personal touch they've come to expect will always remain a priority." Otherwise, he confirms that it's just a really busy time for the company. "We've got the Rolling Stones, Bruno Mars, Paul McCartney and Elton John coming up. It's a good time for Solotech! We're just going to work hard and make sure we keep our stick on the ice."
Leave a Comment: