One Night for One Drop
One Night for One Drop (onedrop.org) is an annual philanthropic event in which Cirque du Soleil cast and crew donate their talent and time to create a unique theatrical show for one night only in support of the international non-profit organization dedicated to providing access to safe water. This year's location was the "O" Theater at the Bellagio in Las Vegas, home of the Cirque du Soleil spectacular water-themed stage production.
Following the performance, the after party takes place in a tent outside the venue providing music, libations, and food offerings from the finest restaurants in the city for the 4,000 attendees who bid on luxury items that fund One Drop's reclamation efforts.
Lighting designer David M. Schulman with Davelite (davelite.com) has designed the lighting for the party going on three years now. He came to the project via his colleague Ian Seidenberg, one of the event producers and director of event operations for Encore Event Technologies.
"This year, my colleague Ian really wanted an upstage LED wall, and our budget was limited, since this is after all a nonprofit charity event. Our creative process begins with the idea he comes up with, while at the same time giving me the constraints or parameters of the box the idea needs to fit within. I then proceed to explore the boundaries of said box and try to bring in technology that provides something stellar; something people are not used to seeing in this type of environment."
Because of Seidenberg's association with Encore Event Technologies, the company provides a significant amount of the gear that allows the team to create the environment they want to achieve.
"Then there was this LED wall problem to incorporate into the design," mused Schulman. This was a foray into new territory for Schulman who, as a theatrically trained lighting designer, completed his graduate work at NYU then came to Las Vegas in 2001. "I consider what I do 'painting with light,' so if I have something to achieve, I need to know what tools, what brushes and colors I have in my palette." He pursued a career to "light people, environments and musicals so light moves with meaning." As such, video playback did not, in the past, have a place in his palette.
‡‡         The WOW Factor
Upon learning that Morpheus Lights was the only rental house in America that could provide the DreamPanel Twin (plsn.me/dpanel), Schulman reached out to his old friend at Morpheus, Mark Fetto, who immediately sent a video of "this extremely elegant solution they had created of a working tourable setup for these panels. He and Morpheus production manager Keith Bennett were absolutely on board from the start," says Schulman. Fetto insisted the rig be fully prepped, wired and fired in the Morpheus shop. Not only was he concerned about the short window onsite to assemble the rig, but the allotted programming time.
"The DreamPanel is a terrific tool, but it does require more than the usual preplanning," says Bennett. "Both on the networking side because of its relative complexity, and the programming side because of all the things you can imagine you can do with it.
"We've achieved our best results by choosing control via sACN, with all other EtherNet protocols silenced by a MA2 switch on one port on the output side before the signal hits the distribution router," Bennett continues. "Each fixture was operated in 272-channel single universe mode, with a unique I.P. address, with 45 sACN universes active, downstream of the MA2 switch. With that configuration achieved, there was zero discernible latency across the LED array."
‡‡         The Human Factor
For the networking layout, Morpheus associate Jarred Coelho handled the video HD Box networking and tile configuration chores. Axis Lights donated an ArKaos media server. "We wanted David [Schulman] to be able to concentrate on the artistic potential that the fixture offers, especially since they were going to be up-close-and personal with the crème-de-la-crème of the Cirque du Soleil and Las Vegas creative society," Bennett says. "Here's a tool that combines all of the advantages of an LED-based, multi-source, pixel-mappable, ridiculously bright, continuous-motion enabled fixture…and one that also gives the designer, on the flip side, a 4,096 chip, 3500-nit, 6 mm pitch video panel on which you can display anything you and your content creator can imagine."
Schulman, a firm believer in the Bauhaus prime directive that "Form Follows Function," credits the DreamPanel as a fixture that "fulfills its function perfectly. [It] exemplifies that concept and provides pretty much everything I need to put background for a camera, for a television event, or for eye candy on stage," he says. "My thanks to my team on the ground as well as Mark Fetto and his team at Morpheus for helping achieve our vision. I look forward to working with them again in the future."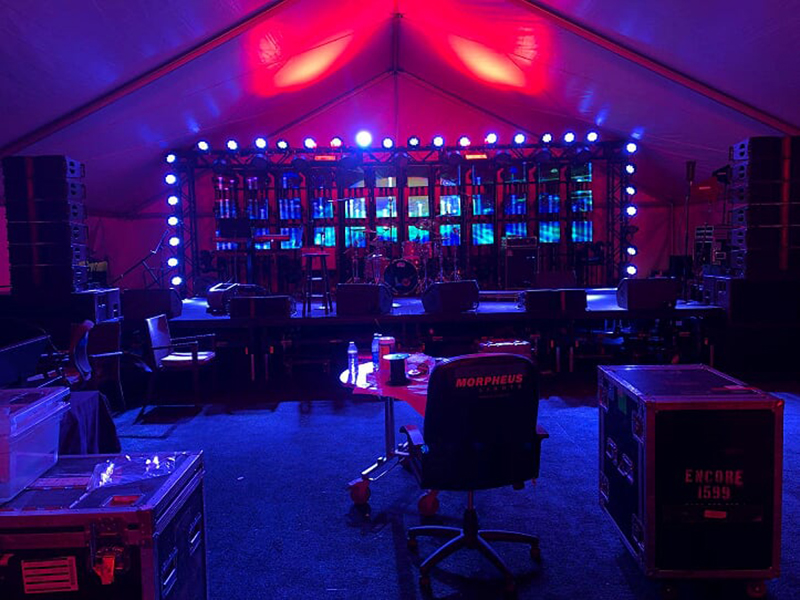 One Night, One Drop "Gold" After Party
March 8, 2019, Bellagio Hotel and Casino, Las Vegas
Featured Artists
Boyz II Men
Stephan Jenkins (Third Eye Blind)
Mark McGrath (Sugar Ray)
Crew
Event Producers: Sally Dewhurst, Ian Seidenberg
Environmental Design: Lenny Talarico
Lighting Designer: David M. Schulman
Associate Lighting Designer: Jami Walls
Master Electrician: Tiffany Burris
Assistant Master Electrician: Courtney Chicoine
Video Director: Joshua Good
DreamPanel Provider: Morpheus Lights/Mark Fetto, Keith Bennett
DreamPanel Techs: Luis Herrera, Thomas Marty
Leave a Comment: