Working with Friends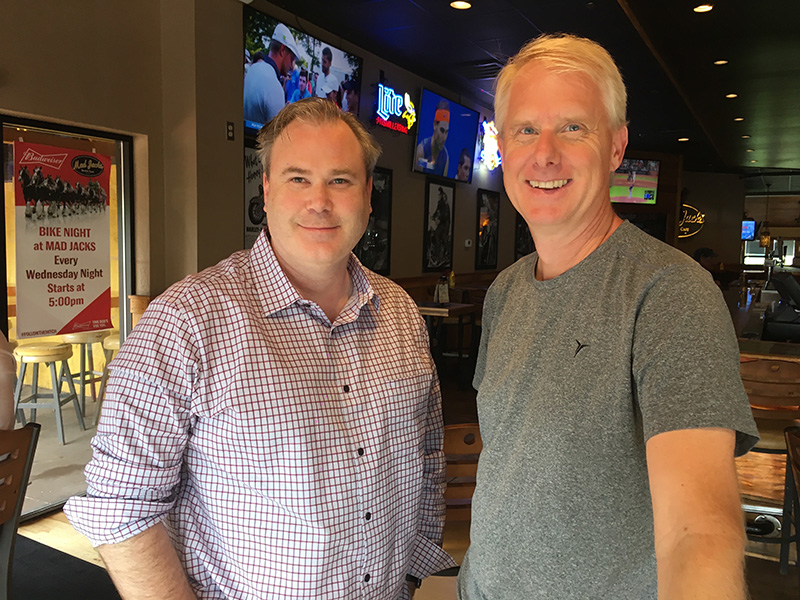 Zunker Production Services Teams with Legacy Production Group on Business Meetings
t's not unusual for designers to form a relationship with one vendor and stick with them throughout their career. All designers have their favorites, though some like to share the wealth. If you have a large firm that does plenty of business, it's healthy and often economically feasible to use different companies for different shows. But for smaller regional designers, the best bet is usually to keep with a certain company that cares about your needs. One where your needs are met with the same respect and unconditional care that a larger company may reserve for its larger clients. These two companies have forged that type of relationship. But as the Legacy Production Group has expanded at an unprecedented rate, they still adhere to their roots and acknowledge that no show is too small not to give it your best.
Dan Zunker has been producing various events for quite a few corporations over many years. Over the course of one year he may have several events with just one of his clients. On many occasions, Zunker may have six months to design and pull together everything technically necessary to pull off these corporate events comfortably. On the other hand, the corporation turns to his company because, in cases such as one recent show, he was only given a six-week lead time from initial phone call to loading in the event.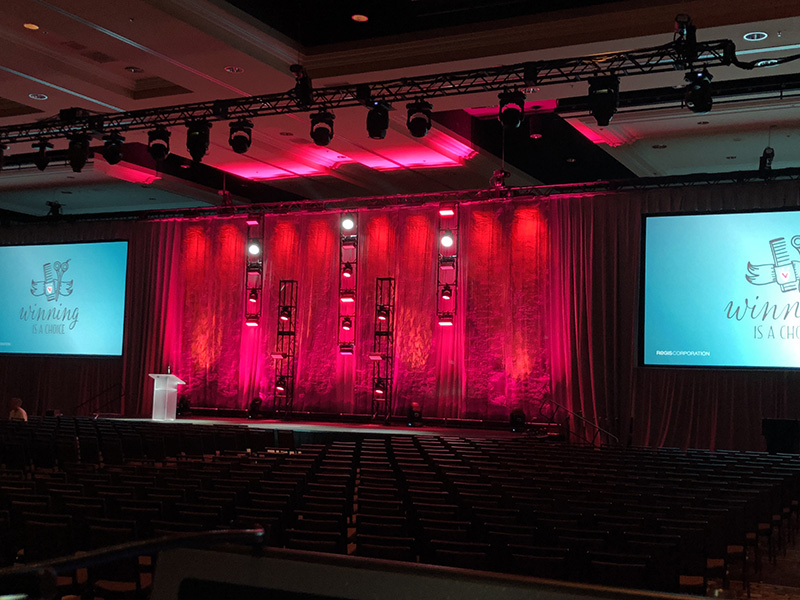 Zunker owns some production gear of his own, but usually needs to augment it with other vendor's equipment. Being a Minnesota native, he's well aware of the regional as well as international vendors he can rent gear from. But he chooses to utilize someone in his own backyard whenever he can for his events. That would be Legacy Production Group in Minneapolis. So, with a short window for an upcoming show, the first thing Dan did was contact Tom Gorman, one of the principle owners of the company, to set up a meeting.
Dan and Tom have a relationship that spans a couple decades. They each take care of the other. When Dan was in need of some shop space to store some of his equipment, Tom was there for him. On occasion when Tom is short a tech, Dan will work on a show for him. Dan is indeed right there in town and willing to do whatever it takes. As Tom states, "Sometimes, Dan is my client, and I can't have him hauling truss or seen cabling lights. He should be dealing with the client and the house. Even if he's bored, I draw a line." Dan merely chuckles at that statement. It's just that he'd rather be useful, than bored at a load in. "Cause I'm a team player."
"This particular show was one we'd done the past couple of years, but we didn't know if they would be holding it this year. We figured they didn't know until last minute either," states Zunker. "This client wants a rock 'n' roll feel, a festive atmosphere at their event. They want their attendees to feel like they are walking into a big party for 500 people, from the moment the Mandalay Bay in Las Vegas opens its ballroom doors."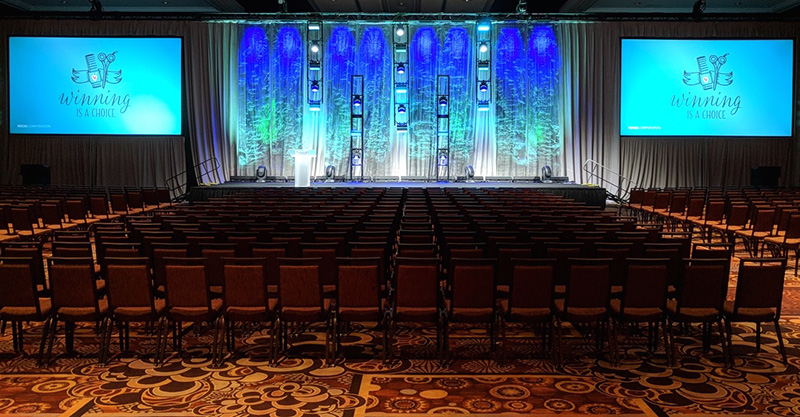 ‡‡         A Trusted Ally
One of the reasons he turns to Legacy Production Group is because they are constantly re-upping their inventory with new fixtures. Gorman explains why. "While the majority of our business is in providing lighting, audio and LED walls to corporate events, we get a lot of rentals for rock events and one offs from other lighting vendors in our part of the country. I looked at the demand I was seeing for cross rentals. People were looking for Claypaky Mythos around town, and nobody had them. We figured we could always utilize a hybrid fixture like that, so we contacted ACT Lighting and invested in some Mythos 2 fixtures, and it's worked out well. We can offer clients a choice in hard edge profiles ranging from Vipers to MAC Quantums as well. We bought a bunch of GLP JDC1 fixtures, even though there's not much need for strobes in the corporate world. But we can't keep them on the shelves. We bought them with the idea we would use them as scoops for business meetings. But as soon as our other clients see what these lights can do, they all want them on their events."
Zunker expands, "My clients want a lot of bang for their buck. So, having fixtures that are multi-purpose is important to me. For instance, I like the Viper Performances this company owns. I use them as key lights on the speakers, but can also use them to ballyhoo the audience or throw textures on scenery."
Zunker walks into the warehouse and wants to know what's new that he can incorporate into this year's design. He sees some U-torms from Cosmic Truss off to the side and wonders if he can incorporate them into the design. "We don't have a center video wall for this project, just some projectors and screens off to the side for IMAG and PowerPoint. I thought, 'This isn't a normal look for a corporate event, but why not?' We loaded them with some JDC1's and moving lights. We hung them and took some crinkle screen and hung it between the torm racks."
Gorman expands, "This is an old tried-and-true trick, but the clients always love how the crumpled up metal particles take light and make shadows. Legacy owns a bunch of GLP X4 Bar 10 and X4 Bar 20 auto-tilting LED battens. They were perfect for illuminating the screen or tilting forward as a rear wash from the floor and air."
Tom acts as the LD on the show as well, programming one of several grandMA2 consoles in their inventory. "I'm not as quick on the consoles as I was when I was a younger man." he notes. "But I can figure out what I am doing. Multi-part fixtures are a little harder to wrap my head around, but with the eye candy macros these GLP fixtures have on board, I can give the client the wow factor they are looking for easily."
Zunker grew up in Faribault, MN and started working in the biz when he was 16. "I did lighting in clubs for local bands and did some time at (Prince's) Paisley Park as well. I worked with local lighting and audio companies and eventually worked my way up to be a production manager." Around 1990, he started working on corporate gigs and expanding his network of friends and clients. Seven years ago. he started his own LLC.
Talking about his client, he notes, "Some of the folks that hire me have two divisions, the franchise and the corporate areas. They do several events every year. For some small ones, it's just myself showing up with some audio and video gear for business meetings. Then we may do the larger events about twice a year on average. For some shows they combine the two. The corporate and field leaders come together for planning and recognition. This usually includes opening ceremonies, general sessions and the awards banquet." It also calls for multiple separate breakout rooms, a production in itself.
"Years ago, I decided someone should come up with a better way to do these break out rooms." says Zunker. For the history of these corporate meetings there's always been a need for break out rooms and this usually meant that someone was always walking back and forth between the large room and the small ones in search of some piece of gear. "So, I built some road cases that could hold what I need for each room. I use them for many of my smaller events and put multiple kits together for medium events, but Legacy Production Group has come up with the ultimate kits for these larger events. This year several of the rooms had multiple screens and a need for a video switcher as well. So I partnered with them on these events."
Gorman expands on that. "We have a system with two road boxes, called the BOR and the BOB, for Break out Rack and Break out Box." The BOR lives at one end of the room and includes a Roland VR50 video switcher as well as a Behringer X32 Producer digital audio console. The VR50 slides out on a shelf for operation. The bottom of the rack has drawers for microphones and other peripheral gear needed. The well packed BOB contains an Eiki 6.5K projector with a table as well as a Da-Lite 5.75-by-10-foot screen, a package of soft goods to dress the screen, two QSC speakers on a stick and all the cable one needs for that room. (pic included in document). "Being a lighting guy, I demand that our video department think about things such as truck packs before we build or buy anything. These boxes are an example of that way of thinking. They're such a game changer and time saver."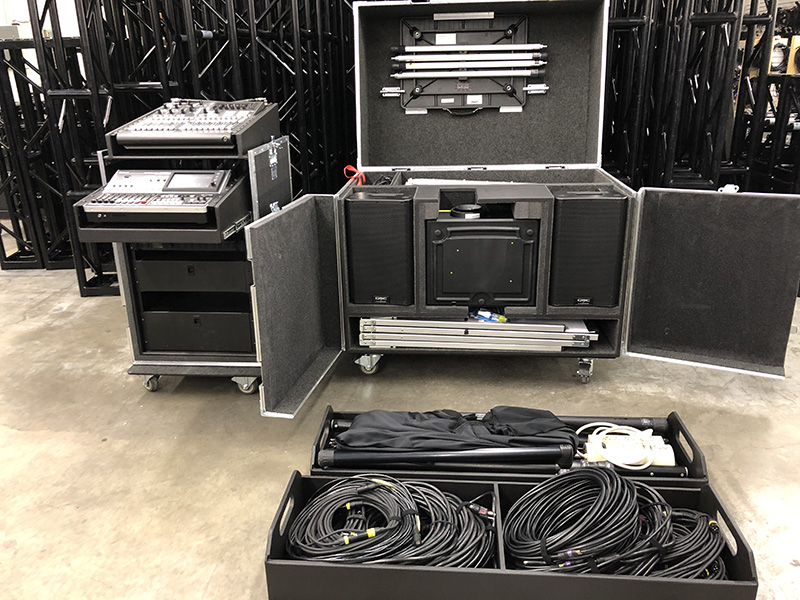 ‡‡         Over-Delivering
Minneapolis/St Paul may be the 13th largest city in America, but it's small enough that everyone in the biz knows each other. And Dan prefers working with friends. "To be honest, my clients are often looking for a cool looking show without spending a ton of money. But they want to make sure their clients are taken care of, they don't want to worry about cheap mics dropping signal or any faults in a system," explains Zunker. "Often enough I'll just say to Tom at Legacy, "We've got a certain budget amount, let's get this done.' Then he over-delivers."
I inquire what he means by this over-deliver he speaks of. "That's how these guys work. They may just be loading the truck and decide to throw an extra dozen movers in because they have room. We may never use them, but if we're in a pinch they may save us." As the old adage goes, 'I'd rather be looking at them than looking for them.' "I mean, who else does that?"
In closing, Zunker notes, "Gear is gear. But I follow the relationship. I choose to work with Tom and Legacy. If they have the gear, they have the job, as far as I'm concerned."
For more, visit www.zunkerproductionservices.com and www.legacy-pg.com.
Leave a Comment: