Halsey 'Hopeless Fountain Kingdom' Tour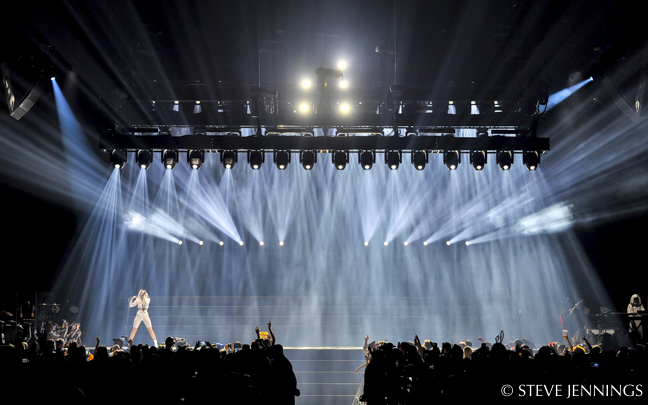 Singer-songwriter Halsey exploded on the music scene when she put out her debut 2015 platinum selling debut album, Badlands. Along with the huge 2016 collaboration with The Chainsmokers on the song "Closer," Halsey is now touring arenas in support of her 2017 second album, Hopeless Fountain Kingdom. We spoke with the tour's lighting designer Sooner Routhier, production designer Robert Long (both of SRae Productions) and lighting director and programmer Craig Rutherford.
LD Sooner Routhier & Production Designer Robert Long
SRae Productions
"We started this project with a very different approach from the final outcome." says Routhier. "Ashley (Halsey) originally wanted a romantic feel to the stage with a balcony, candelabras and garlands of flowers. We proposed a version of this style design in May 2017. However, once we began to design promo and award show performances, we evolved to a much different approach. We both noticed how incredible Ashley is at navigating stairs during a performance. We felt that she needed a unique space to perform on, so this design is what we came up with in the end."
"In July, we set about creating the plots and renders for the September tour," notes Long. "We proposed two different versions of the show to the artist and creative team. One is very similar to the current tour. The second was the balcony version we proposed in May. Funny enough, Ashley had almost the exact vision that we had when it came to the new updated stage. Before we presented our large stair design to her, she hand-drew out a version and sent it to us. She's extremely involved with the creative, from sketches to reality. It was a really pleasant surprise to know that we were all on the exact same page from the start."
Associate lighting designer and programmer André Petrus worked with SRae Productions for the tour, mentions Routhier.
"André Petrus' cuing direction and programming is almost identical to my own," Routhier says. "He hears and feels music the same way that I do, so the whole process is effortless. Our relationship with André has always been based on how our visions are always aligned perfectly.
"When it comes to the stage set, Screenworks and SGPS built a beautiful, clean stage. I remember walking on it for the first time and being in awe at how clean the entire set looked. All cabling, video surfaces, pyro units, are nicely tucked away. Robert worked hard with Jimi Storey (production and tour manager) and the staging company to ensure that all the lines were clean and precise. We were very happy with the outcome," Routhier concludes.
"The key to this was the legwork that Screenworks did with SGPS to make this a seamless look," adds Long. "Very much a group effort between everyone."
Craig Rutherford
Lighting Director & Programmer
The show is extremely cue-heavy, notes Rutherford.
"We used Andre's style of programming, which is to make base cue lists for each song and then program accents and hits to bump buttons and put those into the timecode track. The only things that are on the fly are the followspots, and these are controlled via two HTP faders, and all four irises on both are controlled with an additional four faders that I ride throughout the night. All the color, framing, etc. is handled via a separate cue list that triggers via a macro at the top of the song, or during the song if I need a change.
"I sat back and let a master programmer – Andre Petrus – do his thing, offering ideas and suggestions about colors, hits, and little things that happened in the music. When he was done with all but the two B stage songs, I jumped in."
Sooner recommended Claypaky's Scenius Profile fixture, a proposition that "I totally agreed with," Rutherford adds.
"I had reviewed both the Profile and Spot version of the fixture for this magazine so I was well aware of their capabilities and highly impressed by their output and quality of light. The Robe Spiider was an interesting choice — I saw some on a rig at a festival in Norrköping and was impressed with the output and pixel-mapping capabilities, so I suggested them as the primary wash light. The central 60W LED with the flower effect was a fun gag that we got some use out of. It's a little bit different than anything on the market at the moment in terms of LED effects. The beam gets very tight, which is another plus in a show like this that needs big beamy looks to cut through the vast video surfaces upstage.
"The Scenius Profiles were perfect for the show. We got miles of usage out of the framing shutter system, and I think we experienced a failure maybe two times during the entire run. They were just a rock-solid, great looking hard edged fixture. We also had TMB Flare LR's running across the top of all the trusses, which were solid every day, and they added a variety of dynamic effects throughout the show.
"Everyone was so great to work with on this tour. This was my first time doing a show with Sooner, and I couldn't have asked for a nicer and more experienced team to do a show with. Her, Robert and André were all a delight to work with for this journey."
Halsey Hopeless Fountain Kingdom World Tour
Crew
Production Companies:
Lighting: 4Wall
Video: Screenworks, All Of It Now
Staging: SGPS
FX/Pyro: Strictly FX
Trucking: Upstaging
Production Team:
Creative Director: Ashley Frangipane (Halsey)
Show Director: David Sheppard
Production Design: SRae Productions
Design Coordinator: Ashley Zapar
Video Content Company: Lightbourne
Lighting Designer: Sooner Routhier (SRae Productions)
Production Designer: Robert Long (SRae Productions)
Assoc. Lighting Designer and Programmer: André Petrus
Lighting Director and Programmer: Craig Rutherford
Production and Tour Manager: Jimi Storey
Lighting Crew Chief: Richard Jackson
Lighting Techs: Jose Atunes, Edgar Serrano
Video Director: Danny Firpo
Video Techs: Kevin Jordan, Chris Jones, Rick Popham, Jason Simpkin, Cory Mascari, Eric Simnacher
Automation: Nate Loftis
Stage Manager: Clay Hutson
Pyro Tech: Carl Palmberg, Brian Carpenter
Riggers: Steve Carlsen, Eric Carlson, Christian Mikkelsen,
Stage Carpenters: Ashlee Veghte, JD Herrin
Gear
Lighting:
2          grandMA2 full size lighting consoles
76       Robe Spiiders
65       Claypaky Scenius Profiles
36       Solaris Flare LRs
7          Solaris Flares
4          Chauvet RGBW LED PARs
2          MDG TheONE Hazers
Video/LED/Projection:
162     ROE MC7 x2 x81 for the main video screens
25       VISS 7mm LED floor on the B-stage
625     10mm Daktronics panels in the stairs
4          Ikegami cameras 2 long lens, 2 HH
3          Panasonic PTZ robo cams
2          disguise servers
1          Ross Synergy 3 switcher
2          Barco HDF 30Ks for side screens
More Halsey Hopeless Fountain Kingdom tour photos by Steve Jennings:
HALSEY © Steve Jennings
HALSEY © Steve Jennings
HALSEY © Steve Jennings
HALSEY © Steve Jennings
HALSEY © Steve Jennings
HALSEY © Steve Jennings
HALSEY © Steve Jennings
HALSEY © Steve Jennings
HALSEY © Steve Jennings
HALSEY © Steve Jennings
HALSEY © Steve Jennings
HALSEY © Steve Jennings
HALSEY © Steve Jennings
HALSEY © Steve Jennings
HALSEY © Steve Jennings
HALSEY © Steve Jennings
HALSEY © Steve Jennings
HALSEY © Steve Jennings
HALSEY © Steve Jennings
HALSEY © Steve Jennings
HALSEY © Steve Jennings
HALSEY © Steve Jennings
HALSEY © Steve Jennings
HALSEY © Steve Jennings
HALSEY © Steve Jennings
HALSEY © Steve Jennings
HALSEY © Steve Jennings
HALSEY © Steve Jennings
HALSEY © Steve Jennings
HALSEY © Steve Jennings
HALSEY © Steve Jennings
HALSEY © Steve Jennings
HALSEY © Steve Jennings
HALSEY © Steve Jennings
HALSEY © Steve Jennings
HALSEY © Steve Jennings
HALSEY © Steve Jennings
HALSEY © Steve Jennings
HALSEY © Steve Jennings
HALSEY © Steve Jennings
HALSEY © Steve Jennings
HALSEY © Steve Jennings
HALSEY © Steve Jennings
HALSEY © Steve Jennings
HALSEY © Steve Jennings
HALSEY © Steve Jennings
HALSEY © Steve Jennings
HALSEY © Steve Jennings
HALSEY © Steve Jennings
HALSEY © Steve Jennings
HALSEY © Steve Jennings
HALSEY © Steve Jennings
Leave a Comment: