Maroon 5 Red Pill Blues 2018 Tour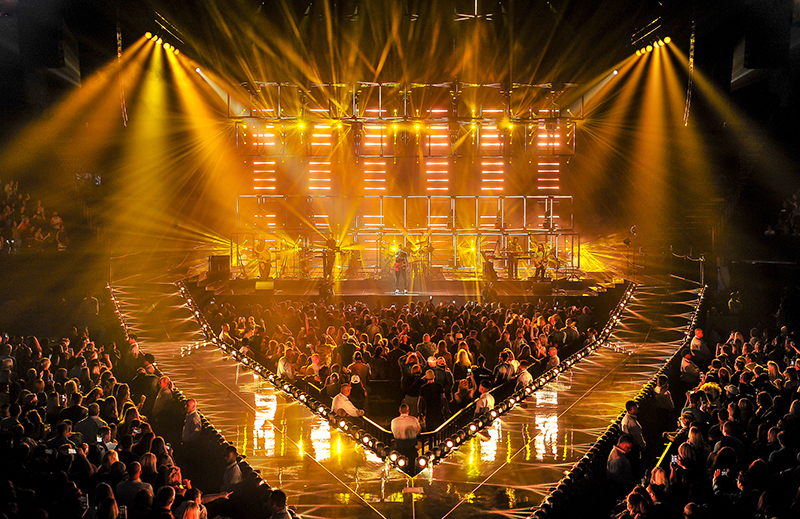 Maroon 5, which had toured the world from early 2015 to late 2017 on their fifth tour in support of their fifth album, called, simply enough, "Five" (stylized V), didn't waste much time getting back out on the road in support of their sixth album, Red Pill Blues, released last November. While not as extensive as the V tour, which visited every continent in the world except Antarctica, some of them more than one, the Red Pill Blues tour is still following a full schedule in the Western Hemisphere this year. It launched in South America in March, followed by shows in Mexico and North America from early May to mid-October. For the show design, the band members brought back their core production team including the design team — Roy Bennett (production & lighting design) and Brian Jenkins (associate lighting designer, co-programmer and director), both whom we spoke to — Bennett, while he was in the middle of traveling overseas, and Jenkins during a short break in the tour.
Roy Bennett
Production & Lighting Designer
For Maroon 5's current tour design, Bennett based it off of what was done in the previous tour and brought it to the next level with the video becoming a bigger part of the show, which vocalist Adam Levine wanted. "Adam pretty much controlled the content end of things and he had very specific ideas of what he was looking for. I wanted to give the stage more of a volumetric feel to it by adding the video cube like structures to it."
Levine is the most vocally and creatively involved with the process, notes Bennett. "The band as a whole is involved with giving their opinions of what they like and don't like. I offered two different variations in the beginning to solidify a direction. Once the direction was agreed upon I began the process of refining it to fit the budget and logistics. There was quite a bit of automation in the initial concept that had to be reduced and simplified due to budget. All the boxes and lights all moved independently of each other to give as much flexibility and variations as possible over the course of the show. It eventually ended up with groups of boxes moving together and the lights were permanently mounted inside the boxes. The floor boxes extended out like bleachers vs. raising up out of the floor."
Maroon 5's last tour had an arrow shaped thrust that extended about 90 feet into the audience. For this present tour it was agreed that the same degree of accessibility out into the audience was necessary. It was Levine who suggested having a V shaped thrust.
"As I was working on more than one tour at the point of this tour design, it was best for me to do the overall stage and lighting design and have Brian (Jenkins) take the reins when it came to getting the show programmed with the help of Harry Forster. Unfortunately, I had only five days that I could be on site during preproduction, (not the way I prefer to do things)- due to some changes in dates but Brian as always did a stellar job."
Brian Jenkins
Associate Lighting Designer & Director
For the Red Pill Blues Tour, Brian Jenkins, who has worked with Roy Bennett for the past six years is back for another round with the band, this time as associate lighting designer as well as director. "I've developed an understanding of his tastes and cueing needs which I've incorporated into some of my own designs. Being with Maroon 5 off and on for the past five years, we've developed a good rapport and they're a very chill group of guys to work around. For this show, Roy handled the big picture and overall ideas while I filled in with the details and extra coordinating with our vendors. We talked throughout the process to keep the train on the tracks and kept band/management in the loop."
Jenkins notes it was nice to have Harry Forster come onboard during production rehearsals, as both Forster and Jenkins did programing on the show. "Not only do I welcome Harry's keen eye and fresh ideas on songs, but it worked out great timing wise as we had to leave for a few days to do a one-off Maroon 5 show in Mexico. I split our programming duties into chunks of songs that segued together. I probably had 75 percent of the songs already time coded from previous tours, so that helped our work load significantly. Harry worked in previz each day while I worked on the main rig and then we merged in the songs he programmed at the end of the day. He'd then have time to check programming and clean things up. All in all, I think we put together a good looking show and were able to cue the hell out of it. Loren Barton was heavily involved in all things video, so we collaborated during each song if there was content or I-Mag/Notch visuals."
The band usually changes up the set list each major tour outing. Jenkins says this one was a little different because of their compressed availability in Los Angeles, so things changed drastically during on site rehearsals in Tacoma, WA and between show 1 and 2. "It kept us on our toes! After that, it was smooth sailing besides the normal daily cleanups and improvements. They like to stick to the same set list each night, minus a song add/change here and there. Mostly, it's consistent and predictable. We have 30 songs programmed of which they play about 20. Some of the "grab-bag" songs they haven't done in a year or more, but I like to be prepared regardless."
Adam and the band had some requests that mostly tied into video moments, notes Jenkins. "I've worked with them long enough to understand the esthetic they would like on each song. We bounce ideas off them from time to time and they're pretty receptive. They just want to get up there on stage, have a good time with the music and fans, and not be distracted by cheap gimmicks or effects. There's no stage blocking per-se so it allows Roy and I to have free reign with all things lighting and visuals."
Jenkins says lighting fixture-wise, the new Robe MegaPointes were a nice addition. "I enjoyed the new features and found them to be reliable. Loren Barton dove into disguise for media server control, so it was nice to accurately pre-program video looks with their 3D environment. He received positional feedback from Tait Navigator software to track position of the video cubes and walls that helped create some nice transition moments for us. Upstaging provided us with a nice package of Saber LED strips for the cubes, and we had some outstanding techs to support the design.
"We can't do a show like this without an amazing crew and production staff," Jenkins continues. "Kudos to our team inside the venue and out. Production manager Alan Hornall brings along a mean crew that follows him wherever he goes. Our lighting crew chief, Mike Green, is a champ and preciously deals with my requests =). We have a crazy blessed life in a unique industry — remember to help out the less fortunate and pass on the knowledge to the up-and-coming."
Work hard, have a humble attitude, be nice, and don't be afraid to fail. Own your mistakes and be open to criticism. Those are words and lessons Jenkins says that have to be learned outside of the "classroom." "We all have different paths of how we got into this industry and where we're at in our careers. Some of us arrived here quickly, while others had a longer path. Don't be discouraged if it's taking longer than you planned, or if someone is doing a bigger project than what you're doing."
Jenkins grew up in a somewhat rural area, so getting production experience was tough to come by. He says he worked hard, made plenty of mistakes, and took every job he could get. "That annoying kid always hanging around the tech guys before and after shows — that was me (wait, is that still me?) Luckily, I had some mentors that went through the School of Hard Knocks as well. 'Be a good leader and pass on the knowledge, tips, and tricks,' would be the occasional reminder by one of my early mentors."
Because of his busy work schedule, Jenkins was not able to attend the LDI show until 2016, and he remembers it as a terrific time meeting some peers, seeing friends, and checking out the gadgets and gizmos. He'll be back in 2018. "I'm honored to be joining the Art of Programming panel this year with some outstanding folks. Outside of Vegas, I'll check out a lighting demo here and there in Nashville or Los Angeles. It's fun to meet the reps and see what the companies are up to. It's a bit saturated at the moment, with LED fixtures of every type and size. There's a couple of manufacturers that are movers and shakers, and then everyone else follows suit. But again, that happens in any industry. I applaud the engineers and CEOs for taking risks and bringing us new products. Some take off like a rocket, and others… well, you know. What's more interesting is the shake-up of key people across the industry. I think there's some built-up steam that we'll see soon with new and innovative products."
Maroon 5 Red Pill Blues 2018 Tour
Crew
Production & Lighting Designer: Roy Bennett (Seven Design Works)
Associate Lighting Designer & Director: Brian Jenkins
Lighting Programmers: Brian Jenkins, Harry Forster
Lighting Co: Upstaging
Upstaging Rep: John Huddleston
Lighting Crew Chief: Michael Green
Lighting Techs: Mark Powell, Jeff Mosher, Matt Shiller, Phillip Comer, Ross Blitz, Lisa Calabrese
Tour Manager: Fred Kharrazi
Production Manager: Alan Hornall
Production Coordinator: Alicia Beer
Stage Manager: Harold Behrens
Video Director: Mark Stutsman
Video Programmer: Loren Barton
Video Co: PRG
PRG Reps: John Wiseman, Nick Jackson
Video Techs: Gerry Kerr, Casey Bowe, Raymond Hernandez,
Mark Inscoe, Leonardo Tudon
disguise Tech and Projectionist: Mark Barrow
Video Content: Electronic Countermeasures, Raj Kapoor Productions w/ Allucinari, Drive Studios
Staging Co: Tait
Tait Reps: Brian Levine, Todd Vernon
Automation: Simon Nott, Richard Perkins
Carpenters: Robert Azevedo (Lead), Lonnie Adams, Nate Poort, Erin O'Brien, Tara Boughey
Riggers: Scott Fremgen (Lead), Francisco Attwell
Trucking: Janco
Gear
2       grandMA2 Full lighting consoles
7       MA2 NPUs
11     MA2 4-port nodes
3       MA2 8-port nodes
20     Vari-Lite VL-4000 BeamWashes
6       Robe BMFL Spots
82     Robe MegaPointes
168  Claypaky Sharpy Spots
90     GLP impression X4 Bar 20's
292  Ayrton MagicDot-R's
41     Vari-Lite VL6000 Beams
6       DF-50 Hazers
4       Jem ZR-44 Foggers
492  Upstaging 1000mm Sabers
492  Upstaging 250mm Sabers
504  ROE MC-7 Video Tiles
2       disguise 4x4pro with 2x 3G SDI output cards each and Notch playback dongle
More Maroon 5 Red Pill Blues tour photos by Steve Jennings:
MAROON 5 © Steve Jennings
MAROON 5 © Steve Jennings
MAROON 5 © Steve Jennings
MAROON 5 © Steve Jennings
MAROON 5 © Steve Jennings
MAROON 5 © Steve Jennings
MAROON 5 © Steve Jennings
MAROON 5 © Steve Jennings
MAROON 5 © Steve Jennings
MAROON 5 © Steve Jennings
MAROON 5 © Steve Jennings
MAROON 5 © Steve Jennings
MAROON 5 © Steve Jennings
MAROON 5 © Steve Jennings
MAROON 5 © Steve Jennings
MAROON 5 © Steve Jennings
MAROON 5 © Steve Jennings
MAROON 5 © Steve Jennings
MAROON 5 © Steve Jennings
MAROON 5 © Steve Jennings
MAROON 5 © Steve Jennings
MAROON 5 © Steve Jennings
MAROON 5 © Steve Jennings
MAROON 5 © Steve Jennings
MAROON 5 © Steve Jennings
MAROON 5 © Steve Jennings
MAROON 5 © Steve Jennings
MAROON 5 © Steve Jennings
MAROON 5 © Steve Jennings
MAROON 5 © Steve Jennings
MAROON 5 © Steve Jennings
MAROON 5 © Steve Jennings
MAROON 5 © Steve Jennings
MAROON 5 © Steve Jennings
MAROON 5 © Steve Jennings
MAROON 5 © Steve Jennings
MAROON 5 © Steve Jennings
MAROON 5 © Steve Jennings
MAROON 5 © Steve Jennings
MAROON 5 © Steve Jennings
MAROON 5 © Steve Jennings
MAROON 5 © Steve Jennings
MAROON 5 © Steve Jennings
MAROON 5 © Steve Jennings
MAROON 5 © Steve Jennings
MAROON 5 © Steve Jennings
MAROON 5 © Steve Jennings
Leave a Comment: