Pearl Jam LD Kille Knobel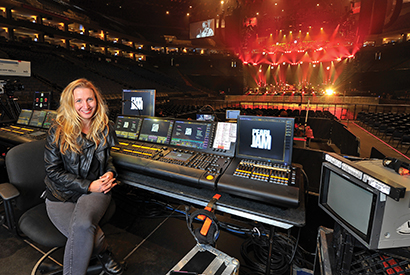 Pearl Jam toured North America in 2013 with shows that followed the July release of "Mind Your Manners," the lead single off the band's 10th studio album, Lightning Bolt (the album debuted a few months later, in mid-October, 2013). As with any big-name act with songs that have achieved iconic status, audiences have come to expect a huge "wow" factor in terms of a complex interplay of visual elements tightly synched with the music. But for Pearl Jam, that mandate was offset with the band's directive to focus on the music, and not the "stuff" surrounding it.
Another factor that had to be considered as the look of the show took place — the sheer quantity and artistic range of the music that the band has produced since it formed in Seattle back in 1990. As lighting designer and director Kille Knobel notes, the band would typically play "upwards of a hundred different songs a week on tour," and "no set list is ever the same."
Kille Knobel, Lighting Designer & Director
"I first started working with Pearl Jam in 2000 as the operator and programmer for the tour. The next time they went out they asked me to design the tour and I've been designing the lighting and running it ever since. The lighting and overall production of the tour have evolved in a big way since then, but it's happened in small steps with each successive tour growing a little bit at a time. This tour is certainly the biggest production we've ever had and was more than a baby step in terms of adding production, but the band was ready for something new and was interested in bringing more visual elements into the production other than lighting and various backdrops. The band's priority has always been and still is that the show is about the music, not the 'stuff.' The mission for production designer Spike Brant and I was to grow the show in a way that still felt like Pearl Jam, which is a music-centric show with an organic feel, not a production-centric show that is slick and shiny.
"Spike (Brant) has been working with the band on and off for a long time. He even did a Pearl Jam tour as a lampy back in the day, so he knows the guys and crew personally and is very sensitive to the priorities of what their live shows are all about. He and his partner Justin Collie are old pals, which made the collaboration process a real high point for me personally. We met with the band while they were in LA, working on their record, and had a great brainstorming session. Everyone in the band had ideas, and every element that is onstage now originated from those ideas in that initial meeting. You leave a meeting like that going, 'I get why these guys have been together 23 years' — their mutual respect for each other's contributions and the democracy of the band was really evident in the process. We knew we wouldn't get a lot of back-and-forth exchanges, because the band was knee deep in getting their album out, so we really wanted to make sure when we had things to present to the band, it was concise and easy for them to chose what they liked and didn't like.
"Spike and Justin, as well as their associate designers Sara Musselman and Benny Or at Performance Environment Design Group, were involved in brainstorming and conceptualizing our interpretation of what transpired in our band meeting. We had many, many meetings internally, but only a couple presentations were made to the band. The major elements included a large sculptural motion controlled 'bird,' oversized lighting orbs on winches (including one Eddie Vedder is lifted on), small floor lighting orbs and lighting. The band was thrilled with the outcome, and we really didn't make any major changes from what was on paper through final execution.
"This is a band where no amount of programming time is ever enough. They have a catalogue of hundreds of songs, and they play upwards of a hundred different songs a week on tour. No set list is ever the same and we find out what they are playing just before the show, the night of the show. You can't have all this technology and sophistication and then busk it the whole night. Scrappy around the edges is fine and even desired at times, but not all night — you have to be able to nuance the work to create the drama. We had about two weeks split between programming at Upstaging over the summer and then in rehearsals in Canada, followed by another 10 days in the fall. Eric Marchwinski, a phenomenally talented programmer, was with me throughout. We worked at a relentless pace, and by the start of the fall tour, we had about 100 songs programmed. I've found over time that we really need that much visually cultivated material in the can to choose from for a three-plus-hour show that is different every night.
"One thing I asked the band to re-consider was the use of truss spots. I use a lot of color keys, and the band hates being blinded all night by FOH spots, so I have to use them judiciously and, in the past, I have relied on keys from a front truss. Occasionally Eddie (Vedder) plays a game of cat and mouse, trying to escape the truss spot, but it's been very successful and given me so many more choices in key lighting and balancing the band. This tour is the first time we have carried video for I-Mag, and accomplishing the relationship between what looks good live as well as on camera would have been a real challenge without the side truss spots.
"The lighting rig is considerably bigger than ones we've had in the past, but it's very streamlined and looks surprisingly sparse despite the fact we have the United Nations of fixtures types up there. The greatest compliment we get is how simple and minimal the lighting rig looks, and the surprise of seeing all the power and layers to play with once it's turned on. The lighting rig doesn't make a statement in and of itself, and that was our intention.
"The band had the idea to create these oversized lighting fixtures/orbs as a scenic element. Spike worked in painstaking detail with Tait Towers, who fabricated the fixtures, to find the right finish, shape, size and quality. We wanted them to feel antique, yet have the versatility of color changing from an LED source. The diffusion cone around the LED, as well as the color and opacity of the orb finish, was critical in dampening some of the digital feel of the LED tape. The large ones are all hung on winches so we can vary their height in each song, [complemented with] smaller ones on the floor to continue the story.
"As for the meat and potatoes of the lighting rig, I tend to make lighting fixture choices based more on utilitarian functionality and versatility. Because of the extensive song catalogue that needs to get programmed, I need lights that can do a lot of different things and are not one-trick ponies. There are a lot of different conventional fixtures in this rig but there is simply no substitute for the warm, comfortable, gritty, organic quality of tungsten. It just works for this band. I have to use it while I can; I can't believe countries are actually trying to ban it.
"All Access provided the rolling stage and built our custom drum riser while Tait Towers built all the scenic elements and provided the motion control. The folks at Tait Towers are not only unparalleled engineers, but true artists. They took the sketches from Spike to another level with their contributions in the creation of these art pieces. Spike worked very closely with [the Tait team], visiting in person and going back and forth on every prototype they created. In true Tait engineering form, the "bird" looks like it weighs several tons when, in fact, one person could pick up a section of it.
"Tait also provided all the automation for the "bird" — three lighting trusses and orbs. We are running all the winches and moving motors through the lighting console. The winch system was something they had done for Spike on Bon Jovi, but they had never done it with their Nav Hoists. We run the data through their Navigator control system so there is always redundant backup, control and safety override, but the system is actually being controlled and driven by the lighting console. Working out the setup was quite complex, but thanks to
Eric's über -advanced programming skills on the MA2 and some seriously brilliant Tait guys working out the x's and o's we were able to work out the kinks in rehearsals and the system has been flawless. It's fantastic to be able to program motors and winches as you would a light, as well as the ease of editing that comes with that console control. Writing something like a wave motion is just a couple seconds of programming in the effects engine and your done, doing some of the more complex moves on a traditional moving motor system would be very difficult.
"It was our first time using Upstaging. John Huddleston took great care of us, sending us the best gear and crew. We were heavily pampered while programming at Upstaging, which goes a long way when you are doing 15 hour days every day. Upstaging really excels in packaging systems, and it shows at every load in/out with the ease in which the system goes together and comes apart. Every day was a pleasure to work with such professionals who's mission was to make sure we had the best possible show every night. They also tolerated my detailed oriented daily requests with a smile! My longtime crew chief Dan McDonough was back at the helm. He's the perfect ambassador — gets along with everyone, never ever loses his cool. The day he decides he's done touring might have to be the day I stop, too, because I can't imagine doing this without him. Also, Eric [Marchwinski]'s artistic and technical contribution to the show cannot be overstated. We were asking the console to do things your typical show does not require, and Eric enthusiastically made it his mission to figure out how best to do it. Looking at this show file would make a lot of seasoned programmer's heads hurt. This show is successful not because of a few people, but the entire team of talent we have in all departments — lighting, sound, video, automation, rigging, carpentry, production.
"The band's music is diverse, and the lighting has to be similarly diverse — you go from a punker tune where you can do the whole song with some scoops to a complicated melodic tune to a full-fledged rock anthem. We are very selective in the choices we make about when to create a lot of visual energy. Because we abstain from constant freneticism, when we do chose to do it I think it makes those moments more powerful, and that is quintessentially Pearl Jam. As the band themselves said in rehearsals — it's a beautiful car, but you don't always have to drive it fast."
» Crew
Production Design: Spike Brant/PEDG
Lighting Designer & Director: Kille Knobel
Lighting Programmer: Eric Marchwinski
Lighting Co: Upstaging, Inc.
Lighting Crew Chief: Dan McDonough
Lighting Techs: Josh Henderson, Joe McDonnell, Christina Sepulveda, Josh Wagner, Steve Wojda
Staging Cos: All Access Staging,
Tait Towers
Scenic/Automation: Tait Towers
Automation: Robert Flood, Al Gregor, Kevin Donnelly
Production Manager: Liz Burns
Tour Manager: Mark Smith
Stage Manager: Mat Burden
Riggers: Steve Chambers, William
Stone Sypher
Trucking: Roadshow Services
» Gear
2 grandMA2 Full Size consoles w/wing
28 Clay Paky Alpha Spot HPE 1500
12 Vari*Lite VL3515 Spots
5 Vari*Lite VL3015 LT Spots
8 Vari*Lite VL3500 FX Wash fixtures
28 Clay Paky Sharpy Wash fixtures
49 GLP impression X4 LED fixtures
58 GLP impression X4S LED fixtures
2 Color Kinetics ColorBlast TRX fixtures
11 Atomic Strobes w/ Color Changers
11 SGM x-5 Strobes
15 Pixel Pro 15' LED Strings
8 1K 18" Scoop fixtures
8 1K Pallas fixtures
4 Barger 6-lites (1K)
8 VNSP 1K PAR 64 fixtures
16 1-meter Sunstrips
64 2-lite DWE Molefays
28 4-lite DWE Molefays
10 Nav Hoists from Tait
9 PDL Micro Winches
1 T-Winch
1 Tait Navigator Control System
10 Custom Large Teardrop LED from Tait
30 Custom Small LED Units from Tait
4 Reel EFX DF-50 Diffusion hazers
6 Lycian M2 short throw spotlights
For more Pearl Jam tour photos by Steve Jennings, go to: www.plsn.me/PearlJamExtras2014
Leave a Comment: