St. Vincent "Fear the Future Tour"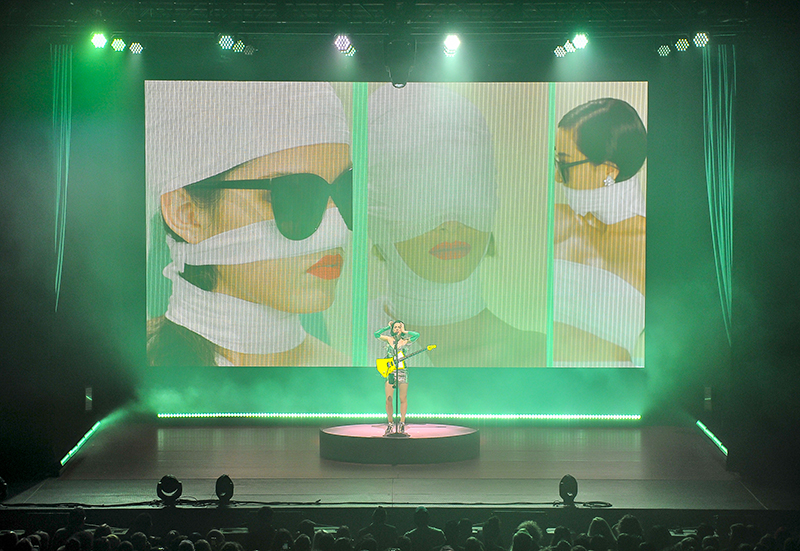 Creative director and scenic designer Willo Perron (Drake, Lady Gaga, Jay-Z), worked with choreographer and show director Annie-B Parson (David Byrne, Laurie Anderson, David Bowie) to collaborate on the "Fear the Future Tour" with singer-songwriter and multi-instrumentalist Anne Erin "Annie" Clark (better known by her stage name, St. Vincent.) We spoke with the tour lighting and production designer Jesse Blevins (Jay Z, Rihanna, Demi Lovato, Lenny Kravitz) and lighting director and programmer Meagan Metcalf (Sheryl Crow, Fleet Foxes, Metric, Chromeo) to get some insight on the show.
Jesse Blevins mentions he was initially brought into the mix by Perron, the creative director of the tour. "I've had the pleasure of attaching myself to some great, and dare-I-say successful projects with him — St. Vincent being one of them. Annie [Clark] was very involved with the process. I was somewhat of a late addition to the team but by the time I was included she and Willo had a pretty clear idea as to what they wanted the show to be."
There had to be some small tweaks to fit within the logistical guidelines of the tour, but not many, Jesse notes. "Of course, as ideas become reality, there are always a few things you find you want to do differently, but, for the most part, by the time we got into rehearsals, the show was on paper — we just had to produce it."
A Clear Focus
The show is 100-percent centered around Annie. "Obviously, she's the centerpiece but she's also literally the only piece." While there were a few things to address from a lighting perspective, goal number one was to make sure Annie never got lost or buried in the production.
Although there wasn't a huge fixture count, they had all that they needed and were able to really fill the stage and produce full, strong looks. "A couple of things I think were key in enabling us to achieve that was an even distribution of fixtures throughout the stage, and keeping fixture types to a minimum. Even distribution reduces the size of the negative space [large black holes] and maximizes the number of light angles you have to work with, and it's my opinion that any number of one fixture type [groupings] always looks much bigger than the same number of multiple fixture types. Differences in source size, color temp and color quality can be distracting and draw attention. And smoke really helps, too."
Blevins says Metcalf was there before he was to do a one-off in Japan. He expands on her role. "Production and management were keen to keep her around and it's obvious why, she f-ing rocks! She immediately picked up the direction of the show, nailed the cueing and was very fast. I was wrapping up another gig over the first couple of days of previz, and by the time I showed up, she had cued and timecoded nearly half the show. I just left her to it. She'd show me progress daily, I'd give notes (few and far between), she'd address and move forward. She really deserves a lot of credit for the final product. To top it off, it was a pretty tough schedule for her, and she did it all with a smile and positive attitude. I really look forward to working with her again."
Metcalf was contacted for the tour by Andy Hayward (who was with Annie's previous management company) to design, program and operate a one-off show — Summer Sonic in Tokyo last August — prior to the Masseduction album release in October. "Andy and I worked together on a Death Cab for Cutie tour, but I hadn't worked with anyone on the production team. Things went well in Tokyo, and I was asked to continue on with the tour."
She had about 10 days total (five in previz, five with the rig, in rehearsal) to program the entire show. A good chunk of it was cloned over from the Tokyo show, which gave her a solid head start. "Jesse pretty much left me to run with the programming. He and I quickly developed a great rapport. We have similar taste and styles, and that made working together a breeze. His notes were always insightful and straight to the point."
An Orderly Set List
Another thing that helped: The set list was almost completely locked before she started programming. The concept of the show is rooted in the set list. Annie plays the songs in chronological order of their release as the stage unfolds and it reveals more visual elements. One song was dropped from the first act during rehearsals, notes Metcalf, but there was nothing added or rearranged.
"I'm very happy with the GLP fixtures we have," Metcalf says. "I put the same upstage row of X4 Bars on the design for the Tokyo show, which was helpful with programming this version of the show. I have been a big fan of the X4 Bar for a while now. I've used them on a lot of shows over the last few years, and it's certainly the fixture I get the most comments about on this show. Competing with the output of a video wall is always a challenge, so I do wish a brighter version was available, but overall, they are one of my favorite fixtures on the market. We also used the X4 Impression for our flown fixtures, which made matching color palettes very easy.
"Annie is an absolute pleasure to work with," Metcalf continues. "Her ability to play through strobes is very impressive. Honestly, I was surprised that she didn't ask me to tone anything down. There were two places where I had full blackouts, and she asked me to keep a touch of light so she can see, but I can't recall any other changes she requested.
"I don't remember exactly how it happened, but in a happy-accident scenario, she came down off her riser one night during 'New York.' I saw that it added significant energy to the song, so we chatted about it the next day at sound check, and we've kept that move as part of the show ever since.
"I'd be lying if I said everything was spot-on from the get-go, but cleaning up and evolving the show once it's on the road is my favorite part of the job. We definitely had a good looking show coming out of rehearsals, but it really took until the end of the first two runs before I was really happy with it."
"With all the drapes and the variety of venues they are playing, sight lines can be a daily battle, but other than that, it's pretty straightforward", says Metcalf. "We have an amazing crew, so even when we have to shift things around, it goes quite smoothly." Gallagher Staging provided the circular riser center stage, while Sew What gave a hand with the scenic drapery.
"This is a total dream gig for me for so many reasons. Ever since I discovered Annie's music, I've wanted to work with her. She has a clear artistic vision for everything she does. Her music is so dynamic and expressive. It was easy to cue out the show and then look back and realize there weren't a lot of redundancies. I didn't have to insert diversity into the show as I often do — it just happened organically because of her music."
Metcalf also truly appreciates working with an artist and a creative team that understand how to let a show build. "I have physical access to only five lights in the whole rig for the first two songs. We don't reveal the video wall (the most expensive part of the production) until the second set." The video components were supplied by VER including a 28'w x 16'hi Winvision 9 screen upstage. MBox Director and Studio fed content to wall, while reading timecode from Playback world as well as receiving commands from grandMA2 console via Art-Net for track selection, blackouts and intensity effects. Peron's team made all the content.
"Additionally, I've wanted to pivot away from designing and focus my career on programming — getting a show completely dialed in and then handing it off — which is exactly what I'm doing here. It's a bonus to get to work with a designer of Jesse's caliber on my first gig in that specific capacity.
"To gush just a little bit more, we have such an amazing crew from VER," which provided lighting and video gear for the tour. "I have to give a special shout-out to our lighting tech, Jim Meredith, for his ability to take my need for perfection with a smile on a daily basis," Metcalf adds. "Everyone on this show is talented, dedicated and hard-working. All the departments work well together, and there aren't any oversized egos to manage. It's really a rare and sincere pleasure."
St. Vincent "Fear the Future Tour"
Crew
Creative Direction/Scenic Design: Willo Perron & Associates
Choreography/Show Direction: Annie-B Parson
Lighting/Production Designer: Jesse Blevins
Lighting Director and Programmer: Meagan Metcalf
Lighting/Video Co: VER
Lighting Crew Chief: Jim Meredith
Video Director: Radu Iftimie
Video Tech: Alex Gibson
Video Content: Willo Perron & Associates
Tour Manager: Britton Billik
Production Manager: Javier Alcaraz
Stage Manager: Lenny Rogers
Staging: Gallagher Staging
Soft Goods: Sew What?
Gear
2               grandMA2 full-size consoles
22            GLP X4 Impressions
18            GLP X4 Bar20s
4               Solaris Flares
2               Robe BMFL Blades
2               DF-50 hazers
2               JEM AF1 mk II fans
2               Ultratec Radiance hazers
1               28'x16' Win 9 Air LED Wall
1               Video control setup w/MBox Director and Studio
More St. Vincent "Fear the Future Tour" photos by Steve Jennings:
ST. VINCENT © Steve Jennings
ST. VINCENT © Steve Jennings
ST. VINCENT © Steve Jennings
ST. VINCENT © Steve Jennings
ST. VINCENT © Steve Jennings
ST. VINCENT © Steve Jennings
ST. VINCENT © Steve Jennings
ST. VINCENT © Steve Jennings
ST. VINCENT © Steve Jennings
ST. VINCENT © Steve Jennings
ST. VINCENT © Steve Jennings
ST. VINCENT © Steve Jennings
ST. VINCENT © Steve Jennings
ST. VINCENT © Steve Jennings
ST. VINCENT © Steve Jennings
ST. VINCENT © Steve Jennings
ST. VINCENT © Steve Jennings
ST. VINCENT © Steve Jennings
ST. VINCENT © Steve Jennings
ST. VINCENT © Steve Jennings
ST. VINCENT © Steve Jennings
ST. VINCENT © Steve Jennings
ST. VINCENT © Steve Jennings
ST. VINCENT © Steve Jennings
ST. VINCENT © Steve Jennings
ST. VINCENT © Steve Jennings
ST. VINCENT © Steve Jennings
ST. VINCENT © Steve Jennings
ST. VINCENT © Steve Jennings
ST. VINCENT © Steve Jennings
ST. VINCENT © Steve Jennings
ST. VINCENT © Steve Jennings
ST. VINCENT © Steve Jennings
ST. VINCENT © Steve Jennings
ST. VINCENT © Steve Jennings
ST. VINCENT © Steve Jennings
ST. VINCENT © Steve Jennings
ST. VINCENT © Steve Jennings
ST. VINCENT © Steve Jennings
ST. VINCENT © Steve Jennings
ST. VINCENT © Steve Jennings
ST. VINCENT © Steve Jennings
ST. VINCENT © Steve Jennings
ST. VINCENT © Steve Jennings
ST. VINCENT © Steve Jennings
Leave a Comment: