Capturing Imagine Dragons on Film; More TV, Movie and Video News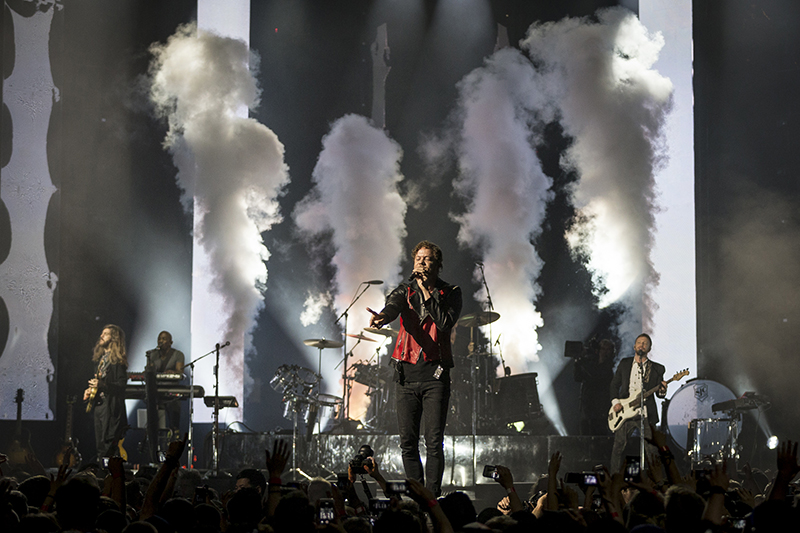 The Imagine Dragons film, Smoke + Mirrors Live, uses scenes captured at their Toronto show on July 4, 2015. The movie premiered for one night only March 2 in select cinemas worldwide. It's now available on Blu-Ray. Imagine Dragons LD Sooner Routhier and lighting director Mitchell Schellenger worked with film director Dick Carruthers, director of photography Rob Scarborough and a film crew of about 45 people with an audience lighting package to help make the live show appealing to the cameras.
Schellenger, experienced at adapting concerts for the camera, offered PLSN some insight.
"The main thing to remember is that we are representing the show in just that, its live form," Schellenger said. "We wanted to capture what the show looked like in an arena, and bring it to viewers in theaters and at home. Without altering the look of the show, we did need to make some adjustments so it was camera friendly. One of the first things we consider is audience lighting," he added.
Though concert fans can see faces in crowds easily with little light, the camera cannot. A "significant amount" of extra light was needed, he noted. "Every 'live to film' shoot I have ever done, I always remember thinking 'damn, it's bright in here' and then glancing back at my multi-view monitor and being satisfied again."
Audience lighting is needed to get not only closeups of the faces but also to capture the mood of the crowd, which enhances the film viewer's experience.
For additional audience lighting, Schellenger tells how he and Routhier used a second console to clone much of the show programming and how they had a page set up on it to make adjustments and do minor overrides. Routhier sat at that console during the show, and Schellenger ran the concert as usual, except for the spot calls.
"Spotlights are always a key player on a film shoot," Schellenger said. "I spent quite a while with the director of photography metering the spots and adding additional sheets of ND (neutral density) filters, getting them to all look uniform. We also added two additional spots and shot them all at a much steeper angle than we normally would. We created a chart so that the camera ops could be at certain angles while the opposing spots were on and vice versa to get some really cool spotlight looks and silhouettes and such. In addition to the additional audience lighting and spot adjustments, we also created a much more in-depth set of inhibitors so we could adjust the intensities of our rig without interfering with the show programming."
A pre-showtime meeting allowed everyone involved to discuss the goals of the shoot. "During the show, the director did his live cut from FOH and the DP was with us; we all had communication and monitors so we could all see what the camera was seeing and we could discuss and make changes as the show progressed," Schellenger noted.
Dick Carruthers, the film's director, posted a backstage blog on the Imagine Dragons film website, detailing their use of the 4K digital cinema cameras — 13 of the Sony 55s — for a narrow depth of field, producing a cinematic, dramatic look. Carruthers also lauded Schellenger, Routhier and the rest of the crew for a job well done, calling the light show "truly beautiful." The Imagine Dragons stage show, he added, "features moving vertical video screens and moving lights trusses, with a wide variety of looks and scenes and dramatic use of color. But above all, it is the timing in the way the lights have been programmed that really shapes and punctuates the music. I have seen thousands of live shows and seen the brilliant use of lights by the best in the business, and I can confidently say that the Imagine Dragons Smoke + Mirrors Tour is up there with the very best. Just watch the film, and I hope you will agree!"
Quick Cues
Mumford & Sons LD Ed Warren designed the lights for a couple of music videos. And by that, he literally means he designed the fixtures. Can you say Par Cans with LED rings? View the video at plsn.me/EdWarren2016.
LD Kieran Healy is "dimming the lights" on American Idol: The Farewell Season, ending April 7. "It is the end of an era; 14 years of my life, and it has been a great show to work on," Healy said.
Han Henze literally went underground as lighting director/programmer for LD Allen Branton on the Bluegrass Underground shoot for PBS in March. The venue is in the Cumberland Caverns, 333 feet below McMinnville, TN. Henze is also programming for LD Mike Swinford on CMT Crossroads featuring Cheap Trick and Jennifer Nettles. Henze continues the ongoing CMT studio tapings of Hot 20 Countdown featuring his own lighting design.
LD Bud Horowitz noted that Yanni Live at the Pyramids: The Dream Concert aired in March on PBS. View the entire show at plsn.me/yanniPyramid.
LD Marc Janowitz designed the lighting for Louis CK's new series, Horace and Pete. It is still shooting now; each episode is released weekly at 10 am Saturdays on Louis' website. Janowitz also served as broadcast lighting designer for Bo Burnham — Live at the Capitol Theatre for Netflix back in December. It's slated for a spring release.
Laura Frank of Luminous FX is screens producer on BET's Black Girls Rock!, set to shoot April 1. "We have an excellent set designed by Anne Brahic," she says.
On a day off during Carly Rae Jepsen's tour, LD Charles Ford flew to Los Angeles to light CeeLo Green: Live from L.A. The show, produced from Green's performance at the Ace Theatre for
DirecTV's Audience channel, first aired March 11.
It's a Marvel-ous life for LD Scott Barnes, who has been swept away from LA on a slew of Marvel Studio film shoots. Late last year he worked on The Conjuring 2 at Warner Bros. until Thanksgiving. At the beginning of this year, he started Guardians of the Galaxy, Vol. 2 in Atlanta, which wraps near the end of June. This fall, he'll return to Atlanta to start Avengers: Infinity War, Part 1 and 2. Finally, on May 6, he will see the release of Captain America: Civil War. Check the preview at plsn.me/AmCivWar.
LD Jon Pollak is in France working on The Waiting Room, a multi-media presentation from band Tindersticks. He and the band were just outside Brussels when the bombs went off on March 22; both he and the band are okay. Learn more about his gig at plsn.me/tinWait.
Debi's focus shifts back from NAB Show-relevant news to general live touring in May. Keep her posted on your 2016 touring season plans. Reach her at dmoen@plsn.com.
Leave a Comment: