Newbie LD Bruce Rodgers, Phish's Sticks, Thirty Seconds of More Summer Tours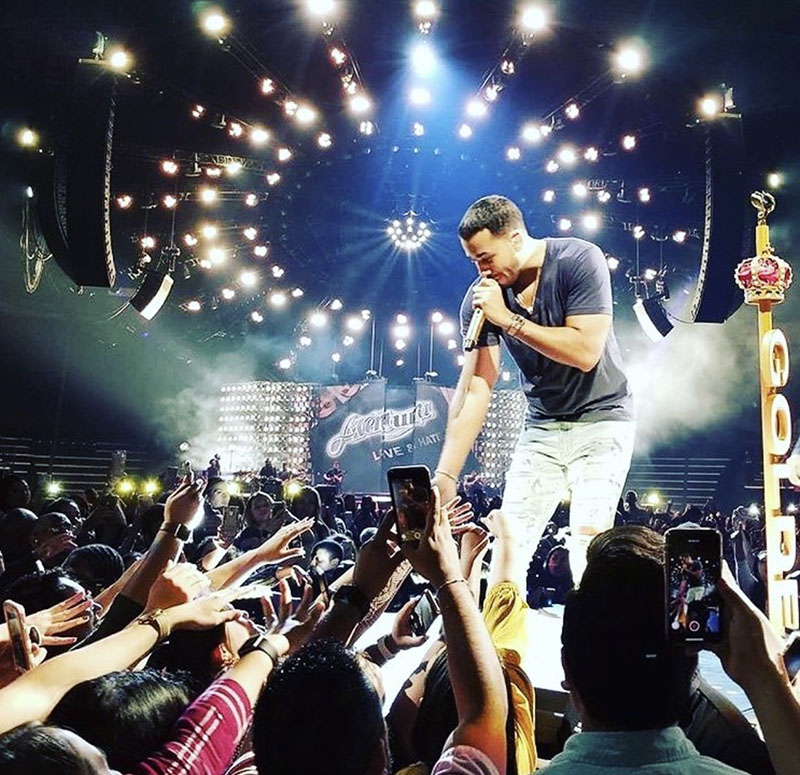 Look out, there's a new lighting designer on the scene, but he already has a stellar reputation. Meet Bruce Rodgers of Tribe Design, newbie LD for Romeo Santos — a.k.a. The King of Bachata. This genre of music features a syncopated rhythm that fuses Bolero and African musical elements.
"Romeo Santos gave me an opportunity to take what I've learned from 30 years of working alongside great lighting designers to bring my own vision to life," the production designer of many Super Bowl Halftime Shows told us, "but it took an amazing collaborative team to pull it off."
Rodgers says his first chance to sit in the LD's chair "was exhilarating and challenging all at once. In a way, I've learned years of lighting design from a production designer's point of view. I've learned that every part of a production design should be based in the presentation of light."
As a production designer, his first step is to previsualize the look and feel of a given show through renderings — and that always includes lighting. "I'm from an earlier school of renderings and sketching and combine hand sketching and painting with Photoshop, model photography and other forms of computer support, but the feel of my sketches is mainly hand drawn."
Along with a list of "group effort" credits, he points out his programmers Felix Peralta and Jorge Caraballo. "And yes — more lighting design in my future!"
‡‡         Phish's Sticks
LD Chris Kuroda is spending three weeks in the previz studio with Andrew Giffin programming Phish's 2018 Summer Tour. "We have 60 hoists that work with 30 independent sticks of truss moving all over the map creating shapes and executing dynamic movement chases throughout the night. We also have the ability to go completely vertical with our trusses. It is quite impressive," he notes. The U.S. tour runs July 17 through Labor Day Weekend.
‡‡         Thirty Seconds of More Summer Tours
Thirty Seconds to Mars lighting director
Emily Bornt turned over her directing duties to Greg Ellis after two European legs, along with TV and festival appearances with the group. John McGuire designed the production. Meanwhile, Bornt just finished programming and operating 10 episodes of new Nickelodeon game show, Drop That Seat, with lighting designed by Tom Kenny. Starting mid-July, she goes out as lighting director for Metric, designed and programmed by Meagan Metcalf.
‡‡         Quick Cues
Mac Mosier is LD/lighting director for Chris Stapleton, supporting The Eagles. He tells us that Troy Eckerman did some of the initial programming prior to Mosier taking it over…
Rock band Coheed and Cambria and emo-pop group Taking Back Sunday are co-headlining a summer tour. LDs Michael Hionis (C+C) and Eric Price (TBS) hit U.S. amphitheaters July 6 to mid-August…
Livelight Design's Chris Cockrill resumed as LD with Zac Brown Band's tour of amphitheaters and ballparks through September. He's also working with Keb' Mo' again including gigs as TajMo — the bluesman's Grammy-winning collaboration with Taj Mahal…
LD Michael Duncan is rockin' the console with Brian Setzer's Rockabilly Riot tour. In August, he takes over lighting director duties for Joel Reiff on Alice Cooper's tour. Now overseas with the Hollywood Vampires, Reiff needs Duncan's help when he jumps back to Jason Mraz for his eight-week run. Reiff returns to Alice in October. "Nice year I'm having!" a busy Reiff reports…
So Midwest's Robb Jibson was "busy busting out content" for spring tours with musical artists Kesha (for Creative Lumens) and Max, and working on some "pretty fun corporates." Jibson's gearing up for the next leg of Fall Out Boy's Mania arena tour in August, which includes headlining U.K. festivals at Leeds and Reading…
Chris Lose is programming Dustin Lynch's new tour for LD Alex Reardon…
Kai Colucci continues touring with Rainbow Kitten Surprise, carrying out the lighting looks for Cour Design's Erik Anderson and Gordon Droitcour…
Mark Butts of Preset Productions is handling the production and lighting design for a long-form Jeep commercial, which features a live performance at the Greek Theatre in Los Angeles…
LD Bryan Hartley is on a six-week European festival run with Megadeth…
Jack Davis programmed the tour for
Canadian electronic duo Chromeo for LD
Tobias Rylander…
LD Mark "Junior" Jacobson has picked up the lighting director duties for Brit Floyd this summer…
Longtime Doobie Brothers LD Steve Owens has returned to the tour after some years off. The band co-headlines with Steely Dan (lit by LD Steve Baird)…
LD Andre Huff of Limelite Design Service embarked on Martina McBride's summer circuit with a new rig…
LD David "Gurn" Kaniski is globe-trekking with Jeff Beck, returning to the U.S. in July…
After Europe, LD Don Weeks returns to the U.S. with YES on their 50th Anniversary tour until July 28…
Mitchell Schellenger handled the production design, lighting design and creative direction for Imagine Dragons' Evolve tour. While Sarah "Sparks" Parker directs the Dragons, Schellenger designed Diplo's festival tour production…
Scott O'Connor designed and programmed Dirty Heads (along with lighting director Westley Palmer), which ran through June, and Slightly Stoopid, which plays June through August…
LD Jonny "Tosar" Tosarello says Lynyrd Skynyrd has put the pedal to the metal for their "Last of the Street Survivors Farewell Tour" with dates through December…
LD Bud Horowitz travels the U.S. with Yanni through Aug. 5. Then, in October, he will be traveling to Uzbekistan, Indonesia and South Korea. (The artist, in case you were wondering, says he definitely hears "Yanni" and not "Laurel")…
Lightswitch LD Chris Medvitz reports in of their completed lighting designs for Nintendo at the E3 video game trade show, along with Nintendo's summer invitational gaming competition, and Electronic Arts' EA Play event and gaming experience. Lightswitch client Lionel Richie continues dancing on the ceiling, returning to Las Vegas' Planet Hollywood this fall.
Keep Debi posted about your late-summer gigs. Reach her at dmoen@plsn.com.
Romeo Santos Golden tour photo courtesy Tribe
Leave a Comment: