Touring News on MGMT, Aerosmith, Bleachers, Pixies — and Reiff's Reads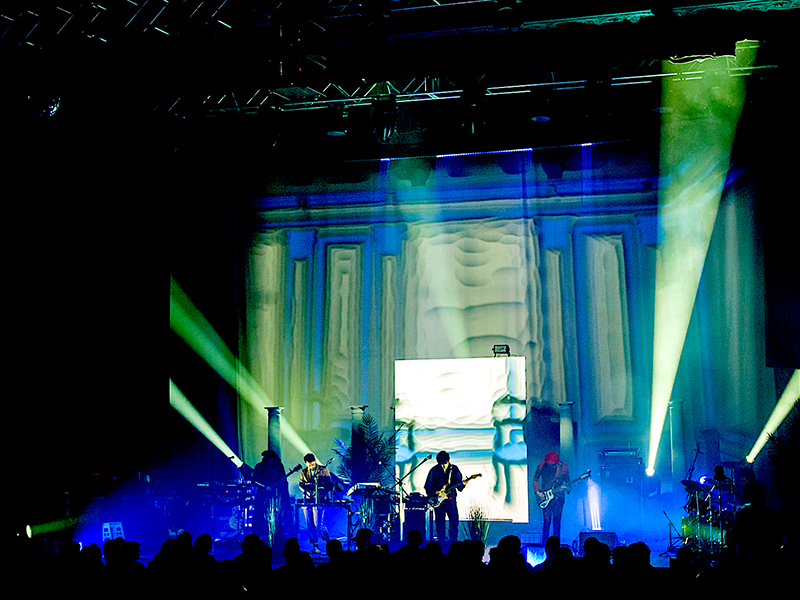 American synth-pop band MGMT kicked off their new U.S. tour in March and continue in May, taking it worldwide through 2018. LD Susanne Sasic is the designer and creative director, handling sets, lights, overall production as well as art direction and video content.
Sasic explains her theater-sized design. "The centerpiece is the 'monolith,' a freestanding high resolution LED screen set center stage. An additional layer of video is projected onto a surface upstage, with a floor light package and various set pieces completing the design."
All video visuals were custom created for the tour. Alejandro Crawford, longtime MGMT visual collaborator, created custom video projection software and original video content. Others video content creators are Mike Burakoff, Jamie Dutcher, Brian Harney, Nate Axel and David Macnutt. Lighting director Riccardo Rojas programmed and runs the show, while Austion Woolfolk programmed and runs the video.
‡‡         Cosmo Walks This Way
LD Cosmo Wilson's work schedule revolves all around Aerosmith, together and apart. "Aerosmith only has one show scheduled, and that's at the New Orleans Jazz & Heritage Festival — but funny enough — there's no lighting, as the show is over before sunset! Wish me luck with that one!" Cosmo jokes. "I guess I'll just have to go and wear my Hawaiian shirt!"
Meanwhile, band member Steven Tyler is embarking on a U.S. and European tour with his country solo project, with his backing band Loving Mary. Cosmo says Tyler performs an assortment of his newer material, some old covers and a lot of Aerosmith, "or as I call it: Aerosmith with a Banjo." It starts in the U.S. in June and carries into Europe through August.
Then there's Joe Perry's solo project. "We did a show in Hollywood at the Roxy, but he is doing a run of dates in New England starting mid-April. Joe had an all-star band in Hollywood, while the New England run has Gary Cherone singing and Brad Whitford on guitar."
‡‡         Reiff Reviews his New Fiction
Looking for a good read to fill those down hours between load-in and showtime? LD/writer Joel Reiff recommends his two new original works of fiction. The Best Thing About Dying is a tale of espionage and covert betrayals. And in The Trophy Life, a New Yorker goes missing on the 29th of each month, leaving only a jumble of letters in their wake, while a female detective is the only one who can track them down. (Both books are available through the usual sales channels.)
While Reiff waits on "sales and some major computer hacking" to make that New York Times Bestseller List, he's paying the daily bills out on the "Paranormal Evening with Alice Cooper" tour. A Hollywood Vampires tour follows (where Reiff will be joined by lighting/video guy turned tour manager David Davidian) from late May to July 8, with most dates overseas.
‡‡         Touring Trouper
Lighting director Joey Troup has been filling in on some Nick Jonas shows, including the Popspring Festival in Tokyo. Next up, along with Earlybird Visual, he serves as lighting director/board op with Camila Cabello (former founding member of Fifth Harmony) for her upcoming "Never Be the Same" tour, and support for Taylor Swift on her Reputation stadium tour. "Funny enough, this is the second time I've found myself in the support LD slot for Taylor, after Vance Joy opened on her 1989 tour" in 2015, Troup notes.
‡‡         Quick Cues
LD Myles Mangino is immersed on the site design for Minus Zero Winter Sports & Music Festival. The April 6-8 event features three stages on the ski slopes of Vermont's Mount Snow. While chilling out there, he's keeping warm creating a lighting and set design for the Pixies co-headlining summer shed tour with Weezer across the U.S. and Canada.
LD Erich Meitzner is designing and programming an updated rig for pop band Bleachers for their March/April opening dates with P!NK's Beautiful Trauma world tour. (See related story, this issue, page 28.) Lighting director is Corey Moses.
LD Eric Cathcart travels with hard rock/blues band Greta Van Fleet starting with their April dates at Coachella. "I have designed a floor package that I will be touring with up until the new year, when the plan is to be playing arenas and carrying full production," he tells us.
LD Keith Hoagland of CKP recently designed and operated the lighting system for Nashville's Country Radio Seminar 2018, featuring Jason Aldean, Sugarland, Thomas Rhett, Brett Young and others.
LD Marc Janowitz — as production manager and LD for Flight of the Conchords' 28-show tour in the U.K. — made it through about half of the dates when Bret McKenzie, half of the musical comedy duo, injured his hand, forcing the cancellation of the tour. This also postponed their HBO special at the Hammersmith Apollo. "Though I'd have preferred to have finished FOTC, coming home early isn't so bad right now," Janowitz says, citing a special shoot for Adam Sandler next month and a design for Dispatch's summer tour.
LD Carl Burnett takes Robert Plant's Carry Fire world tour to Australia for three weeks in April, then to Europe and back to the U.S. for a shed tour in June.
John Fogerty's LD Alex Skowron and ZZ Top's LD Gabriel Hodge have joined forces to design the co-headlining "Blues & Bayous" tour. Before the May 25 kick-off, the LDs and their bands perform short residencies in Las Vegas: ZZ Top at The Venetian Theatre, and Fogerty at the Wynn.
David "Gurn" Kaniski and Jared Trinnaman are sharing lighting design ideas for the "Stars Align" tour featuring Jeff Beck, Paul Rodgers of Bad Company and Heart's Ann Wilson. Trinnaman is LD/production designer for Rodgers, and Kaniski is the LD/production designer for Jeff. The tour runs through North America July 18-Aug. 26.
Mandylights' Richard Neville tells us he and Tom Edwards traveled to India to light the 3,000 square-foot Tata Motors stand at the Delhi Auto Expo, while the rest of the team were busy on James Bay and Joey Bada$$ tours.
Share your 2018 tour news with Debi Moen. Reach her at dmoen@plsn.com.
Leave a Comment: