LDI #30 is a Wrap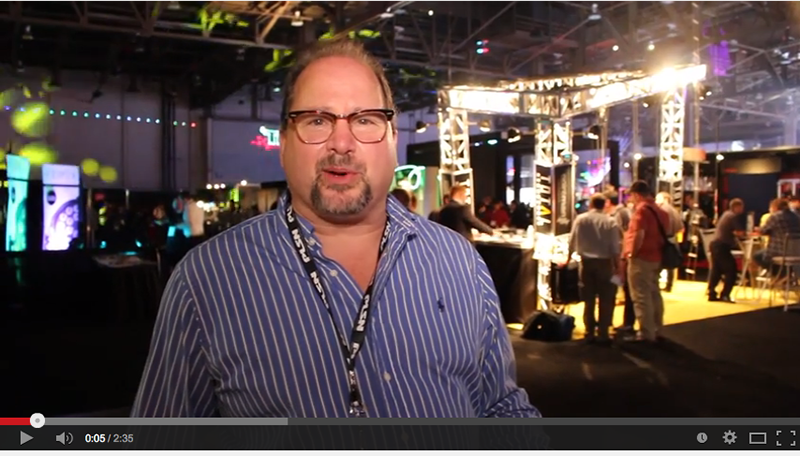 This year, LDI celebrated their 30th anniversary with a great turnout. The show floor was open from Oct 19-21 with close to 400 companies displaying their wares to the 14,000-plus folks in attendance. This year the event, which seems to have found a permanent home in Las Vegas, was moved to the North Hall of the Convention Center — which is smaller than the LVCC's South Hall, where LDI took place last year. Even so, with less unused hall space, the exhibition was said to be bigger, but with fewer steps required to get from one end to the other. I liked the layout and large aisles for people to get through. The entrance to the show floor wasn't mobbed with people trying to get to four large booths that seemed to drown each other out with loud music. It was just a more leisurely way to get to all the gear without bumping shoulders with other attendees.
‡‡         So What Else is New?
There are always a few things that grab my eye on the floor. Lighting wise, I found the best conventional fixture to be the Circa Scoop by Mega-Lite. While it acts as a scoop with a big white COB light, it can turn into a virtual disco fixture with its built in colored LEDs and a ring around the circumference that can do all kinds of things.
Moving light-wise, I loved the Artiste Monet by Elation — simply because of the bold midnight blue color it could mix as well as true Congo and red — something that has been missing for the last ten years it seems. Elation seems to be adding more of their products into the Proteus (waterproof) range, which should be commended.
The HES Solaspot/SolaFrame 3000 was able to achieve great colors along with stunning brightness, but what I liked about their booth was the new prototype of the TurboRay, a wash light that features that same combustion looking engine that the VL5 had 20 years ago — but on steroids. Chauvet had the new COLORado Solo Batten with its unique lens on hand. I was also impressed with the Strike Saber, which has 10 bright cells in a line.
ACT Lighting brought us new fixtures from Ayrton and Claypaky to see, and maintained quite a crowd by showing off the new grandMA3 console. Martin by Harman was showing the Allure, a hard edge light with some unique features that programmers will love.
As far as stage shows go, the Robe booth, with their fire dancers was my favorite booth, but for the best entertainment one had to go to the Blizzard/ModTruss booth that went for a Willy Wonka theme. Folks lined up to check out their new Redstone line of fixtures.
Video-wise, I was most impressed with Vanguard and their ability to make the ultimate roadworthy product, the Tungsten. This video cabinet (see page 85) features a sealant that goes over the LEDs themselves, keeping all moisture (the #1 killer of LED tiles) out. Then they put aluminum corners on the cabinets so the LEDs never hit the ground. If I were the owner of a rental house, I would consider these to get the best bang for my buck.
‡‡         From Video to Wood and Stone
My favorite video structure on the floor goes to ROE Visual. Their Black Marble Floor is the cat's meow. Take one look at the image here and you will see what looks like a nice room with steps, a wooden floor, stonework fascia, etc. This is all video, folks, but the eye cannot tell. Their Diamond tiles showed great contrast and clarity.
Truss-wise, two items caught my eye. The first was the DNA truss offered by Cosmic. It is a twisted truss designed to look like a corkscrew. The other was the Dynamic Stacks Tracks by Area Four Industries' EXE department that deal with motion of all kinds.
Effects-wise, the big news was that lasers can now be run directly from lighting consoles due to new software. As far as effects, I loved the wireless SQP, a product that Le Maitre displayed. It has four canisters of flame effects that can be blasted from battery-operated devices, enabling users to strap these devices to anything they'd like, with no fear of wires.
Lastly, the infamous Circle Bar at the Hard Rock celebrated its last LDI, with Richard Branson among the new owners buying the hotel property. So the big question for next year is, where will all the LDs hang out?
You can hang out with Nook again at NAMM this January, and until then, reach him at nook@plsn.com. For his full LDI show report, turn to page 22.
Leave a Comment: