Lighting a Radio Show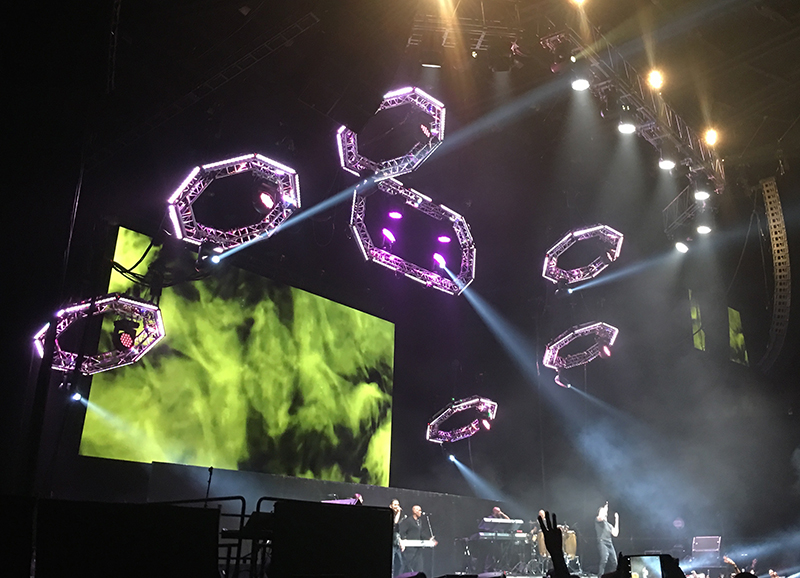 LD Jeffrey W. Pardee Lights REAL 92.3's 2017 "REAL Show" at the L.A. Forum
There was a time when a "radio show" meant an artist appeared in the studio at the radio station to broadcast over the air, "live." In the 1970's, when FM was exploding, New York station WPLJ, along with A&R Studios, broadcast many shows live, helping establish such acts as the Allman Brothers (Aug. 26, 1971) and Elton John (Nov. 17, 1970) to New York-area listeners — just two of many shows that were archived and later released on vinyl and CD.
Not much in the way of lighting was used, which is probably where the old lighting guys comment to the noise boys, "Without lights, it's just a radio show," had its roots.
Radio shows have stepped out of the studio since those days. After PLSN came across a few photos posted by LD Jeffrey W. Pardee of his design work for REAL 92.3's 2017 "REAL Show" at the L.A. Forum, we gave him a call.
Pardee started in theater lighting and was a tech for several touring companies for years, ended up branching into pyro tech work and programming for various pyro shows. His work at Pyro Engineering on a multitude of music festivals gave him the lighting bug again, which led to his return to lighting design. His background has a distinct influence in his radio show design work.
"Radio show events bring a lot of their own challenges," Pardee begins, describing the gigs as "a blend between a tour production and a festival one-off. They are unique in that way, as you have to plan as if you were on one type of show, but program and design as if you were doing an entirely different event."
‡‡         The Five P's
Pardee credits the "Five P's — Prior Planning Prevents Poor Performance" — as key to his success. He begins his designs like he would a full-scale tour — "prepping the rig as much as I can in the shop, using swing wing or pre-rigged truss (PRT) whenever possible, and treat the show as if I am going to be loading in under two hours and show-ready by the three hour mark."
Pardee also designs his rigs to adapt to the type of music the radio station is bringing to the event, using fixtures that can perform multiple tasks.
"I have found that when designing a rig with a solid foundation of great fixtures, there are few-to-no issues with any designer using that rig for the show they have pre-designed," he says. "Typically, these rigs are able to withstand the demands of the festival style lighting as well. Your downstage wash fixture can be used for front- and side-lighting of the artist, or simply [for a] stage color wash, or even a combination of the two. It is important to have a solid fixture that can handle that demand"
As a personal rule, Pardee designs for quality, not quantity, eschewing the use of larger quantities of "cheap" lights. "You can have 300 beams in the rig with 200 spots, where the lighting would be so crazy in-your-face overwhelming. The problem with that, in my opinion, is loss of clarity in the design."
He typically opts instead for "fewer, but solid" fixtures from "the higher-end companies like Elation, Martin and High End Systems," noting that the "cheaper" fixtures "are not typically 'flicker free' and do not have the ability of color temperature correction needed for cameras and photos. Therefore, I just do not use them anymore on these events.
"The design of the lighting upstage of that is what you make of it," Pardee continues. "As long as there is light on stage to see the artists themselves, what you do beyond that is for the audience's enjoyment. But, if the color temp is totally different from upstage to downstage, all of those photos taken of the event will come out bland at best."
Radio shows are essentially promotional events for the artists the station lines up. In the barricade, on stage, everywhere are hundreds of photographers. Cameras will be onsite broadcasting the show as well. That's why Pardee color-corrects for the camera where possible, employing a little TV/film trick he learned when lighting broadcast shows.
"I dial all my color presets differently for the camera. It may not be a vibrant red for the audiences, per se, but your cameras are going to get all those beautiful colors and shots." He works off a live I-Mag feed to accomplish this.
"If I have the option, I will always add Elation fixtures into my design," Pardee continues. "The Platinum Wash 1200 and Platinum FLX fixtures have helped me 'push my vision to the leading edge,'" he adds.
On any given radio station event, the lineups include multiple artists, much like a festival. Anywhere from six to 25 artists appear during a show running only a few hours. Generally, the sets are about 20 minutes, with five-minute changeovers.
"As you can imagine," says Pardee, "this creates a very fast-pace turnaround time on the console, with anywhere from no guest LDs to a full day of 25 guys and gals hovering for their turn to jump on the board."
‡‡         Pardee's Punt Page
Pardee has created a "busking," or punt page, for his own purposes as well saving time for visiting LD's.
"Every artist's LD needs a few minutes on the board to get comfortable with either my extensive busking page or to use my page to PSR/clone their show file to the rig," he says. "Each designer has a new way of doing the same thing and I love learning and collaborating with them. Some of them have opened up my eyes to a new and better way of doing things, growing my own style of busking and programming.
"Bringing to the table several different aspects of lighting design has pushed me to think about so many different issues, how to solve them, and how to design rigs so I can minimize issues in the future," Pardee adds. "I have to think of not only my own needs and style, but also think of the needs of the guest LD walking into a show blind. I need to consider what I can do to make that person's day faster and easier on a festival style show under the time restrictions of a tour one off. Designing and planning lighting for radio show events provides a fun challenge in my career."
To put a slight twist on another '70's expression; "There's nothing better than a …live concert."
The REAL Show (REAL 92.3 – L.A.'s Home for Hip Hop)
Venue: The Forum, Inglewood, CA
Promoter: Live Nation
Director of Production: Eddy Sato
Lighting/Staging Company: Stage-Tech Productions, Santa Fe Springs, CA
Lighting Designer/Programmer: Jeffrey "JW" Pardee
Lead Lighting Tech/Dimmer Beach: Martin Resendiz
Lighting Tech: Coty Southern
Production Coordinator: Kelsey McGill
Turntable Tech: Tyler Guest, Mike Jacobsen
Staging: Jeff Munroe
Video Co: Screenworks
Video Lead/Director: Reynoldo Gonzalez
Live Video Director: Ben Johnson
EIC/ Screenworks Crew Chief: Ryan Ratajczak
LED Techs: Johnnie Kayachi, Frank Serrano, Tyler Raphalian
Camera Operators: Jamie Cantrell, Robby Knouse, Jim Olcovich
Projector Tech: Maria Davidian
Audio: Rat Sound
Local Crew: IATSE 33
Gear
2          grandMA2 consoles
20       Elation Platinum FLX fixtures
16       Elation Platinum Wash 1200's
60       Chroma-Q Color Blocks
58       Blizzard RGBAW ToughSticks
5          Audience Moles
3          Elation eNode8 converters
12       Elation Opto Branch 8 isolators
1          48' stage turntable on rolling 56' x 60' deck
For more information, visit www.jwpardeeld.com and www.stage-tech.com .
Leave a Comment: