Zhu Shines at the Shrine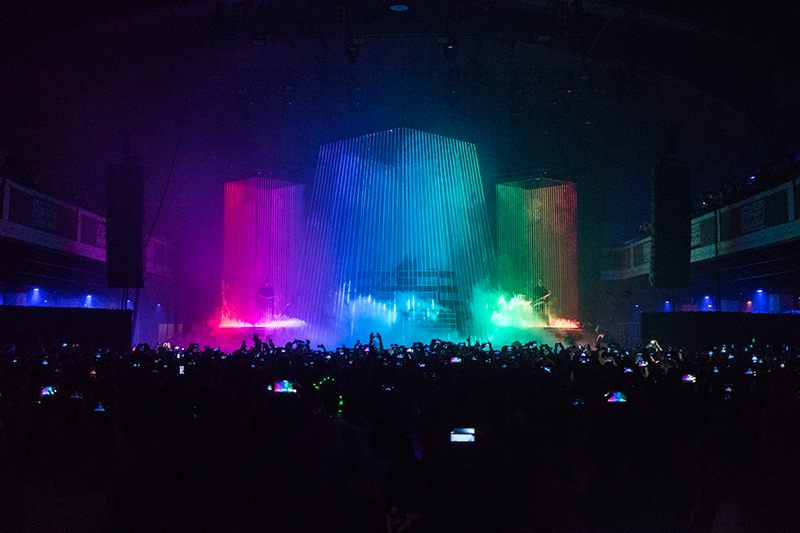 Production Club, a multidisciplinary team who design and produce music-based parties, shows and experiences, collaborated with electronic musician and singer Zhu to debut a new design at The Shrine in Los Angeles in October The event, in support of the artist's new album, Generationwhy, followed Zhu's successful "Neon City" tour, which kicked off at Coachella this year.
Pyrotecnico's BB6 scanning laser arrays highlighted Zhu's new performance direction while still maintaining the air of mystery that this formerly anonymous artist has cultivated in his explosive career.
The Design Team
Corey Johnson, CEO of Production Club, produced the show, and partner Miguel Risueño, CCO of Production Club, served as creative director and show designer.
The two first met when Risueño, from Barcelona, came to visit the U.S. in 2011. Johnson (and partner Vivek Srinivasan) were heavily involved with stage design at the time, producing underground events and parties in the Los Angeles area.
"Miguel and I originally connected on a number of fronts working together because I had production resources in downtown L.A.," Johnson says. "Miguel had a grand concept for a Skrillex tour design that was based on his extensive background and knowledge in music technology and projection mapping."
This concept evolved to become the Skrillex "Mothership" tour. In short order, the two decided to merge teams and form a new company, with Vivek Srinivasan as a third partner and CFO.
"Miguel is an innovative and unique designer," says Johnson, "while my skill set lies on the creative producer side of things. Our work and mindset are very complementary of one another, so it made perfect sense to align our energies and teams." This convergence set the tone of how Production Club would evolve.
Of the company's operational philosophy, Johnson says, "we are people and computers. Our core team of 15 reaches out to an extended network to produce these events. We have a dedicated visual team in house, as one of our core competencies, because so many of our productions rely on visual and symbolic communication. The luxury of a bus and truck tour is not always available. We are often required to pop things up at different festivals on crazy stages all over the world.
"We also design the production in house collaborating with lighting designers such as Cory FitzGerald," adds Johnson, whom they met collaborating on the Mothership tour.
"I have done several shows and collaborations with Production Club," says FitzGerald. "Zhu seemed to be a logical step since I am a fan and they were looking to continue the collaboration."
A Vision Takes Form
"The initial brief for the Shrine was to reproduce the touring show, but on steroids," said Risueño, "which evolved into a very extensive redesign. The two guiding principles Zhu gave us for the Shrine event were that the show must be extremely human and immerse the audience in an eerie atmosphere."
A grand show overhaul, creating all new visuals for the Shrine performance was soon underway. Zhu also wanted to have a big look, with his central platform much more elevated than his usual touring performance platform." The Shrine would have more of a concert feel, more immersive."
This, in itself, was a critical departure from all previous performance presentations by Zhu. From the outset, the artist has always wanted to remain somewhat anonymous, merely a part of the presentation, not the focus of it by performing behind a front projection scrim. The costumes he wears onstage, which he designs, enhance that brand.
Lighting Layers Added
VER provided the lighting gear for the show. In describing his lighting design, FitzGerald says, "To keep the elements of mystery and maintain the musicality we wanted to achieve, we used a few different types of instruments as various forms of shaping back light. I lined the upstage edge of the diamond platforms with three tiers of German Light Products' X4 Bar 20's, which have a tilt function and zoom and are able to form a continuous line of light. This gave us a nice way to backlight the performer's shapes, with options for musical moments.
"We also used [Vari-Lite] VL 4K BeamWash lights to have strong texture, movement and beams to continue the accentuation of the show," FitzGerald continues. "We wanted to keep it in a very noir world so kept the original show in white light only for about 30 minutes, which is a huge deal when looking at other EDM type shows. We really had to focus on the themes of the looks, matching with content and concept and keeping it interesting with only one main color of light for so long. We also had rows of Sharpys for tighter beams and prism effects as well as fast movement."
Overhead, separate box trusses with RTI/Laserworld BB6's over Zhu's riser and Arctos BB10's over the musician's risers mirrored the outline of the three diamond shaped performance platforms. Customized RGB neon flex tubing on Zhu's riser added another scenic element of the show.
"Zhu is smashing the lines that define the electronic music genre, particularly with the addition of saxophone and guitar players onstage; something definitely not found at a typical EDM show," notes lighting director Sam Paine. "He uses lighting and video to support the music, to help give it a body. Working with Cory and Davey Martinez, his programmer, has helped to visualize the cross genre fusion Zhu is creating, since they are so well versed in pop music and rock 'n' roll productions."
The Shrine was no exception.
Operating the Show
Martinez and Paine operated two separate full-size grandMA2 consoles to run lighting playback at FOH. Risueño directed the overall look, calling for different touches to finesse a moment. "Davey did the bulk of time code programming, making sure everything played back properly. He was the backbone of the show's lighting. I handled all incidentals, specials, key lights, audience and FX," says Paine.
Max Nicklas, video director from Production Club, operated the Resolume server. Production club created all the video content on the upstage LED screens. Once again, departing from the usual EDM approach, video content became a scenic backdrop to enhance the overall environment, rather than a visual in-your-face showpiece.
"This is an ever changing and challenging show," Paine says, referring to the fact Zhu is constantly introducing new elements, improvising within a song. Much like the jam base genre of bands, Zhu seeks to provide a different experience for his audience from show to show. This means changes to the show can arrive minutes before, and during, the show itself.
"We use timecode as a baseline, in that we strive to keep beginning and end time of songs somewhat constant to ensure video content hits where it needs to," says Paine. "I rely on cue stacks, but additionally use punt pages on top of that, more than I would normally with a timecoded show. As vibrant an artist as he is, I need to be sure the time code is edited properly, so we can adapt and punt on the fly from there."
"Rocco Vitale at Pyrotecnico takes amazing care of us, "says Johnson. "His style is very complementary to the challenges we deal with in this crazy dance music world, so we use him on all our shows."
Dynamic Laser Arrays
Upon seeing the renderings of the Shrine design, Vitale immediately suggested using their Beam Bar (BB) laser technology, which combines an array of RGB lasers.
The Arctos BB10 produce a static beam from 10 individual apertures. These form the diamond shape cage around the musicians at stage left and right.
Deployed over Zhu's platform is the more dynamic Beam Bar 6 from RTI, a Laserworld company. These beams can move on the "x" and "y" axis. Spaced evenly over the same length of hanging bar as the BB10s, each fixture contains a "frame" as the laser industry calls them. Much like a gobo, these give the fixture the ability to change shape and size of the beam.
Pyrotecnico is the exclusive end user of this product in the U.S. Utilizing existing technology, the company worked with a German vendor to develop the fixture and bring it to market.
FitzGerald points to the fact that, "These lights unlock a new way to use lasers, and the programming via DMX adds another layer to the integration of any good design with lighting and video all working together to create the most unique looks possible."
Paine agrees. "The BB6 is fascinating to work with," he says. "The ability to program it as a lighting fixture allowed us to create effects easily that were relative to the show and layer into cues properly on the MA, so we were not reliant upon a completely separate system for lasers."
A demonstration for Zhu illustrated how "the BB6 could enable our design to deliver the best of both worlds to Zhu for this new musical direction he is taking," said Johnson. "The laser could immerse his audience in an organic way, while at the same time; retain the aura of anonymity he desires."
Underground Roots
Johnson feels Production Club's ability to produce unique and visionary events like Zhu's at the Shrine stems from their underground roots where the experimental intersection of music, technology and gaming first formed.
"The artists we collaborate with are creative visionaries as well as technological wizards," he says. "Everyone at the company is a fan of the dance music and gaming culture. The nature of that culture transitions into how we approach projects."
Adds Risueño, "Often, we find ourselves in the recording studios, drawing upon the language of that environment for ideas. This makes it easier for the artist to express an idea, because their musical visions are not always easy to decode."
Production Club regenerates those visions in the company's rendering suites and 3D visualization programs, but it all begins with sketched storyboards.
"Sketches are a very tactile way to present our ideas for the project," says Risueño.
Ultimately, that is what creates the shortest path through the digital world between design and reality.
Zhu at the Shrine
Crew
Production Club Team: Corey Johnson, CEO/Producer; Miguel Risueño, CCO/Creative Director
Lighting Designer: Cory FitzGerald
Lighting Director: Sam Paine
Lighting Programmer: Davey Martinez
Video Opearator: Max Nicklas
Lighting Co: VER/Joe Beenen, Rep
VER Crew: Michael "Sparky" Anderson (Crew Chief), Paul Carson, Austin Wesley, Mike Mitani (Rigger)
Pyrotecnico Crew: Derek Abbott, Will Kent, Vinny Forti
Visual Collaborators: Sadgas, L9P, TurtleStudio, Eric Au
Lighting/Video Tech: Ryan Van Raalten
Tour Manager: Joe Villacrusis
Touring Production Manager: Eric Ginnetty
Shrine Production Manager: Baptiste Chavaillaz
Gear
2 grandMA2 full size consoles
22 GLP X4 Bar 20s
22 Vari*Lite VL4000 BeamWash
7 Vari*Lite VL4000 Spots
32 Claypaky Sharpys
13 Martin MAC Auras
6 Philips SL Nitro Strobe 510C
6 TMB Solaris Flares
16 Arctos BB10 laser arrays
14 RTI BeamBar 6 laser arrays
3 MDG low fog machines
Leave a Comment: