A Larger-than-Life Tribute
BartKresa Studio and WorldStage Help Audi Celebrate Female Filmmakers During AFI 2018
For the most recent American Film Institute festival, held in Hollywood from Nov. 8-15, 2018, a special architectural projection installation honored female filmmakers. Audi sponsored the event, produced by PMK-BNC, which was projected onto the Roosevelt Hotel on two sides, with content created by the BartKresa Studio and strategic production by WorldStage. The large-format projections appeared every night for the AFI Fest's eight-day run.
‡‡         A Truncated Time Frame
The Audi-sponsored AFI projection project came to BartKresa Studio late in the game, so Bart and his team turned to frequent collaborators WorldStage for a production assist. "When this one came in, it was on a truncated timeline," says WorldStage senior account rep Joe Conway. "This is familiar territory for us and for Bart, as he gets a lot of calls for projects. He's one very creative mind, and we've worked with him four or five times this year alone; clients approach him because of his absolutely individual creativity. This particular project was in November, and we had about two weeks of prep time for it."
"We were contacted by the agency, and they wanted to create a project featuring women of industry," says Kresa. "First, the idea was to project onto a glass building, but obviously that wasn't going to be an effective choice. After some tests, we decided that the Roosevelt Hotel would be a better projection surface."
In downtown Hollywood, as you can imagine, the logistics of a project like the Roosevelt Hotel projection mapping created some interesting challenges that the team had to overcome. "We ended up using two locations to project onto the Roosevelt Hotel, space was limited in and around the area where the hotel is located," says Conway. "We used a balcony across the Orange Street side of the hotel, the US Bank building, and we located twelve projectors on that side of the hotel for coverage and intensity. On the other side of the hotel, we operated from the top of Madame Tussauds Hollywood. Logistically, this was a challenging project with a tight timeline, and the initial location for the projection tests was the US Bank building itself, but with so many windows on that façade we decided that the better target for projection was the Roosevelt Hotel."
‡‡         Closing the Shades
The number of windows on that building created an interesting challenge in itself, but with a very creative solution — the producing company (PMK-BNC) for the project paid for turndown service on the rooms to maximize the usable projection space, so every night before the event, the housekeeping staff went into all of the rooms and closed the shades so Kresa had maximum effective projection surfaces. It was a creative solution to an interesting challenge.
"Generally, I like to try and work out the equipment costs for the client first and prepare the project for any budgetary restrictions," Kresa says. "If we're able to move past that aspect of the project, because equipment that is used in architectural projection tends to be expensive, then we progress with the design."
"We came up with several designs for the client, and we arrived at a two sided projection for the Roosevelt Hotel that had extra brightness — Hollywood is such a bright place, and I felt that having the extra intensity on the building was the way to appropriately portray the message," says Kresa. "This project was different than most of my other projects with respect to it being a corporate brand project — we mixed the ideas of a designed project with corporate branding and appropriately delivering the message, which can be a challenge to achieve appropriately. As artists, you have a desire to create and also accurately communicate the client's message. We were briefed by the client early on in the process, and from then we were able to mix the client's message with our design ideas."
Keeping the brightness at effective levels was the challenge that WorldStage is known for solving, and Kresa's team relies on their projection mapping prowess. "Bart doesn't do any work that is underwhelming, his work is always stunning and very intense — Bart's philosophy is that if it's going to be washed out and dim, he doesn't want to have his artwork included in the project." says Conway. "The challenge in this case was to find locations that we could provide maximum coverage and intensity to really make an impact for the design."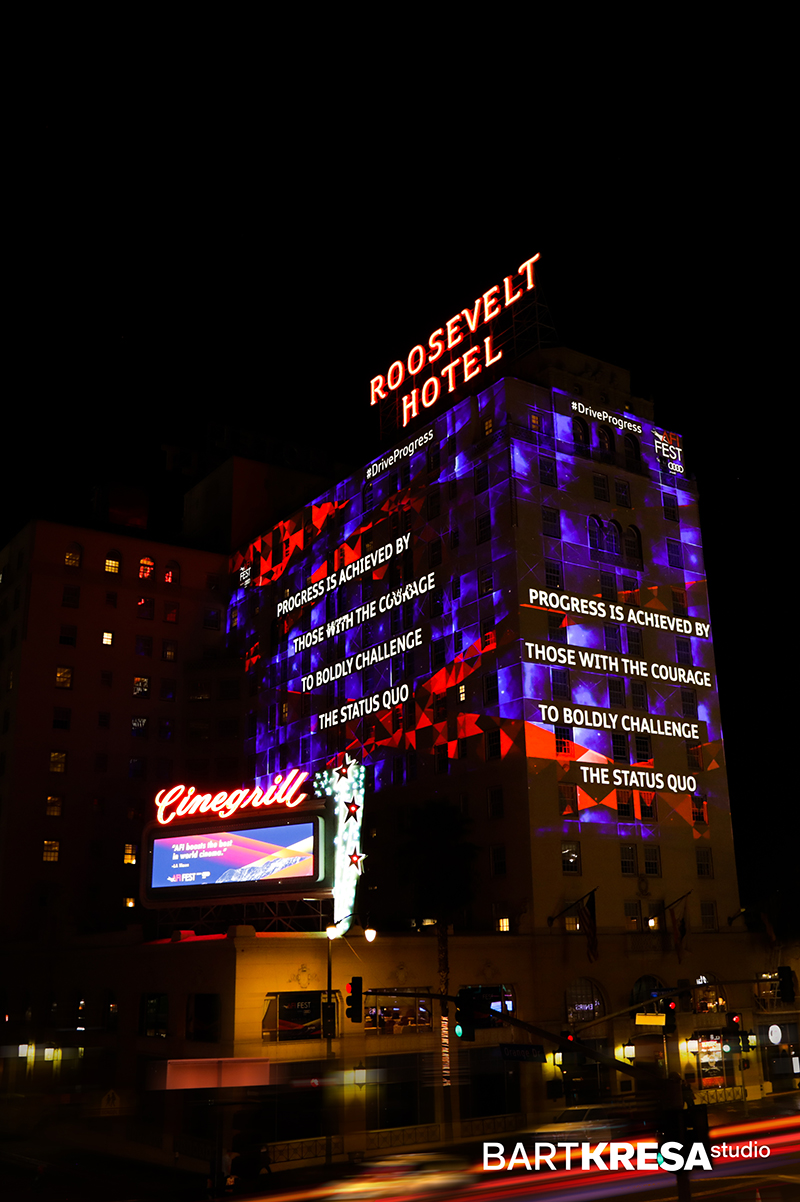 ‡‡         Projection and Control
Conway continues: "We used a total of 18 projectors on those two façades of the Roosevelt Hotel — 32K Barco laser projectors were available for that short time span of prep and production duration, and we used them in two locations for covering the entirety of those two sides. The larger façade was four triple-stacked projectors for coverage and redundancy that gave Bart four areas on that side." A logistical challenge for the team on that location was the large LED screen that lives on the Roosevelt Hotel directly in the path for those projectors, and the balcony area they were able to use was also quite small. "A lot of legwork went into making that a viable location," Conway states. "Gallagher Staging was our resource in that location, providing us with scaffolding that allowed us to do the four triple stacks to get coverage on that side of the hotel façade. The location atop of Madam Tussauds was considerably easier, the façade on that side smaller, and we used two stacks of three to get the needed coverage.
For control and coordination of the multiple projection surfaces, Bart uses the Watchout multi-display software to manage and make his content show seamlessly onto surfaces in all of his work.
As in any project, the groundwork and pre-production is often as interesting as some of the project itself. One thing that entertainment production companies have gotten very good at doing is utilizing all resources available to solve problems. "A bit of interesting technical detail was how we measured the actual projection space for the project," Conway says. "We did several location scouts to get laser distometer measurements of the facades, the distances from façade to projection locations, and some of the other measurements we needed to get the details we needed, but we also used some of the features in Google Earth that have really come in handy for doing some of the legwork. Google Earth allows you to measure directly in the 2D and 3D space, and that became very helpful for double-checking our distances and getting some of the detail that we needed for calculations. Having the Google Earth double-checking helped us make sure that we were getting the correct lensing chosen for the project, and to get solid calculations on intensity."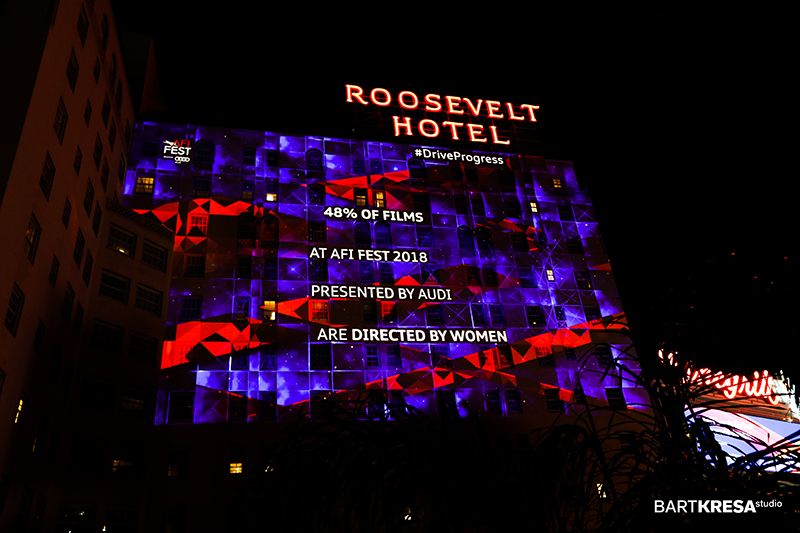 ‡‡         BartKresa Studio's Beginnings
We see a lot of interesting and beautiful projection designs in our industry, as entertainment often covers not just the events we produce, but the venues in which we produce them. BartKresa Studio's Bart Kresa has produced some epic architectural projection design work. We caught up with Kresa as he was returning to the U.S. from an overseas project that included 92 projectors — a medium sized project for his company — and along with the AFI Fest project, we had a chance to talk about how this artist, who lives and breathes projection, first got involved in his chosen profession.
"About 30 years ago I went to school for photography, and one of my teachers was doing installations with multiple slide projectors and music," Kresa says. "That was the beginning for me. About five years later, I was invited to do a project at one of the multimedia festivals in Italy. In 1995, I did my first projection mapping project that could be considered architectural projection, and I learned how to design for buildings. I have a great respect for the architecture, and I feel you must respect the space."
‡‡         An Eye to the Future
The AFI Fest project led to another interesting discussion; the future of projection for different audiences across the world and their reaction to large-scale architectural projection design. Bart expands on this and Kresa Studio's future plans. "The world is an interesting place with respect to audience reaction to large-scale projection design. I would say that we have some of the most excited audiences in Japan, very energetic and appreciative. We also have a lot of very excited clients in India, they ask for more color, more busy designs. American audiences are also very appreciative, but you definitely have to bring your best work to the American audience because you are creating art for people who are very used to art. This forces you to be ultra-creative."
Kresa also sees a future in laser projection technology. "I think we're going to see an explosion of artistic expression in the world of architectural projection design in the next few years because of the advent of laser projector technology," Kresa states. "The laser technology is incredible — not only can we get stunning color out of the equipment, but there are multiple levels of technological advancement that come with laser projection technology. Foremost is the cost savings when doing permanent installations; I often have to advise clients of the costs associated with doing projection in permanent installations, from lamps and redundancy for brightness, as well as maintenance costs with running lamp-based projectors. In permanent projection installations, there are often issues with holding calibration for very long periods of time and holding white levels, and when I design something that is permanent, it needs to remain intact not only for the client, but for the integrity of the work."
In addition to the constant stream of clientele that approach BartKresa Studio for uber-creative projection projects, his team is also producing an intensive workshop for up-and-coming architectural projectionists. "We're teaching an academy in projection design, which is a new avenue for us — we start out with students who are versed in design already, and we give them the tools to advance their work into architectural projection design," says Kresa. "There are a few things I personally find paramount when doing a design — expressing the building, trying to have the building speak in a way. When you can marry the architecture and the design together, it's like magic. There are many people today who over-project onto the buildings with lots of light and without much consideration for the building as a presence, but when you can find the building's presence and cater to that with your design, you really can make the building speak to the audience."
For more information, please visit www.bartkresa.com and www.worldstage.com.
Leave a Comment: