Northwestern University's 'Starry Night' Gala
Fundraiser Organizers Turn to Intelligent Lighting Creations for a Visual Assist
Intelligent Lighting Creations (ILC) is typically busy serving the corporate/industrial world of the Chicago region, but recently they outdid themselves with a colossal fundraiser for Northwestern University in Evanston, IL. There they transformed the recently-completed Ryan Fieldhouse into a theatrical venue to host the school's alumni gala, "A Starry Night," which raised funds to support the university's new MFA program in acting. (And by "recently completed," we should stress that the facility was so brand-new that it was still being worked on during load-in.)
The event was produced by the Northwestern University's School of Communications and took place April 21, featuring a star-studded alumni ensemble who entertained an audience of 3,000. The show had lots of gear (600 lights), and it was driven by the Communication Department's grad students with longtime local freelance lighting designer Travis Shupe overseeing the ILC-supplied party.
The emcee was none other than Stephen Colbert of CBS' The Late Show (NU class of '86). Other Northwestern grads showing up to speak and perform included Dermot Mulroney ('85), Ana Gasteyer ('89), Brian d'Arcy James ('90) and Stephanie D'Abruzzo ('93).
The school's illustrious dance and music programs brought out entertainment and, of course, there was a marching band. As for the show itself, it was a 90-minute variety show with joke-telling, comedy, dance, songs and a live orchestra. When asked if there was a dress rehearsal, designer/programmer Shupe laughs. "There kind of was," he says. A run-through of sorts was done the night before, though most of the big names flew in the day of the show, so those parts were done that Saturday afternoon during the light of day.
‡‡         The Gala
Scott "Hos" Hosford, who has been with ILC since 2003, served as the account executive for the event. "The fundraiser was specifically for supporting the communication's graduate program and the show itself was very much student-organized and student-driven," he says. ILC started the process with the students, basically telling them to "go nuts" in picking out gear. The students came back with a list of equipment, and the first pass was great … but alas, budgetary considerations necessitated some tightening.
"It was an incredible experience for the students," Hosford says. "The college wanted them to be part of the process, so we opened our doors." The students spent time in ILC's Arlington Heights warehouse prepping, hanging fixtures in the truss and doing all the other not-so-glamorous parts of the business, which was a good real-life experience for the kiddos. "At the end of the day, we all want to be designers and push buttons, but it's important to understand what it really takes to put on a show." It was also a good experience for everyone at ILC to work with the students — and that means everyone as it was an "all hands on deck" situation. "The biggest challenge was getting 20-plus trucks of gear into a space that was still under construction," Hosford says.
Using an ETC control systems was different for Shupe, who typically works on grandMA desks. "ETC is what the students know, and I've never done a show on this scale before with their console, but I thought I'd give it a shot, and it was great. There were no issues, and the students did a good job programming on it. I just went in and cleaned up a bit after them." There were ultimately over 40 universes controlled on it. Figuring out the data distribution, the network and getting everything patched in plus have a redundant system in line all involved due diligence.
Shupe is a Chicago-based lighting director and programmer who has a TV background and does a lot of corporate and industrial work. He's worked with ILC often over the years and actually brought them into the bidding process for the Starry Night Gala event. He confirms that setting up for such a big, important event while the full-size indoor athletic center was still being built was…crazy. "The building was under construction during the load-in, and it was hard, because we had to coordinate with the construction workers all the time, even on things like access to the elevator," Shupe says. "It was a bit of a nightmare."
As for the building itself, "it wasn't really designed for production, built as "an unmatched environment for Northwestern Wildcats to flourish" as the website crows. As Shupe tells it, the powers that be had the thought that some non-sporting production might happen in the back of their mind, but "they certainly didn't have someone on board that thought of the possible production needs of an event like this," he adds.
Chicago Flyhouse was brought in to tackle the rigging challenges, Shupe notes. "It has a huge arch roofed, so the show was rigged off main beams, and they spent quite a bit of time working with custom clamps to make it work. They ended up being able to wrap most of the beams, and there were beams every 10 yards or so, so it worked out."
The MFA students, including Anthony Forchielli, Joseph Franjoine, Woongjin Oh and Scot Penner, worked with the concept and look of the show, but then professionals were brought in to look over the plans. "It was an amazing opportunity for the students to not only work on something of this scale, but to have all these toys to do it with," Shupe says. "These students are theater majors, but this experience shows them a different path involving a live event that includes video and I-Mag." AV Chicago supplied the video walls.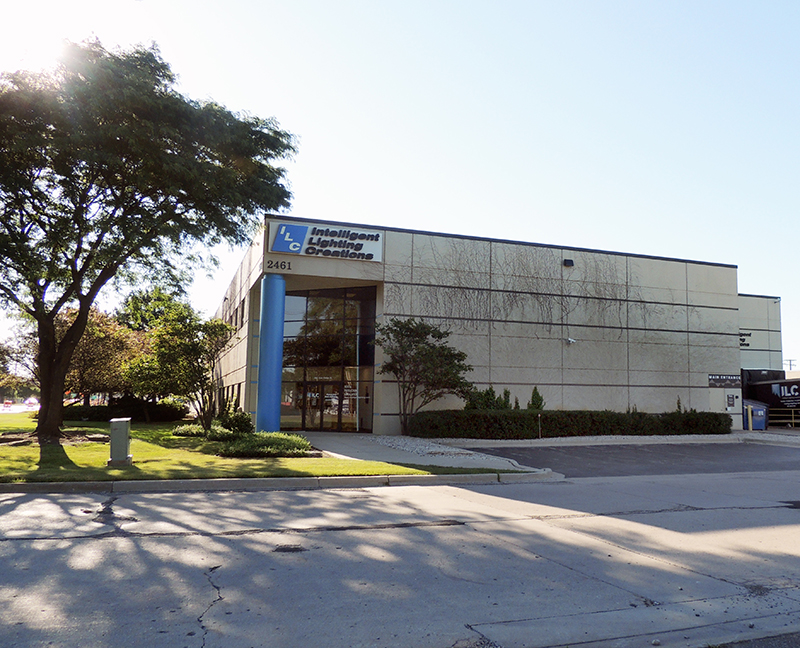 ‡‡         About ILC
ILC founder Scott Falbe grew up in the Chicago area and was always a mechanically-inclined kid. He tells a story of figuring out how to fix a malfunctioning dryer while only eight years old. His family were fans of the theater, so he grew up with an appreciation. But it was during his first year in high school when, waiting backstage for a friend who was in a play, he discovered an exciting new world. "I saw the lights, rigging, sound and tools, and decided to do crew," he says. Within a couple of shows, he became the student lighting department head. After high school, he attended the Theatre School at DePaul University, where he studied lighting design. There, his high school classmate (and future wife and ILC co-owner) Samantha, also followed suit as a lighting design student. But for Falbe, college was a struggle. "I can't draw or render very well," he says. "The program was all about the art and collaboration, and I was a lot better at the latter." In 1993, for a class assignment, he wanted to do something on "automated lights," but was cautioned against it. "My professor thought that because I had watched the class presentations the previous year when a buddy, Angelo Petratos had done something on this topic, thought I was just going to use his material," he says.
(Petratos went on to be the associate production designer for Harpo Studios.)
"But I'm not going to talk about them, I'm going to demonstrate them," he told his professor, Michael Rourke (a respected designer in his own right, who is still teaching at the university). When Rourke asked where he was going to get these rare, expensive lights, Falbe heard himself blurt out, "From my company." After that, he "called around to lighting shops I was familiar with, and learned that no one owned them. This was an 'Aha' moment." He saw an opportunity beyond a good grade for his presentation, and with a $20,000 loan from his grandma, he purchased four Intellabeams from High End Systems. The founding of ILC ensued. "I use January 1, 1994 as the official starting date of the company, though we incorporated in May of 1995."
As soon as he realized something called "corporate theater" existed, he was on his way. "My first-ever client was Frost Lighting, and the rental was for those four Intellabeams and a controller, and I showed up with the gear to hang and program them in a tent," he says. "I had no idea this kind of work existed." This was followed by landing Nordstrom as a client. "We got involved with them by working with Ivan Carlson Associates and Chicago Spotlight, and that propelled a lot of moving light purchases, and eventually conventional lights, dimming, motors and truss." Falbe was not only smart enough to know he needed to keep investing in his company, but instinctively knew what he invested in was key. "We bought some niche-y products early on, including the Compulite Animator and Wybron AutoPilot, and that put ILC on the map nationwide, even though we were a very small company at the time."
Of course, he started out in his parent's carport and basement before getting his first building in 1997, which he had for 10 years. When he went to show the building to his dad, he had to walk through a waterfall because a pipe had broken. "Where most people would turn around and run in the other direction, I seized the opportunity," he laughs. He bought it, and over the next 10 years, it was a second project, as he and the ILC crew were always making repairs and improvements. "My whole team learned as much about industrial construction as we did about lighting!" Still, they eventually outgrew the space and are now in their Arlington Heights location. Through the years, they expanded into other markets, including system integration, retail sales and repairs.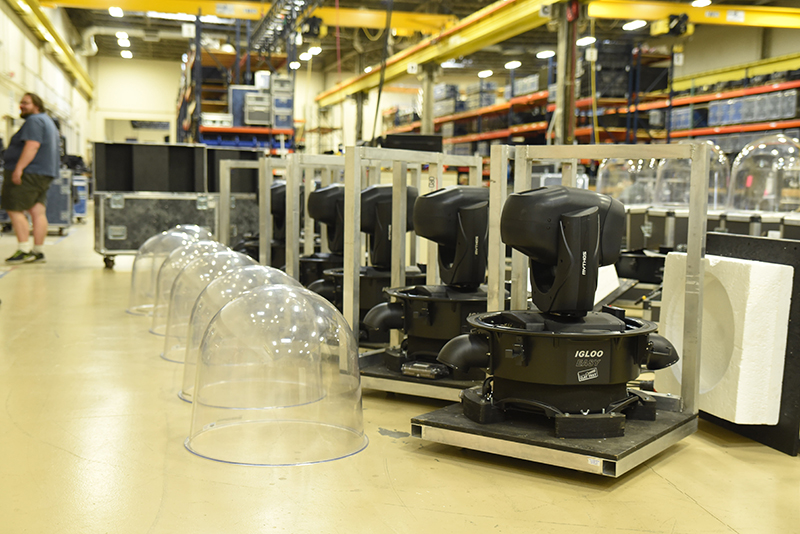 ‡‡         The Gold Standard
In the warehouse, one finds grandMA consoles, GT Truss, Sola Frame 2000s, Sensor dimmer and a lot of ETC gear. "We're big supporters of them, and they are of us, and so now we have a lot of High End products as well." Also found there are fixtures from Martin, Vari-
Lite, Robe, Elation, ColorForce and Clay Paky. "Most of my days, I'm fortunate, as we have a great team running the day-to-day, and I get to focus on the bigger picture. We want to be the gold standard. That's not wanting or expecting all to hire ILC, but for those who can't afford ILC, or we don't make logistical sense, I want other companies to be inspired to prep and manage their shows the way ILC does — and that's the gold standard that I'm trying to set. Internally, we call it The ILC Way. At the end of the day, you can't do everything for everybody, and that's okay."
Today, the company handles a lot of work involving lighting, media and visual design company Lightswitch and "pretty much every museum in Chicago," Falbe says. "And also a lot of theater planners, building management companies and owners on the architectural side. We're a subrental provider to a lot of local and national lighting and production companies, including Creative Technology, Freeman and PSAV." They still serve Nordstrom and the annual Illumination display at the Morton Arboretum and work with LD John Featherstone, among much else. And then there are a lot of smaller projects they handle, too. "There's very little we don't do if it involves creative lighting."
Northwestern University Starry Night Gala
Gear
2       ETC EOS Ti 24K
3       ETC Ion 4K
1       ETC RPU
2       ETC RVI
49     Active Universes of DMX
20     Vari-Lite VL440's
48     HES SolaFrame 2000's
70     Claypaky Sharpys
34     Claypaky Mythos II's
62     Claypaky B-Eye K20's
16     Martin MAC Viper Air FX's
40     Martin MAC Viper Profiles
80     Martin MAC Quantum Washes
98     Martin MAC Auras
22     Chroma-Q Color Force II (72's)
144  Elation Colour Chorus 12's
100  Elation Volt Q5E's
640  RGB Pixel Nodes (for scenic header)
5       Lycian M2 followspots
6       DF-50 Hazers
Leave a Comment: