Not Your Typical Church Pageant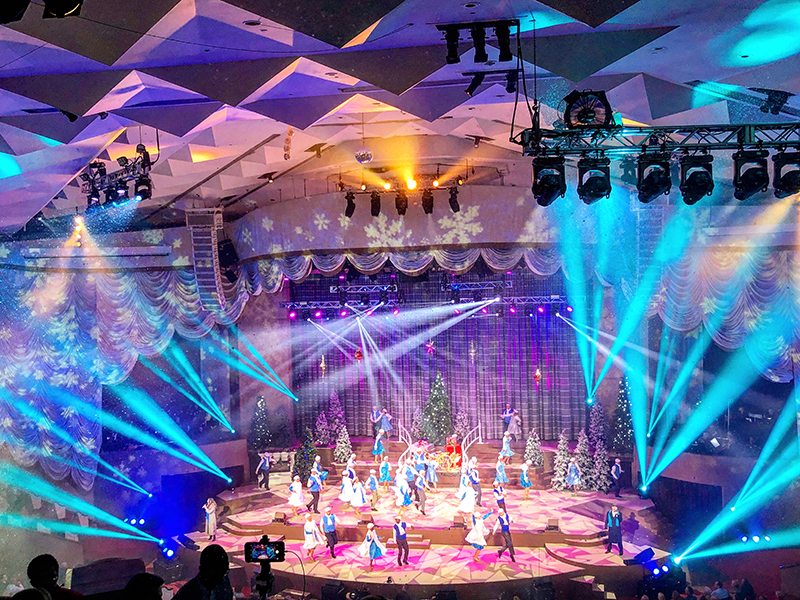 First Baptist Fort Lauderdale's 35th Year Brings Audiences from all over Florida for this Annual Extravaganza
Church pageants in December aren't uncommon — unless they draw crowds from hundreds of miles away, run for a month and have a budget of over $1 million. Yet this is what First Baptist Church of Ft. Lauderdale has been doing for years. In 2018, the church marked its 35th year of combining holiday entertainment with a Gospel message.
"That first year, the church really wanted to do something special for the Ft. Lauderdale community," recalls Pastor David Gross. "Church member Sandra Casteel agreed to put together a program, and we held it at Ft. Lauderdale's War Memorial Auditorium. It was a huge success and became an annual event. However, we quickly ran out of room at that venue. Our current church auditorium was actually purpose-built for hosting the pageant. We've been utilizing Majestic Productions out of Indiana on the pageant for years now, and they have been instrumental in helping us outfit our auditorium so that it serves both the pageant and our weekly worship services well."
The pageant takes place in two acts. Act I is light-hearted and fun, filled with popular Christmas music. "We want it to be very accessible," says Gross. "We make it fun, nostalgic—something that will help you set your burdens aside for a little while. It's a time where the audience gets to know us a little. Our Opening Scene ends with Man with the Bag complete with Santa in a horse-drawn sleigh, and Act I closes with singing, dancing and a pyrotechnic show."
Act II presents the story of Jesus Christ, but not just the Christmas story of His birth—the story of his entire life. "Without the story of Christ's death and resurrection, the story of his birth really has little meaning," comments Gross. "We start with Mary and Joseph entering the auditorium on a donkey at the rear of the house, and they progress up a ramp onto the stage. We make use of a variety of live animals during the second act, including an African steer, a small herd of goats, three camels, a horse, a donkey and a parrot."
‡‡         Staging
With the use of live animals, particularly for those moving from the house area to the stage, the staging needed to accommodate facilitating the animals' movements. Two ramps, one on either side of the stage, are equipped with electric actuators so that they can be lowered for moving people, animals and other large objects from the house seating area to the stage, and then raised up to be level with the stage floor and used as part of the stage. When originally built, the ramps did not have any automation. Years later, the upper half of the ramps were rebuilt with manually operated hinged sections. A few years after that, the custom actuator system was developed to further automate the hinging movement for more efficient and smooth transitioning of elevation.
The apron has three sets of stairs leading down into the house area, and the church has constructed modular platforms that fit into the stairs to turn them into thrusts. This year, those thrusts are used for holding large three-foot square presents and Christmas trees for Act I. For Act II, however, those stairs are needed for the biblical scenes, and the staging is removed during intermission.
The most exciting part of the church's staging, and very unusual for a church facility, is the lift system build into the apron of the stage. BJ Schnettler with Majestic Productions, who is the lighting console programmer and lead lighting technician for the show, describes this unique element.
"In 2010, the current downstage staging element was custom designed and engineered in by Tracy Nunnally of Vertigo (formerly Hall Associates Flying Effects). Nunnally constructed the center section that includes a 12-foot deep by 32-foot wide section that is hinged and pneumatically articulated to allow the stage floor to raise to a vertical orientation with a backdrop and a hidden stage that includes a synthetic ice rink measuring 12 feet by 24 feet. The ice rink has not been used since 2016, and in 2018, the backdrop was redone and carpet installed over the ice to allow a scene to play out there."
The lift system operates on compressed air, takes 22 seconds to charge, and then 20 seconds to raise.
"For this year's performance, the Garden of Gethsemane was built into this lift area," says Gross. "At the end of the Last Supper, the lift raises up, revealing the garden, which Jesus then enters. This enables us to create a more elaborate scene and transition quickly between the two distinct geographies."
The church auditorium does not have fly space, so when backdrops are used for scenes, a track system is utilized to support them.
‡‡         Lighting
Years ago, First Baptist's pageant grew in scope to the point where an outside lighting designer was needed to achieve the goals of the event and reduce the load on church staff. Helena Kuukka, an independent lighting designer based in Orlando, FL, took over that role 18 year ago after serving as associate designer for six years and has returned every year since.
"Planning for the next year's event starts shortly after the current year's event is over," says Gross. "I started discussing this year's pageant with Helena in the springtime."
"We start with discussing the theme of the first act, what the scenery and staging will look like and other big-picture concepts," says Kuukka. "This year, David's vision was for Act I to feel like a giant snow globe—a winter wonderland. As the vision progresses, we move into the technical aspects of how we will achieve that vision. Over the last few years, First Baptist has worked on building up their lighting fixture inventory to support both the pageant and weekend services and lower the need for rental for the pageant. So we start with seeing how we can achieve the thematic goals of the pageant with what the church already owns, and then explore what we might need to rent if the church's fixture inventory isn't sufficient for the goals. We also start looking at our backdrop needs. 'Do we already have backdrops that will work for some of the scenes? Do we need purchase or create new backdrops?'
"Once we get through the big picture concepts, for me, Act I comes down to the music," continues Kuukka. "What do the songs look like for me? There are big numbers with moments of big drum hits that lend themselves to a little flash and trash; and then there are parts that go very mellow, and we move to a more theatrical look. It's all about supporting the mood. We don't see the staging until we arrive on site, so we didn't deal with visibility aspects of the lighting until after we arrived in Ft. Lauderdale on Oct. 25."
"Act II, with its full biblical story done through narration and song, moves us into a true theater role," explains Kuukka. "I approach it as I do designing for opera: No lights are moving live, and it's all about supporting the storytelling. We never want to draw attention away from the story.
"One change that's occurred over the last couple years is, the church decided to increase their investment in infrastructure, and we've moved significantly to LED-based lighting fixtures," comments Kuukka. "BJ and I were involved in specifying fixtures for the church that would serve both the pageant's needs as well as be useful for weekly services and reflect good stewardship decisions."
Schnettler adds that he also helped with installation of the new fixtures, which helped him "understand the church's needs for both the pageant and weekly services, and create a stable lighting infrastructure that supports both well."
The church owns an MA Lighting grandMA2 console, and Schnettler brings in a grandMA2 Light as well. "The church's console is not in a good sight-line location for programming," describes Schnettler. "I put the grandMA2 light centered in the balcony for programming the show, which helps us see better, and means we don't have to move the church's gear around for programming. We then use the grandMA2 Light console as a backup to the church's console in case of hardware failure. This gives us both stability and security for the show."
‡‡         Fixture Selection
"The show has historically been a very Martin driven show," says Schnettler. "We're using some MAC Axiom Hybrid fixtures this year. It gives us great beam effects for Act I, and we can use them as spot fixtures for Act II. We've had 20 arc-source movers over the stage for a while now which we would augment with rental. Originally MAC IIIs, these were upgraded to MAC Vipers. Those are still there, but we've augmented significantly with LED fixtures over the last couple years. Last year, we added 20 HES SolaSpot 2000 fixtures. This year, we've added 10 Martin MAC Encore Wash fixtures and eight MAC Encore Performance fixtures. Moving the church into LED lighting will help them with maintenance issues," Schnettler adds. "Every year, we'd have to spend time re-lamping the fixtures. As is not unusual in a church environment, the lamps were not always doused at the end of the weekend, which caused maintenance challenges."
‡‡         Effects and Video
"As part of creating our 'Winter Wonderland'", says Kuukka, "we needed to augment the church's four CITC FX Little Blizzard snow machines. We wanted to put snow everywhere in the house space, and with the size of the room, these four machines wouldn't cut it. We added six SnowMasters T-1500 snow machines to get good coverage throughout the room. There's a moment where it snows in just about everywhere in the sanctuary. Due to the noise they make, we have to be selective in the music program where we use them, but the audience is thrilled by it."
The church also uses some pyrotechnics as part of Act I, usually augmenting their biggest choir number. This year, that piece of the show didn't lend itself as well to pyrotechnics, so pyro wasn't as prevalent.
The use of video in the show itself is limited this year to some I-Mag support for one portion of the show. "We have the dream of using video as part of the set design," says Gross, "but we don't have the infrastructure to support that yet. We hope to add this in the future."
‡‡         Working with Churches
Working with a church can be very different from a typical theatrical/concert gig. "The people involved are just so nice," comments Kuukka. "And it's not that people at other types of venues aren't nice, but the people here at First Baptist are just incredibly warm and friendly. Everyone except for a few people involved are volunteers. It brings a certain human element to the whole process, and it is humbling to work with people who give so much of their time. It takes months of their time between the rehearsals and performances. I have so much respect and admiration for them all. It's such a privilege to be a part of this show."
"On the flip side," she adds, "you ARE working with volunteers, and they don't necessarily know what to do, so working at a church has a teaching element to it. They work very hard, but there's a learning curve involved to get the show up on its feet. That can happen in professional theater as well, but not as much. It's part of my job to be a good team leader and make it a good experience for them."
Jim Kumorek is the owner of Spreading Flames Media, a provider of video production, photography and writing services. He can be contacted at www.spreadingflamesmedia.com.
Leave a Comment: