Digital Graffiti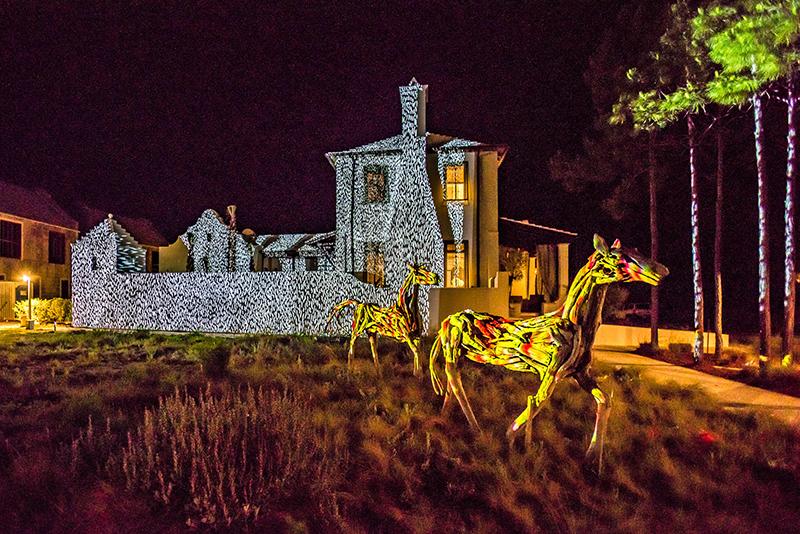 Annual Event Paints Static and Moving Imagery on Seaside Community's Architecture
Since 2008, the town of Alys Beach, an architecturally distinguished 158-acre planned beachfront community on the Florida panhandle between Panama City and Pensacola, holds an annual event, Digital Graffiti. It's a competition among an international pool of artists and designers that transforms the white exterior walls and features of this seaside town with a vivid array of artistic expression.
This year's event took place May 18-20, and for the second year, Christie played a key role as the main sponsor, supporting the content creators and digital artists with their projection equipment and Pandoras Box media servers.
Brett Phares, curator and co-founder of Digital Graffiti, credits Christie's sponsorship of the event for bringing it to a new level. Christie technology was used throughout the event to project, control, communicate, and adapt the constantly changing environments that were illuminated across the noted planned community's distinctive structures and natural landforms.
The building exteriors within the planned community are well suited as a canvas for the artistry brought to the international competition, which featured dozens of artists and creators from countries including Israel, Austria, Canada, Germany, London, India, France, Italy and China.
Along with digital artists, the event draws filmmakers, musicians, interactive designers, photographers, VJs, producers, celebrities, agency executives and fans of art, technology and architecture from around the world.
‡‡         Three Artists In Residence
In addition to the competing artists at Alys Beach, three artists were in residence during this year's event,, creating interactive compositions for festivalgoers to enjoy and absorb. They include Emilia Forstreuter, a freelance graphic and motion designer from Berlin, Germany; John Colette, a professor at Savannah College of Art and Design (SCAD) who teaches motion media design in Savannah, GA; and Kameron Neal, a Brooklyn, NY-based video artist and graphic designer, who won Digital Graffiti's 2017 Best of Show award for a video self-portrait titled Liquid Love.
"The residency artists are very excited for the expanded support and education from Christie," notes curator Phares. Forstreuter, a multi-year finalist in Digital Graffiti's "Best of Show" competition, used two Christie Boxer 4K projectors for her installation on the townhomes that make up Alys Beach's Caliza Courts neighborhood. Colette and Neal, meanwhile, used Christie M Series projectors, and Christie's Captiva ultra short throw projectors were also used extensively during the festival.
Geoffrey Platt, media server solutions manager for Christie, served as one of the judges on a panel awarding thousands of dollars in prize money. He was also onsite for the install. Additional judges included Evan Narcisse, a game critic and journalist; Fallon Young executive director of the New Orleans Film Society; Jeff Grantz, a creative technologist; Lucia Fishburne, a former film commissioner of Florida; and curator/co-founder/artist Brett Phares.
Christie's team, including a 15-member installation crew led by John Rosenberg, arrived about a week before the festival to begin preparations and installation. The work intensified in the few days before the event's rehearsals began. Three days before the event took place, marathon overnight rehearsal sessions and fine-tuning ran from about 11 p.m. until well into the early morning hours.
‡‡         A "Rain or Shine" Event
Digital Graffiti is a "rain or shine" event, which can provide some technical stress, but the Christie team had no issues tackling this known challenge. When asked about technical issues to overcome for Digital Graffiti, Florida's weather was of course a creative challenge that was planned for and expected.
"One of the most challenging aspects of Digital Graffiti was the weather," says Christie's Platt. "The constantly changing Florida environment makes installing and protecting equipment of the caliber needed to produce the high quality of digital art at the festival a
specific challenge. All of the projectors and media servers were enclosed in custom-built weatherproof enclosures provided by John Rosenberg and his excellent install team, which allowed us the security to power through rehearsals and installation time."
During the Digital Graffiti event, the entire town of Alys Beach was transformed by a wide array of content. And some of the installations were quite wide themselves — the largest spanned 230 feet, with projectors placed 50 to 100 feet away from the surfaces. To help meet the need for high definition video signal to be sent from media servers to projectors located all over the grounds at Alys Beach, Christie's Terra product came in quite handy, notes Platt. "We used Terra to send signals from the remote server locations to the projectors located all over the town. Terra allowed us to send 4K feeds over a 10-gigabit network from the Pandoras Box servers to our various projectors to give the artists the highest quality video they could get, with no latency and the ability to get the gear set up quickly."
While some of the projections were static, others featured motion and interactivity — changing and being altered by the artists to flow with the audience's energy. The 2018 event judges bestowed "Best of Show" honors to Participation by Jess Van Zee, a designer at Winter Park, FL-based design firm AOA, in part due to its interactive aspects. "The judges saw her piece as exemplar, especially in the way it welcomed and stirred those in attendance to interact with it," notes Phares.
The Alys Foundation has given over $100,000 in awards and artist stipends over the past 10 years, all to further digital work in the public realm. Artists, designers, photographers, and architects are invited to submit their artwork to be projected under a light-starved sky and onto the pristine, reflective white walls of Alys Beach. The possibilities range from, as the event organizers note, "projection mapping, generative art, experimental short films and animation, and sound, motion and/or light responsive installations."
For those PLSN readers who are aspiring content creators or digital artists, be sure to check the event's website for the upcoming call for entries for the next Digital Graffiti festival, set for May 17-18, 2019. (The deadline had not been announced as this issue went to press, but it will be sometime this fall.)
For more information, visit www.digitalgraffiti.com.
2018 Digital Graffiti Event at Alys Beach, FL
Christie Gear
10       Pandoras Box media servers
2          Boxer 4K30 projectors
8          M-Series 14K Projectors
6          Captiva 1DLP ultra short throw projectors
3          DHD951-Q 1DLP projectors
5          Terra Transmitters
5          Terra Receivers
Christie Crew
Pandoras Box Programmers: Dan Ribaudo, Kevin Morris
Image Processing Specialists: Joel Turensky, Chris Rohde
Media Server Solutions Manager: Geoffrey Platt
Installation Crew Chief: John Rosenberg, head of a 15-member installation crew
Leave a Comment: