Gathering of the Vibes Festival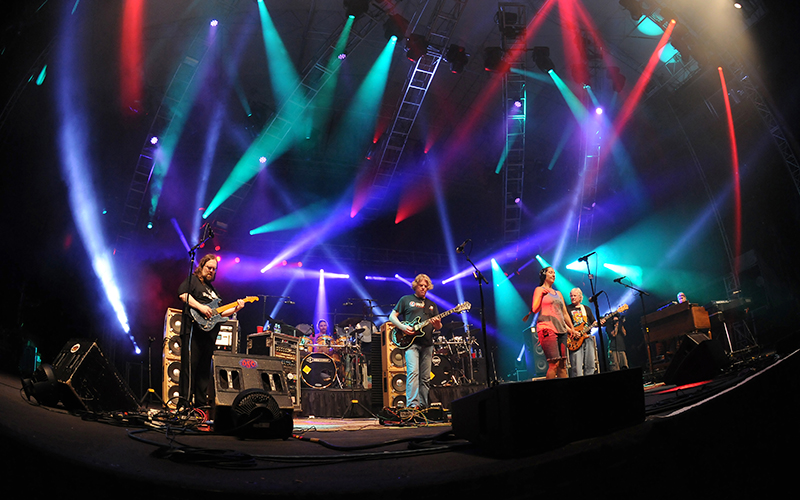 It's been 19 years since Jerry Garcia died, but the Grateful Dead frontman's "vibes" are alive and well, floating though the crowd of 25,000-plus who gather in his honor every summer for four days of music and camping — with a little '60s-style peace and love thrown in. Gathering of the Vibes, a modern-era, well-behaved version of Woodstock, was started in 1996 by Connecticut businessman/Deadhead Ken Hays to fill the void created by Garcia's untimely passing from a heart attack at 53. GOTV has since become one of the Northeast's pre-eminent festivals; over the years it has featured not only the remaining members of the Grateful Dead and various tribute bands, but world-class artists from an eclectic mix of genres: Crosby, Stills and Nash; James Brown; Allman Brothers Band; Elvis Costello; Black Crowes; Nas; Bruce Hornsby, to name a few.
Visuals of the Vibes
Held at the 370-acre waterfront Seaside Park in Bridgeport, Connecticut, the 2014 edition of GOTV continued this star-studded tradition. VibeTribers were treated to electrifying performances by Widespread Panic, John Fogerty, Umphrey's McGee, Dark Star Orchestra and Ziggy Marley, among others. Orchestrating the lighting for these headliners and dozens of other bands who performed on GOTV's massive main stage was JDI Productions (Johnston, RI).
Now in his second year as lighting director for GOTV, Derek Iorfida of JDI had one overriding goal for the design: to make sure every crevice of the imposing 60 by 40 foot covered main stage was vividly illuminated, with no dark spots around the periphery or anywhere else. "In 2013 we had a lighting system on the roof. This is a very large stage, and what happened was the stage right and stage left corners were left somewhat dark," recalled Iorfida, who served as the festival's crew chief and stage manager before becoming LD. "So I needed to figure out a way to get lighting into that area, without going crazy using a lot of independent trusses and floor packages. This being a festival with so many bands playing, you try to keep as much off the floor area as possible."
Beams to Tie-Dye For
Iorfida also wanted the lighting to be fast-paced and high energy, erupting with the intensity of brilliantly colored beams shooting from all directions. "I wanted light to be coming from everywhere, not just from above," said the LD. The festival's '60s roots notwithstanding, its lighting design is hardly a throwback to the hippie era. "We definitely go for a cutting-edge contemporary theme." The rig also had to be flexible enough to accommodate the plethora of performers, many of whom brought their own lighting directors, and it had to be camera-friendly so that GOTV could be presented in its best light on video.
To meet the challenge of lighting up the entire stage and totally eliminating dark spaces, Iorfida devised a "five-finger" overhead truss design — five 30' pieces of truss running from midstage to upstage. The center truss segment was perpendicular to the back stage wall, while the two segments on each side were angled outward at approximately 45°, so that the entire configuration resembled fingers jutting out from a hand. With this gradual widening of the fingers' spread toward the upstage area, wash and spot fixtures could be hung so that plenty of illumination was directed toward the hard-to-reach back corners. Additionally, the entire mid-stage area could be immersed in light. "Those fingers were a way for me to get as much lighting in the corners as possible, while basically covering the whole stage," said Iorfida.
The five-finger configuration was sandwiched between two separate 40-foot horizontal truss segments, one upstage and the other at midstage. These segments were used as launching pads for sharp intense beam effects, provided by Chauvet Professional's Legend 230SR Beam, a compact moving head fixture with a brawny output, tight 2.25° beam angle, 8-facet zooming prism and 17 gobos. Iorfida used a total of 24 of the Legend 230SR Beams — eight on each of the horizontal trusses, plus an additional eight units positioned on the upstage floor. With this placement, "we could have beams coming from downstage, upstage and floor positions to fill the entire stage," he explained.
Sharing the spotlight on the upstage horizontal truss was another Chauvet Professional moving head, the Legend 412, a Quad-Color RGBW effect, which filled the area with rich, vivid LED color washes. Legend 412s — 24 in total —were also hung throughout the five-finger structure, where in addition to washing the stage, they could double as truss warmers. Iorfida, who had used both Chauvet fixtures previously, said he chose them because he knew they would deliver the necessary punch, while offering the reliability required for a four-day outdoor festival.
Other mainstays on the rig included eight Martin MAC 700 washes, 24 Vari*Lite VL3500 Q spots, and eight Vari Lite 3000 spots — all chosen for their effectiveness in flooding the sprawling stage with colors and effects. "The MAC 700s have a good amount of punch for a mid-size wash fixture and give wide coverage. We used them to fill up midstage and upstage, cover all the elements and be able to change colors," said Iorfida. "We chose the VLs because they have good optics, crisp gobos, they're bright and have a wide beam angle, so they produce a lot of output."
Lighting for Video
Downstage, the setup was quite different. Here, Iorfida opted for a conventional stage lighting rig, with 60 1K pars and 12 Lekos and six Molefays. "Being a festival with limited time for programming, we decided that a conventional downstage truss was an easier way to light the entire stage for video," he explained. "We had climbers available for every main act, who would re-focus the lights so that each individual band would have their positions onstage lit. The 60K par rig was basically video lighting."
No such simple tweaks on the main rig, where JDI's programmers worked 24/7 with the performers' own LDs to develop individual lighting looks unique to each band. "One of the biggest challenges of the festival was programming for all the different acts," Iorfida noted. "We pretty much tried to accommodate every LD from each band. It was a tightly loaded schedule. We ran two shifts, and we had programmers there almost round-the-clock.
"Believe it or not, everything went very smoothly," he added. "The nice thing about doing the round-the-clock programming was that every headliner had their own show with a different look. All the lighting directors who came in seemed very happy with the lighting rig."
Adjusting for Daylight
As with most outdoor festivals, another programming challenge was making adjustments for the ever-changing ambient lighting conditions, as GOTV performances began at 11:00 a.m. and continued through the night. "During the day we used the LED and beam fixtures for their visual impact. As the sun set, we added the rest of the lighting rig in." Control of this system was done via a Hog 4 platform. Iorfida began using a Hog in 1994, and "it's always been my go-to console."
The lighting directors for the performing bands weren't the only ones happy with GOTV's stage lighting design. Iorfida and his crew drew praise from festival founder Ken Hays, who proclaimed to the LD that this year's event was "the greatest GOTV ever."
And let's not forget Jerry Garcia himself. One story has it that Garcia took the name "Grateful Dead" from an old folklore phrase that referred to a deceased individual's gratitude to the person who arranged his/her burial. If so, that thankfulness "from beyond" should certainly extend to an innovative and talented designer who helped keep their vibes alive.
Leave a Comment: