Gold Star Product Awards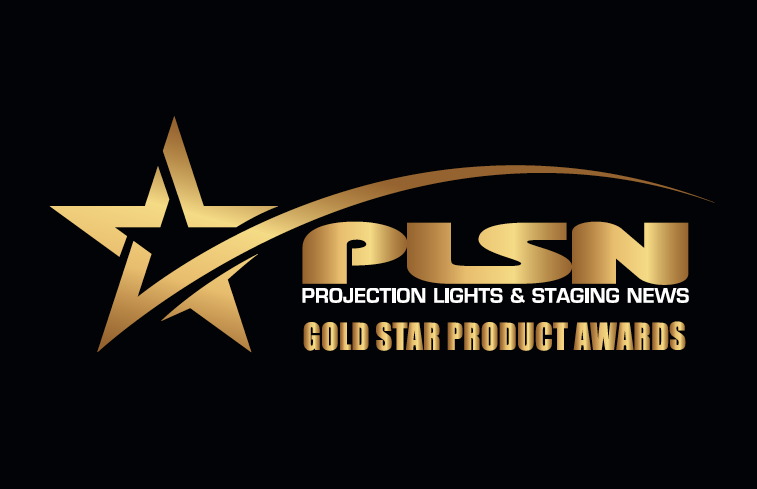 For the past year, the staff at PLSN has been checking out every new product that has to do with the live event industry. Along with advances in lighting fixtures, R&D teams have come up with innovations in everything from video systems to hardware and software that aid us in our pursuit of the perfect tools for our shows. PLSN editor Nook Schoenfeld has led a roundtable of writers, lighting designers, a video director and stage technicians to come up with the following collection of products honored with this year's PLSN Gold Star awards, which were presented during the LDI show in Las Vegas last month. All are worthy of acknowledgement for filling a special need in our marketplace.
Best Touring Video Cabinets
Absen Altair Touring Series
There are hundreds of models of LED Displays made, but not that many have been designed specifically for the rigors of touring. This product exemplifies speed in assembly, lightweight yet strong tiles (16.8 pounds each). Vertical stacking advantage with touring frames, seven frames per touring cart. They have a hanging capacity up to 10 carbon fiber frames or 20 individual tiles. They have a front/rear IP rating of 65/54. Curvable up to ±15° with up to 5000 NITS of brightness. Three models offered: AT3 at 3.75mm, AT5 Pro at 5.55 mm and AT7 at 7.5mm.
absen.com
Best Large Scale Lighting Console
ACT Lighting/MA Lighting grandMA3
The third in a series of legendary desks, the new console offers a radical rethink of what is possible from a lighting controller. This desk offers new dual encoders with all screens being multi touch. The faders have LED lit backlighting and the flash buttons click when activated. Four rows of executors and encoders are within each playback fader. Using their MA-Net3 protocol, systems can output up to 250,000 parameters. Many different models are offered depending on user needs.
actlighting.com
Best Innovation in LED Tiles
ADJ Design Series Video Panels
ADJ launched a new video panel range, the Design Series. This innovative system comprises four modular panels of different shapes that can be combined together to create video screens of almost any conceivable shape. The DS4 (square), DS4T (triangle), DS4QC (quarter circle) and DS4HC (rectangle) can be easily linked together, rigged and transported using an expansive collection of accessories, allowing unique and eye-catching screen configurations of any size to be created for fixed installations and touring productions.
adj.com
Best Pixelated Tubes
Astera Wireless Titan Tube
Astera released the Titan Tube, which was designed for the film, broadcasting and cinema industries. Optimized for an ultra-high TLCI, a very high CRI and peak brightness, colors as well as Hue, Saturation and Intensity can be set directly on the tube. In addition, the Titan Tube now accepts wired DMX via a special power/data combination cable. This model is also IP65-rated.
astera-leds.com
Best Compact Media Server
Avolites Ai Q3
Avolites' new media server is packed with the full power of Ai with the leading AiM codec, EDID management, AutoBlend and Timecode control. The Q3 Server unlocks 4K playback through a single DisplayPort 1.2 connection. Combined with two additional DVI outputs, the Q3 is the perfect solution to power live events, installs and anywhere else that live video manipulation is required. The compact unit offers industry-standard connections, as well as the firepower to drive their built-in live effects and support Notch integration.
avolites.com
Best Small Lighting Console
Blizzard/Equipson S.A LightShark LS-1
The WorkPro LightShark is a cross-platform lighting control system with up to eight DMX universes. Made by Equipson and distributed by Blizzard, the LightShark has an ultrafast web-based multi-touch user interface and the ability to connect up to three devices at the same time. Along with its impressive lighting control capabilities, LS-1's intuitive, ergonomic hardware control surface supports DMX-512, Art-Net, ACN, MIDI, UDP, OSC and HTTP.
blizzardpro.com
Best Light Batten
Chauvet Professional COLORado Solo Batten
This strip light is designed with an array of 12 total cells, at width of just over one meter. The fixture is comprised of a total 144 individual LEDs — 24 red, 24 green, 24 blue, 24 amber, and 48 white LEDs. With a unique patented glare free lens, there is no separation of cells when they are all on, making the fixture perfect for evenly lighting cycloramas or being used as eye candy that will illuminate, but not blind the crowd. It also has an IP65.
chauvetlighting.com
Best New Line of LED Products
Claypaky Axcor Series
Claypaky's Axcor Series has expanded this year with the release of two new models, the Axcor Profile 600 and the Axcor Profile 300, joining the Axcor Profile 900. The Axcor 600 and 300 feature Claypaky's patented beam framing system, and both are available in two versions — with 6500K color temperature and high light output, or with a 5600K color temperature and a CRI of around 90. The Axcor 300 line includes Spot, Beam and Wash models.
claypaky.it
Best Cable Free Video Cabinets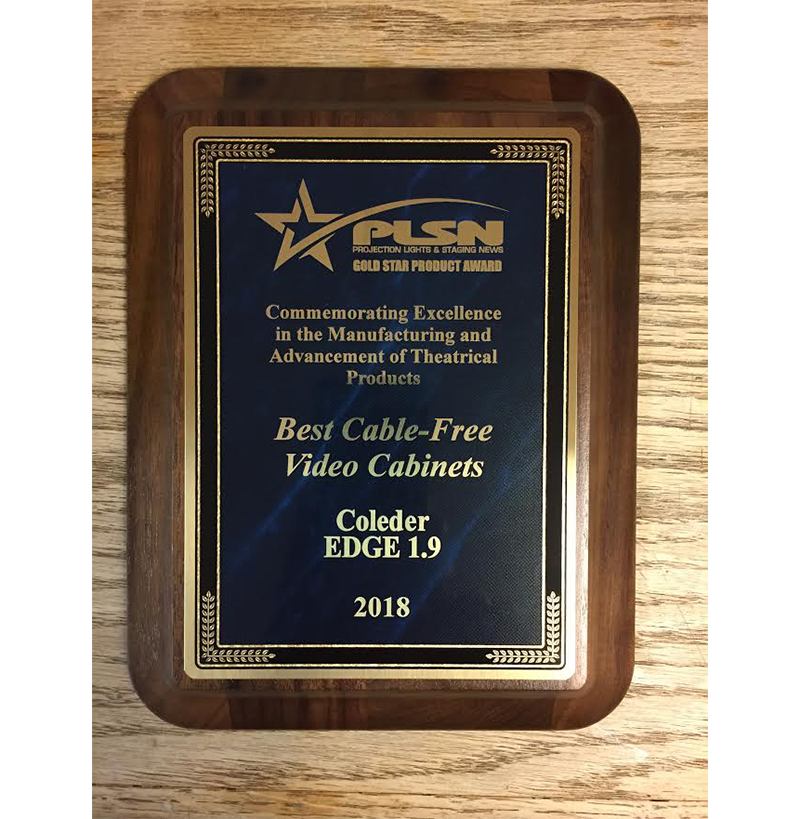 Coleder Edge 1.9 LED Video Tiles
The "cable-free" Edge line of video tiles are designed without exposed cables that might be subject to the wear and tear of everyday load-ins. This design also makes them faster and easier to assemble or replace. The tiles also feature an integrated edge protection system. And a color reduction system feature means that the color and video source will maintain their consistency and ensure that the image keeps its realism. Each panel has an 8:9 aspect ratio to make 16:9 ratios easy to obtain by placing two tiles side by side.
coleder.com
Best New LED Sourced Profile
DTS Synergy 5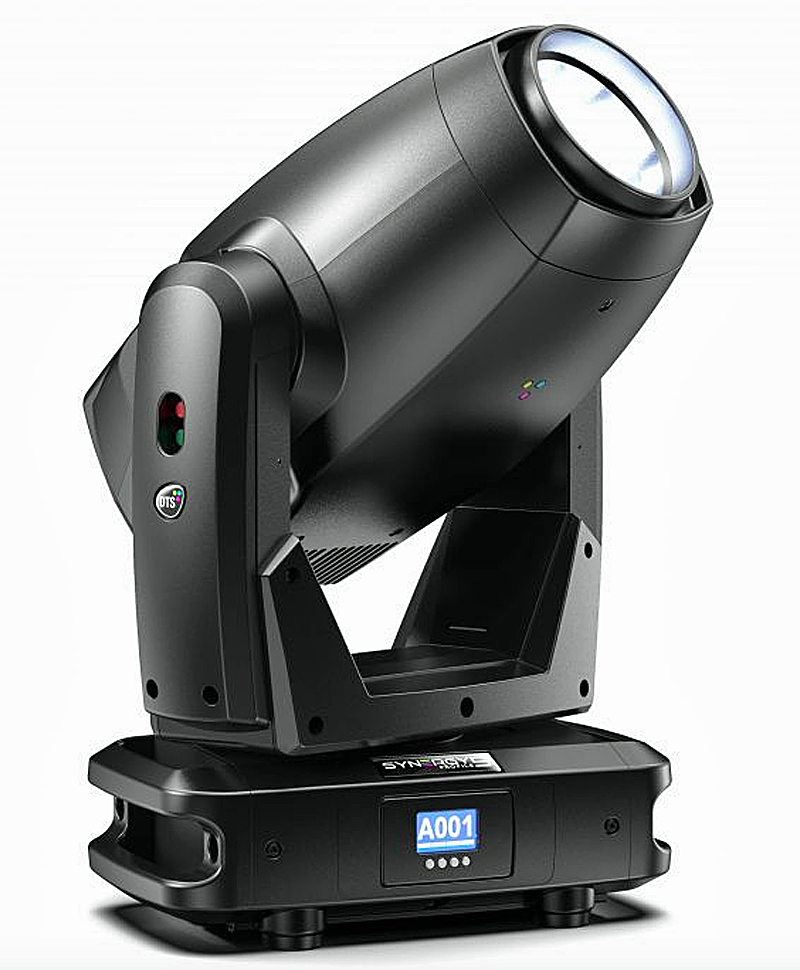 From its light source, (420W pure white LED), which offers users DMX selectable variation in CRI via DMX, to its color system and silent operation — and even its pan and tilt locking system — the DTS Synergy 5 Profile is a hard-edge moving profile at the top of its field. Smooth and fast framing system along with the usual bells and whistles. This profile features a patent-pending dynamic animated effect system they call "Dynamove." This effect creates some pretty stellar three-dimensional visual effects on multiple layers.
dts-lighting.it
Best New Hybrid Fixture
Elation Professional Smarty Hybrid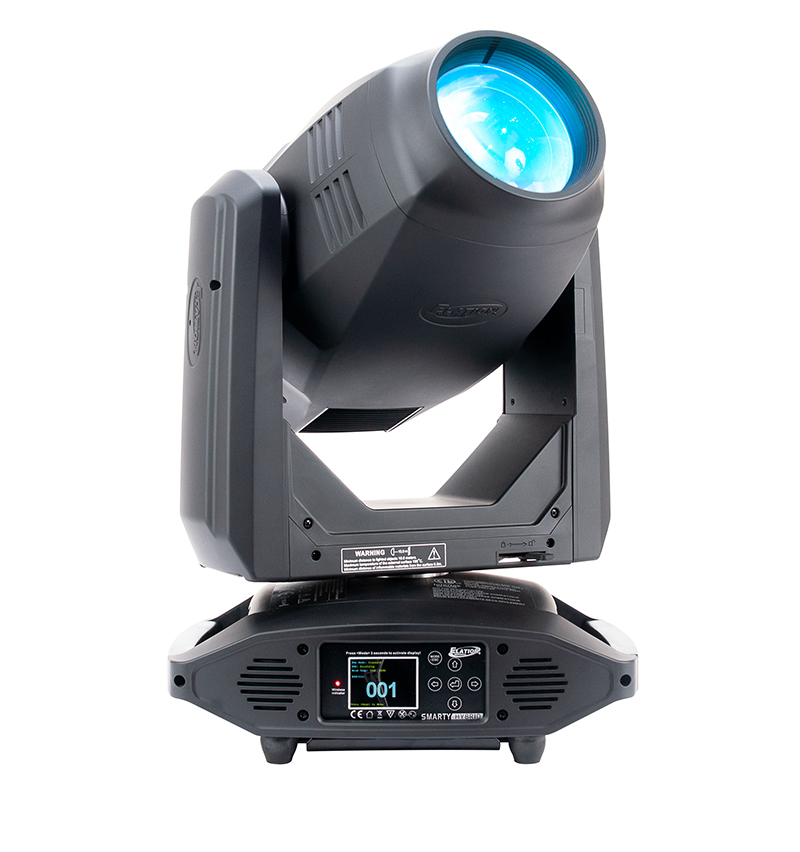 This fixture has a new discharge lamp, the Philips Platinum 200 Flex lamp, which comes with a 6,000-hour lamp life and FLEX Lamp Technology, meaning the bulb can operate from 190W to 280W and go into hibernation mode when the shutter is closed. The 11,000-lumen output fixture serves as a moving head spot, beam and wash hybrid fixture. It's mid-sized but fully loaded, with features including eight rotatable gobos, stamped metal gobo wheel, subtractive CMY color mixing, 13 color wheel, motorized focus and zoom and frost, plus five- and 16-facet rotating prisms.
elationlighting.com
Best New Laser Product
ER Productions Kinekt
Kinekt is a highly innovative single beam, multi-color 3W laser in a compact enclosure. Each fixture can connect to any number of units. The collective laser beams emitted by each Kinekt unit meet on the X and Y axis to create upscale array effects. Kinekt comes with Pangolin FB4 control built-in, and the units work with DMX, Beyond and Art-Net, making them extremely user friendly.
er-productions.com
Best Architectural Light
ETC Irideon WLZ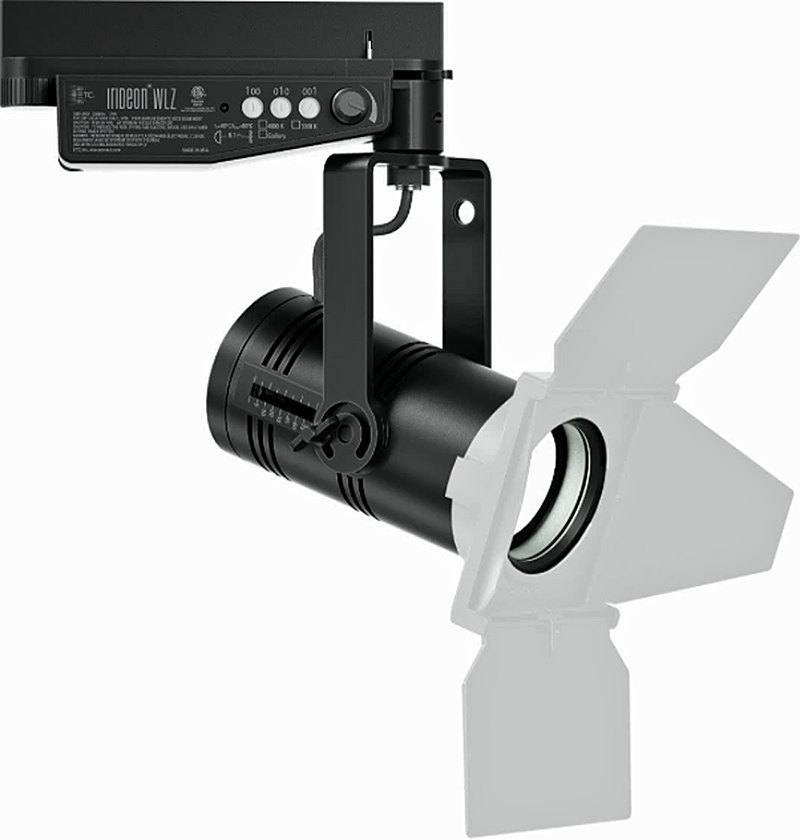 The most innovative feature of the WLZ is the built-in rotating zoom adjustment at the rear of the fixture housing. This enables beam angle adjustment within an impressive range of 9 to 78 degrees. The zoom position markers on the fixture make fixture-to-fixture referencing quick and easy. The WLZ is available in a wide variety of color temperatures ranging from 3000K to 5000K, and three mounting variations; DataTrack, portable with C-clamp, and canopy. Dimming can be via DMX or a local dimming knob on the DataTrack adapter.
etcconnect.com
Best Effects Fixture
GLP Force 120 LED Fan
The Force 120 is a high speed, variable direction fan unit coupled with internal lighting from bands of LED tape. This multi-use unit can be used for fun or dramatic visual effects or just be used for moving air, and it comes with a rugged, tour-friendly housing. The Force 120 measures just over 4.5 feet per side. For rigging and ease of transport, there are built-in wheels and multiple rigging points along with secondary safety attachment points.
germanlightproducts.com
Best New Software
Green Hippo Hippotizer V4+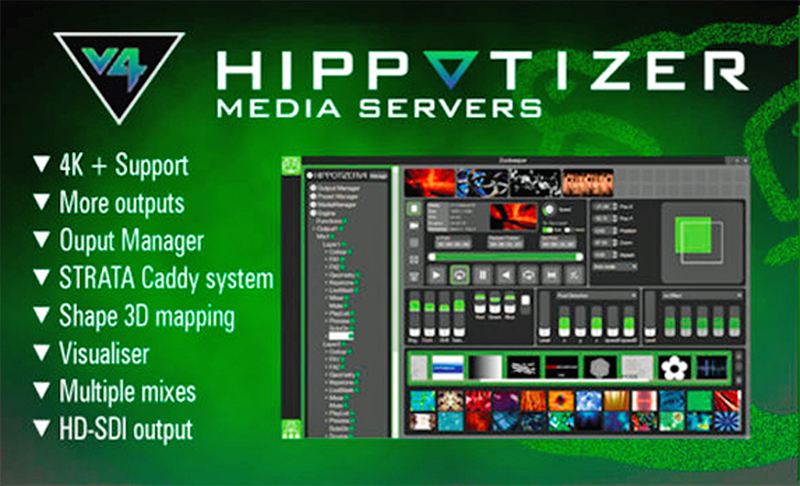 Hippotizer software has evolved in many ways, from offering real time playback of any attribute to the PixelMapper, a feature-rich tool capable of mapping many thousand light points easily and effectively. V4 also includes Shape — a complete 3D projection-mapping tool. Hippotizer's output management system offers complete flexibility in system configuration, and V4's multipurpose pre-visualization tool is built right into the Zookeeper software. Each unit includes an integrated media management system that makes adding media easy and fast.
green-hippo.com
Brightest LED Sourced Moving Profile
High End Systems SolaFrame 3000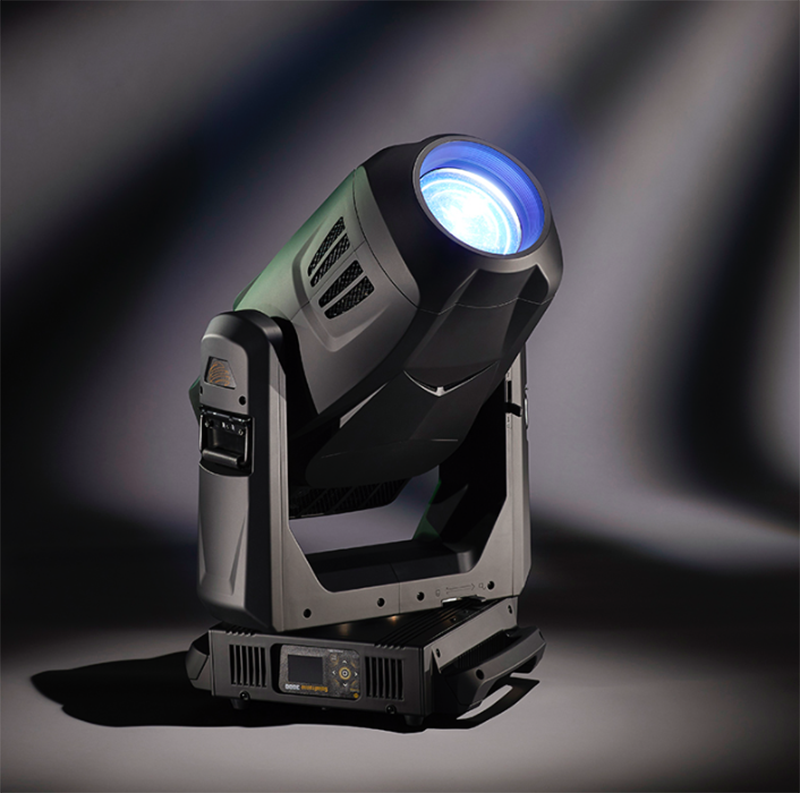 The SolaFrame 3000's Ultra-Brite and High Fidelity models feature a 1000W Appotronics light engine. Although the 3000 is only slightly beefier, the Ultra-Brite version's 37,000-lumen output is almost 50 percent higher than the 26,000-lumen output of its predecessor, the SolaFrame 2000. The High Fidelity model, while lower in color temperature and output, has a CRI of 95+. Both come with every bell and whistle as well.
highend.com
Best New Theater Fixture
Lightronics FXLE17C4N LED Ellipsoidal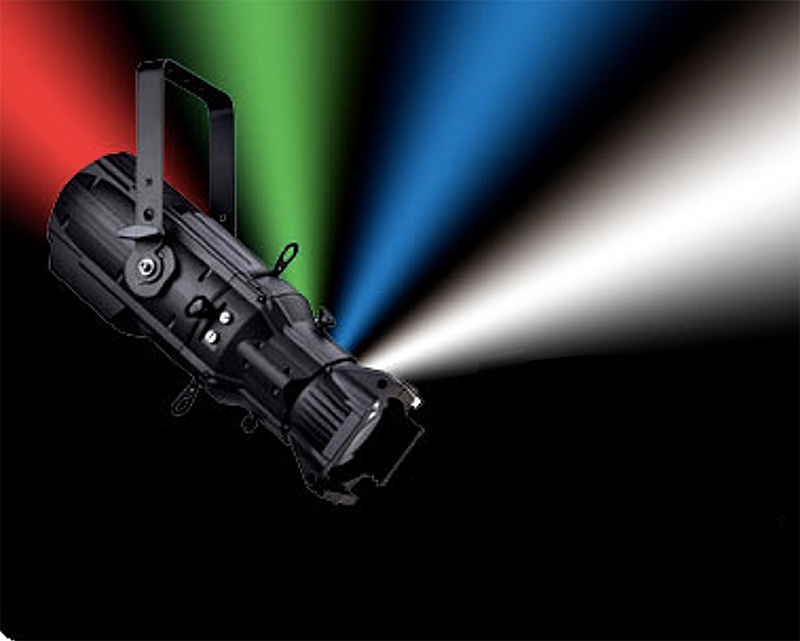 The FXLE17C4N is an LED ellipsoidal fixture that features a 170W four-in-one QuadColor RGBW Cree Array for its light engine. It has stand-alone control modes or can operate via a DMX512 external signal. A mounting yoke enables the fixture to be operated in various positions and orientation. A glass reflector and high quality optic system provide a sharp beam with a native color temperature of 6000°K. An iris and 19°, 26° and 36° lenses are available. This fixture is well-suited for any theater, church or installation.
lightronics.com
Best Pixel Management Software
Madrix 5 from inoage GmbH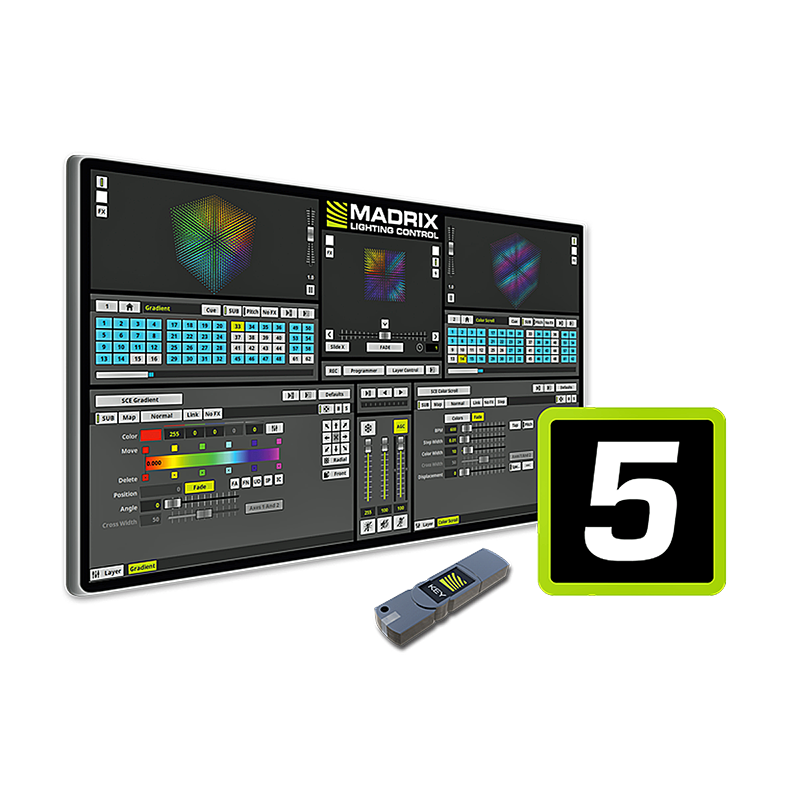 Madrix 5 includes new effects, a faster user interface and performance enhancements. The new TRI effects are manually triggered effects controlled via DMX input or MIDI commands; new Static Color Effects (SCE) enhance the already massive library of pre-configured effects. The software also includes new FX filters like Color Swap and Swap Transformation, enabling users to modify visuals further. Protocol improvements, Patch and other practical improvements, and Main Output Recording push Madrix 5 into a new category of usability.
madrix.com
Best New Truss
Milos Steel Truss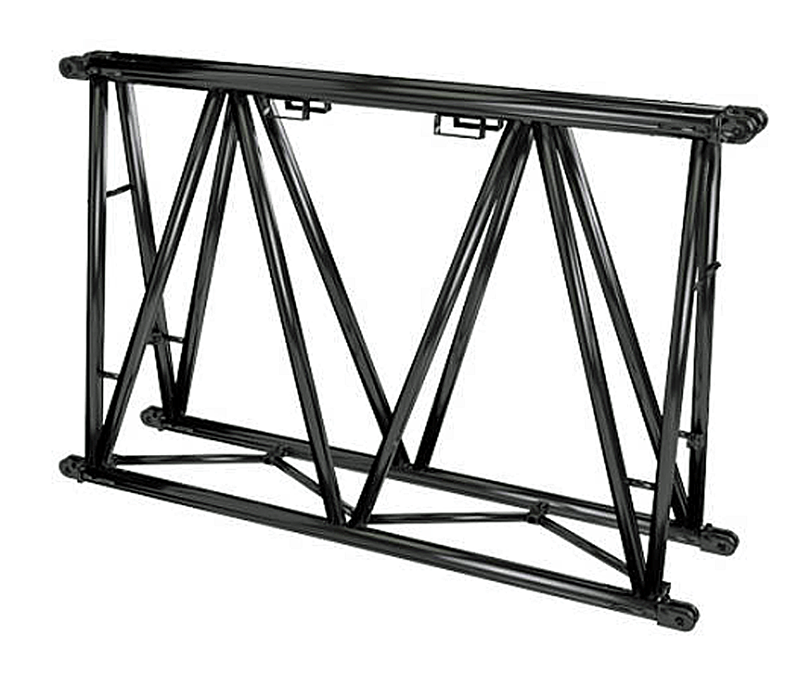 The worldwide market for events is becoming larger every year, with higher loads and taller structures required. Through the use of very special steel alloys, Milos has developed trusses that are able to handle an average of 2.5 times more load at just double the weight (compared to aluminum systems with the same dimensions and under the same deflection). Their steel truss is manufactured under TUV monitoring and according to EN1090. Milos has designed a full range of steel trusses, towers and base elements.
milossystems.com
Best Beam Fixture
PR Lighting Aqua 480 Beam from Mega Systems Inc.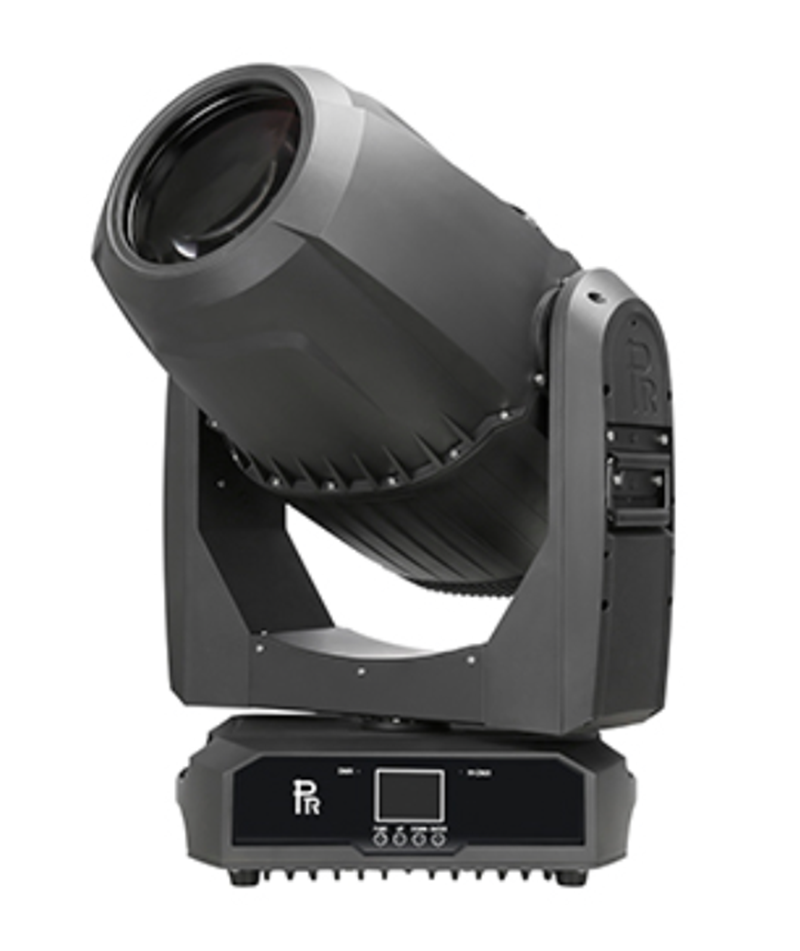 The Aqua 480 Beam is waterproof (IP65) and large-aperture beam fixture. Exceedingly bright, even in the rain, the light source is an Ushio PR 480 with a crisp color temp of 6900°K. The fixture produces a sharp pencil beam, impressive gobo projections (from a stamped as well as a rotating, indexable wheel), and this fixture also provides a number of effects. It comes with a CMY color mixing system as well as a color wheel.
megasystemsinc.com
Best Automated Followspot System
Robe RoboSpot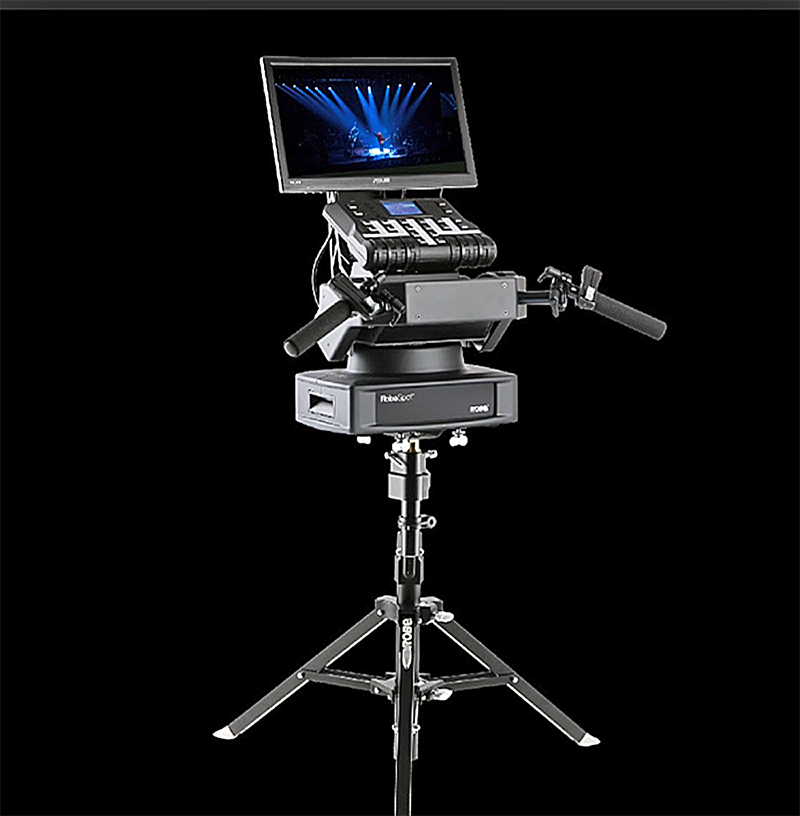 The RoboSpot followspot system lets operators remotely control up to 12 fixtures simultaneously from positions on the ground. The Base Station has a 15.6-inch HD touch screen that allows the operator observe the performance and a full range of hand controls for operating the fixtures such as pan, tilt, intensity, focus, faders and more. The screen receives the live video feed from the RoboSpot MotionCamera or from the fixture-mounted RoboSpot camera, and the operator's commands are instantly transferred to the luminaires via DMX.
robe.cz
Best Video Specialty Item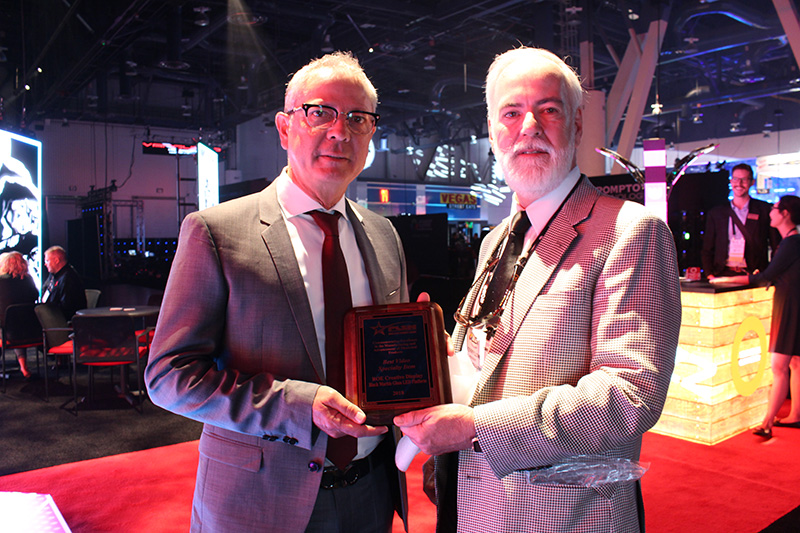 ROE Visual Black Marble Glass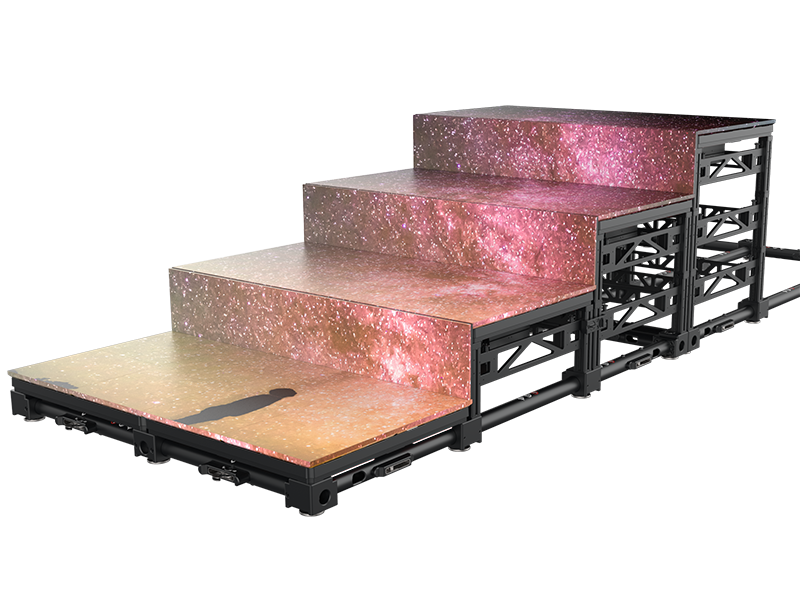 ROE Visual's Black Marble video floor products come in two versions of LED floor solutions Matte and Glass. The less-reflective Matte finish is strong and scratch-proof, and the glossy Glass surface enhances the visual effect of ROE's high-contrast panels. Models range from a tight 4.7mm pixel pitch floor panel product (the BM4) to a 15.2mm pixel pitch model (the BM15 and BM15P). ROE also offers a hybrid floor panel with a less-dense but still powerful 150mm pixel pitch version with 16 integrated high-output LED spotlights per panel. And yes, you can drive a car on it.
roevisual.com
Best Electrical Hardware Product
The Light Source MEGABATTEN Connector Strip
The Light Source has continued their tradition of innovation, creating a new product that solves the problem of DMX and power distribution along a hanging position, while using the product as the hanging position. The MEGABATTEN is both power and data mounted inside lengths of Schedule 80 aluminum pipe, designed to hang in a studio or theater. Length options include a 96-inch section with six signal and power pairs, a 48-inch length with three outlet pairs, a 32-inch section with two outlet pairs and a 16-inch section with a single pair of outlets.
thelightsource.com
Best New Mechanical Hardware
Ultratec Special Effects Swivel Bracket
The Swivel bracket was designed to maximize the distribution of fog, snow, or bubbles by electrically rotating back and forth. It has a load capacity of 100 pounds (45 kg) with a rotational swing of 90 degrees. Maximum rotational speed is eight rpms. The Swivel Bracket is manufactured with heavy duty tapered thrust bearings and a metal chassis. Dual Hanging mounts provide a secure and safe method to fasten onto any truss rigging. It is equipped with DMX/RDM capabilities and a built-in DMX LED display.
ultratecfx.com
Best Advance in Film/TV Lighting
Ushio ColourMax LED Twin Tubes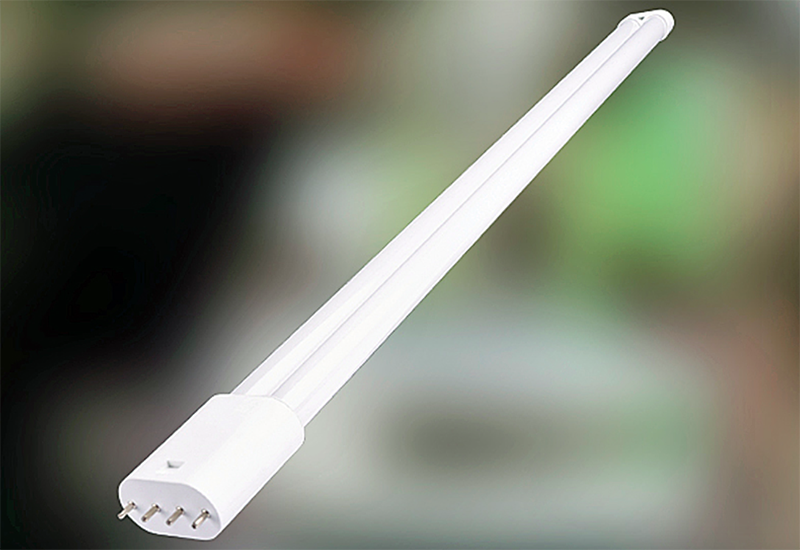 Ushio America's LED Twin Tube lamps are designed for high CRI for broadcast and cinema color quality. The 23W ColourMax LTT tubes are direct drop-in upgrades for broadcast and cinema production. The 96 CRI ColourMax LTT tubes improve upon color rendering and brightness over the leading industry standard fluorescent tubes for the same cost of replacing your old fluorescent tubes. They are available in 3200K and 5600K models and work well as replacements for Kino Flo tubes.
ushiolighting.co.jp
Most Roadworthy Video Cabinet
Vanguard Tungsten Series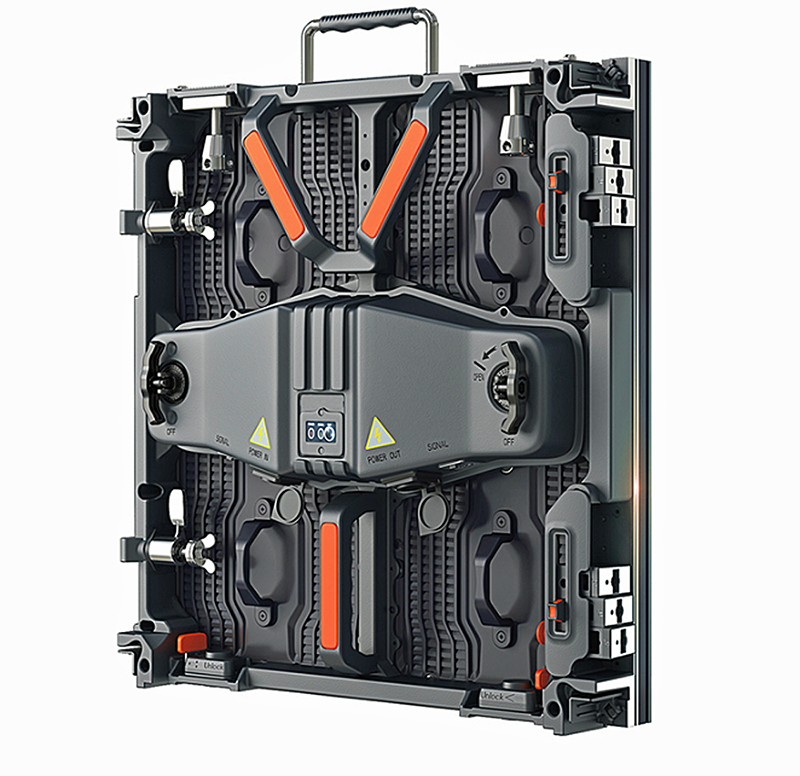 Vanguard designed its Tungsten rental cabinets to stand up to the rigors of the rental business. The stout Tungsten cabinet is made with top-of-the-line components including NovaStar receiving cards, Vanguard Chip-On-Board technology, lamp protection, full front access and aluminum protected corners as standard features. Vanguard offers indoor and outdoor models of this series.
vanguardleddisplays.com
Best New Road Case
Whirlwind Cyclone Pocket Door Cases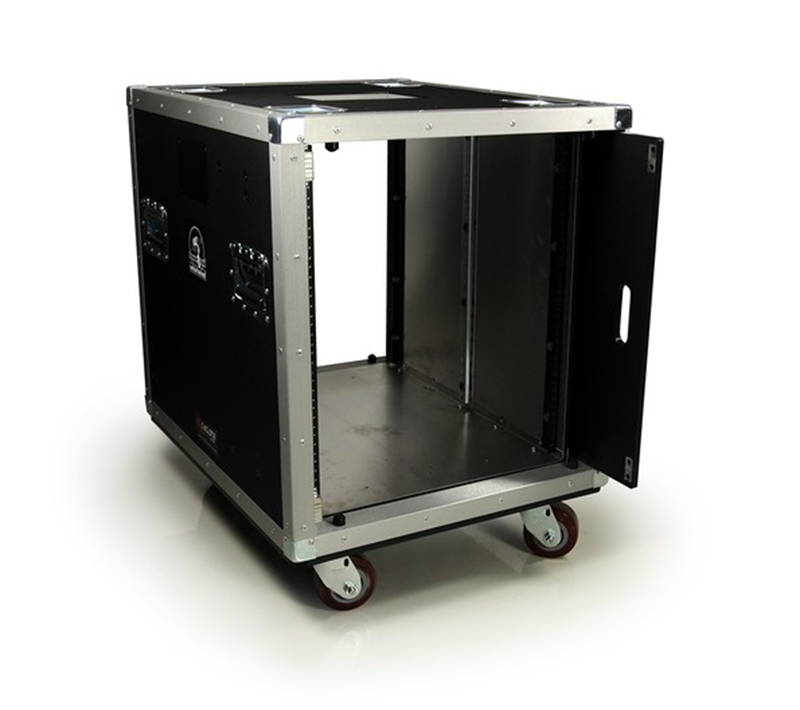 The Cyclone Pocket is Whirlwind's answer to those clumsy doors that you typically have to store when not in use. Simply tuck these away into the case and they're gone. Available in 10 12, 14, and 16-space options, the inner shell is shock-mounted top and bottom for ultimate protection. The pocket cases are the perfect finish to any rack and are available in custom sizes upon request.
whirlwindusa.com
Leave a Comment: