Jacky in Wonderland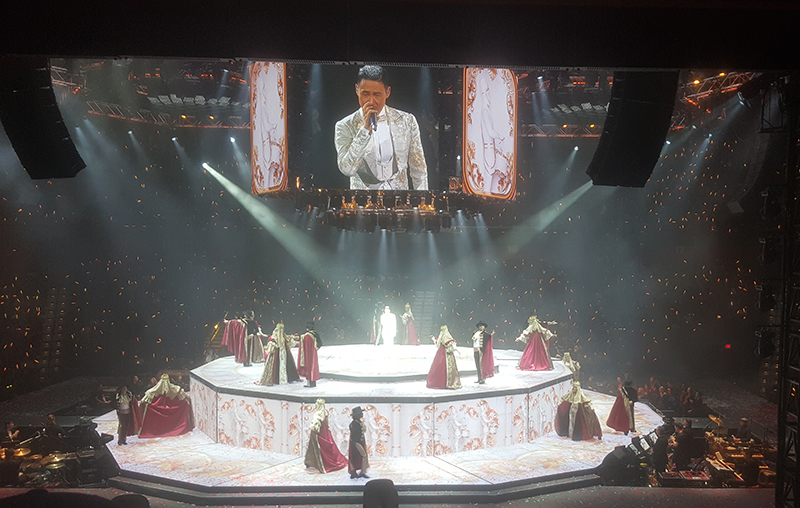 VER Supports Five Elaborate U.S. Shows Showcasing Chinese Singer Jacky Cheung
As part of his ongoing "Classic" world tour, Hong Kong-born singer/songwriter Jacky Cheung, 56, drew capacity crowds with five shows in the U.S. in February, with three shows at the Mohegan Sun casino in Uncasville, CT, Feb. 2-4 and two more at the MGM Grand in Las Vegas on Feb. 17-18. VER supported the production with six truckloads of lighting, video and audio gear, complementing the 30-plus truckloads of gear arriving via 36 sea containers from China.
PLSN was able to attend the show on Feb. 17 in the MGM's 17,000 capacity Grand Garden Arena and watch as the crowd continued to flow in through the first few songs, eventually filling every available seat. Although Cheung is largely unknown among the 320 million U.S. residents who don't speak Chinese, he has an ardent following among many of the 3 million who do, and he sings songs in both Mandarin and Cantonese (with Chinese character subtitles working for both dialects) that range from classic, Sinatra-esque vocal stylings to bouncy pop and hard rock.
‡‡         A Changeable, Video-Covered Stage
In Las Vegas, the in-the-round show setup included a 97.7-by-73.3 (30.1m x 22.3) rectangular raised stage flanked by two raised seating areas filling the entire arena floor. With pits for dozens of band members at each corner, the raised rectangular staging platform has a transformer-like, 12-sided stage as its centerpiece. (Think of a large hex-shape with the pointed corners squared off.) A circular lift in the very center served as the main entrance and exit for the star of the show, with a series of stage sections radiating out toward the edges that all featured rising and lowering stage elements and entrances/exits for dozens of dancers.
The entire stage surface, including the decking and all exposed sides of raised sections, had a skin of LED video supplied by ITP in China. The video content further transforms the multi-faceted, dynamic stage structure for Cheung's wide array of musical styles, with digital scenery transporting the audience from tropical islands to palatial settings and from quiet scenes depicting raindrops to spectacular cascades of waterfalls. And the staging could be as elaborate as a fiery volcano with a nightmarish vision of inflatable goblins or as simple as a bare stage bathed in white light during segments where the artist slows down the spectacle to interact with the audience and regale his fans with humorous and sentimental anecdotes.
Above this elaborate stage, a four-tower roof structure rose toward the arena ceiling, supporting a series of six dynamic, articulating hexagonal pods of lighting fixtures adjoining another hexagonal shape in the center. At the very center of the rig, there are two rings of concentric circular truss. Outside those, there are two more hexagonal shapes, the outer one adjoining with the six large hexagons above the six moving pods of lighting fixtures.
‡‡         Lighting and Effects
To complement the 222 multi-functional Acme CM-56 Magic Panel fixtures in the pods, which came from IEC Group in China, VER supplied close to 700 lighting fixtures for the rig, including 240 Claypaky Mythos fixtures and dozens of Sharpy Wash, Martin MAC Viper Air FX, Atomic Strobes, Rush Par 2 and Par 1 fixtures, Chroma-Q Color 100s and Elation CuePix WW4 and WW2 LED fixtures to keep up with the LED-emblazoned stage content and large I-Mag screens overhead. "The total fixture count is around 1,160," says VER lighting production manager Erik Perry.
Ample haze filling the arena augments the visual power of the impressive beams of light and laser effects, and a variety of other crowd pleasers during the show include cryo-like plumes, confetti bursts, and the 235 Dot Image devices, which create a dynamic array of floating points of light that have the mesmerizing effect similar to the arrays of pinpoints of LED lighting featured on drones. Every member of the audience is also provided with a battery-powered, wirelessly controlled LED baton that fills the arena with dynamic lighting effects and chases.
"There's a lot of gasping in the audience," Perry says, of the many "wow" moments in the show — none of which are repeated. And once the show succeeds in impressing the crowd, it then works to "top" itself. There are moments when the raised stage sections appear to revolve, with the video content flowing in an optical illusion, for example. It's a dazzling effect. Then, a little later, the stage sections really do rotate around. "It's not a simple thing to have this whole set revolve," Perry says.
As an index of the scale of the production, Don Earl of Earl Girls (Egg Harbor City, NJ), who supported the show along with VER, ticks off the number of confetti cues that relied on units he supplied: 18 full-color blasts, 28 white, 28 red, eight gold/silver and, for the finale, 50 multi-color confetti cannons set off in sequential order. (Along with the 124 confetti cannons and additional blowers ringing the stage, Earl also supplied 16 Vesuvio2 units from Chauvet for cryo-like blasts, lit with white and red blasts of LED lighting during the show.)
The show's international design and production team includes China-based Li Kwok Hoi, a.k.a. Ahoi, head of lighting provider IEC, and Australia-based Colin Dwyer, with VER's Erik Perry joined by crew chief Mel Dorough and the production's console tech, Joanne Wooi, who hails from Malaysia. Chuck Meyers, "Mondo" Figueroa, Glenn Ruppert, Travis Braudaway and David Callan were also on hand to look after the dimmers and lighting systems.
‡‡         Meticulous Testing and Prep
Along with its nonstop flow of surprises, the production's tightly choreographed show elements, all precisely interlocked with the looks for each song, gives the concert as a whole a slick, polished feel. On the last day of load-in before the show opened in Las Vegas, Perry gave PLSN a tour beneath the stage, pointing out all the elements engineered into this theatrical wonderland's underworld.
"All those hydraulic lines that you see there — they'll go ahead and test these things all day today. On show days — tomorrow — there will be guys out here with stopwatches, and they'll run every cue of the show and time the lifts, to make sure everything is still exactly how it's supposed to be," Perry says. "They're very meticulous about rehearsal, and making sure that it's the same, every single night.
"Jacky is so aware of everything that goes on with the show," Perry adds. "If he's on an elevator that's moving, and if it doesn't stop when he hits the end of the note, he knows about it. And he's going to talk to someone about it — 'Hey, we need to rehearse this. Let's talk about it and figure out why it didn't work,' or whatever. He's very in-tune with everything that's going on with his show."
With all the moving stage elements, the painstaking rehearsal schedule also helps ensure that everyone stays safe — not just on the stage and rig used for the five U.S. shows, but for two other exact duplicates of this system currently being used for shows in China and Australia this year as part of this artist's current 300-show tour. Add up all the tech support for those systems — which can be covered for outdoor stadium use — and the total staff count for this multi-faceted production climbs near the 770 mark.
‡‡         Ample Supervision
At the MGM Grand in Las Vegas, Perry notes, there were eight stage managers supervising a small army of techs to ensure that the production as a whole went smoothly. "It's choreographed so well that everybody knows where they need to be, every minute of the show," Perry says, noting that VER techs were told to stay well clear of the potential "meat grinder" of moving parts beneath the stage, leaving most of the under-stage work to the crew from China thoroughly trained in its safe zones. The payoff for all that prep? More than 140 shows since this tour launched in October, and not a single injury. "Nothing," Perry says. "Knock wood."
Along with ample layers of supervision, strict protocols about tripping hazards like cabling are in force as well. By show time, Perry notes, the corridors beneath the structure need to be as cable-free as the clean decking surface above. "Even on the floor lights that they're putting in around the edges — all that cable is actually tied up underneath the stage. There's no cable on the floor, because there are so many dancers and performers and band members."
A camera above the stage gives the eight stage managers and dozens of other techs a bird's eye view of the overall stage, and while one technician is responsible for moving 12 of the staging sections, six other sections have a dedicated operator working in small cubbies beneath the stage, next to each of the lifts. "They all have their little station underneath," Perry notes.
Between the lift operator cubbies, fabric-walled dressing rooms, prop storage and control zones for dimmers, video and audio, the under-stage area is carefully mapped-out. Between shows, dozens of crew members are also on hand to keep all the gear in top working order, including a large crew that focuses on LED panel pixel soldering and repair.
‡‡         Automation and Control
Complementing the elaborate transformations happening with the stage structure as well, the lighting rig and truss systems suspended overhead change throughout the show, with the rise, fall and articulation of the hexagonal pods adding to the movements and changes of the multifunctional fixtures themselves. "They all kind of track up and down, and kind of dance and articulate," Perry notes, of the hex-pods. "Underneath — beneath those video screens that you see in the center, there are two circular trusses there. They also track up and down during the show."
Perched in the seating areas on one side of this in-the-round production (with I-Mag cameras and screens ensuring that Jacky is always facing the four-sided audience), there is a three-tiered "village" of control in the portion of the seating area devoted to lighting, lasers and Movecat automation system (bottom tier), video and camera controls (second tier) and audio (top).
"We run two active grandMA2 full size consoles," Perry says. "One console is just the [Acme CM-S6] Magic Panels and [Dot-Image] LED balls. The other console does all the spots and washes and strobes. A third console, which is a grandMA2 light, is just for all the glow sticks that will be in the audience. So those are the three active desks for lighting. Then there's an additional desk that does lasers, and all your audio on top of that."
If much of the show production is state-of-the-art, there are ingenious low-tech touches as well. "This is kind of a little Origami boat," Perry says, pointing to one prop used for "The Departed." "Jacky sits up here," he adds, lifting the angular wooden lid to the boat. "And there's a little dude who sits here and rides the bike. So he rides around the stage, and Jacky sits in the front, and the guy riding has someone talking to him so he can ride around and know he's not going to run off the stage."
Combined with the rippling water imagery on the LED stage deck, Cheung's serenade from the slowly gliding boat is a memorable moment. But while effective, "all the props you see are used just once during the show," Perry notes. Considering that this show is more than a three hour marathon of those moments, it all adds up to a tightly orchestrated masterpiece of show production that is a wonder to behold.
Leave a Comment: