LDI 2018 Show Report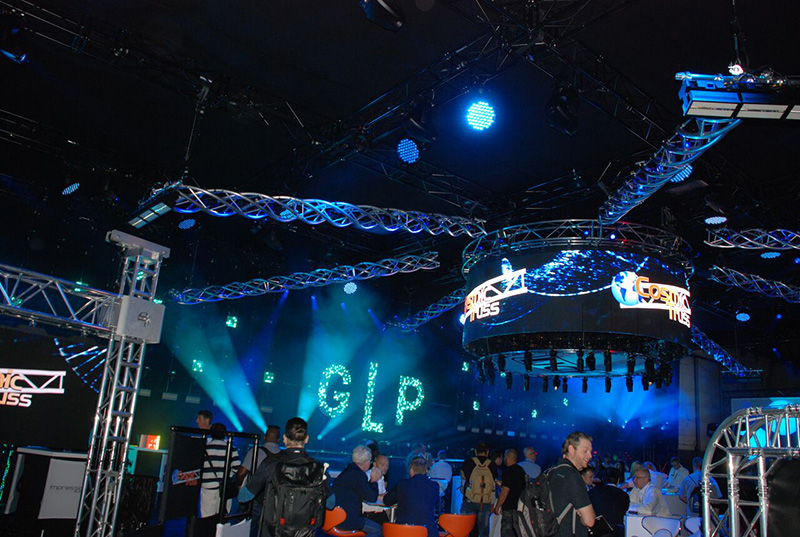 The 30th annual LDI exhibition ran from Oct. 19-21 (with sound system demos Oct. 19-20 and a conference program from Oct. 15-20), filling the Las Vegas Convention Center's North Hall. Although the North Hall is smaller in overall square footage than the Central and South Halls within the Las Vegas Convention Center, LDI notes that the area of occupied booth space grew this year. With less distance to walk, end-to-end, visitors also appreciated the change in show floor layout, which made it easier to cut from booth to booth to gather their info. The days of bumping shoulders and zigzagging through crowds were gone. In all, 390 exhibitors were on hand to show off their latest wares to the 14,000+ people who attended the show. Here are some highlights.
Absen's booth was set up as if a live concert were about to take place. More than 6 million pixels were in use. A design that towered over a section of the booth included a curved roof made of the new Polaris Series 2.5 cabinets. In the center were Altair models from their touring line of video, complete with frames and carts for quick assembly.
AC Lighting rebranded the Vista line of consoles as Vista by Chroma-Q and a new model is in the works. The Chroma-Q Brute Force is an LED alternative to the traditional "Wendy" light, with full color RGBW lamps that draw just 15 amps @ 240V. It's pixel mappable. The Follow-Me system has some new hardware as well.
ACT Lighting's grandMA3 console was a big attraction at their booth along with MDG's range of fog machines, Ayrton moving lights and Robert Juliat spotlights and battens. ChainMaster hoists and AC power were also featured at ACT Lighting's booth.
ADB Stagelight had their architectural wash fixtures on display, including their Oksalis FL10 and FL20 LED fixtures. The color mixing version contains RGBACL 6-in-1 LEDSs. The Lexpert line of stage lights with Fresnels and profiles was also on hand. We liked the look of the Lexpert Emphasy, a compact LED profile spot.
ADJ: The big news was the release of their Hydro series of IP65-rated moving lights. First in line is the Hydro Beam X2 and its little brother, the Hydro Beam X1. Their durable casings protect them from dust, sand, moisture and liquids. Also introduced was a bracketing system that allows the Encore Burst blinders to connect in an array.
Altman Lighting: Their big news was the release of their new LED par with zoom capability. The AP-150 packs 135 watts of LED power through a nine cell, RGBW color system. Fully RDM compliant, it can run in 8- or 16-bit, utilizing 15 DMX channels in its full mode.
Antari: This effects company unveiled some new machines. The DNG 250, an upgrade to their line of low smoke generators. Their eco-friendly line includes WDMX fog/faze machines including the IP-1500, the only outdoor rated fogger. The high output F-7 self-cleaning hybrid, which creates fog and haze, was also on display.
Area Four Industries: Milos, Litec, JTE and Tomcat showed new products at their collective company's booth. Tomcat had a great lighting pod. The EXE division showed us a beefed up model of the Dynamic Stack Tracks. This model allows scenery and video walls to move sideways, up and down as well as rotate.
Astera: This leader in wireless LED products came up with a new LED tube, the Titan and Helios — the son of Titan. Titan Tube was especially designed for the Film, Broadcasting and Cinema industries. It's optimized for an ultra-high TLCI, very high CRI and peak brightness. The Helios is half-sized at 55cm in length.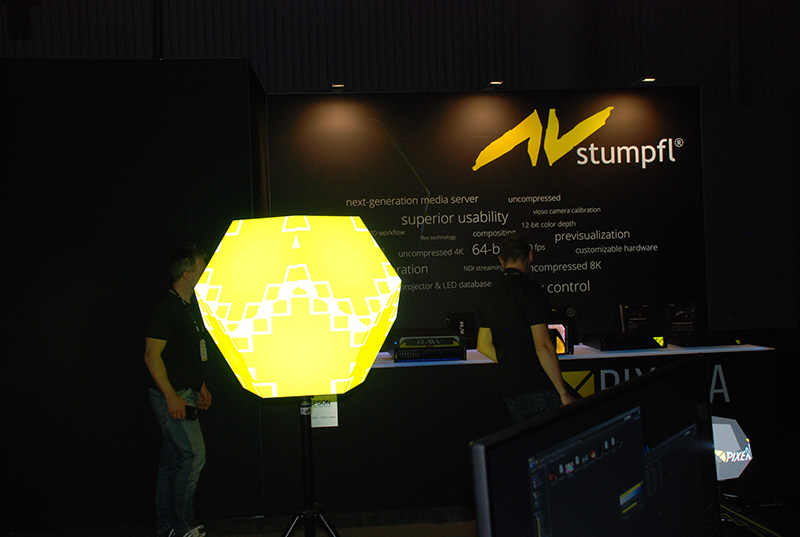 AV Stumpfl unveiled their media server, the Pixera, to the world. This 64-bit system for real-time media processing, compositing and management is built around the key theme of usability. The T-32 Shift Screen System Leg makes it possible for one person to adjust a mobile projection screen's height with ease.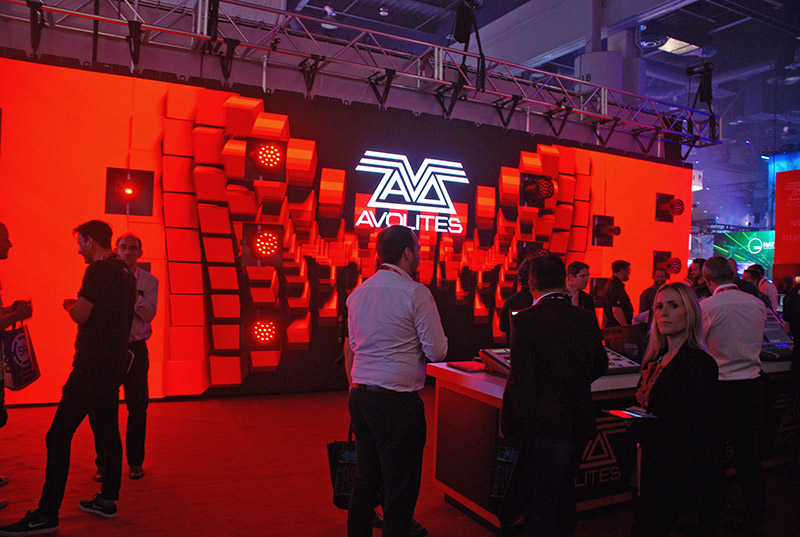 Avolites: Synergy is the name of the game for Avo. They have developed a bi-directional system that allows their consoles to work directly with their line of media servers, bringing lighting and video together like never before. The system offers new functionality available with any combination of console and server.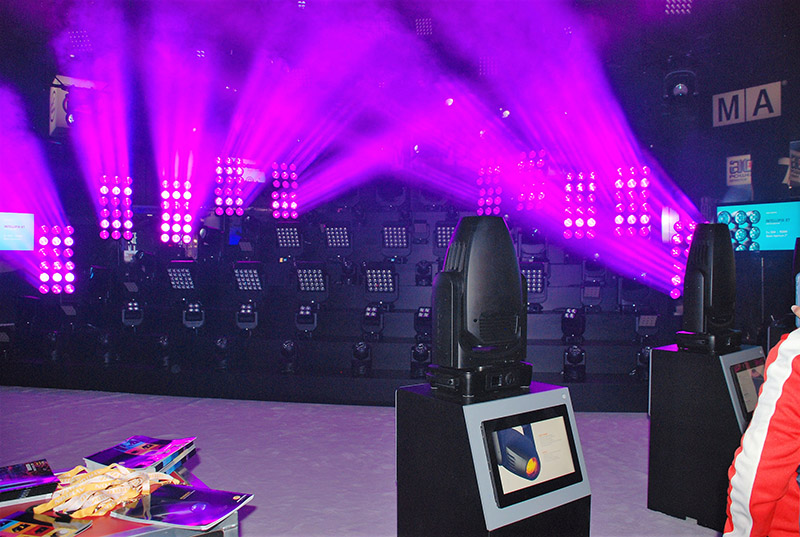 Ayrton: The release of the IntelliPix-XT caught my eye as the company displayed an innovative LED light again. Ayrton continued with their fine line of moving yoke fixtures with the Bora — a 750W LED sourced fixture. The Bora S boasts 38,000 lumens. The TC model is also impressive at 31,000 lumens.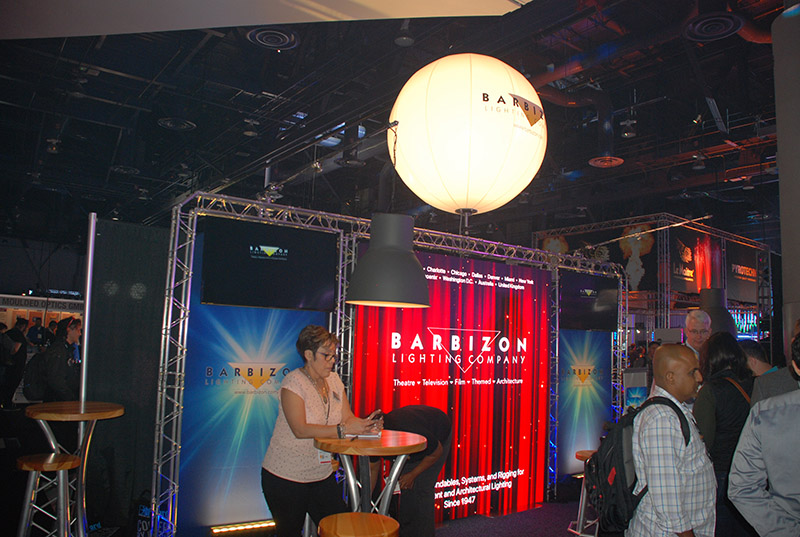 Barbizon: One of the world's leaders in expendables for the entertainment world was on site to explain that they sell the majority of what you see on the show floor at LDI. From LED tape to gaffer tape, light bulbs to light fixtures, they are a one-stop shop.
BB&S: The big news was their Force 7 ellipsoidal fixture. It promises the brightness of a 750-watt fixture while drawing only 185 watts. Along with a strong beam and totally flat field, this 48-volt fixtures comes with a PSU that will accept any voltage. Also, any ETC barrel and lens fits on this fixture.
Blizzard: Once again, this company teamed with ModTruss to build a spectacle that was unrivaled at LDI. Attendees drove into their enclosed booth in a boat, only to be immersed in video provided by Blizzard's IRiS panels. The LED walls lifted, and the attendees were inside a Willy Wonka Chocolate Factory with the vendors in full costume.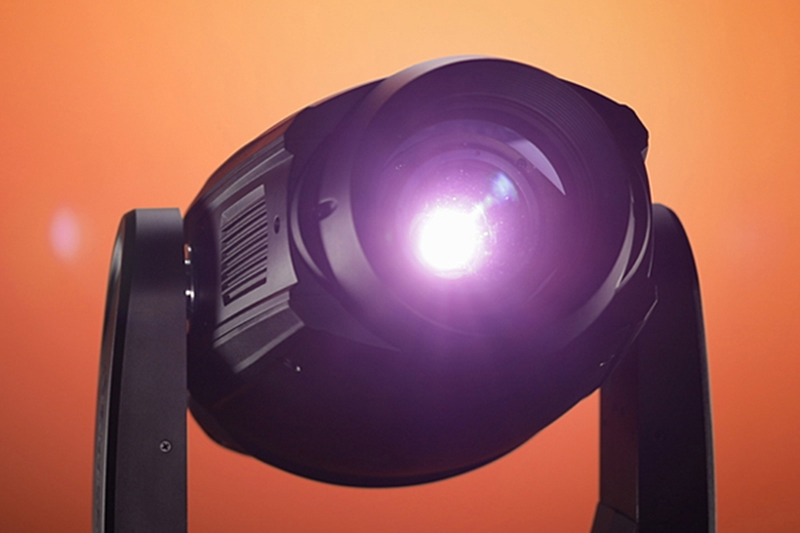 Cameo: Adam Hall North America, Inc., presented a new line-up of LED lighting innovations from its Cameo brand. The new OPUS Series, which includes three moving heads, and F-Series were unveiled. They showed their Zenit W300 outdoor wash light and the Zenit B200, a powerful battery-powered wash light.
CAST showcased their wysiwyg R41 and BlackTrax Realtime Tracking system. The company featured a performer who wore a tracking beacon and, while dancing, she interacted with live generated graphics and was followed by lighting and PTZ broadcast cameras. This was all made possible by BlackTrax the central nerve integrating all technologies.
ChamSys unveiled the QuickQ range of lighting consoles. With a new operating system, one can quickly learn the desk and connect to lights via RDM, DMX, etc. The console comes with the ChamSys' operating and cue engine and is offered in 10, 20 and 30-fader models.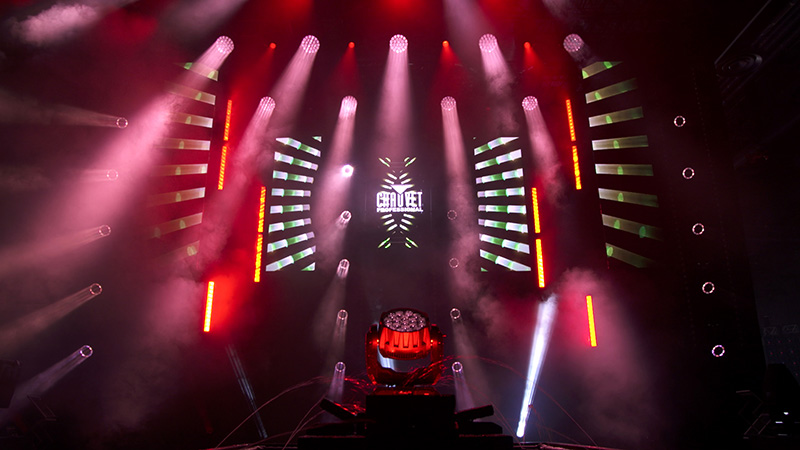 Chauvet's award-winning COLORado Solo batten and IP65-rated Maverick Storm 1 Wash fixtures attracted visitors to their packed booth. Their new EPIX Flex system allows them to drive 20 meters of Flex LED tape from one driver. The company also showed off their Ovation line of par fixtures. Also released was the WELL Pad, an IP65-rated, battery-operated LED panel.
Christie displayed Pandoras Box v6.1 software for their media server. Also featured was their 0.9mm LED wall from their Apex Series. Along with the Crimson WU25 3DLP projector, they also displayed the dazzling output of the DK40, their latest and most powerful RGB laser projector.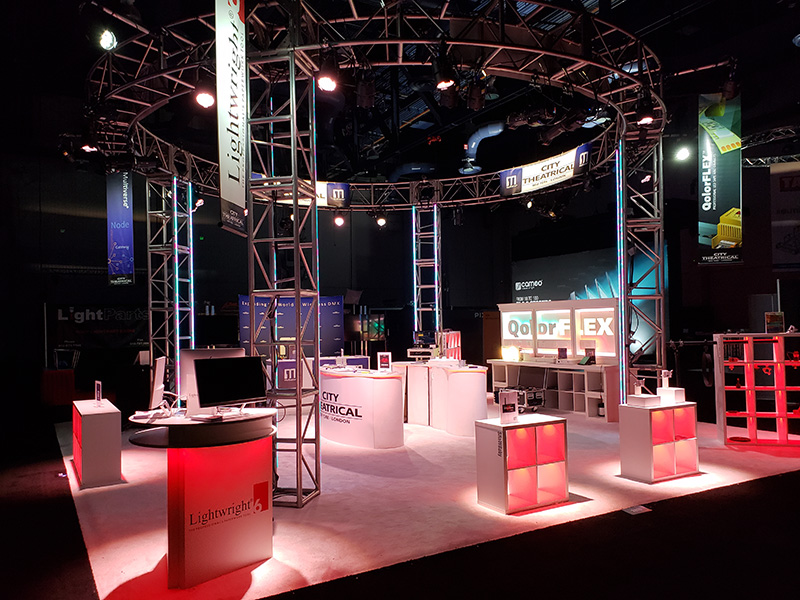 City Theatrical launched their new Multiverse wireless DMX system The system can broadcast up to 10 universes of DMX data from a single transmitter, while producing less radio energy than present-day single universe systems. This marks the fifth generation of their engineering development for wireless DMX technology.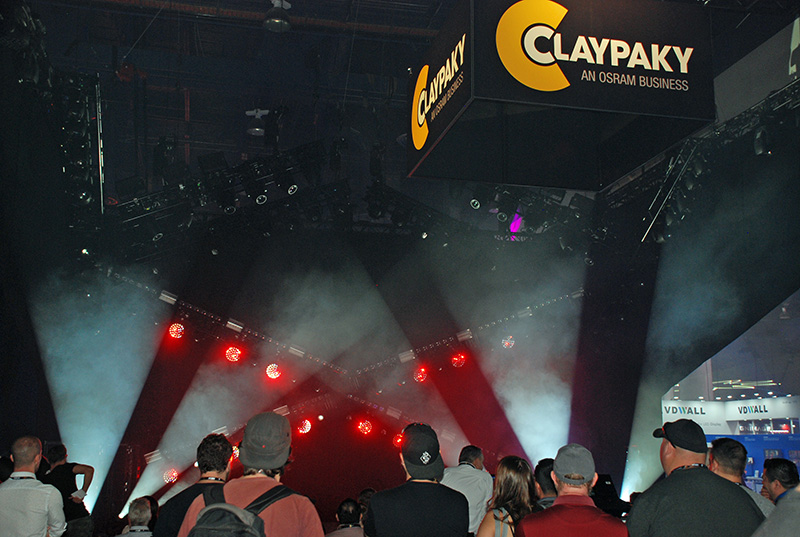 Claypaky expanded the Axcor line of LED moving heads to 11 models, including the Axcor 400 Spot, Axcor 400 Profile and the Axcor Profile 600, offering users even more choices in different power ranges for their needs. The Sharpy Plus was also on display, taking the company's line of fixtures with pencil beams to the next level.
CM: The big news is that they now have a variable speed (VS) Lodestar hoist. Speeds can be set for all the hoists. Users can set the acceleration and deceleration speeds. The limits can be set electronically. The hoist comes with Swift Lift Capability — when the motor senses there's no load on it, it will run at double speed.
Cosmic Truss: The hippest truss company in the world keeps coming up with truss art. Debuting at the GLP booth was this twisted truss called DNA. It's 20-foot-long truss that looks like a corkscrew. They also launched the F45 specifically designed to support video walls, with a central bottom pipe for center hanging.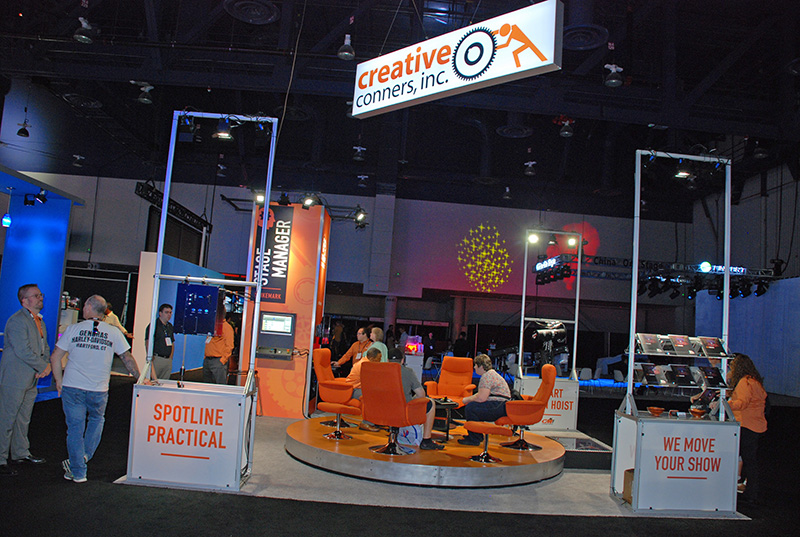 Creative Conners: Along with their line of staging automation, Creative Conners showed off their various controllers. New this year were three models. The Stage Manager contained an all-in-one touchscreen for a control surface. In addition, they offered the Pendant and the Spikemark 4 to suit whatever automation needs you have.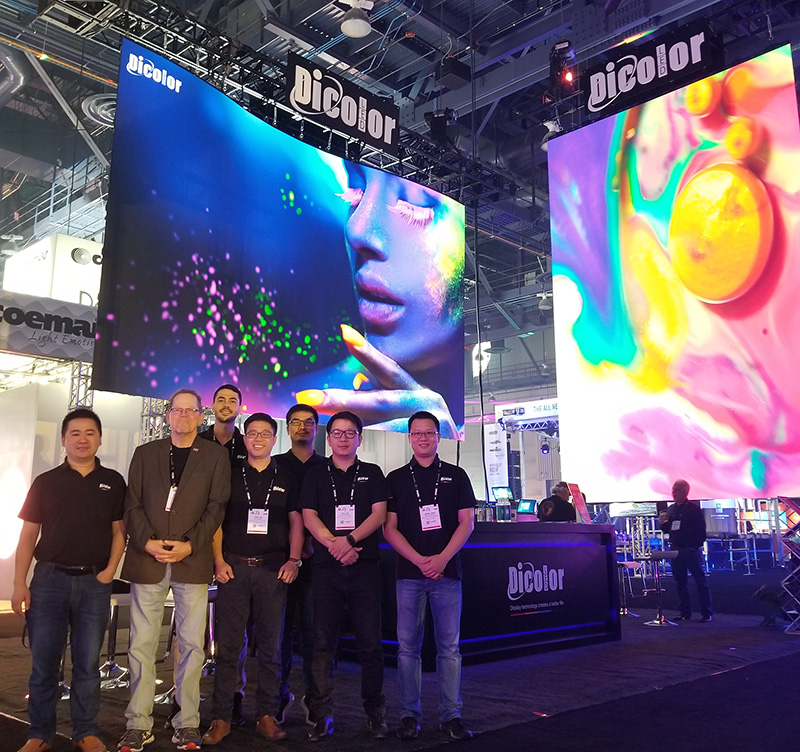 Dicolor displayed their AF series and MA series, which attracted the attentions of all the customers in the exhibition hall. To help their customers get more familiar with their products, they launched training for them, and their party was a great success.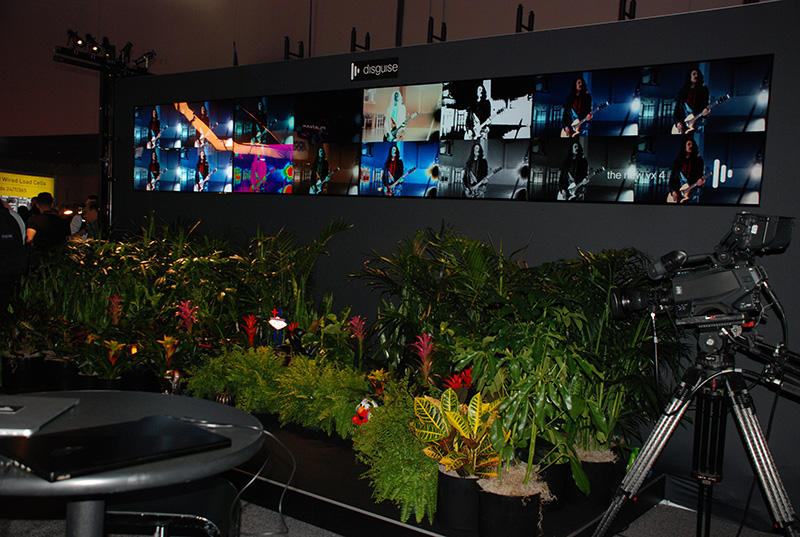 disguise: The master of all media servers continues to advance with the release of r15, their latest software. This can generate heat maps and Lux rendering, which allows for more precise control of shadows and ambient light. They also announced the next generation of media servers, the VX 4×4.
Doug Fleenor Design showed their latest wares on a motorized Lazy Susan that was, of course, controlled by DMX. The 1212 DMX splitter with a sealed enclosure looks useful. Ethernet to Analog converters, Ethernet relays, and the DMX2SND motor control that can operate a curtain track in both directions are just some of the new products.
Drape Kings: These folks are not just about pipe and drape. Their new AV Drop is a modular backdrop system that can be ground supported. The system works with aluminum flats that can change size easily and fold up into nothing. A 16-by-100-foot wall (HxW) can fit on two pallets.
Eilon Engineering: The masters of load cells showed their Ron Stagemaster series of wireless (or wired if you wish) weighing systems, with separate shackles for ¼-ton, 1-ton and 5-ton loads. Continuous load monitoring and overload prevention systems can all be calculated with a software program on your laptop.
Elation brought out no fewer than seven new products. The waterproof Proteus line adds a Smarty, a Profile and the Rayzor with TwinkLED technology. The Artiste line added the Monet, a fully featured LED Profile with an impressive color system that outshines most lights. The Obsidian control system is in full flow now as well.
ElektraLite was on hand to show off their range of Stingray fixtures. They have added an LED Fresnel to their line of ellipsoidals, which includes The Stingray warm white model as well as an RGBL one. The mini Stingray is a cute fixture with a 20W COB light source.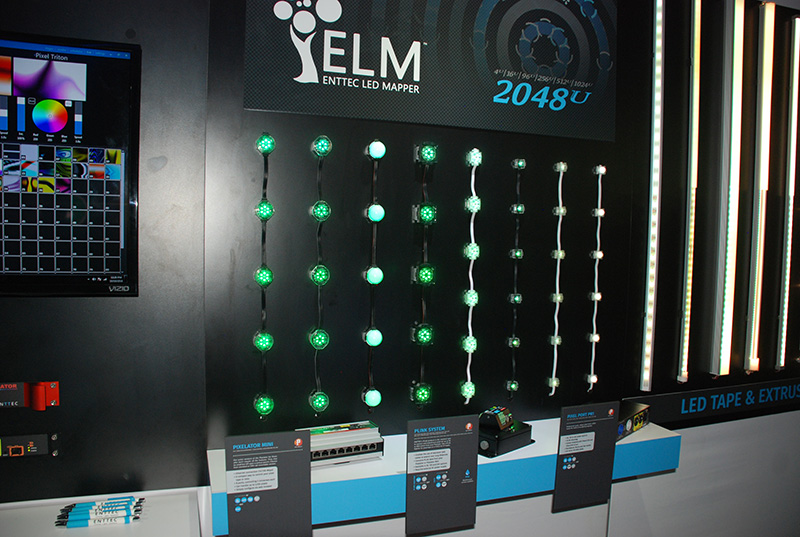 Enttec: The masters of pixel control had their new Pixelator Mini working to show you advantages of using their control system to get the most out of strings of LEDs. They also showed us their Pixel Link (PLink) devices. Each PLink port can drive up to 340 RGB individual pixels (two DMX universes).
Equipson S.A: The makers of the WorkPro Land Shark showed the world their small, sexy light desk. They debuted the Pyron range, which includes several wireless devices designed to provide complete control of stage effects and hardware ranging from stage pyrotechnics and lighting effects to CO2, flame and cold fire spark machines.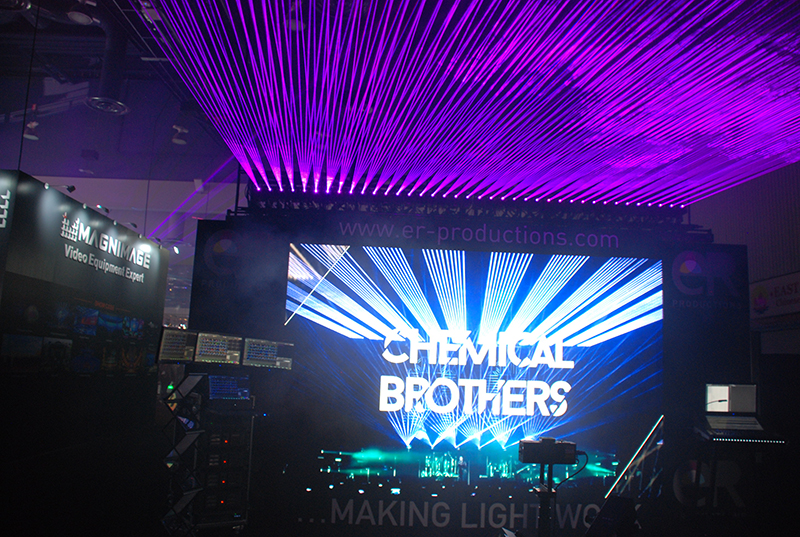 ER Productions showed off two of their newer laser products. The Burstbox is a small, lightweight, two-channel DMX fixture, which emits a single rotating diffraction grating that can be faded. It's available in red, green or blue and features a single beam. The Kinekt is a full scanning laser that is compact and can physically link with another one.
ETC: The company renowned for being the leader in theatrical conventional fixtures has added a moving light. The Relevé Spot is a compact mover that is moderately priced and targeted for smaller theaters and high schools. A four-color additive system along with the patented Whisper Home technology make it a nice fixture for theater.
Global Truss America/DuraTruss: The truss partner of ADJ showcased their products in a clever four-post ground-supported system that held a center circle truss in play. They Unveiled their DT DJ Pro, an all-in-one booth that wraps around the table and provides a pipe system for hanging lights.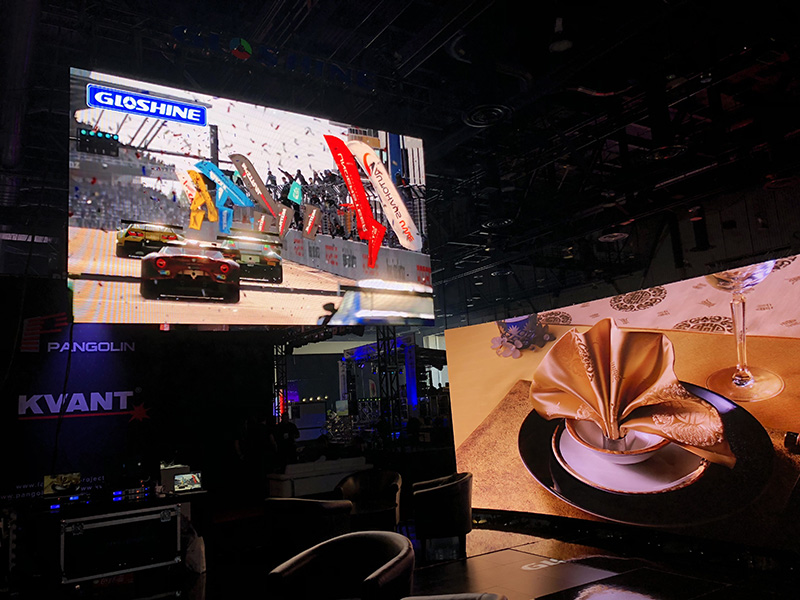 Gloshine's Legend series LED screens feature an all-in-one-design, with accompanying touring cart dollies for ease of transport and customized ground supports. The high-end MV series is engineered for fast and easy installation and maintenance. The outdoor 3.9 mm touring system can be mounted in frames for quick setup with an IP rating of 65 on the front of the panels.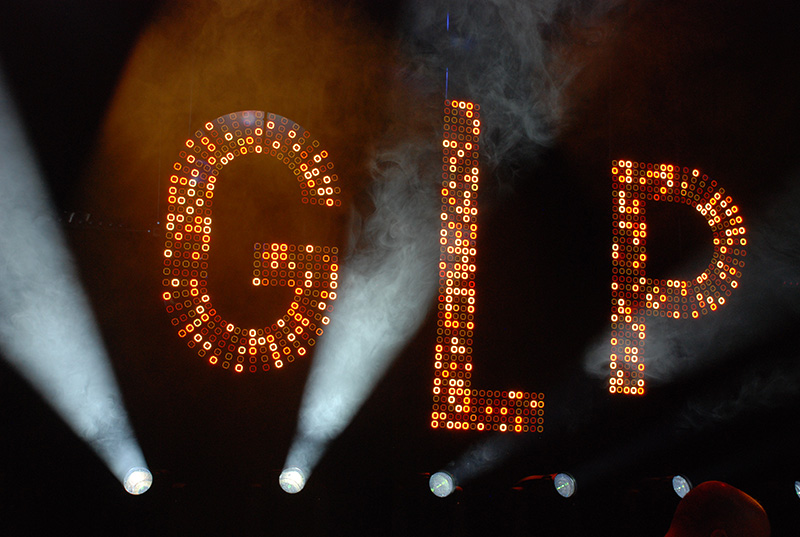 GLP: German Light Products continues to unveil innovative, high-quality products. Their Impression FR1 is a cute little mover. Brand new were the E350 model, a new, supercharged companion to its popular impression S350, in an efficient and optimized package; and the KNV series of LED block matrix lights, which lets LDs play Legos with intensely bright LEDs.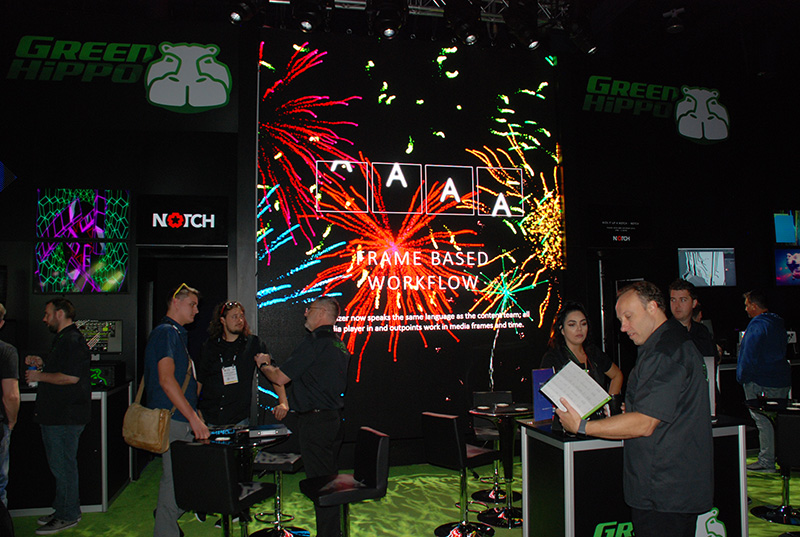 Green Hippo: The big news was their acquisition by Spitfire Creative Technologies. The company notes that business will continue as usual for all users of the product, with the ownership change allowing the company to continue its growth. Their version 4.4 software features 15 new or upgraded fixtures and well as new functionality changes.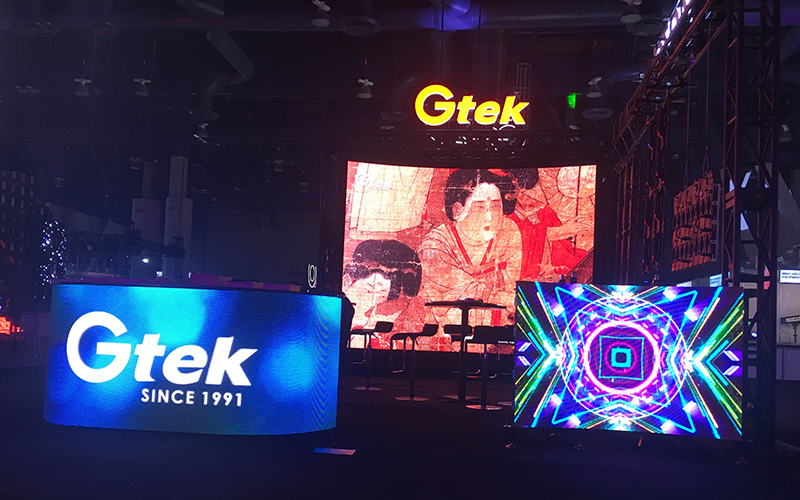 Gtek brought their InnoPad panels to display. Made with carbon fiber material for lightness and strength, InnoPad C1.9 panels can be configured at angles from 22.5 to 90 degrees. Designed for a seamless appearance, InnoPad's quick assembly process and crystal clear screens look like they would enhance any show.
High End Systems showed their SolaFrame 3000 and SolaSpot 3000 models while gathering a crowd for the Hog Factor contest. On display was the prototype of the TurboRay, a new LED wash light reminiscent of the old turbine engine-looking wash lights of the 90's, but on steroids and with lots of cool new functions.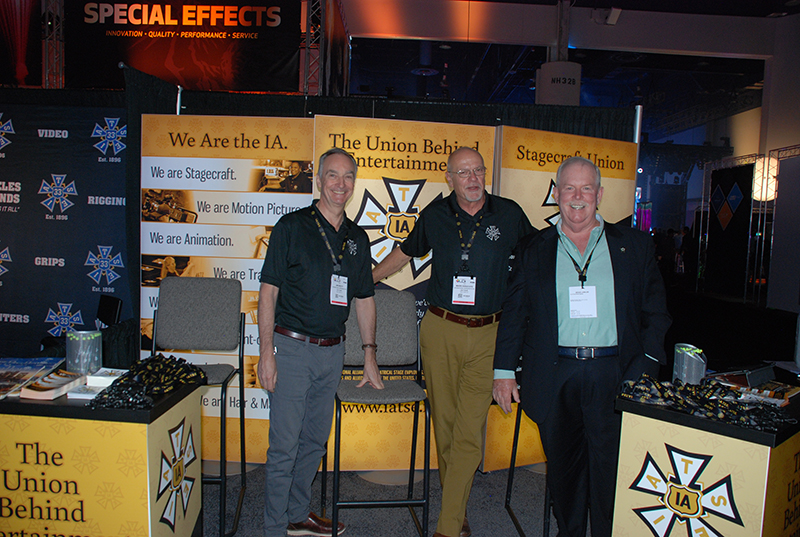 IATSE: Representatives of the International Alliance of Theatrical Stage Employees from various regions were on hand to discuss how they could help with all of your stagehands as well as setup, programming and execution details.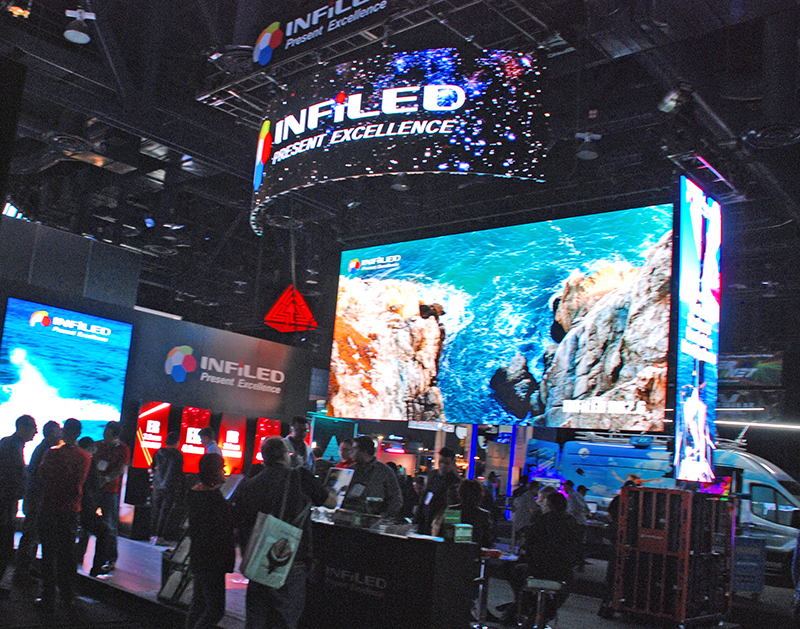 INFiLED: The DB (Deep Black) 2.6 pixel pitch for high definition solutions was on display this year. Also shown — their AC (Air Carbon) series — strong yet lightweight models designed for rental solutions. The IP65-rated units are thin, with high contrast and fast assembly.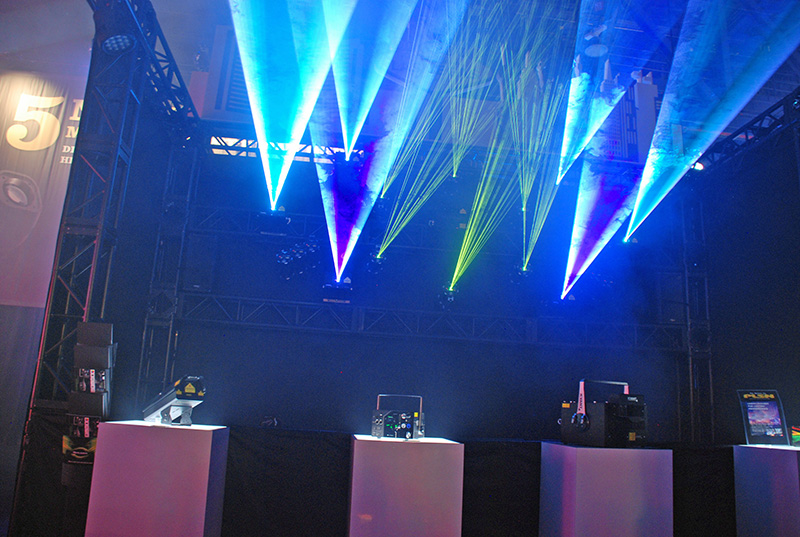 Kvant/Pangolin: The two companies shared a booth that featured Kvant's 20W lasers with the new FB4 media server in use. The big news was that their software now allows LDs to control lasers from their lighting console without an intermediate console, using Art-Net, thereby eliminating the need for a separate operator or console.
Le Maitre is now offering a wireless Salamander Quad Pro. The SQP holds four different canisters that can rotate in the turret for multiple blasts of flames. You can strap this to a moving pod or set piece and not concern yourself with running cable. They also had the Wave CO2 and Wave Flame machines on hand at the booth.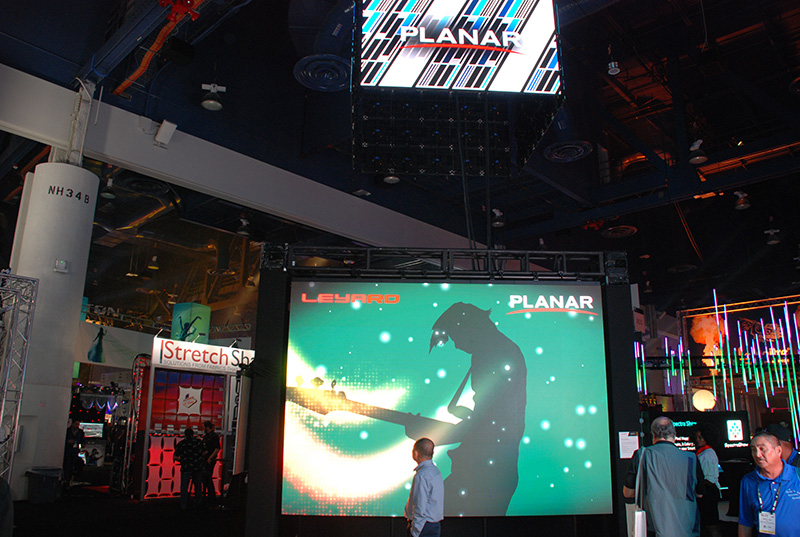 Leyard and Planar's VersaLight Series was on display. It features a quick-install, self-supporting mounting system and self-contained LED cabinet design. Also on the floor was the Leyard VVF series. These units come in indoor and outdoor models ranging from 2.5mm to 5.9mm pixel pitch resolutions.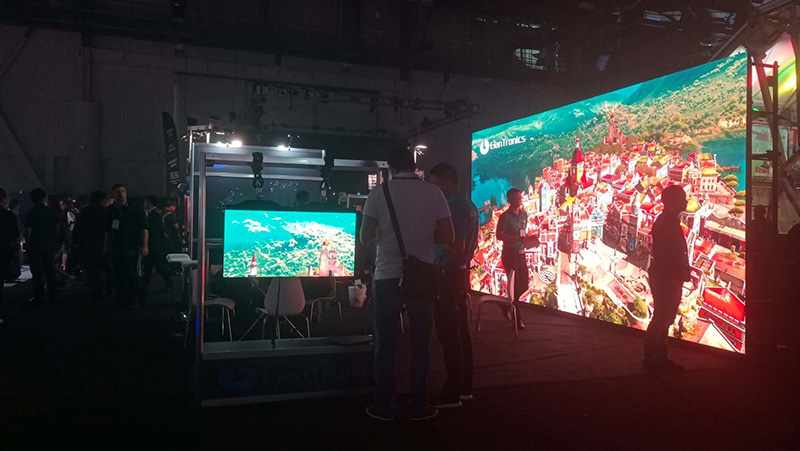 LianTronics: Shenzhen Liantronics Co., Ltd is a leader in the LED display industry. At LDI 2018 in Las Vegas, the company featured the LianTronics RE2S fine-pitch curvable LED screen for rental and GOB (Glue on Board) technology, letting users repair high-res screens if damage occurs.
LightParts: Robert Mokry and family were on hand to discuss what they can do for your old technology. These folks can fix just about any moving light, console or just about any other lighting-related product that you send them.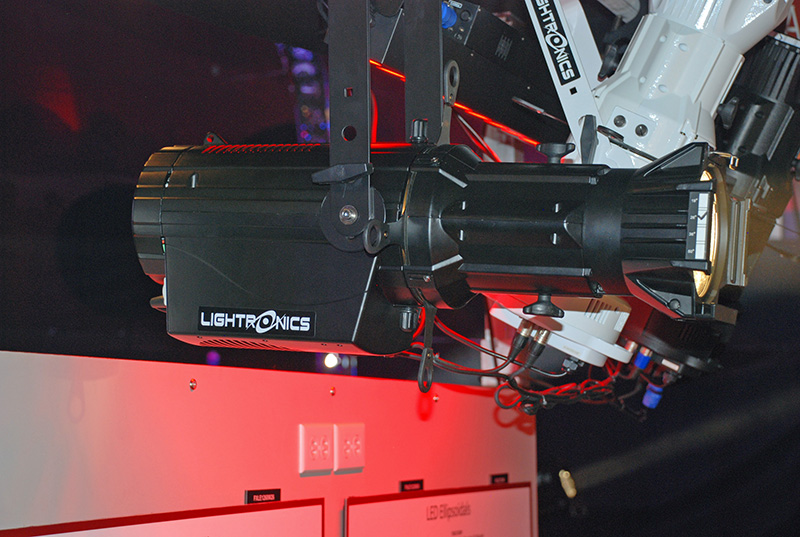 Lightronics didn't rest on the laurels of winning the Gold Star for the best new theater light last year. This year, they brought the new FXLE 3032W. This light features a 300-watt warm white LED engine. The 3200K color temperature bathes the stage with warm output.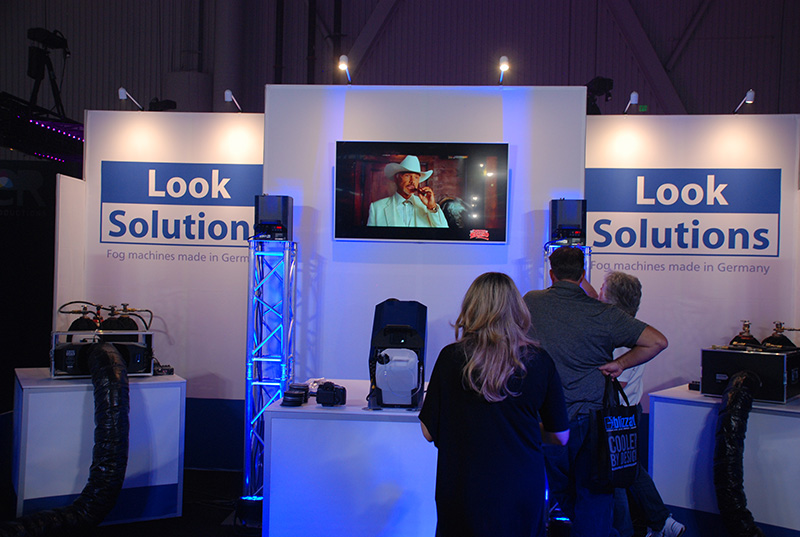 Look Solutions: This year Look took their line of Cobra smoke machines to the next level with the release of the Cobra 3.1 —a 3100-watt version. The output nozzle contains 20 small holes and is a much quieter model, making it perfect for theaters and movie sets.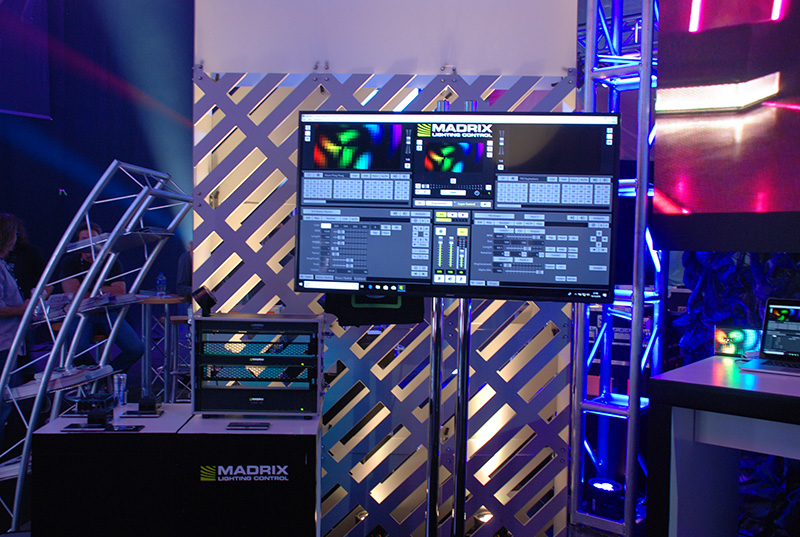 Madrix, developed by inoage GmbH, was supported by a couple of fellows at the Inner Circle Booth at this year's LDI show. The recent release of Madrix 5 was lauded for its state-of-the-art effects, a faster user interface and a variety of other ease-of-use and performance enhancements.
Martin by Harman showed us their new mover, the MAC Allure Profile. It features a neat RGBW light engine with unique seven-segmented beam control. The pixelated beam can be controlled or pixel-mapped via DMX and Art-Net protocols, however, switching or cross-fading to P3 or vice versa is now instantly possible.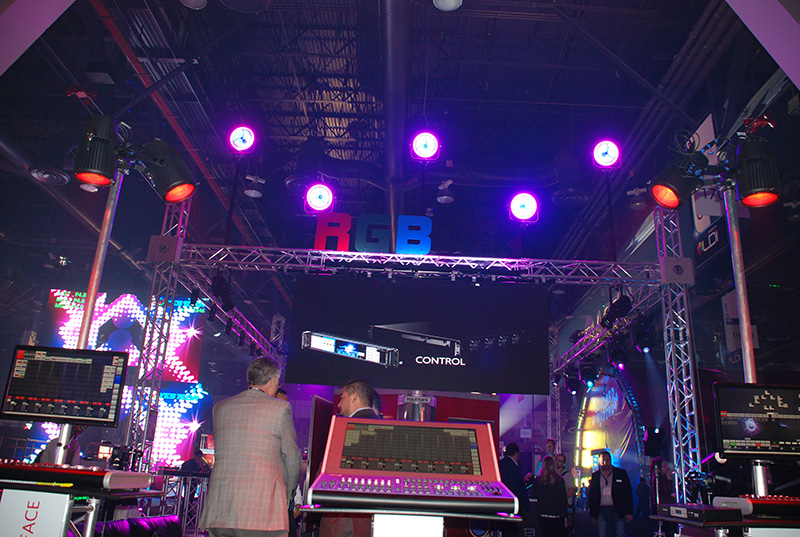 Mega Systems: The big news at this year's booth was the Mega Lite Circa Scoop, our favorite new LED fixture on the floor. It boasts a white scoop, several colors of LED inside and a ring of LED for a circumference. The Lumen8 console also drew attention, as did their PR Lighting series, RGB Link video processors and Fenix ground support lifts.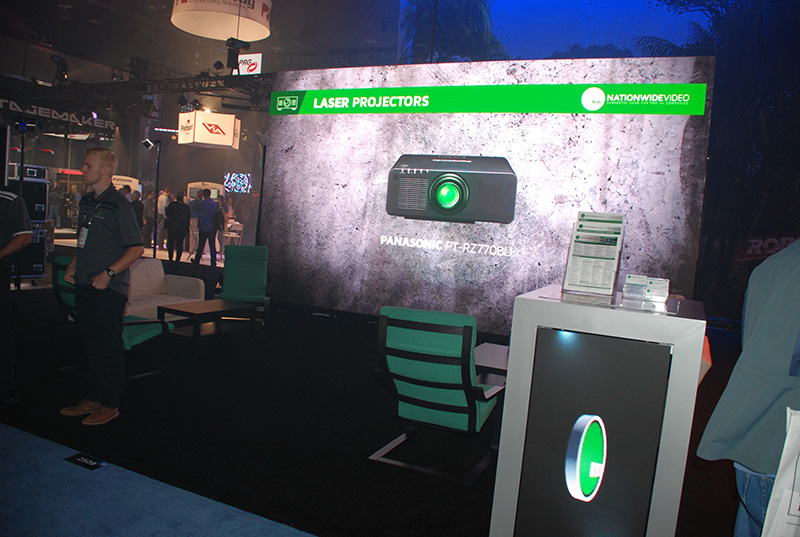 Nationwide Video is in the business of sub-renting gear to pro AV companies. They do not supply gear directly to productions and events but cater to the folks who do by renting them a wide variety of video panels, as well as all the peripheral gear such as cameras, switchers, routers etc. They also rent audio gear, lighting consoles and some light fixtures as well.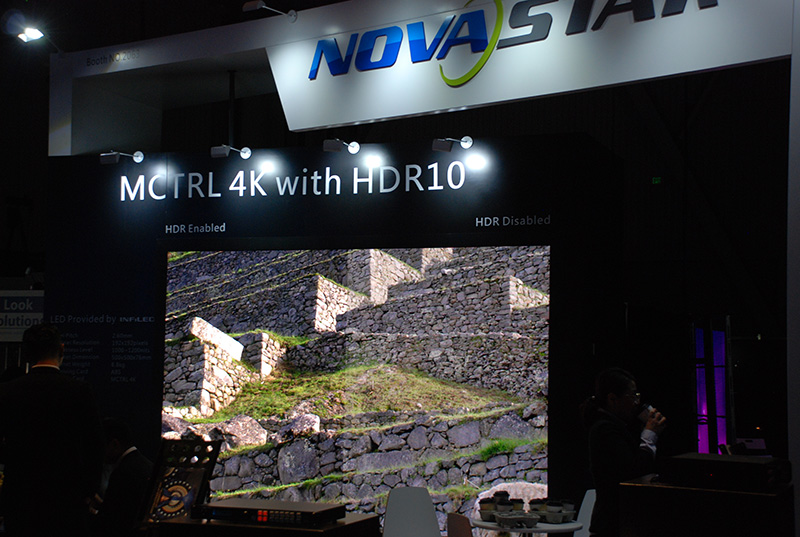 NovaStar was on site to show off the MCTRL4K, a real 4K@60Hz video controller. Also shown were the C1+N9, MCTRL660PRO, VX6S, V1, J6 and more. The MCTRL4K HDR demo was a must-see for all that attended, made evident by the constant traffic of attendees stopping in to see the new product.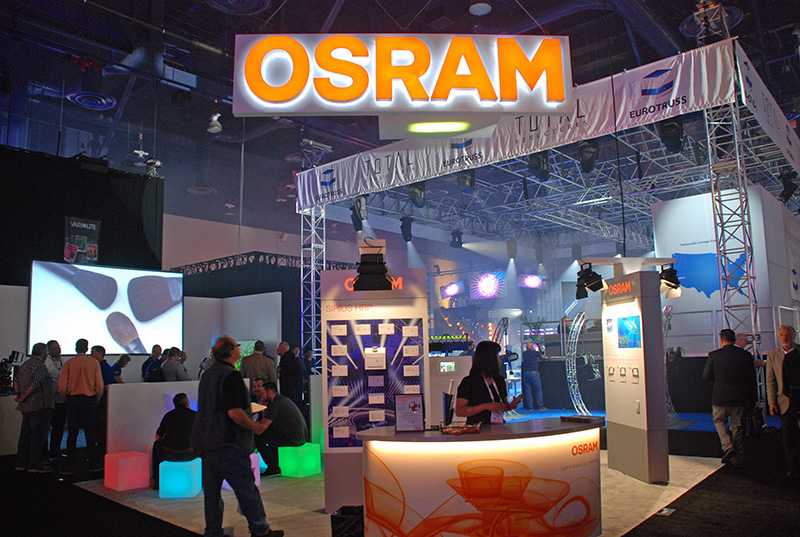 Osram has upped their ante on light bulbs with the release of the Sirius HRI Bulb series. Also displayed at LDI was their Lok-it, HMI Digital and HMI Studio lamps. The SharXS offers a brilliant light with a CRI of 93+. LED Engin, a San Jose, CA-based business Osram acquired in mid-2017, develops, manufactures and sells advanced LED emitters.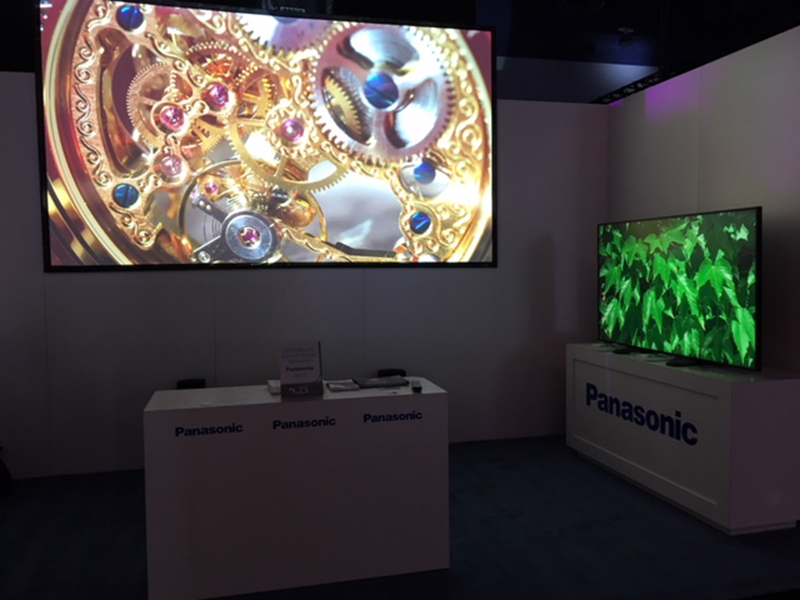 Panasonic featured their PT-RQ22KU 3-Chip DLP Solid Shine 4K+ laser projector promising cutting-edge technology including Real Motion Processor 240 Hz frame-creation and a Quad Pixel Drive that together produces film-like 5120 x 3200-pixel (4K+/16:10) images.
Philips/Signify: The Signify portion of Philips was on hand, showcasing the latest Vari-Lite fixtures as well as Strand products such as the SPX LED WW ellipsoidal. The Vari-Lite VL2600 line of midrange wash, spot and profiles were on hand, as was the VLZ wash. The latest Vari-Lite BeamWash fixture, the VL10, was shown for the first time at LDI.
PRG/VER: PRG featured the new SuperRay Luminaire. It's a hybrid fixture that can act as a beam, wash, spot or profile fixture. It also makes for a great followspot and has a camera built-in to tie in with the PRG GroundControl followspot system. VER had a separate booth to talk to folks about their rental abilities.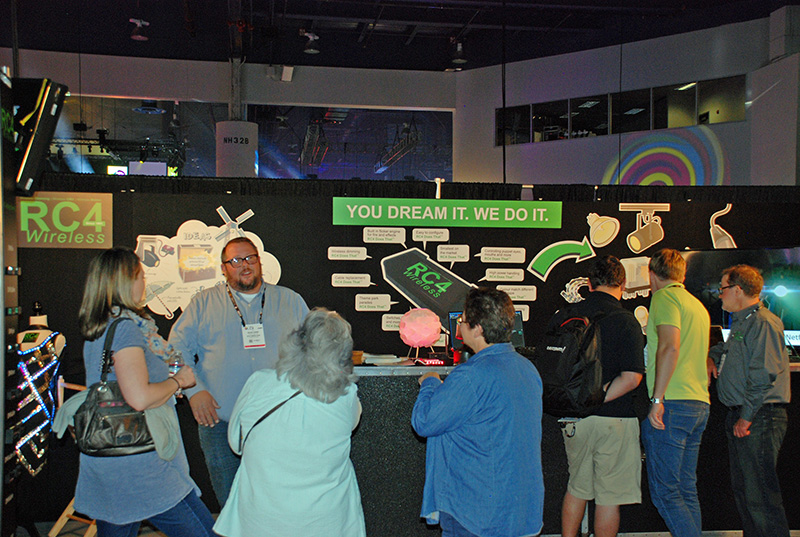 RC4 Wireless: The manufacturers of the world's smallest dimmers showed off a new 6-channel dimmer that fits in the palm of your hand. The DMX6dim can now control the six channels that RGBAWW LED tape requires. Also on hand was a new outdoor-rated transmitter with antennas for hanging in high places in wet conditions.
Robe: For those who wished the Spikie was brighter, Robe heard you. The Super Spikie takes this effects wash light to unprecedented brightness. The T1 profile made its U.S. debut as a mid-sized LED source moving profile. They added the BMFL FollowSpot LT — an affordable solution for the larger arena.
ROE Visual displayed their new Black Marble floor product that is unrivaled by the competition. The new Diamond 2.6 mm display attracted attendees with its crystal clarity. Also released was the Air Frame, a lightweight, carbon fiber touring system that's compatible with their Carbon Series CB5 and CB8 LED panels.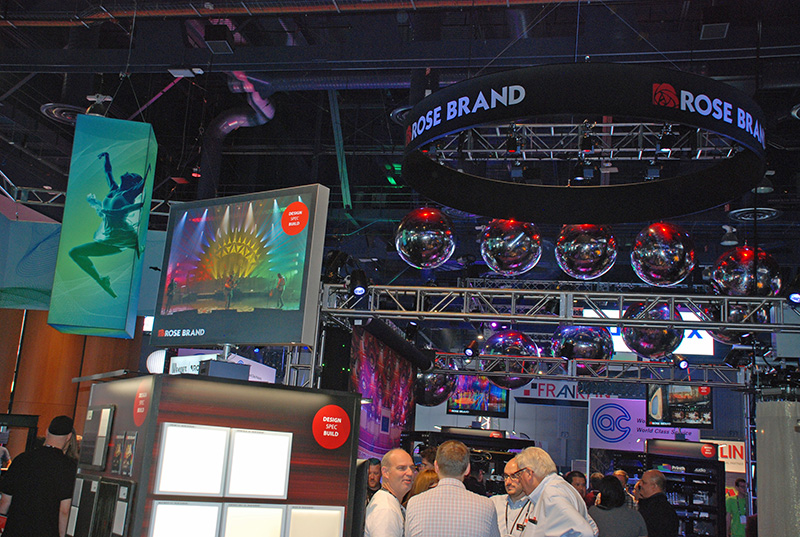 Rose Brand: Besides all the soft goods they provide, they showed off the line of Wahlberg Motion Design winch control units that could lift Austrian curtains as well as Venetian Contour drapes. Their booth setup, which included an impressive system of balls in motion, drew a lot of visitors as well.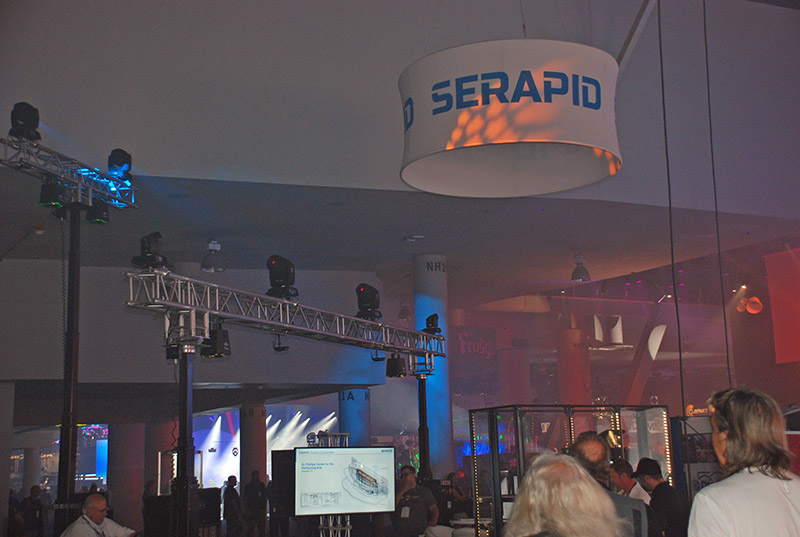 Serapid: These makers of stage lifts featured their line of telescoping masts. They displayed a single mast unit that is now capable of holding 1,000 pounds safely, while achieving heights up to 30 feet.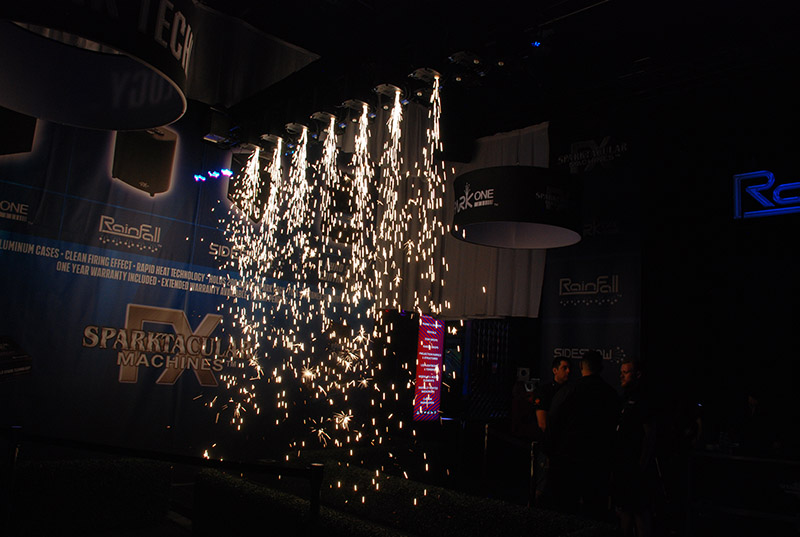 Sparktacular: The originators of the cold spark technology have added a new device to their arsenal to match the Sparkular – their new Rainfall unit, which projects sparks in a downward angle from above. LaserNet, which shared the booth with them, celebrated their 50th anniversary.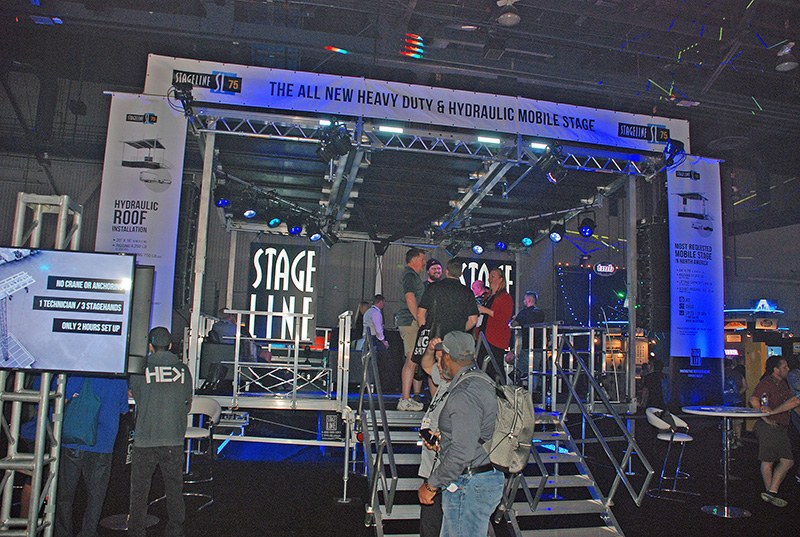 Stageline: The world leaders in mobile stages were on hand with one of their small pop-up stages. The pioneer of the hydraulic stage was able to set up one of their smaller models in the middle of the floor and were on hand to show attendees what they are capable of.
Swisson: Noted for making some of the best data splitters, they introduced the XES-TDA pre-managed Gigabit Ethernet Switch. It has the intelligence built into it, and takes two trunk runs in (in case one fails) with six outputs. Each output can be switched to the user's signal of choice on each output.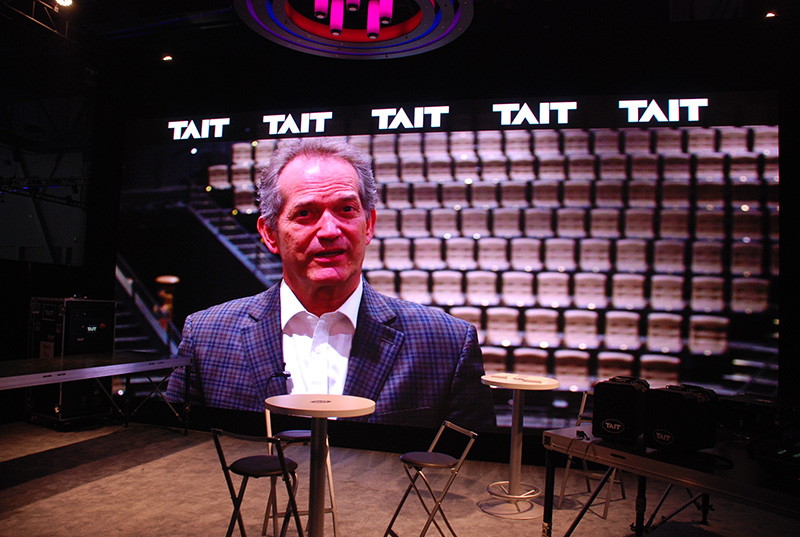 Tait was on hand to show an amble number of booth visitors the marvels in set technology that they deliver, through a video presentation. Their series of Nano winches moved their LED products up and down in a choreographed manner off of their Navigator control system.
Techni-Lux featured the Pivot Cue console and wings for mid-sized shows. Also featured was their line of Gantom products, a new range of opto-splitters that includes the Splitter DMX for truss mounting. Also show was the Sagitter line of LED fixtures and SGM lights.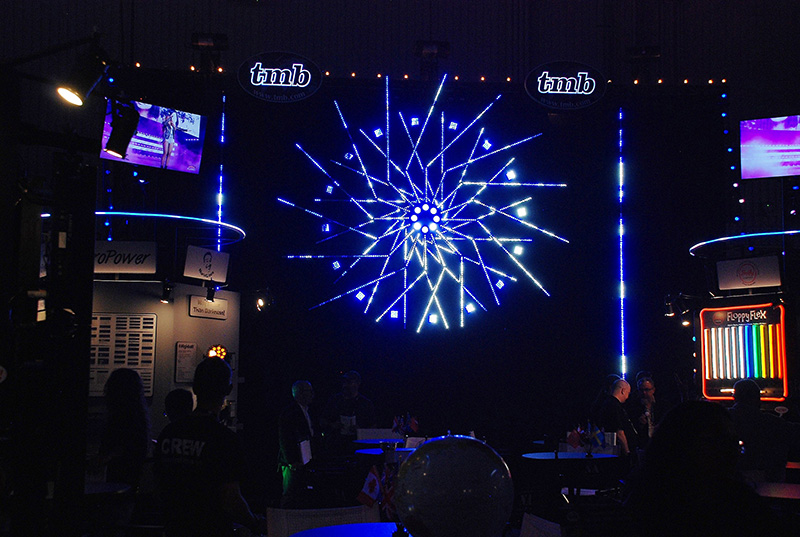 TMB's ProPlex IQ Tester LV Ethernet/DMX tester/analyzer is the first Ethernet tester designed for entertainment production. The expanding Solaris Flare IP range was also on show, including Flare IP HD Dynamic White and HD RGBA fixtures.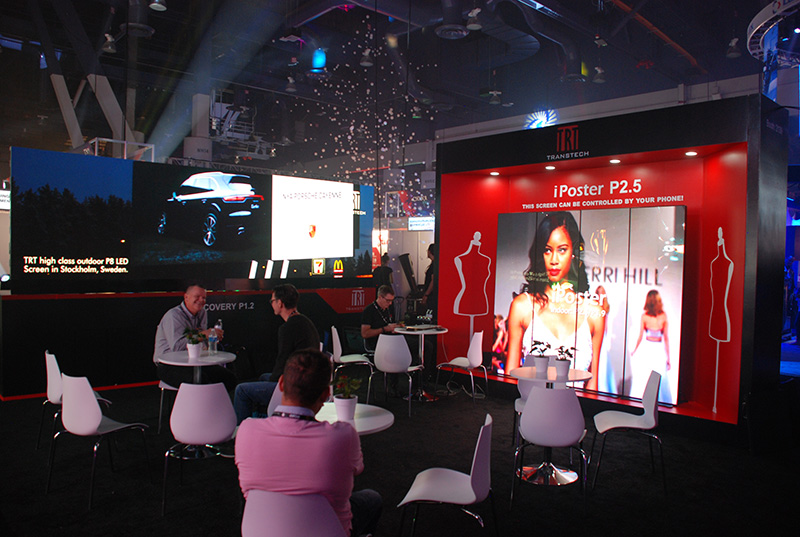 TransTech: We were impressed with the iPoster, a standalone slim-yet-high-definition digital poster with a display size of 560mm by 1,890mm. Also shown was the new rental series — the Ranger. These IP65 (front and back) panels are light in weight and feature multi-angle splicing and touring carts for transport. The Explorer II series was also new this year.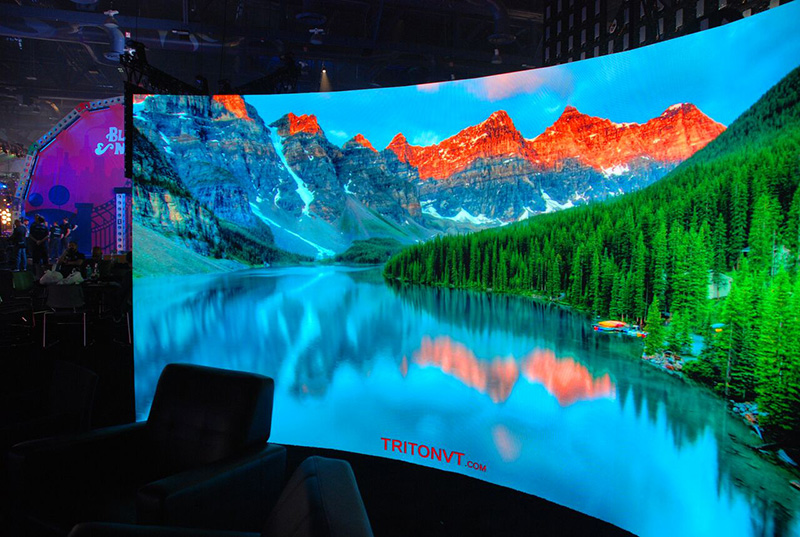 Triton Visual Technology: Formerly known as Oracle LED, they were on hand to show some of their latest products. The UHD Raw line features a 1mm or 1.8mm pixel pitch for ultra hi definition. The X-Wave flexible concave series now offers a 2.9 as well as 3.9 mm models. Their line of tiles can be rented from Global Trend Productions, a full-scale video rental house.
Tyler Truss: The makers of the GT truss displayed rigid accurate angled sections for connecting truss at fixed angles. They also showed off the Centerline truss, designed for hanging video walls. This is available in a variety of sizes and made from aluminum or steel.
Ultratec Special Effects showed off their swivel bracket, which can be used to swivel smoke machines and other devices back and forth. Their bi-directional Turbo Fan was mounted to the bracket while a snow machine ran a cable to it. The fan could blow smoke one way and snow the other way when the fan reversed polarity.
Ushio announces its acquisition of Zylight at LDI last year. This year, the results of that purchase could be seen in their line of LDDE products that include LED theatrical and strip lighting. The NanoPix Slim FR1440 is a slender foot light that has a top barn door that can slide in and out of the unit to get the perfect uplight that can be cut off to light an artist.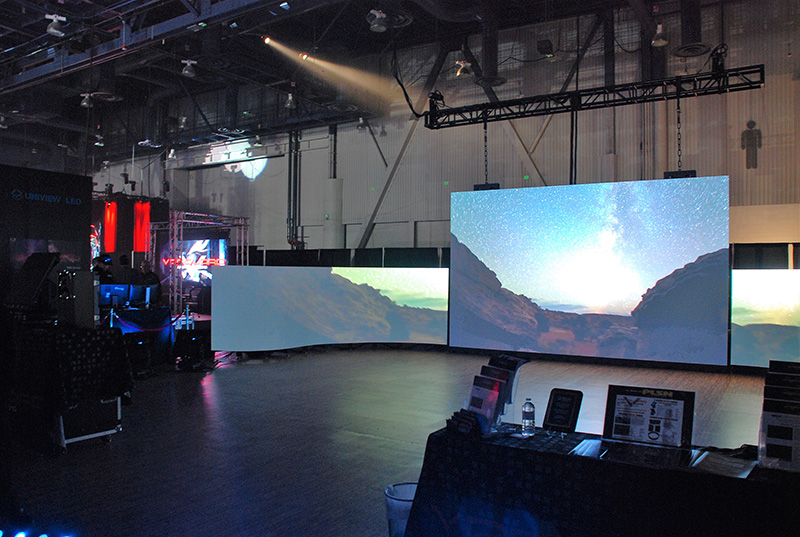 Vanguard LED Displays featured the most durable LED cabinet line to protect your investment from the rigors of the road. The Tungsten model features aluminum protective corners and a special Vanguard sealant that protects the tiles from an impact hit as well as moisture. Vanguard also is carrying the V-Volver, a moving head with a 2.9mm video display on it.
Whirlwind displayed their stylish new Cyclone Cases, the perfect rack for mounted devices. The cases have pocket doors that slide into the side of the rack, so no more losing the lids at load in. The case offers printed designs of your choice on the side as well as RGB LED lining the case (their Rack Lightning system), making it simple to view your electronics easily.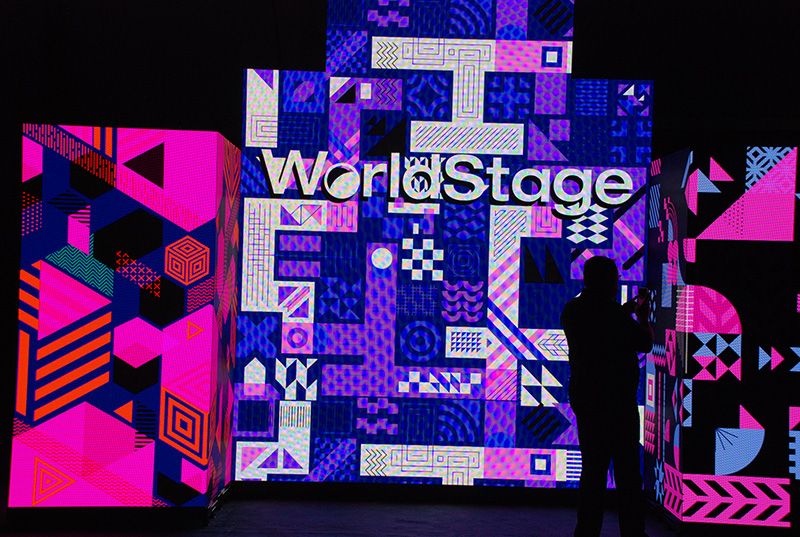 WorldStage expanded its presence at LDI again this year with unique opportunities to get face-to-face with key members of the company's staff. Led by The Design & Development Department, the WorldStage contingent at LDI connected directly with attendees in Live Design's Live Experience Lounge.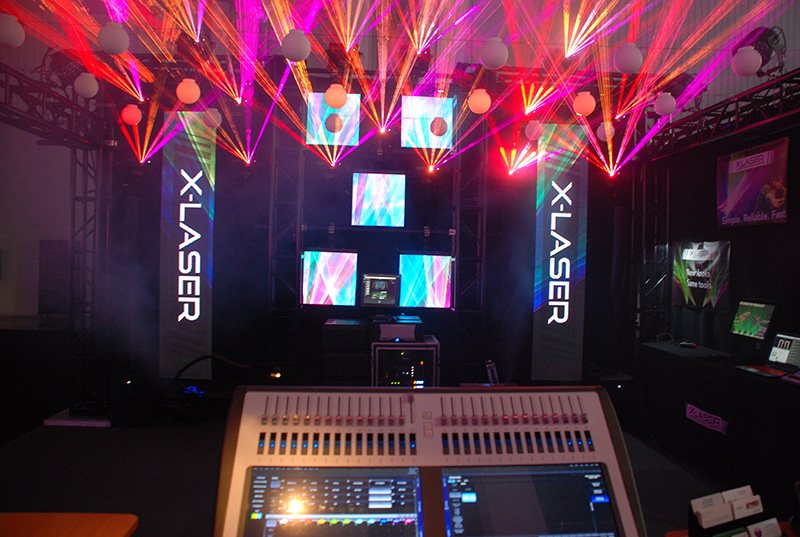 X-Laser was running their lasers straight off an Avolites, ChamSys and grandMA2 consoles networked together, all without the need for intermediate software. Instead, they used sACN to feed signal to the lasers. One of their Skywriter HPX Full Color Aerial Beam & Graphics Lasers in basic mode requires 174 DMX channels, with up to 385 channels needed for more advanced modes of operation.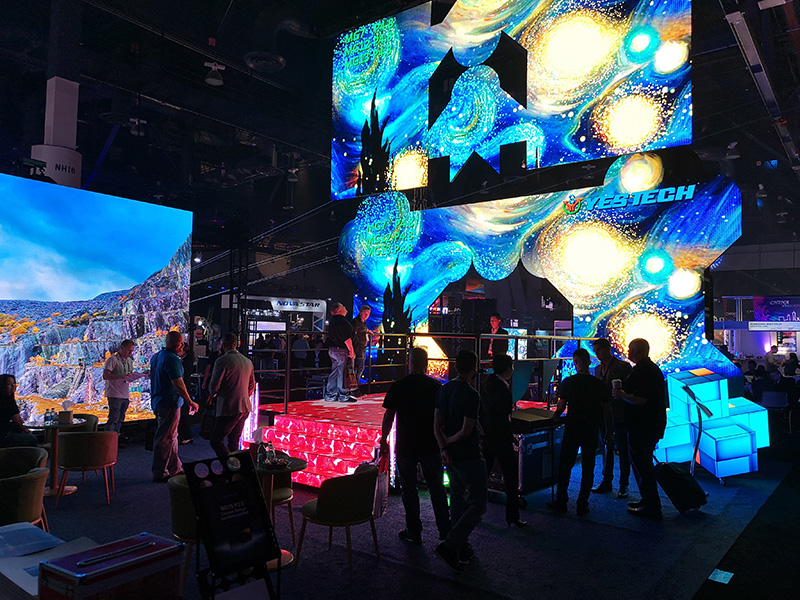 Yes Tech showed the upgraded MG6S series LED display with its cable-less design, magnetic module and front and rear maintenance options. Also featured was the Magic Stage MG7 P4.8mm display, which can be used outdoors. Along with a multi-shape, multi-function and interactive design, this product features full black LEDs to enhance the video imagery.
Leave a Comment: