Mike Ledesma and the Art of Lighting Latin Music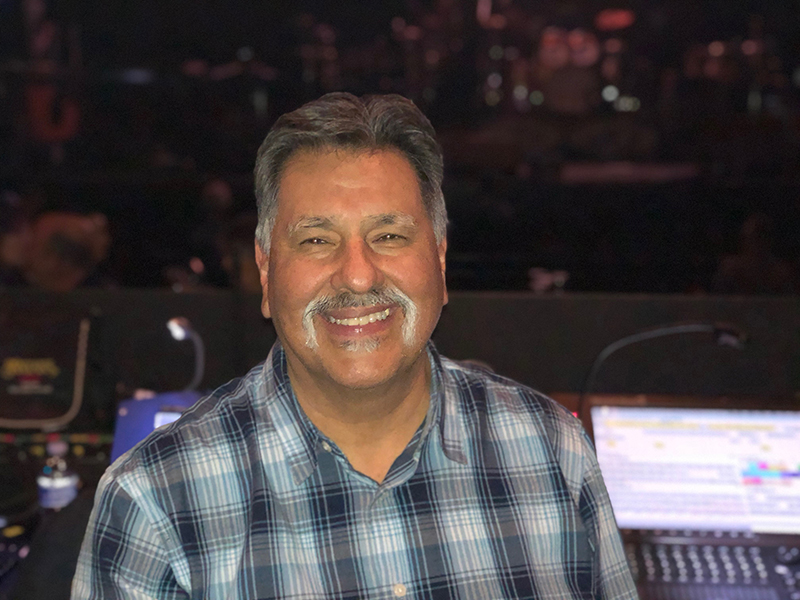 The term Latin Music gives the average listener a fairly straightforward idea of what they are about to hear. It would seem to be an easy genre to pigeonhole, as is the wont of most music journalists. But, pay a bit closer attention to the ensemble of percussionists that actually lead the band, more than just providing a backbeat, and the rich diversity of its myriad roots soon comes out.
Michael Ledesma has been listening to those polyphonic rhythms all his life. His multicultural roots bring a lot to the table, which early on in his career as a lighting designer earned him the reputation as the "go to guy" for his mastery of lighting Latin music.
‡‡         Latin Influences
As a child, born and raised in Chula Vista, CA, near San Diego, Mike grew up going to a lot of fiestas, church festivals and quinceañeras and saw how they decorated for their parties. The colors were vibrant oranges, yellows, greens and magenta. The folkloric dancers that came around had white skirts and shirts with all these beautiful flowers and colors embroidered on their costumes. These events often were held in people's back yards, where they would string colored crepe paper all over the place. Ledesma would later evolve his color palette from these lit steamers.
"My personal view of color came from my days as an altar boy. I'd be sitting there, looking up, totally bored, thinking 'What can I do,' and staring at all the stained glass in the church. I believe that is where perfect color comes from. In looking at all these, I'd see an orange right next to magenta, or a green right next to a purple, a blue, and a lav. I'd see the sunlight coming through the glass and it just became my favorite thing to do in church. I got my whole grasp of color from the stained glass in church, which I saw kind of reflected in the little parties I went to as a kid."
The Day of the Dead (Día de Muertos), the Mexican holiday that honors deceased loved ones, provided additional, if not the core, colors for his working palette. Artwork in the posters and pictures of the skeletons contain a vivid array of wild colors. "To me," says Ledesma, "The Day of the Dead represents the perfect Latin color palette."
He did not start out lighting Latin acts, however. At the beginning of his career, he lit "pop" acts such as Diana Ross and Paul Simon. With Miss Ross, he did his first world tour, which exposed him to a variety of cultures. Working with Simon, who had delved into African and Brazilian music, Ledesma was introduced to the signature polyrhythmic percussive beats that define Latin music as the Rhythm of the Saints tour wound its way through Latin American countries such as Brazil, Argentina, Uruguay and Venezuela, under the guidance of the late legendary production manager Rick "Parnelli" O'Brien.
"That's when I had to start figuring out some kinds of chases and different approaches within my own timing," says Ledesma, "because I had been a 4/4 guy. I had to change my way of thinking on which downbeat I'm listening to, and how to divide the chases up, and which beats to attach some subtleties."
This led to working with Jon Secada, a backup singer hired by Gloria Estefan in the mid-1980s, who co-wrote "Coming Out of the Dark," which became Estefan's third number-one hit in the U.S. Born in Cuba and arriving in the U.S. at age 12 after living in Spain, Secada was influenced by the urban Latin music of Miami, a fusion of ancestral rhythms and contemporary pop music.
Through word-of-mouth and Emilio Estefan's management company, Ledesma's reputation grew exponentially by the late 1990's and early 2000's. Ledesma found himself hired as the lighting designer for Latin acts including Santana, Jon Secada, Gloria Estefan, Buena Vista Social Club, El Reencuentro (a group formed by former Menudo members), Shakira, Enrique Iglesias, Los Tigres del Norte, Pepe Aguilar and Marco Antonio Solis along with shows including the Billboard Latin Music Awards, BMI Latin Music Awards and the Latin Grammy Awards.
The success of these major Latin artists opened the door for a major shift the public's desire for more. Ledesma found himself being called upon by many up-and-coming acts, and he recalls it as a bit of a mixed blessing.
"I realized, back then, that there were no other LD's of any stripe of color, whether it be white, black, or brown, working with national and international Latino acts. That has changed nowadays, of course, but at the time, I almost felt like it was my duty to make all my brothers look good. And I got plenty of opportunity to do so."
The downside of that was the up-and-coming guys were still behaving like they were doing the bar band circuit, and their production crews wanted to work on "Latin time," which meant they thought load-in could still be at noon and they would get certain things done when they could get to them. The problem was, they weren't touring with a bobtail of gear anymore. They had two or more semi's at the dock.
"I had to become the bad guy, urging everyone on, that all this equipment goes in, does a show, and comes back out, all in one day," recalls Ledesma.
‡‡         Working with Gloria Estefan
"I didn't really perfect these cool Latin looks until l got to Gloria Estefan. I always had a good sense of color, but it was Emilio Estefan, her husband and manager, who pushed me that extra step. Emilio would tell me, "This is fiesta. This first song has got to be like you have walked into the biggest party in your life. You've got to make these people feel like they are in this gigantic party that we have going on. We are going to take these people's emotions all up and down, just like real life."
But Emilio wasn't done yet, and urged Ledesma further on. "Emilio had a real good eye for talent. He would critique me and tell me things, but he allowed me to flourish," Ledesma points out.
"'Mike, no! You're holding back!' he'd say to me. Then, in his really thick Cuban accent, he jokingly chides me, 'I know none of you LD's want to show your hand in the first song, but that is exactly what I want you to do! I want you give it everything you've got right when we open up, because that first song has to make people never forget coming to our show. Then you gotta repeat that midway, and at the end of the show! Forget holding anything in reserve!'" Ledesma recalls.
"I had to come up with an excitement level for every song and keep the level going where people are tapping their feet, visually." Between this and his elaborate chases, Ledesma developed a style that he came to call "Controlled Chaos."
"My programmers and I would spend hours and hours and hours figuring out these chases," he adds. When directing his programmers, which he usually had two of, working on Whole Hog 1 or a Morpheus system, Ledesma would have one concentrating on the groove laid down by the timbale player on bells, while telling his other programmer on a second console to layer time chases on the accents coming off the conga, utilizing more of the rig. This idea for chases at varying speeds to match time signatures is a talent Ledesma acquired from listening to and feeling the genre in order to build sub-divisions of chases.
Gloria Estefan and her band are masters of all the traditional Latin grooves. When working with the Buena Vista Social Club, "I would follow the clave player, because in Cuban music, he's the guy that lays down the groove," said Ledesma. (The claves are a percussion instrument consisting of a pair of short, thick dowels).
The Gloria Estefan Band, with at least four percussionists on stage every night, gave Ledesma multiple, grooves, beats and accents on which to base his timing on. One may lay down a basic 4/4 groove, but under that, and weaving around, are the other three guys playing something in 6/8 or a counterpoint or a beat that, at first, seems completely different and against the groove. Then another percussionist reinforces the groove, while another provides color flourishes for the groove.
"I would not necessarily follow the obvious beat all the time, especially in a song that was mid-tempo to lower-tempo. I ended up coming up with a lot of different chases that could be either subtle or bold and of different time signatures, working off the back layer that a third percussionist is playing.
"Maybe it would only be a color chase — just repeat blue to lav or little iris chases. With intensity chases, I would not run them at full. I'd have the rig at 50 percent, and the chase would bump it to 100 percent. So you are seeing things move, but not at an overwhelming level…As I gathered all these things together, that is what one song would be. It's an accumulation of all these beats going on."
‡‡         Mexican TV adds to the Party
"Emilio was always at great pushing me to the next level to get to his overall vision," Ledesma adds. "He would say to me 'What about that guy in the last row? What have you got for him?'
"So we began adding more trussing to extend the stage looks, and then, with the audience truss lighting, we immersed everyone in the arena with the feeling on the stage. I based these looks off the workings of the dynamics of Mexican TV presentations, which were almost frenetic in their lighting, using a lot of motion and color. I saw that style could be used for a party atmosphere. So using their color and motion as a template, I edited it down to a controlled kind of situation. Again, it took a lot of programming to develop this style to keep it right below the surface."
Of course, every song does not require a chase. Ballads require finesse as well. Again, this is where Ledesma calls upon his palette from his early years, by layering a base, building on that and taking chances. "Throwing a purple wash on the stage while illuminating the truss with toners in green would seem like a mix that produces mud," notes Ledesma, "but it actually looks great — the acts and audience seem to like it.
"That is how I forged my looks that I kept on with Gloria, and which I took to other bands like Shakira, then later to Marco Antonio Solis," says Ledesma.
Ledesma has been speaking mainly of traditional Latin acts with a heavy emphasis on percussion. Much of the music has become a hybrid of styles creating a Latin pop genre. That cross-cultural effect has gone both ways, though. Paul Simon isn't Latin, but he uses the traditional percussion. Santana is a virtuoso guitarist with an Afro-Cuban percussive drive.
"It's all based off the energy of the percussion," says Ledesma. "What Gloria and Santana are into now is a hybrid Afro-Cuban sound. Carlos lives and breathes Miles and Coltrane. With Carlos I hear all sort of Latin flavors; jazz, rock, pop."
Ledesma did Marc Anthony's first English-speaking album tour from his self-titled pop album release in 1999. Anthony is a very traditional salsa performer, with Caribbean influences as well. "I already had a groove of it, so I brought in Nook Schoenfeld as a programmer with Jason Bullock operating, who stayed on the tour as board operator. We had already done three massive world tours with Gloria and other artists together, so we were well exposed to the intricacies of salsa music and its use of Coro."
Great Support from a 30-Year Partnership
Mike Lehrman has been doing shows since the early 90's with Mike Ledesma. At that time, he worked as an ME and crew chief for Mike. "As time goes along," says Lehrman, "you just work and keep doing shows, and next thing you know, it's 30 years later!"
These days, Lehrman works at Innovative Concert Lighting (ICL), a well-established company that has been operating out of Bakersfield, CA since 1987. He joined the company in 2002 and serves as general manager, overseeing all production. In 2014, Ledesma approached Lehrman about ICL being the lighting vendor for Santana.
"I added one more hat and became Mike's account rep, says Lehrman. "We supply the touring system, and just last year started handling the system Santana uses during his House of Blues residency, which runs two weeks long four times a year in Las Vegas."
Lehrman recalls that, "back when I first started working with Mike, the only moving light you could buy was an Intellabeam 400. It was all pars, and Mike could make a 120K rig look sexy like nobody else. Because he started way back then, you had to know your colors and know what's going to happen when two colors meet on the drums, or the entire band is backlit in one color and you hit them from the front with some other color. Everything has a reaction, and Mike is really good at knowing how color and light react."
Leave a Comment: